POV Holder:
?
Next POV
Aug 2nd
POV Used
?
POV Ceremony
Aug 4th
HOH Winner 1:
Donny
HOH Winner 2:
Nicole
Battle of the Block Winner
 Caleb/Victoria
Next HOH/ Next BOB
Aug 7/Aug 8
Original Nominations:
Donny's Noms (Victoria & Caleb) Nicole's Noms (Zach & Jocasta)
Final Nominations:
?
Have Nots
?
POV Players
?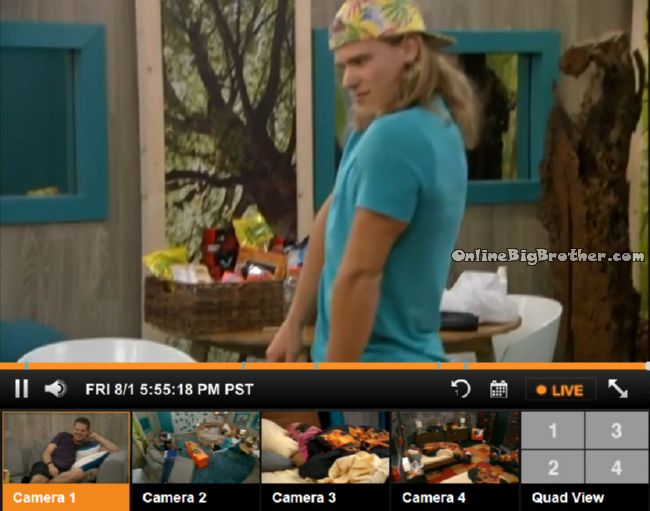 5:53pm HOH Hayden, CHristine, Jocasta, Cody, Nicole, Donny, Victoria
(Laughing about what Amber was like)
Christine says no one fishes for more compliments than Amber. Hayden and Cody say they really dished it out to her.
Hayden jokes that Amber was still campaigning after she was evicted "I'm loyal you should keep me in the house… " they gently guided her out the door. Hayden impersonate Amber dodging his hug. (See Image)
CHristine has never given anyone a hug after eviction says it feels too awkward. Nicole feels the same way.
Hayden – she was a real sweetheart of a person.
CHristine – yes… she was really sweet.
Hayden says Amber was able to carry more towels than her actual weight. They all agree AMbers, cooking, Laundry and Cleaning will be missed.
They start talking about the show Workaholics Christine, HAyden, and Cody really like it the go over favorite episodes.. Christine – Blake is HOT (Some character on the show) Workaholics Season 1
, Workaholics Season 2
, Workaholics Season 3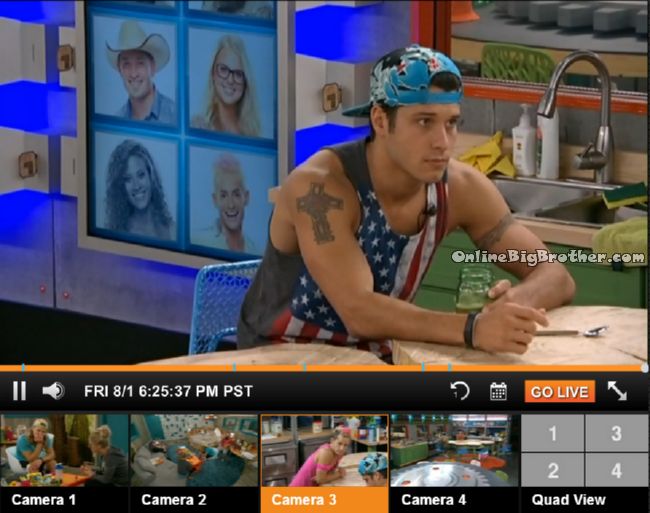 6:25pm Kitchen Frankie, Cody
Cody – Hows zach
Frankie – he's actually OK …
Frankie thinks the only way they could get f***d is if Donny's name gets drawn and he wins POV.
Cody – That's what i'm hoping for it's all very nerve racking… his name always gets dawn
Derrick joins them. Frankie mentions Caleb's been in the Diary room for a hour now.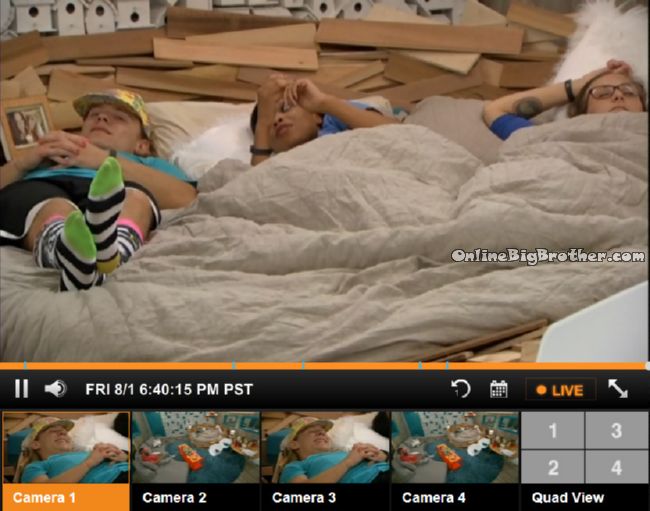 6:35pm HOH Hayden, Jocasta, Nicole Christine
Talking about Joey and POW being so loud. Donny mentions how JOey would swear so much Donny was "Looking for the soap"
Donny adds Joey spoke to him 5 times and it always started, "So you're from South Carolina right.. What does it feel like to live in South Carolina.. So South Carolina..  Donny – "I always said I don't know i'm from North Carolina
They talk about POW and JOey not being very smart in the game. Pulling everyone into rooms the first day making alliances.
Hayden – Joey was in her sports bra and yoga shorts.. she was half naked when I first walked in I was like holy crap already..
They talk about Joey running around naked, "Her b**bs flopping around"
Jocasta – she said we do this all the time we're nudists..
Victoria comes up says the costumes will be ready soon.
6:50pm Kitchen Caleb, Frankie and Derrick
Caleb goes on and on and on and on and on about shaving his head.. His hair is the new Amber.. He shows them what he will look like with no hair..
With a live feed subscription you can go back and watch any event that has been shown. Use out site as a index and watch only the parts worth watching.
Try It Free! Subscribe now to the official BB16 Live Feeds
7:09pm LIving room
They are waiting for Adam and Eve to come out.
Frankie starts to impersonate Ragan (BB12) and Andy (BB15) when they would vote in the DR.
"Hi Julie.. I sadly vote to evict Amanda" .. "This is Ragan… this is Andy.. "(See images.. )
Christine sand Frankie starts making fun of Rachel impersonating her , "I spelt Chemistry.. CHEMISTRY Julie because we have chemistry.. Brendon spelt UNDERSTANDING" .. Nicole says she thinks Rachel was funny. frankie says he loves Rachel she was great but she's so easy to make fun of "C'mon"
7:18pm
(They have to wear this for 48 hours. Originally Victoria wanted to wear her wedges but they said said she couldn't. Caleb was giving her a hard time with this saying "You think MOses wore nikes")
Caleb My name is Beastmode Adam
Victoria – I'm princess eve
Frankie keeps saying how hot they look
Hayden – you guys have to get together you have to procreate
Christine – its in the fine print.
Victoria says it doesn't matter if they shower together as long as they wear their bathing suits underneath.
7:43pm Princess eve checks herself out in the mirror
Beastmode and princes get called in the Diary room.
Derrick tells the living room bunch every time Victoria goes near a mirror she stands up on her tippy toes and check out her butt.
Caleb's Head getting BUZZED
Alliances
Zankie = Frankie/Zach
The Detonators = Derrick, Frankie, Zach, Christine, Cody
"The HITMEN" – Cody & Derrick
Trilogy = Nicole, Christine & Hayden
Team America = Donny, Derrick, Frankie
Old timers = Jocasta/Donny
Nicotine = Christine/Nicole
bottomfeeders = Derrick and Nicole
More polls here https://www.onlinebigbrother.com/big-brother-compendium/big-brother-16-polls/
[polldaddy poll=8220599]