POV Holder:
?
Next POV
Aug 2nd
POV Used
?
POV Ceremony
Aug 4TH
HOH Winner 1:
Donny
HOH Winner 2:
Nicole
Battle of the Block Winner
 ?
Next HOH/ Next BOB
Aug 8/Aug 1
Original Nominations:
?
Final Nominations:
?
Have Nots
?
POV Players
?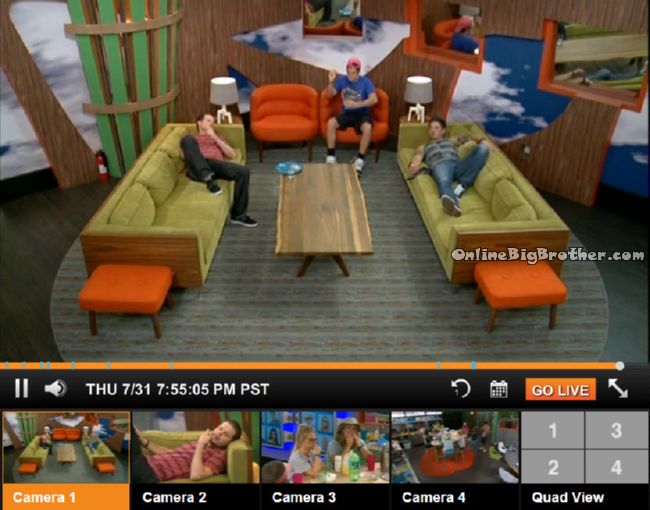 7:56pm Living room Derrick, Zach and Caleb
Zach says Jocasta and Victoria were the first two out in the HOH competition. He points out that 4 of them can go up then POV be played and a 5th person goes up.
Caleb – I don't really care if I go up I go up I'm a beast.
Caleb says when he wins HOH he'll backdoor Donny maybe put up Nicole to.
Caleb – you should have seen Donny checkerboard thing.. math all over the place.. multiplication.. he ain't dumb..
Zach asks him if he means the chalkboard.
Caleb says Donn will put up Christine
Zach wants Victoria gone this week
Caleb – THere's something about Christine that donny doesn't like
Caleb says Amber bite the hand that feeds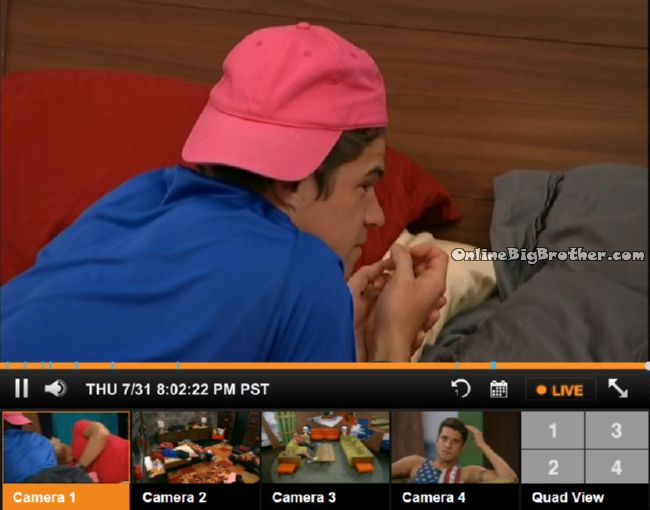 8:02pm FRIEROOM Frankie and Zach
Frankie says they don't have to worry Nicole will put up Jocasta
Frankie – Even if he puts up you and Caleb they will win the BOB
Zach point out how Christine rella y f**d up the competition
Frankie is certain Nicole will put up Jocasta and Victoria if she has the chance unless Donny puts up Victoria then Nicole could put up Zach.
Zach – depends who draws first.. if Donny draws first …
Frankie – Donny will put up a strong person and a weak person.. Jocasta and Victoria will be going up regardless.
Frankie is going to try and talk to Donny but he'll be as opaque as usually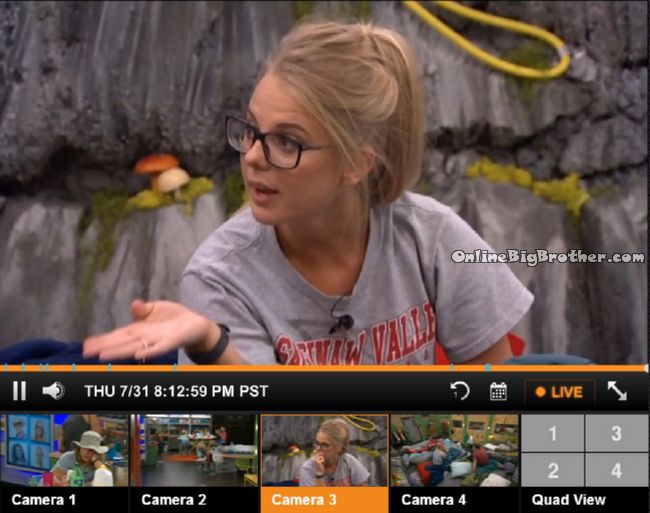 8:05pm Nicole and Derrick ROck room
Nicole says she didn't feel safe with the people left in the competitions (Caleb and Zach) She didn't want to throw a competition and go home
Caleb rolls by says if he goes up he wants to know he doesn't want to be lied to. Nicole says she was talking To donny but all he said was he had a bad day today. Caleb leaves.
Nicole complaining how hard it is being HOH because you want to talk to people…
Nicole says she didn't feel safe this week.. she says the two people left in the HOH competition were the two people coming after her (Caleb and Zach)
Nicole – I hate this BOB crap
Derrick – Ya it kills the game.
Nicole – I'm ready to make a big move. Nicole wants to solidify an alliance with Derrick, Cody and HAyden.
Nicole brings up backdooring Frankie, "He does nothing for my game"
Nicole points out that Frankie is everywhere.
Derrick agrees "He's everywhere"
She asks him if he would be onboard with getting Frankie out. Derrick says he is "I'm not working with him"
Derrick says the bottom feeders is a thing for him. (Nicole/Derrick agreement)
Nicole warns that Christine is really close to Frankie
Derrick thought she was close with Nicole
Nicole says she's not
Derrick warns her not to tell Christine about the Frankie plan.
Derrick says if that's the backdoor plan i'm for it
Derrick – THe frankie thing i'm for it all day long just make sure you have the votes.
Derrick leaves Hayden comes in She whispers to him that Donny and her want to talk to Hayden tonight they need help.. Camera switches to Zach eating grub in the BEEHive like a boss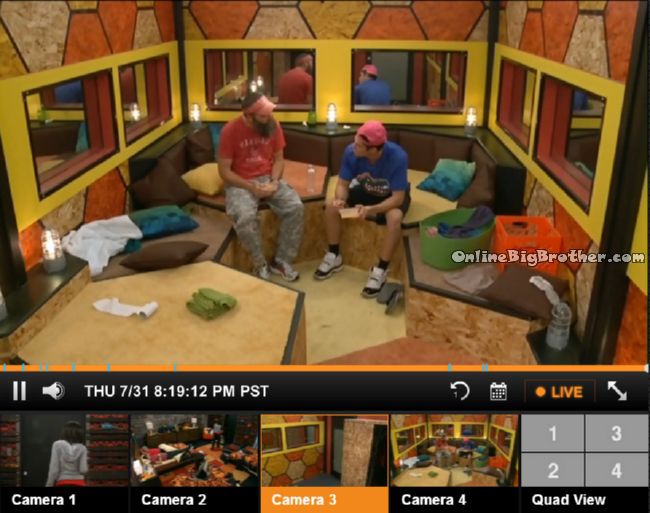 8:19pm BEEHIVE Donny and Zach
Zach – you and Nicole are not going to be working together.. that's my first thought you two don't have the same agenda at all.
Donny – in a situation like this you can't throw a big competitor in there they knock you out
Zach and they are coming for you
Zach if you get drawn first do you know who you will put up
Donny doesn't he was banking on one head of household.
With a live feed subscription you can go back and watch any event that has been shown. Use out site as a index and watch only the parts worth watching.
Try It Free! Subscribe now to the official BB16 Live Feeds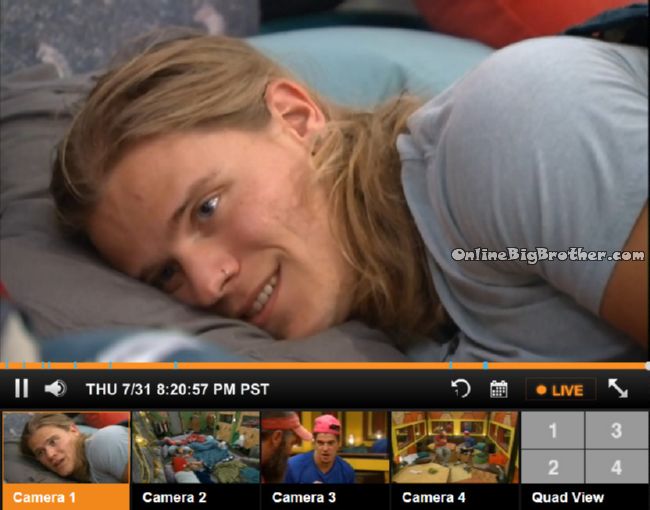 8:20pm Hayden and Nicole Rockroom
Hayden says DOnny knows Frankie is the leader.. I told him Caleb wants him gone but it's Frankie that is telling Caleb they want Donny out.
Hayden thinks Donny is going to put up Cody
Nicole – REALLY
Nicole – he's going to be dethroned for sure
Hayden -"Not necessarily", he adds that A guaranteed lose in the BOB is Jocasta and Victoria Nicole says Donny is not putting up Jocasta
Nicole – I'm not putting up Jocasta
Hayden – you have to put up Zach for sure
Nicole – he told me to put him up maybe i'll talk to Victoria and use her as a pawn
Hayden proposes Zach and Jocasta for Nicole and Donny puts up Victoria and Caleb
Hayden adds if POV is played she can put up Frankie 'Frankie goes up he's going home.. for sure"
Nicole – you know how hard this will be to put him up
Christine joins them.
Nicole says she's not working with Donny on this one.
Christine – you putting Zach up
Nicole – ya he told me to.
Zach comes by Nicole asks him if he had won HOH would he have put her up
Zach – Absolutely
they all laugh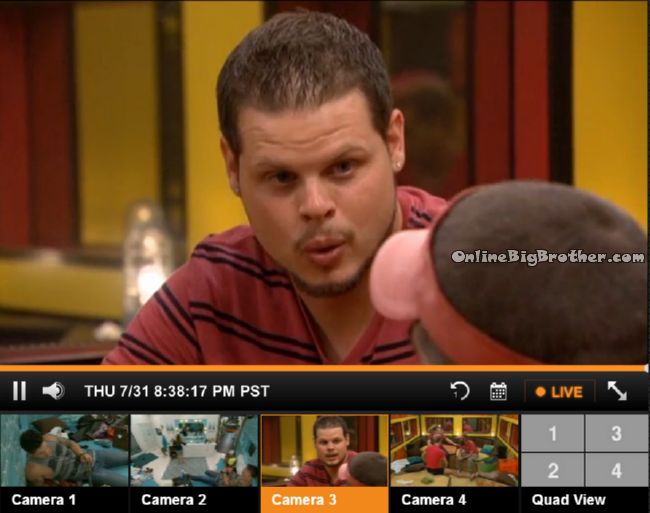 8:30pm BEEHIVE Donny and Derrick
Donny says he won't put Derrick or Frankie up he gave them his word. Donny asks if they have much time in the morning to talk about Nominations. Derrick says they need to figure it out tonight they might call them in early tomorrow.
Donny asks if anyone is targeting him
Derrick says no because Donny doesn't talk game with anyone.
Derrick lies about what he said in the DR during his vote about not doing the Team America task. Donny tells the truth. They start to try and justify why they didn't do it. THey say it will hurt their long term game. Donny thinks America will respect them for turning it down. "They didn't want us to be greedy"
Frankie comes in and Donny tells him he's not putting up any of Team America
Derrick tells him he really needs to try and be HOH so he should put up Weak players.
Donny says there's three people that have nominated him
Derrick – Caleb, Cody and Nicole
Donny – I don't want to get knocked out in BOB though.
Frankie says the two people that are always being brought up are Zach and Caleb.
Derrick mentions they would have to put those two up either sides.
Donny – Don't that will be one killer of Battle on the block.
Donny wants to keep Zach for another week because they can use him for Team America tasks
8:48pm Donny and Cody
Donny says he's happy to win the HOH.. "I'll probably cry before I cry"
Donny wants him to throw out some names he won't tell anybody
Cody says Caleb is a target
Donny – Is he really.. the bulk of the house doesn't share things with me
Cody says Frankie is playing the whole house "I really don't know what he's doing.. 4 nominees are going up of the 9 people"
Donny says he was thinking last night about who to put up but he was planning on double eviction so right now he's trying to figure out a new plan .
Cody – What are you thinking
Dony – if she got top pick first.. I hope she wouldn't pick Victoria and Jocasta .
Cody – She's leaning toward Zach
Donny – maybe she'll go guy girl and i'll go guy girl
Cody says at the end of teh day two people have to go up .
Donny says People like Cody and people like donny but in the house people LOVE Frankie
Cody – I think that everyone in this game is getting little smarter and seeing things..
Cody says he sees what Frankie is going around the house.
Donny says he would like to be closer Christine but it's tough with Frankie in the game.
Cody says he used to like christine a lot but since Frankie has gotten close with her he has talked to her much.
Cody adds that Zach and Frankie are really close.
9:16pm Beehive Christine and Donny
Donny says there's four people that can go up they just need to work together, "I hope if she gets picked for that she doesn't leave me in a tough spot"
Donny says he wouldn't mind putting Caleb up because he put him up wonders if they can get Nicole to put up Zach/Jocasta and a Caleb/Victoria.
Donny – will she have a hard time with Jcoasta to.
Christine says she might put her up, adds that Zach won't do well in the POV COmpetition.
Donny asks her why did Donny and JCoasta go up during last weeks HOH
Christine says she made a mistake she was told to to thats he feel really bad
Christine tells him next week she has his back .
Donny asks her to not tell anyone about their conversation ,, Please.
Donny tells her he doesn't mind being dethroned Nicole is a good person to be dethroned by
9:38pm Holding each other for support
Alliances
Zankie = Frankie/Zach
The Detonators = Derrick, Frankie, Zach, Christine, Cody
"The HITMEN" – Cody & Derrick
Trilogy = Nicole, Christine & Hayden
Team America = Donny, Derrick, Frankie
Old timers = Jocasta/Donny
Nicotine = Christine/Nicole
More polls here https://www.onlinebigbrother.com/big-brother-compendium/big-brother-16-polls/