POV Holder:
Chrsitne
Next POV
Aug 7th
POV Used
NO
POV Ceremony
Aug 4th
HOH Winner 1:
Donny
HOH Winner 2:
Nicole
Battle of the Block Winner
 Caleb/Victoria
Next HOH
Aug 7
Original Nominations:
Donny's Noms (Victoria & Caleb) Nicole's Noms (Zach & Jocasta)
Final Nominations:
Zach & Jocasta
Have Nots
Frankie, Cody and Hayden
POV Players
Nicole, Christine, Jocasta, ZachAttack, Caleb, Victoria,
See what they can't show you on TV! -Try the Big Brother 16 live feeds for FREE!
9:30am – 12:30am Big Brother wakes up the house guests. When the live feeds return – Donny and Victoria are wake. Big Brother then blocks the feeds again until 12:30pm. Hayden and Donny are in the kitchen. In the bathroom Victoria, Derrick and Nicole are getting ready. Nicole asks Zach how he's doing? Zach says fine! Derrick and Zach head into the storage room. Zach says f**King Hayden and Nicole! I'm so pissed! Derrick tells Zach that he can't let them on to him knowing. Derrick reassures Zach that he's safe. Zach asks again if he is staying. Zach wonders if he should talk to Vic before Derrick does. Derrick says you're on the block, of course he should campaign. Derrick tells him not to let on that he knows anything.
Take Advantage of the FREE 2 day Trial to watch all the drama!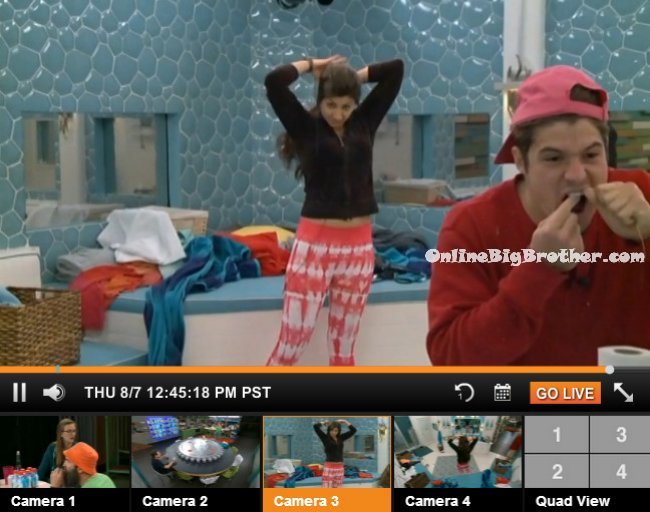 In the bathroom – Zach asks Victoria you're voting to keep me right?! Victoria tells him no one wants him gone. Zach says don't lie to me! I know what's going on. You have to do what's best for your game. If you vote to evict me I am coming after you. Victoria heads into the kitchen to sit with the others while then talk about random things.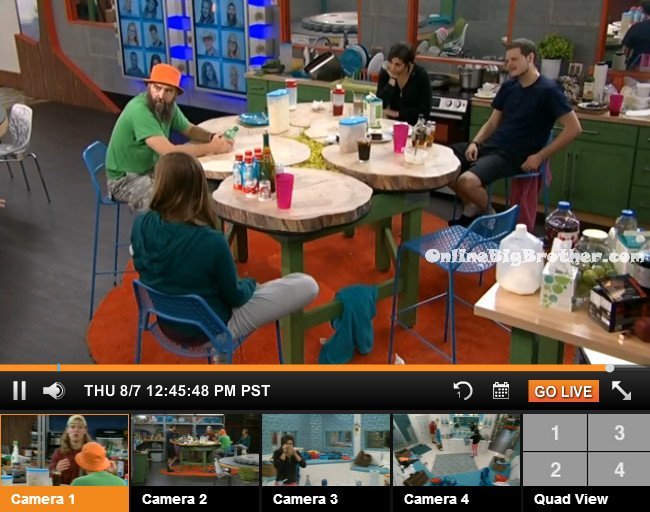 In the bathroom – Derrick, Donny, Nicole and Victoria check out the bathroom stall door with all the past house guests names etched into it. Derrick points out the mist (Dan Gheesling), Ammanda and MccCray, Judd, Jeremy, Etc.. Victoria and Derrick head into the hive room and she tells him how Zach confronted her in the bathroom. Victoria says that Zach told me that if he goes I will go up on the block every week. He said that if I vote to evict him and he stays and finds out he will come after me. Victoria asks Derrick if Zach knows he's leaving? Derrick says something is going on, I am waiting for Cody and Frankie to wake up? Just be careful of what you say. It would be better if he does stay because then you wouldn't go up. Zach has told me straight up that you're not his target. Victoria says I just can't Derrick says I will find out and come talk to you. Don't talk to Hayden or anyone. Victoria says you have some work to do! Derrick says you just look pretty, that's all you have to do today. Victoria leaves. Derrick comments to the camera .. I have work to do!? Okay!?

1:50pm In the bathroom – Jocasta asks Victoria how she's voting? Victoria nods her head.
2pm – 2:10pm Nicole is doing Hayden's hair. Meanwhile in the storage room Christine and Zach are talking. Christine says she can't wait to see Nicole's face when he stays. Christine says I am praying that we win HOH. Christine says that they are saying all these things that Frankie and I never said. Zach asks so it will be a 5-3 vote. Christine says yeah. Christine says that Nicole is the B-word! She talks about me and Cody all the time. She's jealous. Zach agress. Zach says that they're not brilliant but they're smart. Zach says I am pissed. I am never f**king talking to him again. I am going to make Nicole cry everyday. I am pissed!! And she is always around Cody, she likes Cody. Christine says I don't want to have anything to do with Donny either. Zach says f**K Donny, Hayden and Nicole. Christine says by a vote of 5-3 Zach you're safe. Jocasta get to stepping. Zach says he is going to looks straight at Nicoles face. Christine says oh their faces! Zach says he is going to try and distract then from winning HOH. Christine says oh distract them dude. I think they think its going to be an 8-0 vote. This is the first HOH blindside! Christine says I wanted a good excuse for me to send Nicole home and this is perfect. Christine says she can't stand it when Nicole comes up to her asking if she is okay. Like get off! Zach says you're a great actor! Christine says this just made us stronger which is perfect!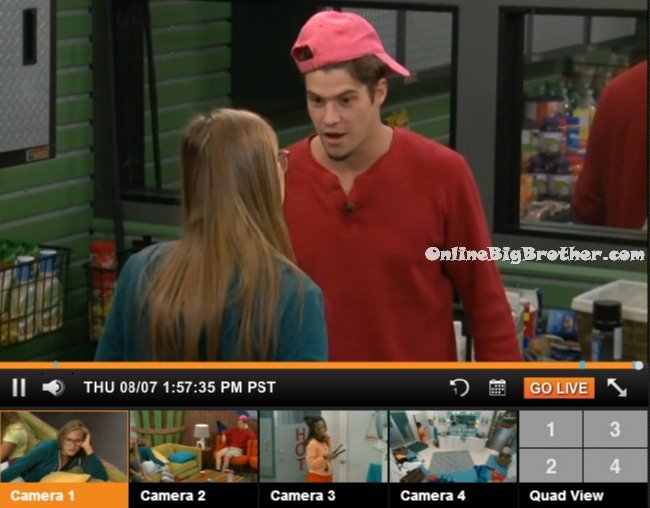 2:40pm – 2:55pm In the living room – The house guests are sitting around chatting about random things while waiting for the live show to take place.
3:13pm Chit chat while waiting for the show prep to start.
Feeds cut to jeff..
Wheres the vote
Zach staying
Alliances 
The Rationale = Nicole, Derrick, Hayden and Cody
Zankie = Frankie/Zach
The Detonators = Derrick, Frankie, Zach, Christine, Cody
"The HITMEN" – Cody & Derrick
Trilogy = Nicole, Christine & Hayden
Team America = Donny, Derrick, Frankie
Old timers = Jocasta/Donny
Nicotine = Christine/Nicole
bottomfeeders = Derrick and Nicole
More polls here https://www.onlinebigbrother.com/big-brother-compendium/big-brother-16-polls/
[polldaddy poll=8220599]
[polldaddy poll=8231622]