POV Holder:
Chrsitne
Next POV
Aug 2nd
POV Used
NO
POV Ceremony
Aug 4th
HOH Winner 1:
Donny
HOH Winner 2:
Nicole
Battle of the Block Winner
 Caleb/Victoria
Next HOH/ Next BOB
Aug 7/Aug 8
Original Nominations:
Donny's Noms (Victoria & Caleb) Nicole's Noms (Zach & Jocasta)
Final Nominations:
Zach & Jocasta
Have Nots
Frankie, Cody and Hayden
POV Players
Nicole, Christine, Jocasta, ZachAttack, Caleb, Victoria,

9:28pm Frankie, Christine and Nicole
Frankie brings up Zach coming to him cody and derrick about an alliance.,
Frankie – Armed with that information now it's almost better to vote him out
Nicole I can't believe you said that
Frankie – He's so erratic .. he's unpredictable.. in my gut in my soul I know i'm not in his top crew..
Nicole – But didn't you say he wanted to get Cody and Derrick out
Chritns covers up says "Every day he wants someone else gone.. he changes his mind all the time"
Frankie says Zach wants to put up Donny and Victoria and Backdoor HAyden.
Nicole – Shoot that's bad
Frankie – that's not good for my game
Christine wonders how many alliance Zach has started "I count four"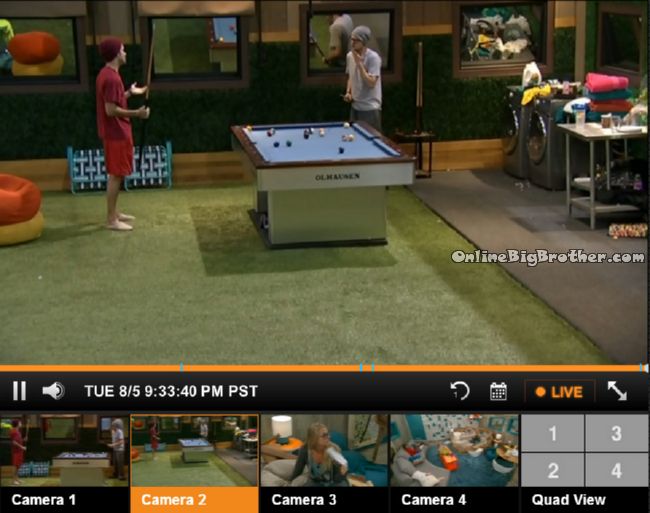 9:33pm Derrick and Cody Pool table
Derrick says Christine told Nicole right away about The detonators. She didn't wait for Frankie for them. Cody – You know what I dropped in Nicole's ear to make her hate Christine today… Christine said you and Hayden hooked up earlier in the season" he adds that he tried to make it sounds like Christine was implying Nicole and Hayden are a power couple. Nicole told Cody " I hate her"
Talking about Nicole trying to catch them on the name of the alliance. Derrick says he almost slipped up when Nicole asked him but COdy jumped in and saved it. They are deconstructing their conversations making sure they haven't messed up. they seem pretty happy with the way things are panning out.
Derrick – "Your story was magical"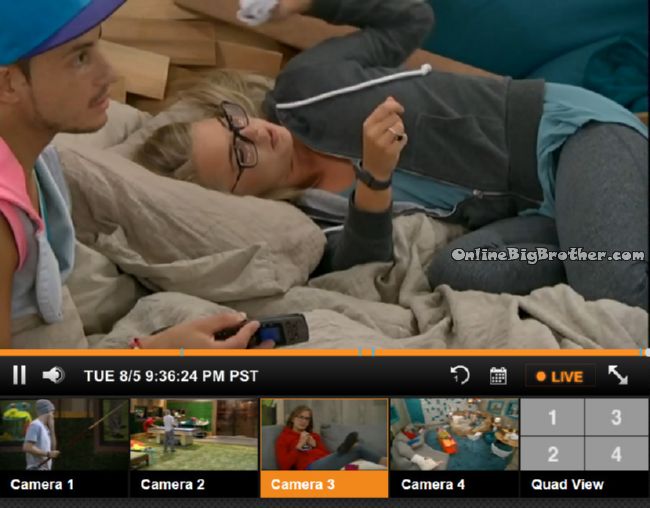 9:42pm HOH Christine, Hayden, Nicole and Frankie
Frankie says last night Zach says his target is tHAyden he [plans to backdoor him.
Hayden isn't surprised Zach kinda tells him all the time he's a target.
Frankie says he's got their backs at this point he wants to vote Zach out.
Hayden – He will always be the master of his own fate.. if there is every a demise in Zach's game it's going to be due to his actions"
Frankie says there's other people in this house beside the "Muscle"
Christine says that Victoria told her in the 48 hours she was attached to Caleb he never brushed his teeth.
Nicole always smells his pits
Christine – I never see him in there… I hate when he comes by me I can smell him
hayden – that's called beast mode BO

9:53pm Christine, Nicole and Hayden
Christine calls Zach "So stupid"
Nicole – "He's messing with the wrong girl
Nicole I have a very good chance in accomplishing my missions
Hayden asks if he should talk to Derrick and Cody about it without saying I know Zach approached all of you guys.
NHayden – were you out there
CHristine Ya .. I think I wasn't going to bed so I was there by default.. you know what i mean.. he couldn't keep his mouth shut long enough for me to go to bed.
Trashing Victoria
Christine says she talked game with Victoria today and it was like talking to a 10 year old
Hayden say victoria is the most entertaining person.
10:14pm HOH Hayden and Nicole
Hyden draws the parallels between this week and last week. Caleb thought Amber was going home and he was the mastermind last week and this week Frankie thinks he's the mastermind but it
Hayden – It's hilarious He's the one thinking he's orchestrating the whole thing like Caleb did last week
Nicole says it makes her feel good that Christine and Frankie don't know they are working with Derrick and Cody. Hayden thinks Christine suspects something is up.
Nicole says Frankie is going after Cody He'll never go after Caleb..
Nicole says Christine told Cody you and I are a power couple when were were the closest people in the house this was week two.. she's dunzo in my book
Nicole is scared cody trusts Christine. Nicole says CHristine is all up Cody's butt again
Hayden doesn't think he does
Nicole – there's nothing I will say or do about it other than want her out more.
Christine – SHe knows how close you are with with DOnny because you tried to get her in that thing
Hayden says he's opened that up to the house they all knew he tried to mend those two it's fine.
Nicole says she's having trouble keeping things straight with Frankie and Christine because they're doing so much lying.
Hayden says you cannot have a private conversation without Frankie coming in 3-6 minutes laters. Nicole thinks that is too long give him 1-3 minutes.
Christine says out of all the boys in here Hayden is the only guys she desires to ksis..
Derrick rolls in Hayden tells him that Frankie thinks he's masterminding this whole getting Zach out thing. Hayden – IT's the same thing as last week Frankie thinks this is his master plan"
Hayden says Christine said she was outside and listened to Zach's alliance pitch. Derrick says she's lying she was not in the conversation. Hayden doesn't believe that he's Zach's target, Derrick agrees.
Hayden says he feels that Christine knows there is something going on. Nicole doesn't think she knows.
Hayden – She has no actual evidence she has a whiff of it".
Hayden thinks they caught a whiff of Zach going home so they decided to flip the script and be on the winning side.
Hayden says Christine was telling Victoria this morning there was a guys alliance and they are voting out Jocasta. Hayden adds that she's telling Hayden to vote out Zach. Hayden thinks she's trying to put HAyden and Victoria against each other.
Hayden says Victoria told him she doesn't trust Frankie at all. Derrick says he doesn't talk much game with Victoria.
They talk about how much they like Christine she's a cool chick but spreading a lot of lies..
Hayden says christine always touches Cody that bothers me…
Hayden – not that it's bad but to me it's weird
Nicole – ya
hayden – if I was married.. "
Derrick thinks he hears someone.. they change the subject
Hayden _ would rather see Christine gone than frankei
Derrick – with Zach gone Frankie is crippled he's a wounded fish with one fin.. he really can't defend itself.
With a live feed subscription you can go back and watch any event that has been shown.
Use our site as an index and watch only the parts worth watching.
Try It Free! Subscribe now to the official BB16 Live Feeds
10:52pm Derrick and Hayden
Derrick says Victoria told him a couple weeks ago about something that happened week one. Derrick explains you know how early in the game everyone is talking to each other trying to find common ground . Derrick told CHristine it would be nice if a married person won the game because it's been awhile.
Derrick – She went to Victoria and told her I was asking for a final 2 and was trying to build an alliance.
Frankie joins them.
They start joking about sucking your own d1ck.
Hayden – u jerk it if you are able to suck.. if it was a possible thing for every guy
Derrick – I can wholeheartedly say I won't suck my own d1ck my response would be I would like to die without ever sucking a d1ck ..
Derrick ask think if it's own d!ck does it count as being gay
Frankie and Hayden don't; think so.
Hayden – If mine was big enough I Would s*ck it.. I'm not even faulty on it.. 100% if it was big enough I would suck it.
They talk about how stinky Caleb is,Frankie says when Victoria was chained to him he never brushed his teeth once. Says she snuggles in Caleb's arm pit and it's ripe.
Beast mode rolls in.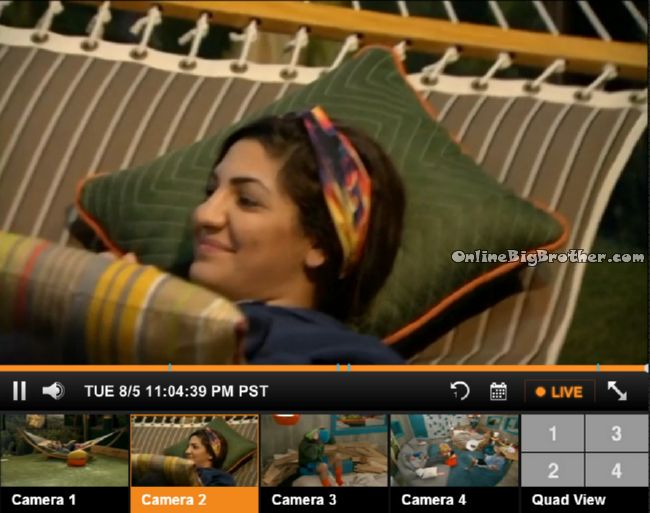 11:08pm Hammock Nicole and Victoria
Nicole brings up Christine tell told her Victoria and Hayden hoked up.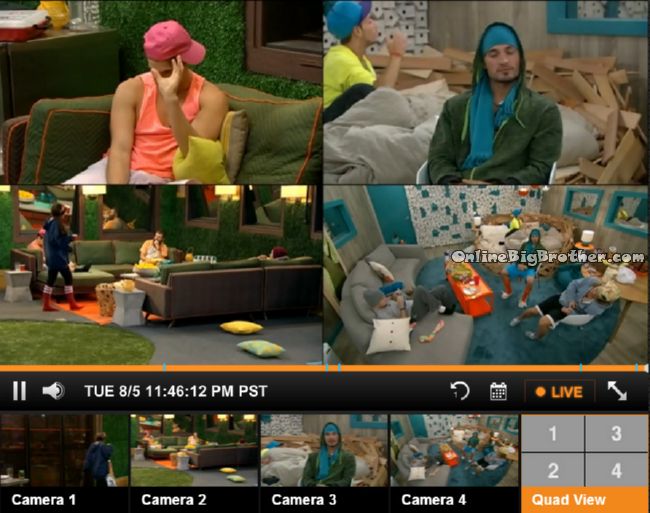 11:46pm
HOH Talking about the metal scene in Boston, Texas and the Deep south.
Backyard talking about sport teams
11:57pm HOH Nicole, Hayden, Derrick, and Caleb
Caleb going on and on about being on slop 4 out of the last 5 weeks.
Jocasta comes to get Derrick for praying. Caleb back to talking about being on slop.
Nicole – That sucks
Caleb – I'm anxious who gets America's player.. it's based on how you are perceived..
Hayde – It's based on a lot of things.
THey start talking about last season Hayden says Eliza did some really good moves. Caleb says she had the MVP which kept her safe.
Caleb wants to be in all stars.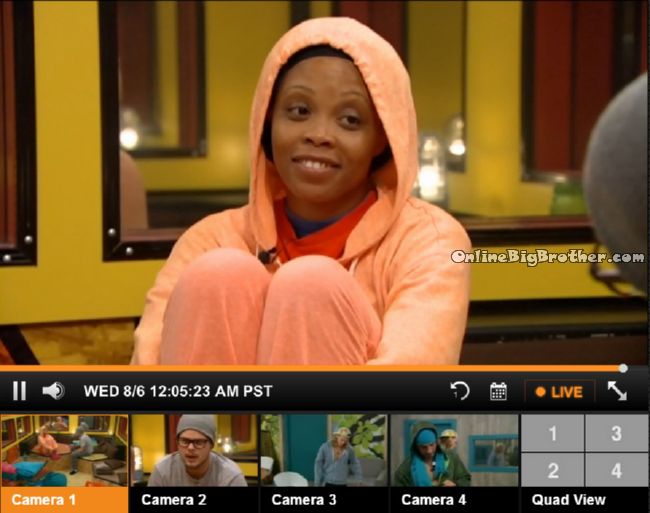 12:00AM Derrick and Jocasta BEEHIVE
Derrick says she has his vote. Derrick really doesn't want Zach to get wind of him going home.
Derrick says once Zach goes home they have to just survive.
Jocasta says Victoria isn't going to vote Derrick or her out.
Derrick says Victoria has a silver spoon in her mouth but htey can't fault her for that. She's not dumb
Jocasta – I don't think she's dumb.. she's just a diva
Derrick says Jocasta has the votes to stay this week as long as Ahyden isn't lying to her.
Where the Vote is..
Zach going home..
12:13AM HOH Hayden and Nicole
Hayden – Jocasta is to Donny like Victoria is to me. Nicole is a bit worried about Hayden telling Victoria about Christine saying they made out. Nicole is worried it'll come out to Christine. Hayden says Victoria doesn't trust Frankie and Christine she never speaks to them anymore. Christine comes in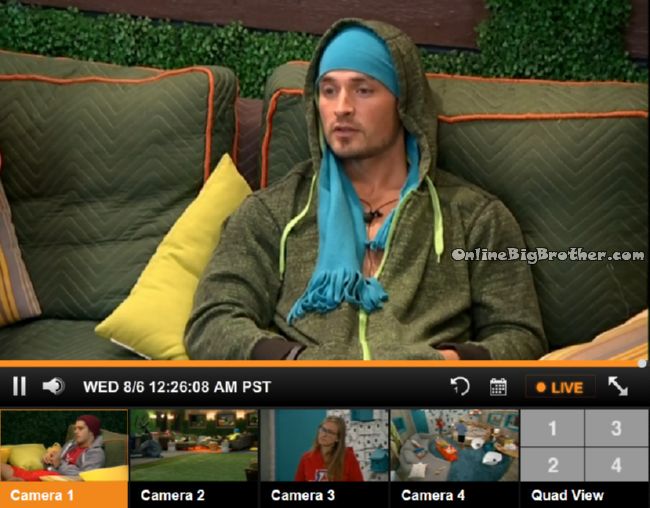 12:23AM Caleb talking about when he came back to the US after serving in Iraq.
Caleb – We had one psyche test and I failed it I had to go see extra doctors.. they would hold my hands and talk to me eye to eye.. "
Caleb explains they said he had a "Form of PTSD" Did I have it that I wanted to hit the walls NO.. Did I have it that I felt alone and I started crying yes"
He says overseas you see a pillow on the side of the road it's a bomb..you see some trash it's a bomb.. explains the difficulty in adjusting after serving, "I'm way over that now ..but when I got home it was really hard"
Caleb says he's fine he went through all the tests before coming back into the house. Caleb says his hearing is "Jacked" from shooting a 50 caliber gun without ear plugs.
Frankie – was it in combat
Caleb – ya
Frankie – no f*** way
Caleb explains they were in a humvee that the guy manning the 50 calibre could man the 50 calibre again so he was the next one up. Got up there and started shooting.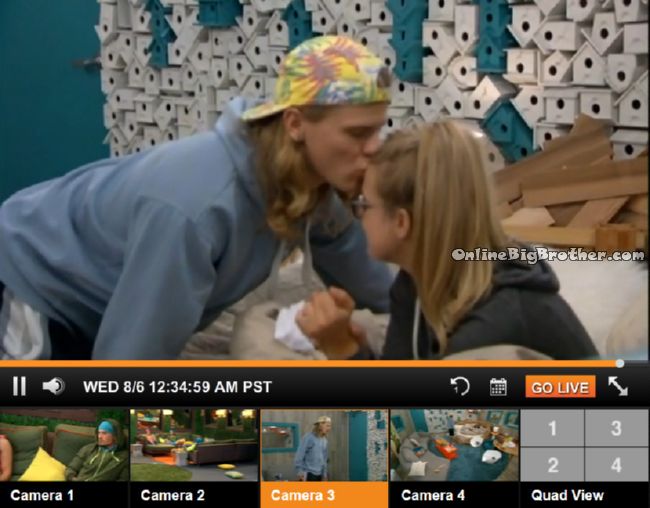 12:34am Hayden and Nicole
Hayden start moving toward Christine (See images)
Nicole – Hayden no no hayden
Hayden – Someone is going to make a montage of you saying no..
Hayden says he's got a gift for her.. Gives her a kiss on the forehead.
Alliances 
The Rationale = Nicole, Derrick, Hayden and Cody
Zankie = Frankie/Zach
The Detonators = Derrick, Frankie, Zach, Christine, Cody
"The HITMEN" – Cody & Derrick
Trilogy = Nicole, Christine & Hayden
Team America = Donny, Derrick, Frankie
Old timers = Jocasta/Donny
Nicotine = Christine/Nicole
bottomfeeders = Derrick and Nicole
More polls here https://www.onlinebigbrother.com/big-brother-compendium/big-brother-16-polls/