POV Holder:
?
Next POV
Aug 2nd
POV Used
?
POV Ceremony
Aug 4TH
HOH Winner 1:
Donny
HOH Winner 2:
Nicole
Battle of the Block Winner
 ?
Next HOH/ Next BOB
Aug 8/Aug 1
Original Nominations:
Donny's Noms (Victoria & Caleb) Nicole's Noms (Zach & Jocasta)
Final Nominations:
?
Have Nots
?
POV Players
?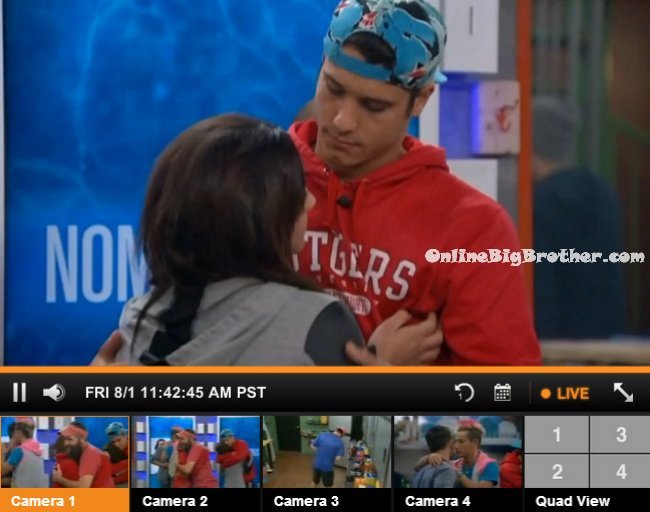 Take Advantage of the FREE 2 day Trial to watch all the drama!
10am – 11:43am Big Brother blocks the live feeds for the nomination ceremony to take place.
HOH Nomination Ceremony Results:
Nicole Nominated: Zach & Jocasta
Donny Nominated: Victoria & Caleb
HOST of the Battle of the Block: Christine
The live feeds return – In the bathroom Derrick tells Nicole that her speech was good. Nicole asks it wasn't bad was it? Derrick says no, you took an innuendo from his book and used it on him. It's not bad that I said it was a strategic move to nominate her (Jocasta) is it. It's what it is. Frankie joins them and tells her she did good!
In the kitchen – Zach says she wants to play cat and mouse.. well she looks like a mouse and I'm as swift as a cat and I'll bite your head off. I'm coming for you Nicole!! Zach ask Frankie do you think they (Nicole & Donny) worked together to do that. Frankie says I don't know, does it matter. Zach says it definitely matters if they worked together. Frankie says well you would know better than I would. Zach says well I am going to go find out right after I make this sandwich.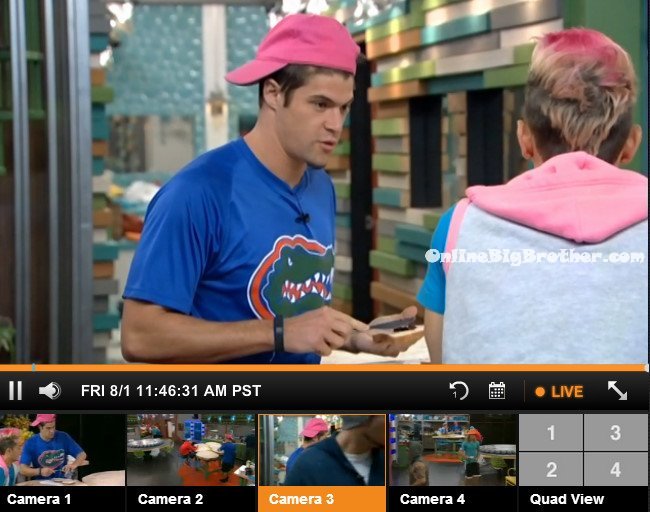 11:45am – 12pm In the kitchen – Caleb says its cool you pick on beast mode! Beast Mode pick on you! You say its because I put you up, well I am coming after you.
In the bathroom – Frankie tells Jocasta that she needs to listen and work with Caleb in the battle of the block competition. He is military, don't take his tone or yelling as being mean towards you. Victoria says I know. I need that. Victoria grabs Caleb and tell him she knows they've had their differences but.. Caleb says we haven't had our differences, we're good. Victoria tells him that she will listen to him and they jsut need to go out there and take themselves off. Caleb says I feel like I should be good enough to carry us both through it. Fight through it and lets get through it. Victoria says and don't be scared to tell me what to to. Caleb says oh I'm not. Beast modes ready to play!
In the hive room – Zach tells Jocasta that he is glad his up with her and not Victoria. He says hopefully its a mental competition.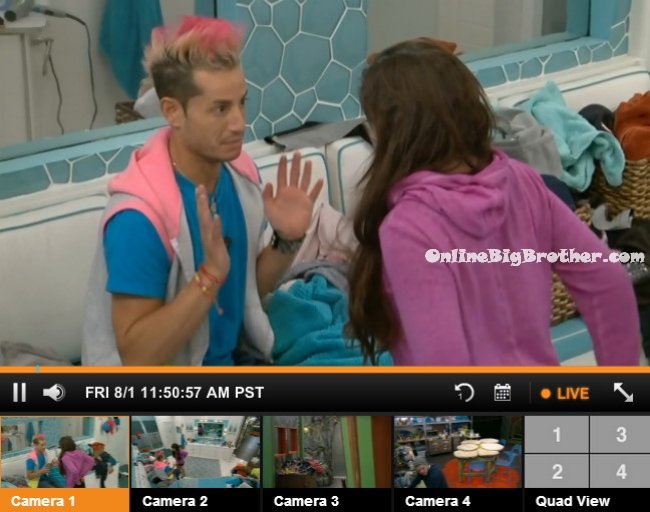 12pm Up in the HOH room – Cody and Derrick join Donny in his HOH room. They thank him for not putting them up. Donny says your welcome. Donny says I hope Caleb isn't mad at me. I only put him up because he put me up. We're even now. I didn't cry when he put me up. Victoria comes up to talk to Donny. Cody and Derrick head into the other HOH room. She asks what if they win and come off and then Caleb wins veto? Donny says don't freak out. I have thought it through. I put you up because you are the better competitor. And think of this I am playing in the veto too. He has yet to prove that he is some competition beast. He nominated me and so I nominated him. You have done nothing to me and if you are still up come Thursday I will do my best to get you the votes. Donny tells her not to worry this early. Victoria says I know. Donny starts giving her pointers on the winning. Donny tells her sorry. Just know you're not the target.
Cody and Derrick talk – Derrick says we want Donny's nominations to win the battle of the block. Derrick tells Cody ideally we need Zach off the block because I know he wouldn't vote us out. Cody brings up trying to get Frankie out this week. Derrick agrees. We need to solidify something with Nicole before Frankie gets to her. Cody agrees.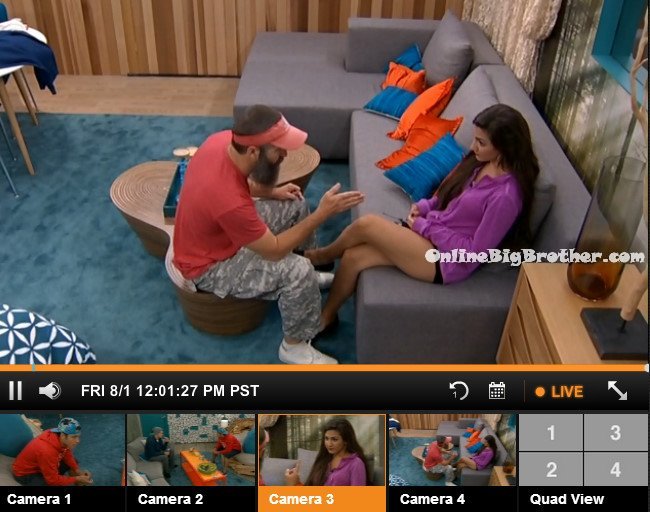 12:10pm Nicole and Donny talk to Jocasta. Donny tells her to stay calm and that she's not the target. Nicole says I'm sorry. Jocasta says it's okay. She talks about how she just doesn't feel good and isn't able to go to the bathroom.
12:20pm In the earth room – Zach asks Cody if Caleb is still up and wins the veto who is Donny putting up? Cody says I know I am. That was part of the conversation last night. I put him up so I know he would put me up. Zach says what if Victoria and I are still up and Victoria wins Veto then it would be you and I up on the block. Cody says I know if Donny puts me up then that means he wants me out. At that point there's no tit for tat. Wnen I put him up there were still 13 people in the house. Cody and Zach think it would be better for Nicole to stay HOH. Zach says it would be good if Nicole won veto because then she would keep the nominations the same. Zach says what was Nicole thinking putting me up on the block! F**k Nicole! I'm coming for her head!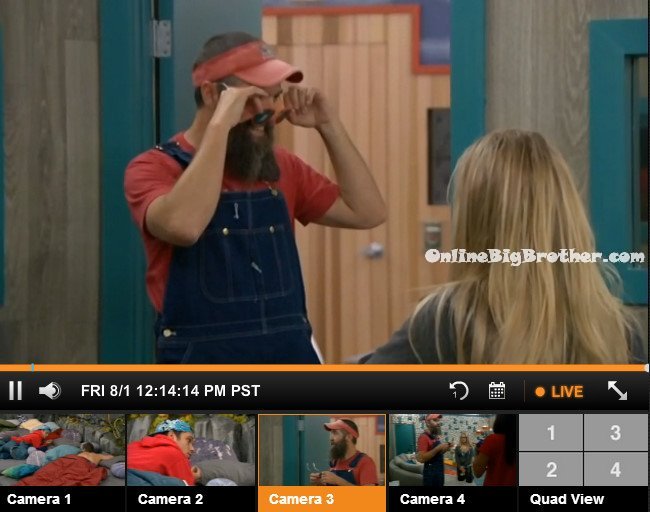 In the kitchen – Caleb comments that it looks like I have a vag!na in these pants because they're so tight. Frankie says that's because you're d**ks not big. Derrick says its not like I have a 13 inch c**k either. Cody says like Ron Jeremy. Christine says I had a dream about Ron Jeremy last night. He was interviewing us. Caleb says I am going to stop wearing underwear so people can start seeing how big my stuff is! That's what I'm going to do.
12:30am In the earth room – Frankie laughs about how Caleb said you can't see his c**k in his pants. Frankie says because you have small c**k its like Derrick. They laugh. Zach talks about going out and killing it in the competition. Zach says then we can have celebritory an@l date after. Frankie says oh my god I need it so bad! Caleb joins Zach. Zach asks what if Victoria wins Veto, then what? Caleb says I didn't think of that. Zach says there's less than a one percent chance she would win it. Caleb agrees.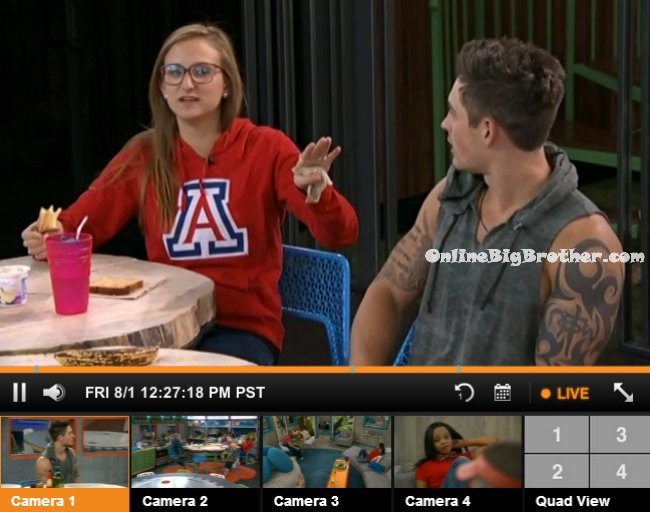 12:35pm – 12:40pm Derrick and Victoria head into the havenot room. Victoria says that she is stressed. Derrick says you're in a good position. You're not in a bad position, you're not in a good position either because you're on the block. Victoria is worried that if Caleb comes off the block then I am going home. There are no other targets. It just sucks. I feel like I would go home against any one. Derrick says not necessarily. Victoria start crying. Derrick says I need to go to the bathroom. I'll be back.

12:45pm – 12:50pm Derrick comes back and tells Victoria she just needs to win today. You have a very good chance at winning it. Caleb is strong and he's not dumb either. Last week you were with Jocasta this is different, he will carry you the whole way if he has to. Zach won't beat him. Victoria says I have to win. There's so much pressure. Derrick says you have to relax as much as you can. Victoria says I know. Derrick says you're going to win, I promise!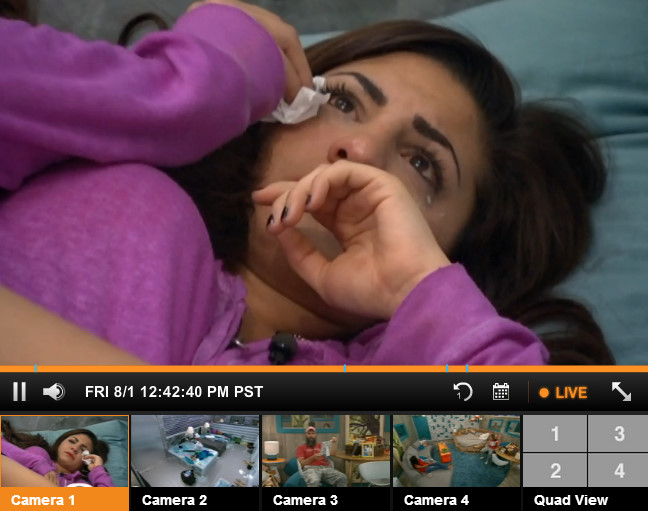 Victoria heads up to the HOH room – There is a lot of pressure for me to win today because there's still a slight chance I could go home. Victoria asks what if Caleb wins the veto? Nicole tells her you still won't go, I promise you. Nicole and Victoria try to sleep in the HOH bed.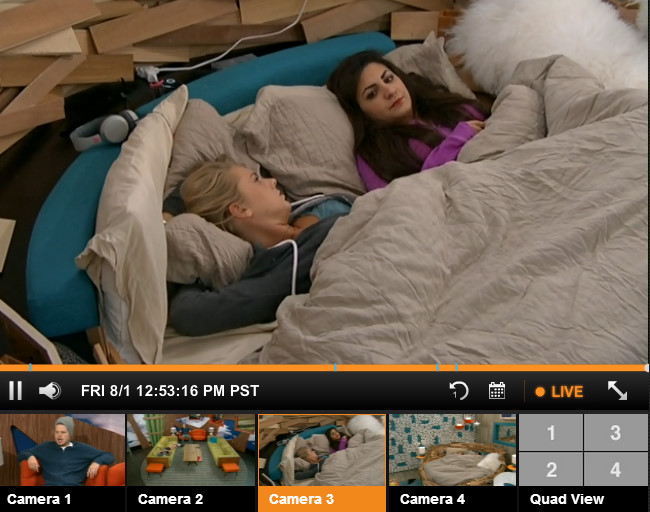 1:10pm – 1:30pm All the house guests are napping / resting before the battle of the Block competition that will happen this afternoon.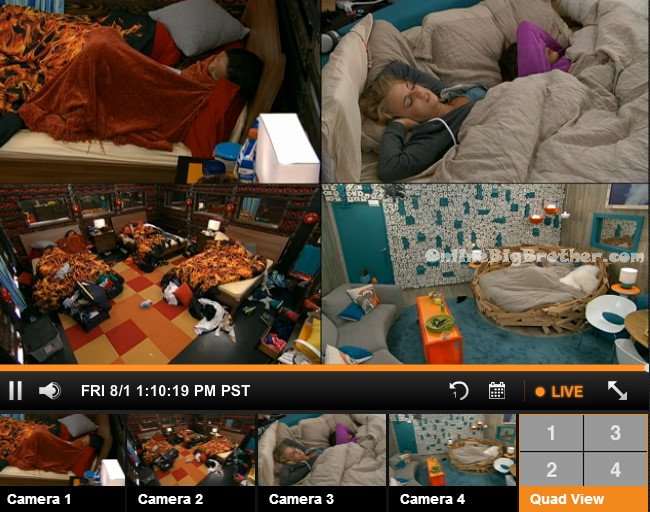 1:40pm – 1:55pm Donny heads down from the HOH room and starts doing laps around the kitchen table. Victoria comes down and says she just had a good power nap. Donny tells her to stay awake now and keep your heart pumping. There's no noise out there so it could be soon. Victoria says this is when the game gets.. like were every competition counts. Donny says yeah and you're with someone that is very confident so that's a plus. Last yeah Spencer was nominated 8 times! Victoria says but I don't want to be a Spencer! Donny says if you do sit there till Thursday and you stay to a unanimous vote ..that's a compliment that all your friends voted to keep you. Donny tells her to not be afraid to tell Caleb something.. because he's not too smart. Donny says if someone other than the nominees win the veto they would be afraid to use it because one of their friends might go up. Victoria says right. Donny says since we didn't have a double eviction last night.. there might be one this Thursday. One of the people will go home and the other will go to jury. Donny says hopefully we made it to the second phase of the game to jury. And even if we get kicked out now at least we can influence who wins. Victoria asks Donny do you want to get married. Donny says well one day. I am a little worried because I've never done it before and most end in divorce. Big Brother gets called to the diary room and Victoria says it (Battle of the Block) might happen soon since she just got called in. She's the host. Donny says oh you're right!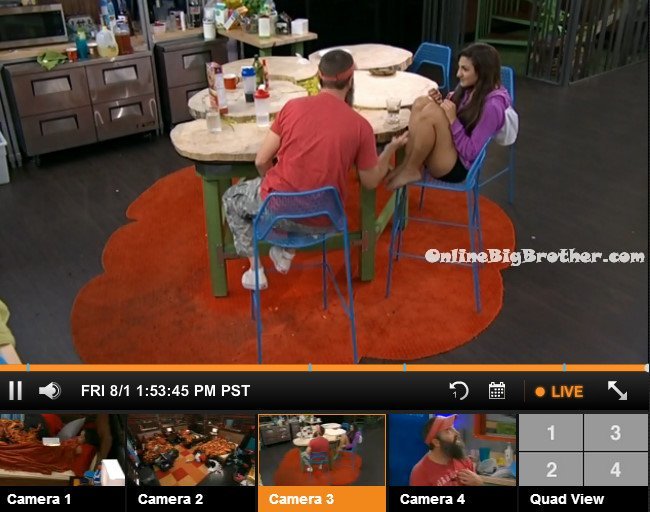 2pm Donny heads up to the HOH and asks are you ready for me to be tar'd and feathered if I get dethroned!? Nicole says it might be me.
Victoria goes into the fire room and climbs on Derrick's back: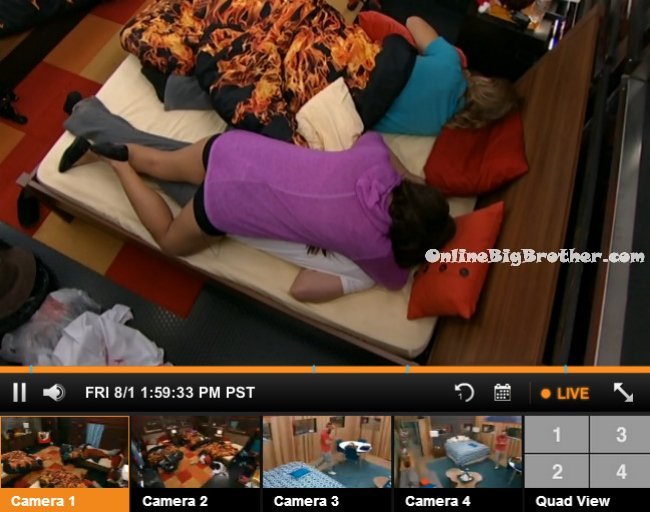 2:03pm Big Brother blocks the feeds for the Battle of the Block Competition to take place..
Alliances
Zankie = Frankie/Zach
The Detonators = Derrick, Frankie, Zach, Christine, Cody
"The HITMEN" – Cody & Derrick
Trilogy = Nicole, Christine & Hayden
Team America = Donny, Derrick, Frankie
Old timers = Jocasta/Donny
Nicotine = Christine/Nicole
More polls here https://www.onlinebigbrother.com/big-brother-compendium/big-brother-16-polls/
[polldaddy poll=8220599]