POV Holder:
?
Next POV
Aug 2nd
POV Used
?
POV Ceremony
Aug 4th
HOH Winner 1:
Donny
HOH Winner 2:
Nicole
Battle of the Block Winner
 Caleb/Victoria
Next HOH/ Next BOB
Aug 7/Aug 8
Original Nominations:
Donny's Noms (Victoria & Caleb) Nicole's Noms (Zach & Jocasta)
Final Nominations:
?
Have Nots
Frankie, Cody and Hayden
POV Players
Nicole, Christine, Jocasta, ZachAttack, Caleb, Victoria,
Sigh…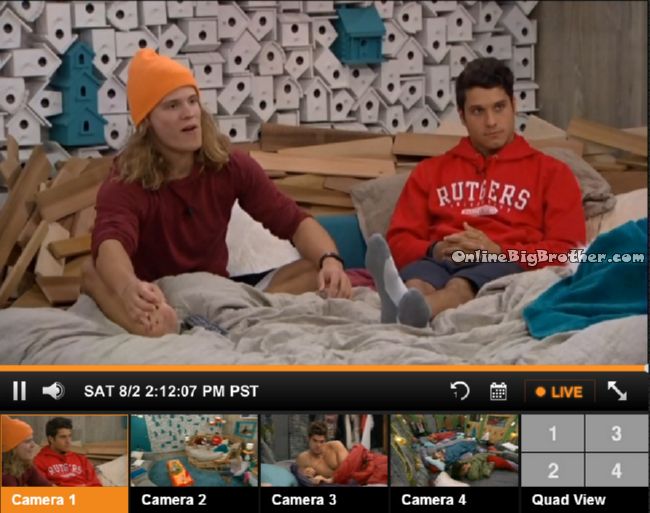 2:10pm Hayden and Cody HOH
Cody mentions the name of the alliance tentatively being "Quad Squad"
Hayden say the name for the alliance sucks He's got four banked away he's ready to fire out.
Hayden – "I have the coolest name ever."
Nicole comes up says Christine is trying to convince her to put up COdy oir Derrick. She's making this suggestion under the guise that Derrick/Zach would stay but the intent is to dlip the house and get cody//Derrick out.
Cody – they are trying to get Derrick or I up to send us home.. OH MY GOD.. Christine and Frankie are trying to get you to put up me.. I'm going to win HOH next week and you just told me my nominations"
Cody – When he does all these antics I want to kick him in the back of the head.. he's so fake.
Derrick rolls in.. They compare notes about Frankie and Christine trying to get Derrick or Cody put up. HAyden says Chrsitne told everyone in the house that Cody, Derrick and Nicole were up in the HOH talking game.
Cody – They want to flip the script and get one of us out.
Frankie rolls in Cody – "F****"
2:25pm Hayden comes into the rock room wearing Victoria's shorts Starts grinding everything around him
Zach – Dude nice camel tow bro.. you got such a toe on these things..
Victoria says he's wearing them backyards stretching them all out. They are surprised that Victoria and Hayden are the same size. Victoria isn't excited about this start to get a bit pissed.
Hayden heads up to the HOH to terrorize Nicole.
With a live feed subscription you can go back and watch any event that has been shown. Use our site as an index and watch only the parts worth watching.
Try It Free! Subscribe now to the official BB16 Live Feeds
2:42pm HOH Nicole, Cody, HAyden and Derrick
Nicole – Holy crap..
Cody – I'm going into the next HOH HAMMER TIME
Nicole points out how stressed Frankie and Christine have been. Brings up they told her they want to win HOH on double eviction to get a big player out Cody – He's talking about me he wants me out ;
hayden – Frankie says he wants to cut throats and start backstabbing he said that to me .. I was like OK
Nicole he's ready for a blood bath
Cody – thats vulgar who says that
Cody says he doesn't give in to Frankie bullshit that is why Frankie is talking about him going up. He brings up how Frankie has Zach, Caleb and Christine wrapped around his little finger.
Derrick think it's Donny that Frankie wants gone .. Cody tells him Frankie told Zach who told him he[s coming after him. Hayden asks them what they thought about "The Rationales" as a name for their alliance. Cody likes it says it's better than QUAD SQUAD.
3:05pm Kitchen Zach, Christine and Frankie
Talking about Donny being a doctor or a science teacher. Frankie says he used the word osmosis, his brother is a science teacher and his friend is a professor.
Talking about the upcoming POV competitions, "They are building so much sh1t"
Zach – I gotta win
Frankie and Zach go to the BEEHIVE
Zach tells him to please win the competition and if he can't he has to make up with Nicole he doesn't want this week to be the week they draw a line in the sand.
Frankie – If you win it you can run around the house saying F** you
Zach doesn't want JOcasta to win the POV, "If Nicole wins she could take Jocasta down and make an amazing move"
Frankie is certain Caleb and Christine won't use the POV
Derrick and Christine come in Zach asks if Victoria and Nicole will use the POV. Derrick thinks Victoria won't but isn't sure about Nicole. Zach is worried someone will get in Nicole's head.
Christine tells them that Nicole is getting jealous because HAyden has been wearing Victoria's shorts.
Zach – AS long as Jocasta doesn't win Veto we are golden
Frankie – I'm going to try to get Donny put up
Derrick – No chance in hell
Derrick says it will be interesting if Zach doesn't win but POV is used who Nicole would put up
Cody joins them they have a detonator meeting in session
Zach starts talking about how good he is at estimating..
Zach tells them they should get Hayden out before Caleb. "It's scary to say but I think we need to get out HAyden."
Zach is planning out how they are going to get to the final 6 and who they should take with them. Ideally he wants Victoria because she has no chance in winning the HOH.
Frankie warns that Donny is really smart.
Zach – That is why he's next after Hayden.
Zach says they need to get Hayden, Donny Nicole, Caleb Victoria out
Frankie tells Zach "You can be as big of a monster as you want if you have that veto around your neck"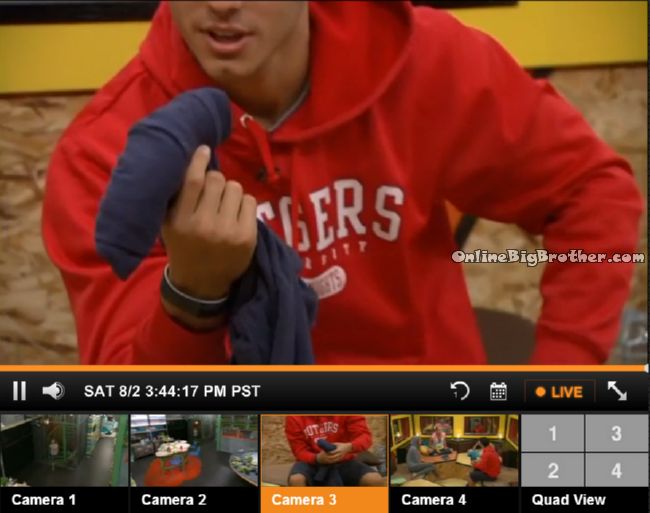 3:44pm Cody shows us the size of Donny's Log in the toilet bowl the other day
3:58pm Derrick and Cody FIREROOM
Derrick says they only have each other in this game just like he told him day 2.
Derick has caught Nicole in 3 lies, he is certain Donny and Nicole are working together, "That's my opinion I don't know if that is true"
Cody – What do you think of Frankie"
Derrick doesn't know says Nicole is changing her story, "Play the numbers we vote out Frankie/Zach we lose a number"
Derrick – Would Zach put us up.. never.. would Frankie and Christine … maybe but I don't think he's saying things to the amount they're saying he is.
Derrick – Nicole is a bad liar they are using me and you
Cody – they know we are the flips
Derrick – I caught Donny and HAyden in here alone talking.. "Why are they talking so much"
Cody – should we stick with the detonators
Derrick – we might have to
Derrick says Nicole and HAyden talk shit about Frankie because they know they won't go to him to cross reference.
Derrick – Every time i Mention DOnny Nicole is like I could never put him up i would never put him up.. why .. he's not part of the quad squad he's not part of the rationales.
Cody – I love the rationales it's a sweet name
Derrick – I do to
Derrick says every member of the detonators they can beat them he doesn't think they can beat the rationales. THey agree they are being played, "We're being Stroked bro"
COdy – Victoria isn't working with them she's with us"
Cody – Christine is with frankie
Derrick – She's more with us not them up there
Cody -Zach is in Frankie back f*** pocket and that isn't good for me
Derrick stresses it's all about the numbers Frankie can't get them out he doesn't have the numbers. . "It's all about the numbers.. we're going up on the block dude on the block"
Cody – I Want Zach off the block
Derrick – Agreed
Derrick says they need to get DOnny or Jocasta out this week,
Derrick tells him Zach will never put them up. Cody doesn't trust Frankie though.
Derrick – Frankie is playing both sides.. I don't give a f** about Frankie as a person I give a f*** because he's a number.
Derrick – we have to assume everything is a lie.. Nicole I've caught her in 3 different lies the biggest is her covering DOnny's plan to put you on the block.
Cody mention how he use to have Christine in his back pocket but now she's gone.
Derrick says Cody needs to reel Christine back in they are trying to win half a million dollars use his face whatever it takes.
Derrick – I know 100% Hayden And Nicole are working together.
Cody thinks Donny is working with them.
Derrick wants to stick with the detonators get Donny, Jocasta, HAyden and Nicole out.
Derrick – I think Zach talks sh1t but I don't think he's getting us out
Cody brings up frankie talking sh!t about getting them out on double eviction
Derrick says when they get to final 6 he'll vote Frankie out before Caleb
Derrick wants the nominations to be the same so if they find out Nicole and hayden are lying to them they will vote Zach out if not they will vote out Jocasta.
Frankie joins them… "I'm nervous about Zach.. I love him but sometimes I want to stick a fork in his eyes" Frankie mentions how he's told Zach to make friends with Nicole.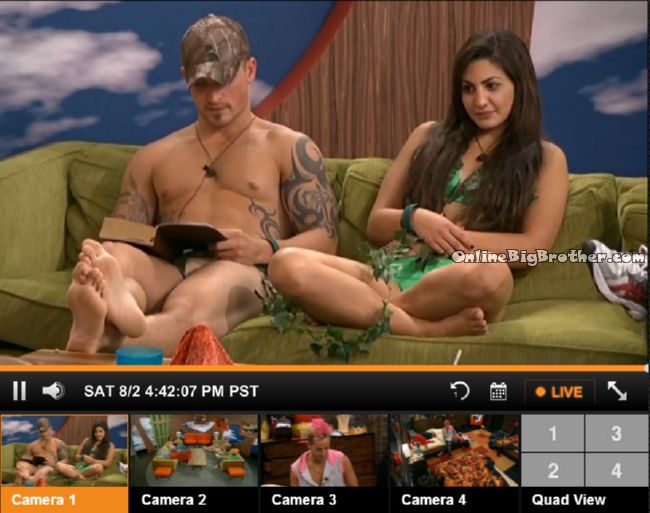 4:43pm Reading The Adam and Eve Story from the bible.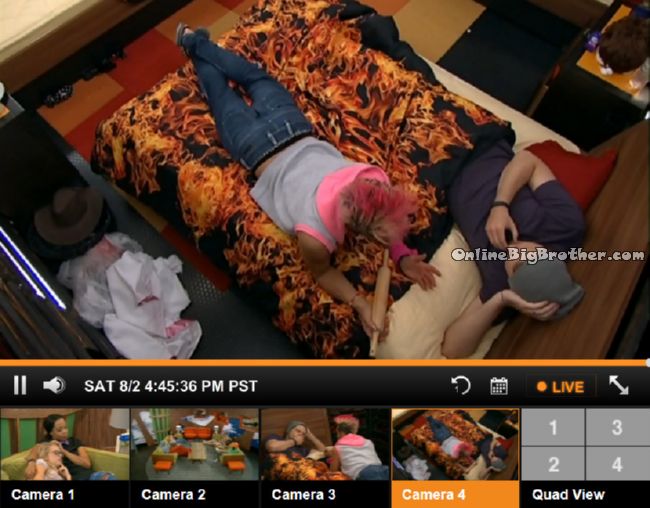 4:48pm Christine, Frankie and Derrick
They are talking about the best case scenario is Zach winning the veto. Ferrick thinks she might put up Donny, "It's the only thing that makes sense"
5:00pm FIREROOM
Cody and Derrick Losing their minds paranoia becoming an all time high
Cody – Bro who's playing us
Derrick Bri we're being played on both sides..
5:02pm HOH Nicole and Hayden
Nicole – Christine came up to me and she said.. you have to put someone up against Zach That won't go home… I asked her who do you want up.. and she said Cody and Derrick"
Nicole – And she said Just so you know Victoria and HAyden made out and Zach told me Hayden loves Victoria like thats why he's keeping her in this house Nicole.
Hayden denies it Nicole knows it was a lie..
Nicole – Dude even if it' true.. to toy with my emotions like that it's rude
Hayden – You should put her up
Nicole – thats what i'm thinking .. she better hope she wins.. is that true.
hayden – No
Nicole – She knowS that I like you a little bit so to say that is just rude. "She said It DISGUSTS me it disgusts me.. About you and victoria making out I don't believe it for a second..
Hayden – I promise Victoria and I have never kissed we only cuddled once in the FIREROOM
Nicole – I know.. I can't believe Christine did that..
Hayden – oh my god
Nicole – This is the best part.,. She explains Christine told her Frankie talked to Hayden and he's 100% down with keeping Zach so she has no other choice he has to put someone big on the block
hayden – Put her f** ing up she'll go home
Nicole – She not very smart in her game she thinks she can manipulate me like that
Hayden – She is straight up the worst.
Nicole – I'm so happy i never told her anything
Nicole says Christine is a horrible friend she's trying to mess with her head before the POV competition "She's worse than Amber"
Hayden – if you had to choice right now who would you put up as a replacement
Nicole – Frankie and Christine.. I'm more afraid of Franki e
They agree they can fool Christine and keep her close even though they thinks she's a manipulative snake.
Nicole – I'm 99% sure CHristine has been throwing all the comps
Hayden – Derrick and Cody know it to.. you wouldn't have to tell me I could have guessed it's obvious.
Hayden – She thinks she so smart
Nicole – who does she thinks she's fooling.. you are vicious.
5:07pm Feeds go to Jeff POV TIME
(It's getting good folks)
7:15pm The live feeds are still blocked for the veto competition…
8:15pm Still blocked..
9:10pm The live feeds are still showing live feed highlights … its been 4 hours and counting now…
9:50pm Nothing yet…
10:22pm nothing…
Alliances
Quad Squad = Nicole, Derrick, Hayden and Cody
Zankie = Frankie/Zach
The Detonators = Derrick, Frankie, Zach, Christine, Cody
"The HITMEN" – Cody & Derrick
Trilogy = Nicole, Christine & Hayden
Team America = Donny, Derrick, Frankie
Old timers = Jocasta/Donny
Nicotine = Christine/Nicole
bottomfeeders = Derrick and Nicole
More polls here https://www.onlinebigbrother.com/big-brother-compendium/big-brother-16-polls/
[polldaddy poll=8220599]