POV Holder:
?
Next POV
Aug 2nd
POV Used
?
POV Ceremony
Aug 4th
HOH Winner 1:
Donny
HOH Winner 2:
Nicole
Battle of the Block Winner
 Caleb/Victoria
Next HOH/ Next BOB
Aug 7/Aug 8
Original Nominations:
Donny's Noms (Victoria & Caleb) Nicole's Noms (Zach & Jocasta)
Final Nominations:
?
Have Nots
?
POV Players
?
Take Advantage of the FREE 2 day Trial to watch all the drama!
9am – 9:20am In the earth room – Caleb is complaining that he can't sleep with the leaves. The leaves are poking my nuts and my @nus. Cody says I had a s*x dream last night and now I'm pissed. Zach asks why? Did you j!zz your pants? Cody says no, because I woke up without a girl around me. I had two dudes beside me. Caleb says yeah and one hald n@ked dressed in leaves. Cody tells Victoria that she was letting them rip last night. Lady farts. Zach says disgusting. Zach, Cody and Caleb are goofing around. They try impersonating characters from Family Guy. Zach brings up how she is the voice of Meg Griffin. Zach says can you imagine having s*x with Mila Kunis?! You could cut my d**k off after. Frankie asks what?! No, she isn't even hot. Cody talks about Megan Fox was way hotter before she got all her work done. Caleb says man I made it all the way through that true / false and I blew it. I had a good percentage too where 2 out of the 5 could have won.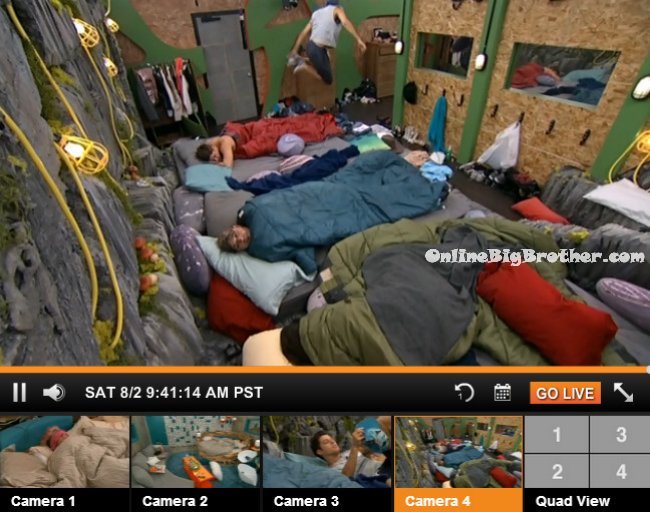 In the kitchen –
Donny says she's (Christine) sleeping up there in that room. Some people think me and other people think him. (as replacement nominees) I think they would talk her (Nicole) into backdooring me. Cody says I don't think so. Donny says it very well could be, because last time she (Nicole) put me up. Cody says I don't think she would do that because of what she said to me. She said that she wouldn't put you up. Donny says well she is the best friend of the person that wants me out. In the buzzer challenge she was the one that put me up against Jocasta. Donny tells Cody that he wished Hayden had talked to Nicole the night before the nominations .. but I guess now we'll have to live with the consequences. Cody asks if he should talk to her (Nicole). Donny says no I wouldn't press it. Caleb and Victoria walk through the kitchen and Donny says oh n@ked people! Caleb comments on how its so weird without Amber here.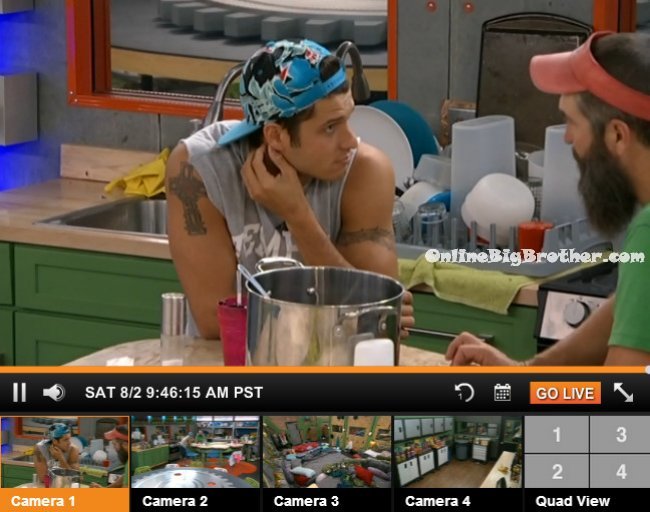 9:55am – 10am Caleb and Victoria head up to the HOH room. Frankie asks how they slept. Caleb says horrible I had leaves up my butt hole. Frankie says I love leaves up my butt hole. Caleb says I have got to win HOH. If I am on slop again it will literally be the death of me.
Big Brother 16 Live Feed FREE TRIAL – Use the FLASHBACK feature to watch everything you've missed!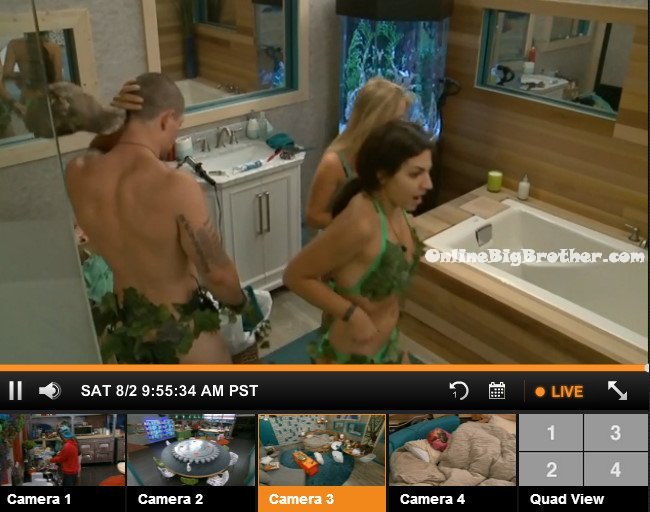 10:01am Caleb is in the Diary room Frankie walks by
Victoria – "Frankie… This is horrible being attached to him is horrible.. "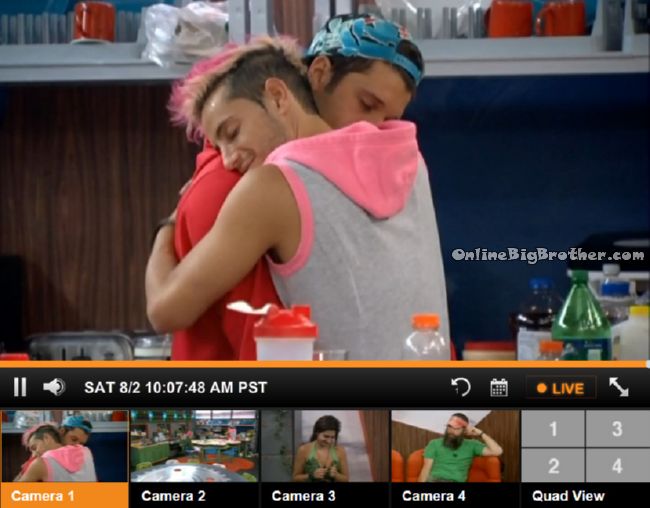 10:10am Zach chatting about not being able to sleep last night. He went to bed at 1:30 farted for another 2 then at 4 he woke up made a turkey and guacamole sandwich went pack to bed. (Like a boss.. Also made a poem for the Eviction Ceremony.. thinking ahead )
Frankie says he's trying to get as much food in him because he's got a feeling he'll be a have nots.
Frankie is looking tired.. He's going to get destroyed as a have not.
10:17AM Bathroom Zach and Frankie
Zach – how did you sleep last night
Frankie – Really well Nicole did not snore
Zach – oh you slept upstairs.. nice
frankie – no one wants to sleep with her because she snores so I thought FINE i'll go up there with her and "wrap up" my face.
Zach – If Nicole won the veto she'd keep it the same right
Frankie – Ya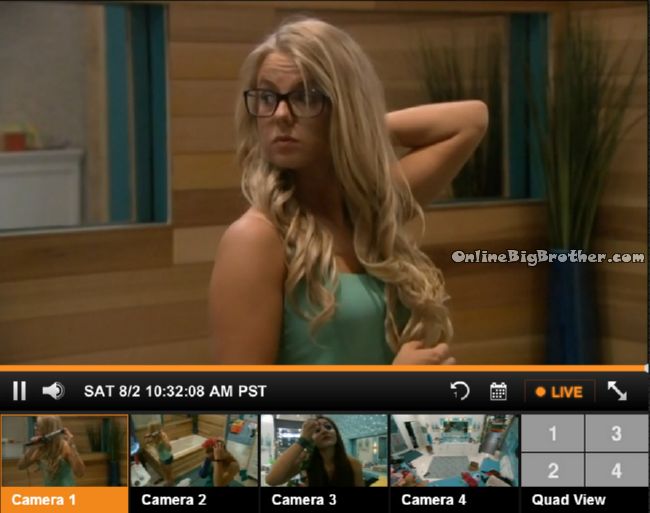 10:30pm HOH bathroom Frankie coming out of the show Nicole curling her hair
Adam and Eve are in the room with them getting some "Product" for their hair. after they leave Frankie asks what if one of them is on slop this week. Nicole tells him not to worry they are not going on slop.
Frankie mentions what if they don't get to pick what if it's random.
Nicole says "they" want to cause some drama this week "This is a hard week to pick you have people on slop for two weeks"
Frankie – I would think Caleb would Volunteer to be a have not
Frankie says he asked a hundred times and they told him he's only allowed to bring two bags so he just bought one bag. He points out that Donny and JOcasta got to bring two bags.
Nicole – I only brought one… I was underprepared

10:30pm The honeymoon is over
Alliances
Quad Squad = Nicole, Derrick, Hayden and Cody
Zankie = Frankie/Zach
The Detonators = Derrick, Frankie, Zach, Christine, Cody
"The HITMEN" – Cody & Derrick
Trilogy = Nicole, Christine & Hayden
Team America = Donny, Derrick, Frankie
Old timers = Jocasta/Donny
Nicotine = Christine/Nicole
bottomfeeders = Derrick and Nicole
More polls here https://www.onlinebigbrother.com/big-brother-compendium/big-brother-16-polls/
[polldaddy poll=8220599]