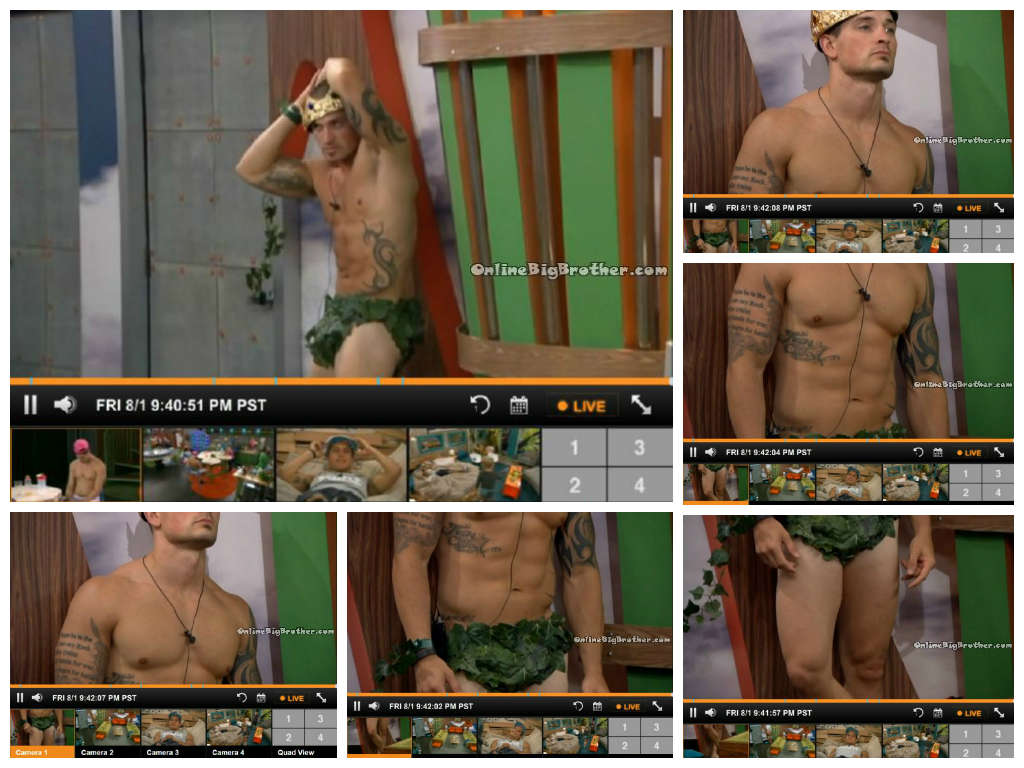 9:40pm Caleb still waiting for Victoria to come out of the Diary room.. Practices his pose down.
10:37pm Ktiche
lots of TAttoo talk
hayden tells them about his close buddy that has the wing tatoots liek him but his are tribal.
Christine says she hates Tribal it's so unattractive.
Hayden says his mom has a "Tramp Stamp" it's sun…
They all laugh. Christine asks him what she thinks of it. Hayden – "Honestly I should talk about it because she doesn't know I don't like it"
Hayden – brings up his dads chicago bears tattoos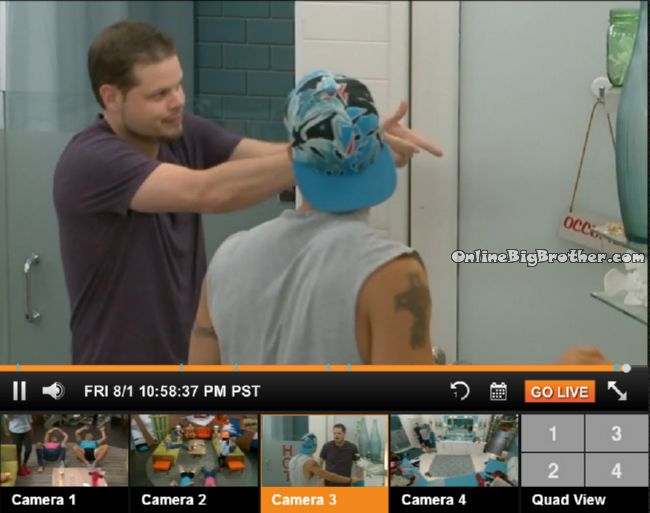 10:59pm Derrick and Cody Bathroom
Derick says they had no choice to attempt working with Nicole "WE don't want to work with you you're the HOH"
Derrick says Frankie is trying to set them up "Guess what.. BOOM" (Shots double finger pistols)
Derrick – you got caught again
Derrick – "Frankie isn't using the Veto on Zach"
Derrick – If it's a four person alliance.. they don';t know it yet guess what you twos.. we've made a deal you're going home and you're going home. "
11:31pm LIving Frankie and Hayden doing their nickelodeon show SLIME
(Just random crazy talk using their british accents.. If you like their slime episodes flashback it's funny)
"Never talk to your parent shit on the floor. blame it on the dog c*m on your principals face.. blame it on yourself.. kill your dog.. or get SLIIIIIIIIMED Slime.. SLime.. SLime"
SLIME SLIME
Frankie asks them "What do you do when your dog shits on your face…. ? " nobody answers
"SLIME SLIME .. Sh1t on your dogs face and blame it on your mother.."
Donny comes out of the Diary room they ask Donny a "slime" question.
"When the dog sh1ts on the floor do you tell your parents.."
Donny – "I don't have a dog but if my girlfriends dog did on the floor I would not tell my parents
"What do you do when you see your principal .. when you see his face "
"What do you do with his face."
"Shit on the floor Blame the dog.. c*m in his face .. kill your dog .. SLIME SLIME"
Cody – why am I finding this so funny '
Derrick says it's because you've been locked into a house without TV for over a month.
12:17am They've been talking about movies and Family guy..
Zach likes Love Actually – 10th Anniversary Edition (Holiday Art)

Frankie likes Riddick and Picthc black
Cody likes Triple X
Nothing much going on….
12:33am Bathroom Christine, Derrick, Zach and Frankie getting ready for bed
Zach says they are making $186 a day for their stipend.
Zach acting cocky singing that he's on the block and he's not worried.
Zach – "I'm on the block"
Frankie – You certainly are"
Frankie tells him to stop say he's targeting Nicole
Zach say he is targeting her
Christine tells them IF The POV is played Donny will not be going home Zach starts to laugh "the only people left are in our alliance"
12:40am Frankie and Derrick Bathroom
Frankie says Zach is talking a lot of sh1t about Nicole
Derrick – you gotta do some damage control
Frankie – The last thing we want is her main target to be him..
Frankie – "YOU ARE THE MAN"
Derrick – "you're the man to"
Frankie leaves derrick mouths some in Frankies direction See image for flashback time.

12:46AM Zach – Going to be j*rking all night
Rock room has Beast mode, Process Eve, Cody, And Derrick. Zach says at least Caleb got attached to a pretty girl, "You could have been attached to Cody"
1:02AM HOH Hayden, Frankie and Nicole
Frankie says that Caleb felt uncomfortable sleeping in the same bed with 2 women so he's making Zach, and Cody sleep in the Rock Room with him. Frankie says he's sleeping in the HOH tonight.

1:14AM HOH Nicole and Frankie
(Hayden in sht shower)
They both think Caleb is very attractive Nicole says Cody's personality is so much better than Calebs.
Frankie says theres something about Codys Sexuality that is closeted.. "he's so flirtatious it's not really sexy.. "
Frankie explain that COdy does flirts with everyone., "he's eye candy"
Frankie – Zach was attractive 15 pounds ago
Nicole gets called into the storage room to pick up her microphone. Frankie warns her that thy guys are going to scare her.
1:30AM HOH Hayden "All over" Nicole wearing Victoria's Shorts.
Frankie – "I've never seen anyone more terrified in my life
Nicole is super shy keeps hiding as HAyden teases that he's going to give her a strip show.
With a live feed subscription you can go back and watch any event that has been shown. Use out site as a index and watch only the parts worth watching.
Try It Free! Subscribe now to the official BB16 Live Feeds
1:39AM BAthroom hayden and Derrick
Derrick tells him they are rolling with the SQUAD squad until something better comes up. Derrick says the worst case is if Frankie wins it..
Zach comes by says he's got his speech ready for the Eviction Ceremony..
I've written a poem for all you voters.
"Roses are red violets are blue Nicole is my target I'm, coming for you"
"I love all so much you and I am so grateful maybe I'll change my ways and not be so hateful"
"You all made it to jury you're on the right track fans at home hashtag zachattack"
"this ceremony is important the wrong choice might COSTCIA if you head to the diary room vote to evict JOCASTA"
Zach says at this point he's going to throw the POV so he can slam this speech.
Derrick and HAyden tell him it's gold.
Hayden – Try to win the POV
Hayden – GOD I hope I'm on the block on thursday
Derrick – I you win it i'll be like DON't do it man
Zach jokes – "I'll be pissed" (LOL if he uses the veto on zach)
Zach leaves, they agree if Zach throws it he's going home. Derrick doesn't trust either Frankie or Zach. "Zach he won't burn us intentionally"
Zach comes back grabs a glob of Vaseline on his finger and walks into the toilet stall
Derrick – Dude where are you putting that..
Hayden – I love Caleb now.. with Amber gone he's a different person.. Amber really f*** d him up he turned into a whole new person
Derick – ya he definitely did
2:02AM
THey start talking about the competition tomorrow. Zach says his hidden talent is estimating. hayden mentions there is a lot of construction sound coming from the backyard. Derrick goes in to use the toilet asks Zach if he j1zzed on the door. Zach say no.
Derrick – Than what did you use the vaseline
Zach doesn't want to say.
hayden – Your' a$$hole
Zach says yes
hayden – That sucks bro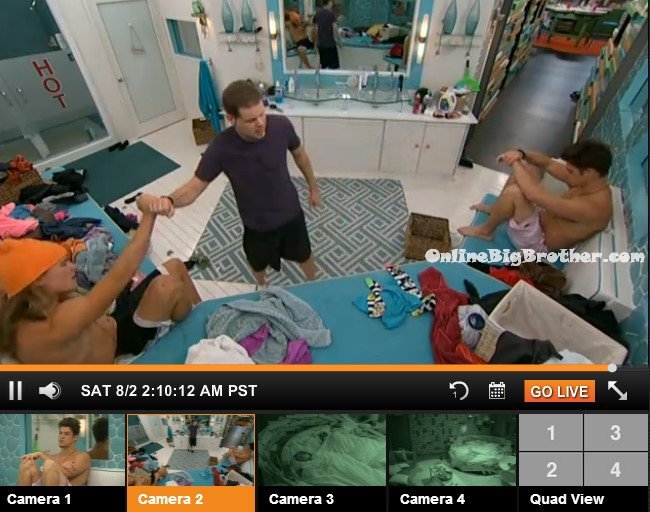 2:10am – 2:15am Hayden, Derrick and Zach are the only house guests still awake. Derrick heads to bed. Derrick says POV tomorrow, get ready! Don't be leaving it up to your f**king speech! Zach says no I won't.
Hayden asks Zach so you're bad nasty at accounting? Zach says yeah. Hayden says I hope it's accounting. Zach says it's not though, they're drilling and sh*t. If it was that they would just put walls out there. Hayden says but they still have to put a bunch of sh*t out there. Zach says that's true.
Zach asks who would she (Nicole) put up? Hayden says I have no idea. Zach says not you, not Christine, not Cody… there would be Derrick, Donny.. that's it right?! Hayden says I don't know, I'm guessing she doesn't want to put up someone but obviously she has to. You have to think about yourself and try and take yourself off. Zahc says yeah, yeah, yeah. Hayden says well either way I would say you should, you shoudn't be too worried about it. If you want to throw it, then throw it. Zach says no I've got to win it. I don't want to be sitting in one of those orange chairs come Thursday.
Zach says Dude next week its going to get real! Hayden says yeah. Zach says Dude you don't know who is going to win it. Zach says Double Eviction too .. that means there would only be 9 people left. Hayden says it already feels empty. Hayden and Zach head to bed. Hayden asks you got your speech ready. Dude playing in the competitions is fun bro. Not like when your back is against the wall but playing in them is all part of the game. Zach and Hayden go to sleep.
2:35am All the house guests are sleeping..

8:55am All the house guests are still sleeping.
Alliances
Quad Squad = Nicole, Derrick, Hayden and Cody
Zankie = Frankie/Zach
The Detonators = Derrick, Frankie, Zach, Christine, Cody
"The HITMEN" – Cody & Derrick
Trilogy = Nicole, Christine & Hayden
Team America = Donny, Derrick, Frankie
Old timers = Jocasta/Donny
Nicotine = Christine/Nicole
bottomfeeders = Derrick and Nicole
More polls here https://www.onlinebigbrother.com/big-brother-compendium/big-brother-16-polls/
[polldaddy poll=8220599]
Share it YO!!
Tweet