POV Holder:
?
Next POV
Aug 9th
POV Used
?
POV Ceremony
Aug 11th
HOH Winner 1:
?
HOH Winner 2:
?
Battle of the Block Winner
 ?
Next HOH
Aug 14
Original Nominations:
?
Final Nominations:
?
Have Nots
?
POV Players
?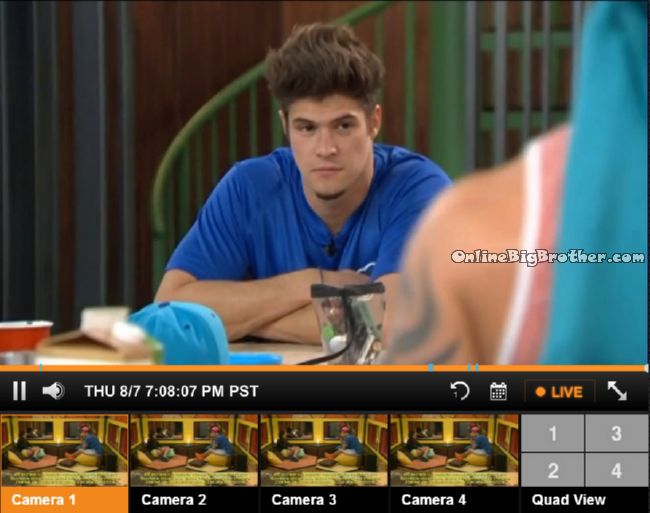 7:10pm Kitchen
Victoria is calling Frankie out for saying he wanted to get Zach out up until last night.
Frankie tells her the plan was to keep Zach all along.. "I can't believe how naive you are"
Nicole brings up that someone told her Christine was saying me and Hayden were a power couple week two .
Christine denies it says he's starting to doubt all the things she's heard about Nicole
Caleb says he made the decision best for his game and that was to get Hayden out.
Zach – Who would you have put up if you won the Veto Nicole
Nicole – I would have used it.. I was told Derrick and Cody.. (This is what she said Frankie/Christine was telling her)
Zach – You're being told by .. how come you were being told
Nicole – I don't want to talk about it
Zach – you're throwing everyone under the bus
Nicole – I don't like you you were my target.. I'll throw you under the buys all day every day..
Nicole says she had Christine's back and Frankie's back..
Zach – Nicole… you want to start an alliance.. I want to be in an alliance with you we can make lies up about people
Caleb – I just want to read my letter.. if I read my letter i'll just tuck myself in bed.
Zach – why don't you like me
Nicole – you are going to torture me
Zach – why am I torturing you
Nicole – Stop saying my name leave me alone
Zach – Can i make you some food.. I can make you a egg sandwich..
Nicole leave to the beehive with Christine says she's going to punch Zach in the head ..
With a live feed subscription you can go back and watch any event that has been shown. Use our site as an index and watch only the parts worth watching.
Try It Free! Subscribe now to the official BB16 Live Feeds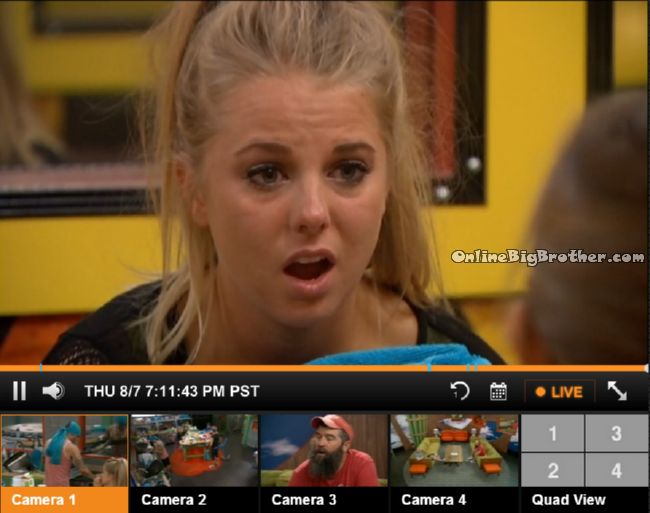 7:19pm BEEHIVE Nicole and Christine
Nicole crying.. Christine says she was told that they were coming after her and frankie and Nicole was going to backdoor frankie if she used the veto.. Christine has also told that Nicole laughs at Christine says she can't believe she's falling for her plan
Nicole I was told you said a bunch of stuff Nicole you were coming after me and hayden we were a power couple
Nicole says Zach is evil when he gets the at look in his face
Christine – they played me they played victoria..
Nicole – I'm going next week it's fine I won't be here next week.. I don't trust anybody
Christine claims she found out that they were keeping Zach 10 minutes before they got to vote she was shocked when they told her Christine was saying all these things about her.
Nicole – Cody lied to ma a lot.. Cody established an alliance with me, Hayden and Derrick.. "
Nicole says she thought it was pretty legitimate it had a name now it doesn't mean a crap
Christine brings up that Cody wasn't touching her all week then started again last night.
Christine says theres some serious schemers in the house.
Nicole agrees says she's trying to figure out who it is.
Nicole claiming that HAyden was targeting Jocasta and Victoria
Christine – holy crap we were played
Christine says she trusted Nicole up until this morning when she was told all these things about her
Nicole says she was crying in the Diary room when she found Christine was against her.
Christine says she knows exactly who is spreading all the lies and is at the heart, She points out that Nicole knows to they just aren't saying names (Cody)
Christine says her and Frankie were 100% down with getting Zach out but last night they were approached
Nicole – I can't believe COdy would do that he seemed so nice..
Christine – He has been so nice to me today
Nicole – he won't look at me in the eye.
Christine says she's still Nicole's friends and she's sorry she's sorry for everything that happened today..
Christine says she was so upset this morning. – this morning her head was pulsating  it was so disgusting
Nicole – He's the dirtiest player in this game and nobody would have thought.. he's lying to my face.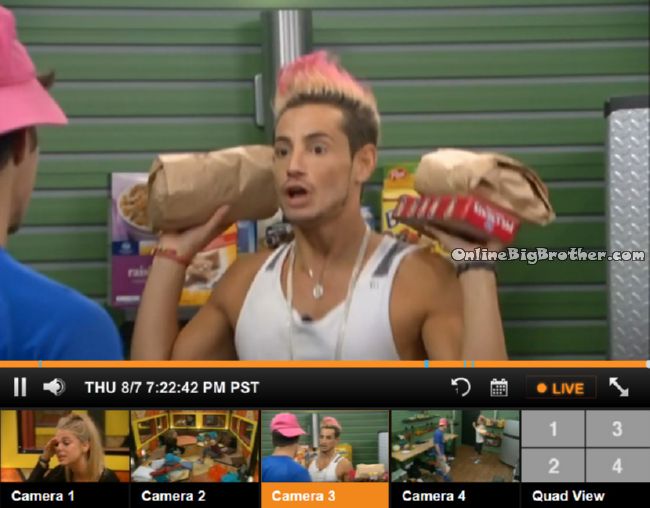 7:21pm Zach and Frankie Storage room
Zach wants to know what Cody said he was saying about Frankie
Frankie explains that Cody told him Zach was saying Frankie's next target is Cody.
Zach is shocked says she never told Cody that "and you believed that.. "
Frankie – so Cody is lying
Zach why the f** would I say that.. YES cody is lying
Zach – Now i'm f** no one in my alliance trust me including you
Frankie – I told you my trust with you is fine.. We're going to need each other now that we drawn the line in the sand..
Frankie says Nicole and Donny are the next to go, Frankie cannot believe NIcole thnks she's innocent.. "Did you think we were playing Big BROther best friend race"
Frankie says Cody and Derrick are not masterminding any of this what happened Hayden came to Cody and Derrick and offered them an alliance.
Zach – do you still trust me
Frankie – I do.
Frankie tells him Jocasta, Donny, Nicole and HAyden were working together
Zach – Donny is dead to me
Frankie _ I don't' know for sure.. to the naked eye it looks like that (That Donny is in the alliance with the other outsiders)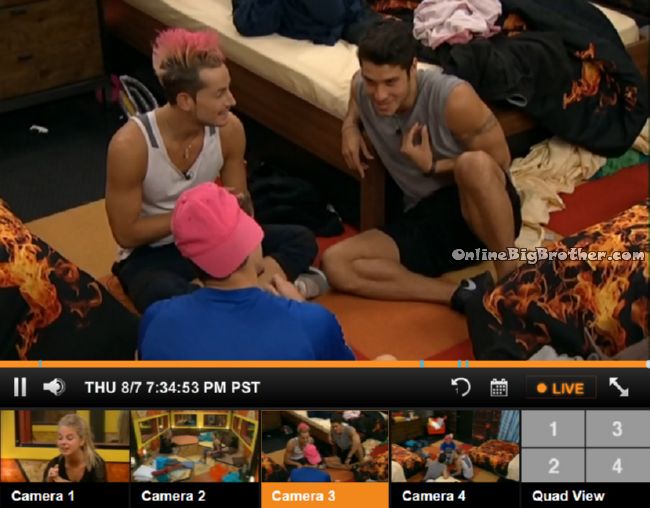 7:35pm Comparing notes agreeing they all said sh1t and moving forward it's going to stop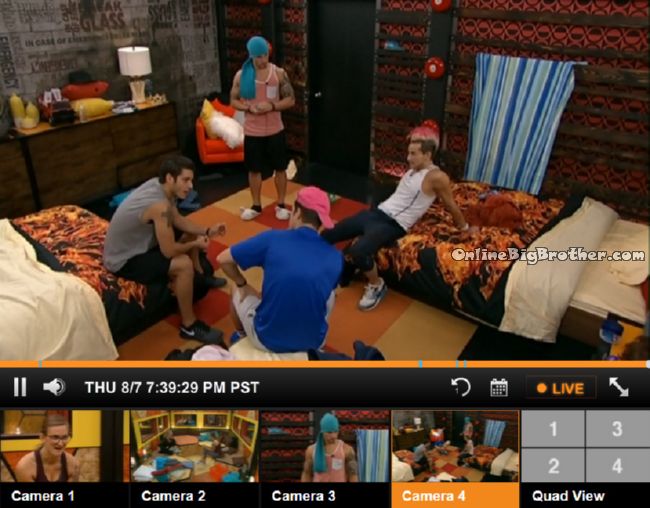 7:45pm FireRoom Frankie Zach, Caleb and Cody
They are agreeing that Christine was playing both sides she'll go the side that has the power. Caleb still thinks Christine will go with the other side if they win HOH.Frankie doesn't;' think there is anything left of the other side.
Caleb – Donny and Nicole.
Frankie tells Zach he needs to stop with the Christine
Caleb points out that Christine is with Nicole right now not them.
Alliances 
Zankie = Frankie/Zach
The Detonators = Derrick, Frankie, Zach, Christine, Cody
"The HITMEN" – Cody & Derrick
Team America = Donny, Derrick, Frankie
Nicotine = Christine/Nicole
More polls here https://www.onlinebigbrother.com/big-brother-compendium/big-brother-16-polls/
[polldaddy poll=8233586]