POV Holder:
Chrsitne
Next POV
Aug 2nd
POV Used
NO
POV Ceremony
Aug 4th
HOH Winner 1:
Donny
HOH Winner 2:
Nicole
Battle of the Block Winner
 Caleb/Victoria
Next HOH/ Next BOB
Aug 7/Aug 8
Original Nominations:
Donny's Noms (Victoria & Caleb) Nicole's Noms (Zach & Jocasta)
Final Nominations:
Zach and Jocasta
Have Nots
Frankie, Cody and Hayden
POV Players
Nicole, Christine, Jocasta, ZachAttack, Caleb, Victoria,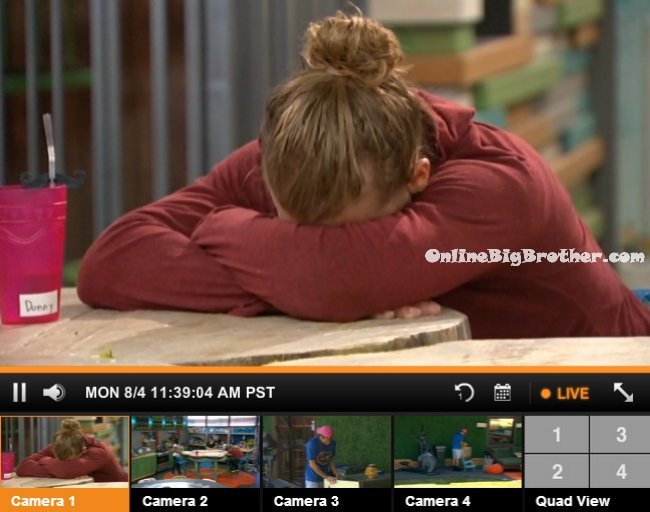 Take Advantage of the FREE 2 day Trial to watch all the drama!
11am – 11:38am Big Brother blocks the live feeds for the Power of Veto meeting to take place. When the live feeds return we learn that as the veto holder Christine decided NOT to use it and as a result the nominations stay the same. Either Jocasta or Zach will be evicted from the big brother house during Thursday's Live Eviction.
11:38am – 11:50am In the earth room. Derrick tells Cody now they're done! They can't f**k with us! Cody says yeah. In the kitchen – Christine heads out and sits on the backyard couch by herself. Nicole comes out and Christine says oh good I'm not alone. Nicole says she is going to lay out and suntan. Nicole asks Christine if she was nervous. Christine says very! But I did it! Caleb joins Nicole by the pool and comments on how Amber asked him if he had her bunny slippers and he told her no I don't have them. (He has them and is still wearing them.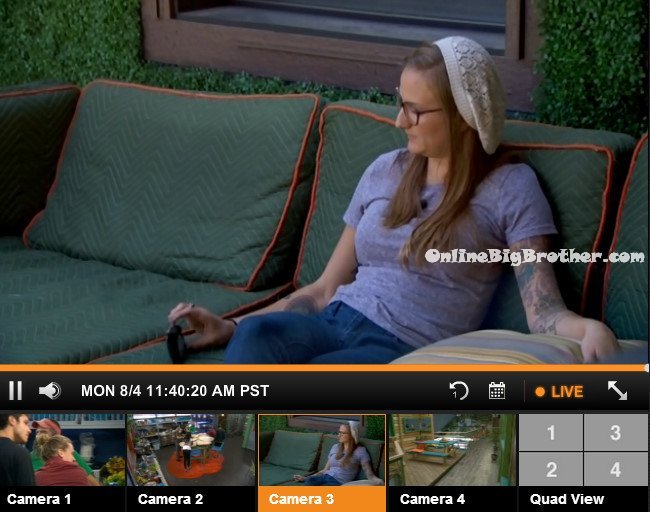 11:55am Out on the backyard couch – Donny tells Christine she will probably have an appointment (Diary room session). Christine says why, I have nothing to say. Christine comments about Caleb… A personality does everything.. I am not attracted at all to him. Donny says he thinks Caleb looks better with short hair.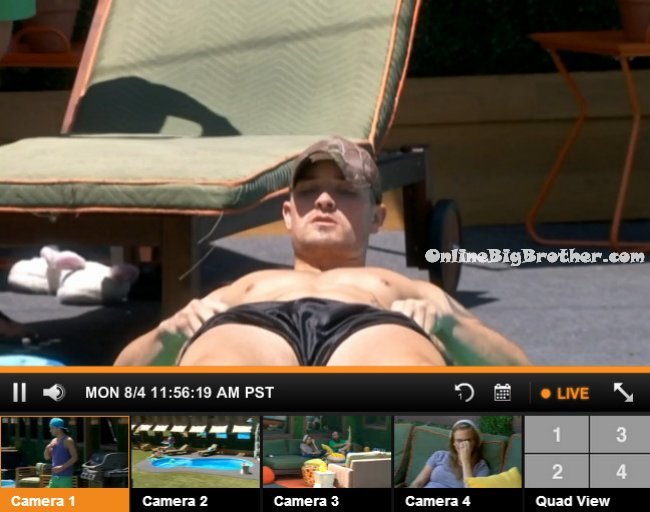 12:10pm Caleb starts talking about all the Big Brother things he can sell when he gets out. Frankie fucks with Caleb and says "What about your hat? Someone would definitely buy your hat with the Caleb/Amber stickers on it!" Nicole silently laughs. Frankie says Zach looks so much like my ex. My most recent ex. Nicole gets called to the diary room. Frankie tells Caleb Christine did good today. Frankie says now we have a big target in the house. Caleb asks who? Frankie points to Donny. Caleb says well we could have gone after him today. Caleb says they keep putting me on the block I will keep pulling myself off. The main 6 just have to stay true. Caleb tells Frankie if anyone is up against you I am saving you. Frankie says thats exactly how I feel too. Caleb says making it to jury is huge. Frankie agree. Caleb says and Nicole can't compete next week so that's one less we have to worry about. We'll get rid of one of them this week and another next week. They talk about the possibility of a double eviction and if the jury will be a 9 or 7 person jury.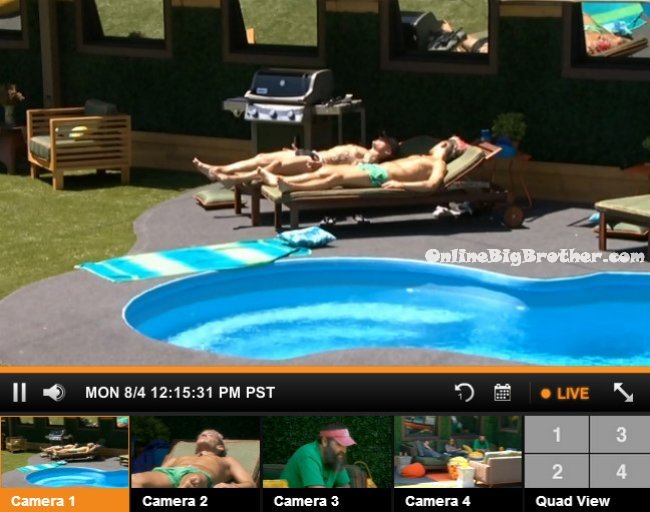 12:30pm Caleb says he still thinks he will get back with his ex some day. Frankie says you are the craziest person about love I have ever met before. Caleb asks what do you mean. Frankie says you fall instantly in love with someone and then break up and love someone else and then go back to the other person. Frankie says even the fact that you are entertaining getting back to an ex from 3 years ago is mind boggling to me. Caleb says she will never find anyone that will love her like I did. She is a billion time more beautiful than any girl in this house. Caleb says that we will see if Amber likes me outside the house. If it was a game of finding true love over 500K .. I would choose love every time! Frankie says well I think you found it. Caleb says The thing is if the love is a Christian Godly love that is even better. They put her in here for me. And if they didn't then I got the last laugh because I am sitting here and she isn't.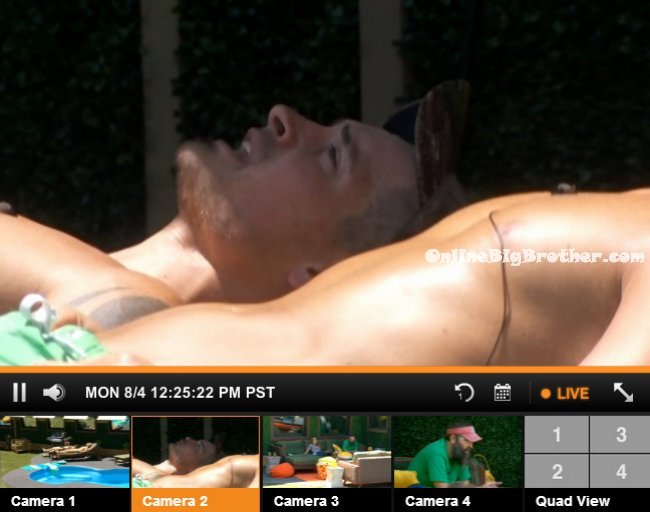 12:35pm – 12:50pm In the fire room – Victoria tells Derrick I think they want Zach out. Derrick agrees. He says I think that's who Nicole wants out. I am trying to figure out who is working with who .. because there might be a smaller group of people choosing who goes home. Victoria says I don't think Nicole wants me to vote against. Derrick asks did Hayden ask you to vote out Zach? Victoria says no. Derrick says Hayden and Nicole are definitely working together so he'll want you to vote out Zach. Derrick says we can't go against the house, so we'll have to vote him out. They wonder if the battle of the block will be done with so few people in the house. Victoria says that she thinks Christine will start playing hard once Zach's gone. Derrick says good because then she'll be an even bigger target. Derrick tells Victoria I am just going to stick with you and hope we get to the end. And let all these other people keep being bigger targets.
WATCH the next 48 hours for FREE – Big Brother 16 Live Feed TRIAL!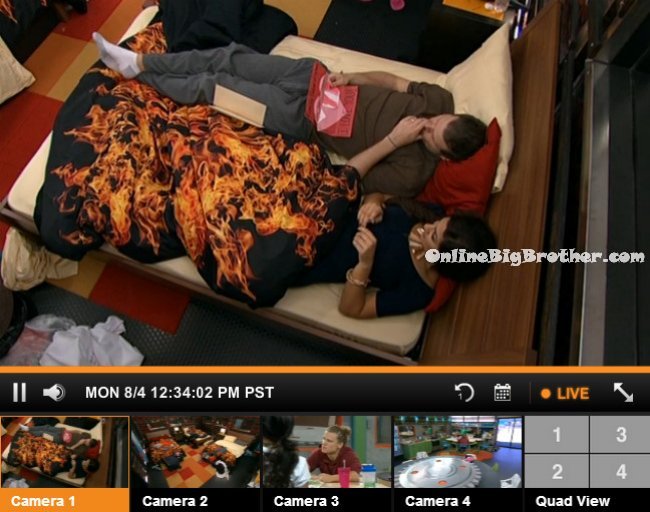 Where the Vote is.. 
Zach going home.. (it's very confusing right now lots of person X playing person Y playing person X etc etc.. At the end of the day… Zach doesn't have the votes right now)
Alliances
Quad Squad = Nicole, Derrick, Hayden and Cody
Zankie = Frankie/Zach
The Detonators = Derrick, Frankie, Zach, Christine, Cody
"The HITMEN" – Cody & Derrick
Trilogy = Nicole, Christine & Hayden
Team America = Donny, Derrick, Frankie
Old timers = Jocasta/Donny
Nicotine = Christine/Nicole
bottomfeeders = Derrick and Nicole
More polls here https://www.onlinebigbrother.com/big-brother-compendium/big-brother-16-polls/