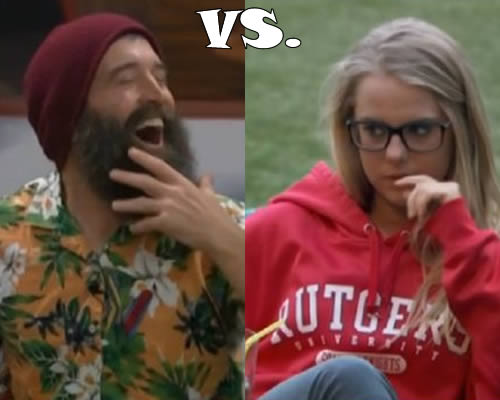 watch the Endurance Competition on the Live Feeds Try It Free! Subscribe now to the official BB16 Live Feeds
One big Question came up this week, were Derrick and Frankie sincere about keeping Donny or was it just a ploy to save face with the fans? I think it was a bit of both with Frankie wanting to keep Donny more than Derrick.
Donny knows the power centre of the house and he knows they are targeting him, because of this he started talking about how dangerous Derrick, Christine and Frankie are. Trying to cobble together something to challenge that group of 5 or if possible drive a wedge in so he can join up with a fragment. All these attempts failed.
Cody, Derrick, Christine and Frankie say Donny is targeting them so he's got to go. Derrick/Frankie mad at Donny for "throwing them under the bus"  Frankie points out Donny was doing to them what they were doing to Donny they just happened to win the HOH's.
As of last night The only way they could get Donny to stay was to split the house Cody/Christine/Victoria against Derrick/Caleb/Frankie with Donny. Derrick didn't want this cause given the current house dynamic he's going to win if things continue.
Derrick knows the fans are pissed about the predictability of the season he actually apologized to us feed watchers for it. Why apologize you are in the game to win the money employing whatever gameplay will take you there. It just happens that this gameplay is resulting in a boring predictable season. This is more on CBS. They should have used up their twist capital in smashing the power centre 2 weeks ago. Instead they wasted it on a crapshoot buyback, Silly team america fluff and ice bucket challenges.
Last minute updated .. Donny and Frankie continued to campaign right into Thursday morning to keep Donny with some pretty convincing arguments. Chances are it's not going to be enough for all the reason listed above.
Summary of events
Zach goes home, twisted summer gets even more twisted and crapshoot competition decides who comes back into the game from Jury.. Jocasta almost wins but Nicole ends up getting it.
Scrambling ensues as the detonators worry with this few people in the house one of them will go home if Nicole/Donny win HOH
Cody wins HOH Nominates Donny/Nicole
Cody  considers getting rid of Frankie if Donny wins the POV
Team America gets a new mission, create a task then do it, America votes to see if this task is worthy of 5 grand. Donny wants the task to be to save him a member from eviction, Frankie and Derrick wanted nothing to do with this. too risky for their own games
Cody wins POV Thinks about using it to put up Frankie but is talked out of it by Derrick (heaven forbid this season gets exciting)
For the Team America task Frankie has the idea of a play BB Broadway presents House Swap "something fun and lighthearted". Derrick thinks they should do something to sabotage people isn't convinced the play is the best idea. Donny still wants them to save him.
BB Broadway runs, while it's funny it's nothing special. This is Something houseguests do every year multiple times. Frankie's performance was particularly insulting to Joey . Was it worth 5grand for each member?
Fans try to rescue the house from a deep sleep
Christine and COdy all over each other it's getting noticed by everyone in the house and fans. Due to this players are uneasy about her character and use it against her.
The house as a whole began to turn on Frankie again for his dirtiness.. It becomes apparent to them that Frankie has help to do his cleaning.
Nicole explains her game  9:24pm
Wednesday night Cody refuses to keep Donny, Has vaild reasons. Derrick is quick to give up. Surprisingly Frankie fights on.
Donny knows his time is over in the house
One last attempt to save Donny Thursday right before the feeds go down Frankie makes a a play to Caleb and Cody.  Donny gives them a deal they have to take seriously 
The Live Feeds are archived. You can go back and watch everything that happens
Try It Free! Subscribe now to the official BB16 Live Feeds
OBB prediction (remainder of the season edition)
Donny goes home
Frankie wins HOH puts up Nicole/Victoria, Nicole goes home, Derrick wins the next HOH… some things happen…. Derrick wins BB16, Donny wins America's player and 2nd place goes to Victoria
Big Brother Canada 3 starts in February/March 2015 I highly recommend you join us all for that season we've been doing it for 2 years now and it's loads of fun. Check out Big Brother Canada 1 and Big Brother Canada 2 we have all the feeds recorded on YouTube in those posts.
Offical results
Team America gets NO APPLE PIE they have failed in the task.
Christine votes to evict Donny
Derrick votes to evict Donny
Frankie votes to evict Donny
Victoria votes to evict Donny
Caleb votes to evict Donny
Evicted houseguets is Donny
New HOH is ? (It's endurance get watch it on the feeds)
2 snowman to fill up the larger one gets you the HOH the smaller one gets you 5 thousand dollars and 5 thousand Hollas
Next week is double eviction
No one is going for the 5K dollas and 5K hollas
7:10pm
Nobody is going after the money they are all fighting to win HOH. Hard to tell who is in the lead.
7:13pm Updated to where the Snowmen heads are
Hard to tell who is in the lead. Could be Frankie, Caleb or Nicole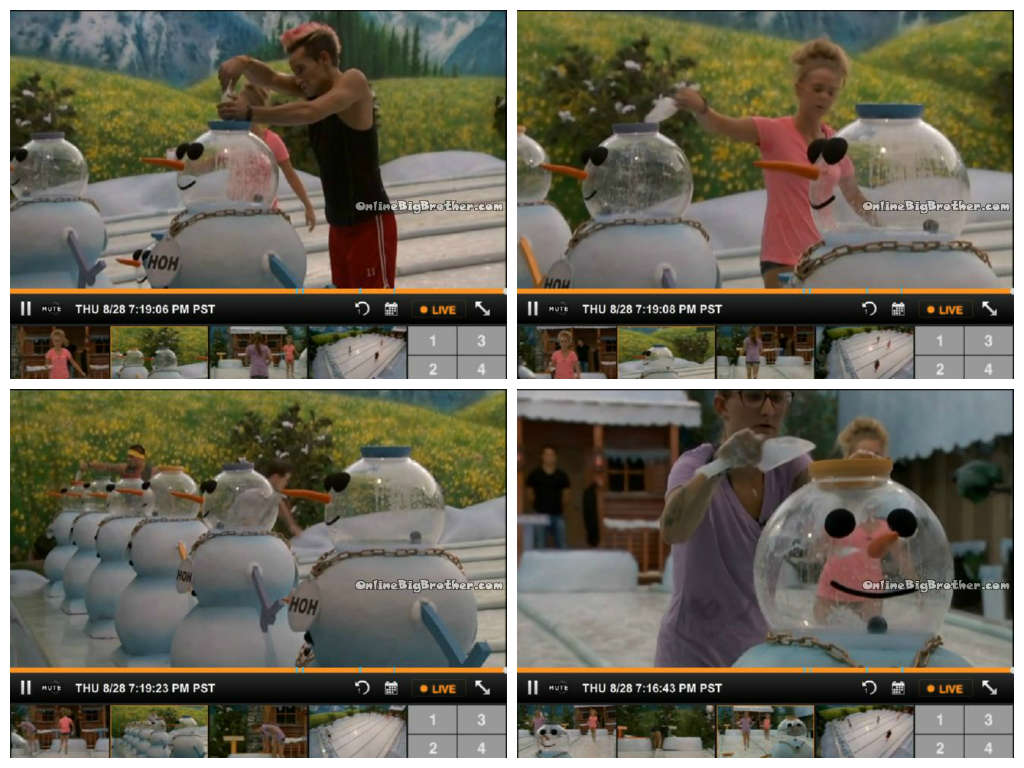 Christine, Frankie, Caleb or Nicole are the top four.. Frankie is in the lead
Frankie, Caleb And Christine are ahead.
Nicole is 4th
Victoria is a distant 5th
Derrick is going for the 5K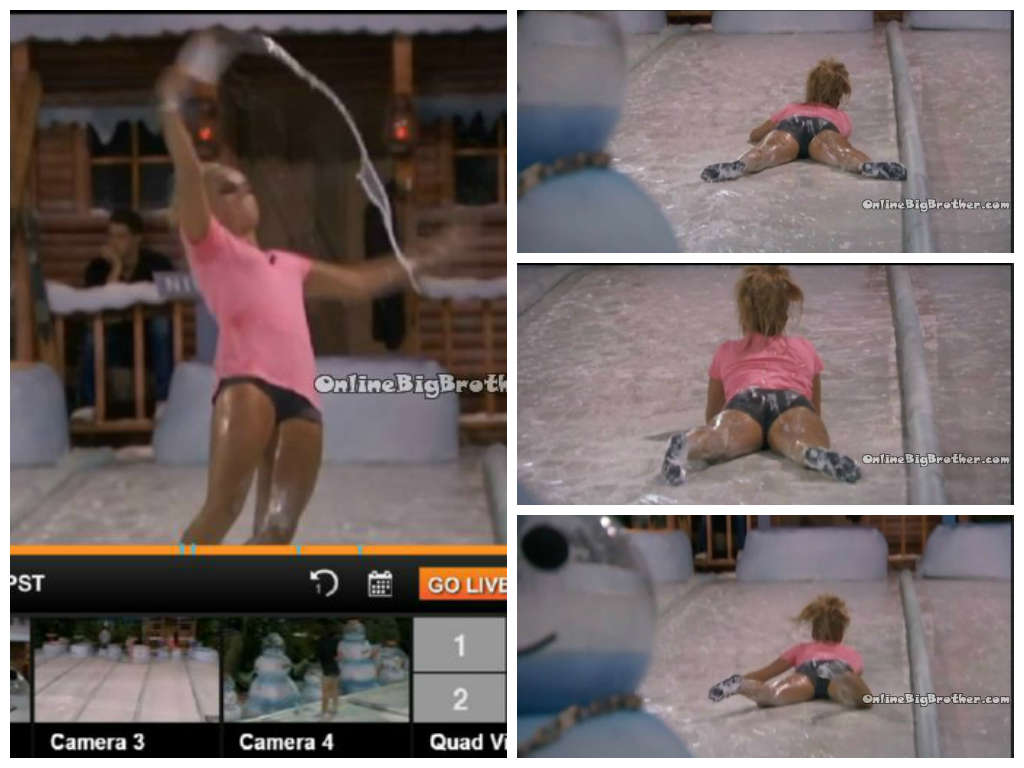 7:55pm All I can say for certain is Victoria and Derrick will not be winning it.
1- Chrsinte
2- Caleb
3- Frankie/Nciole
8:13pm
It's between Beast mode and Christine. Frnakie has fallen to 4th Nicole is 3rd.
8:31pm
Hard to say But Caelb and Christine are in the lead
Nicole is ahead of Frankie
Victoria has no hope to win but she's still giving it a good effort.
8:45pm
1- Caleb
2 – Christine
3 – Frankie
4 – Nicole
9:00pm
Safe to say Nicole is out of the running
1- Caleb
2 – Christine
3 – Frankie
9:06pm
Derrick gets the 5K and Hollas for the rest of the summer. Derrick says he'll volunteer for have nots this week.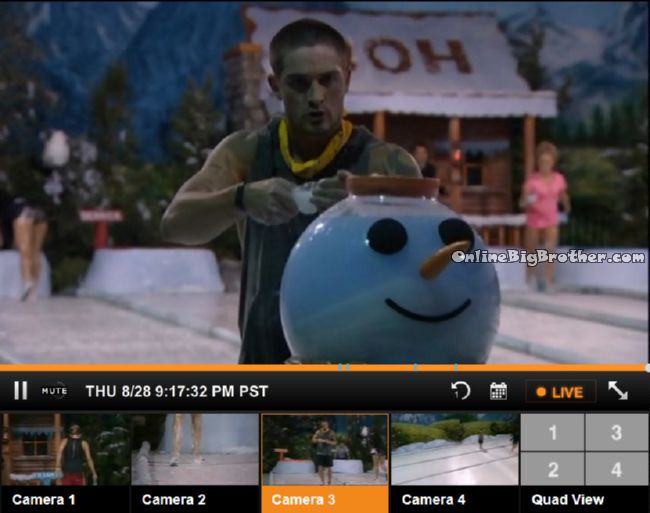 9:20pm Beast mode is probably going to win this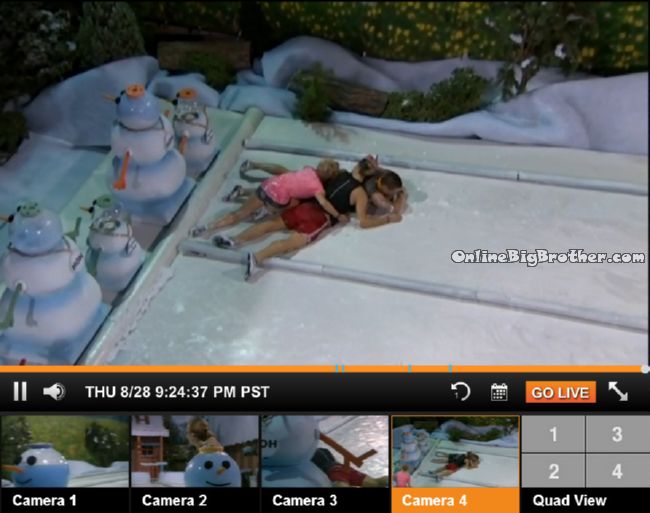 9:27pm Beast Mode wins HOH #BB16