POV Holder:
?
Next POV
Aug 30th
POV Used
?
POV Ceremony
Sept 1st
HOH Winner
Caleb
Next HOH
Sept 4th
Nominations:
?
Have Nots
?
POV Players
?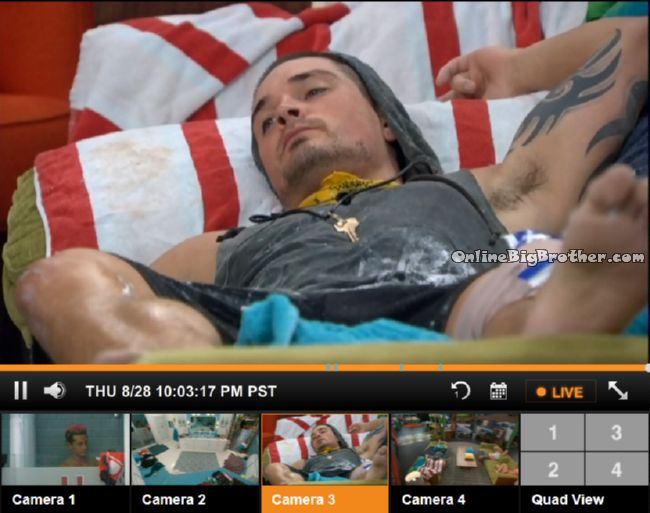 10:03pm
Caleb on the couch "I'm all jacked up.. my knee I don't know if I will be able to do anything"
Derrick comes out from the Diary Room tells them to drink a lot of water take Aspirin and have some banana "you are going to cramp up that's comes from the doctor"
Nicole wonders if she can drink Gatorade. Derrick apologizes for not asking them says she should ask first. Nicole – if I have to wait 2 hours I will
Caleb tells them he got thirst and drank some of the water in the scoop. He never took a break for water. Cody points out Caleb's pace stayed the same the entire time if anything he sped up.
They start talking abut Frankie grabbing the water in his hands and grabbing the slush. Caleb didn't start doing that until near the end.
10:10pm Derrick gets a HOLLA
Derrick tells Caleb he better drink water his upper lip was purple. Derrick starts making excuses for getting the money says he fell so much in the beginning, "That last time I fell I thought I was going to cry" He tells them the 5 grand is for his daughters college fund, he hopes the 5000 HOLLAS! don't bug the other houseguets.
Christine comes in says she's never seen that competition so long and with a incline.
They agree Donny got a HUGE CHEER, Caleb says Donny really teared up when he saw his brother. Frankie comes in singing gets told by Big Brother to stop. Frankie says he's sorry he';s just so happy right now.
Derrick – I would love a Vicodin right now
10:15pm Kitchen Frankie and Cody
Frankie – "I'm so happy Donny's gone.. So happy.. thrilled couldn't be happier about anything actually"
Frankie wonders if Nicole will even unpack her suitcase.
Derrick joins them they chat about their family messages.
Frankie – Did anyone look anyone instead of my sister
10:24pm Derrick, Frankie carry Caleb to the shower.
Caleb says he needs crutches.
Frankie – If you don't win the 500K i'm giving you 25K for that
Frankie – I'm taking care of my man
Caleb – it's my meniscus again.. I'm down for the count.. put me in the Jury house.
Frankie – don't say we can compete for you.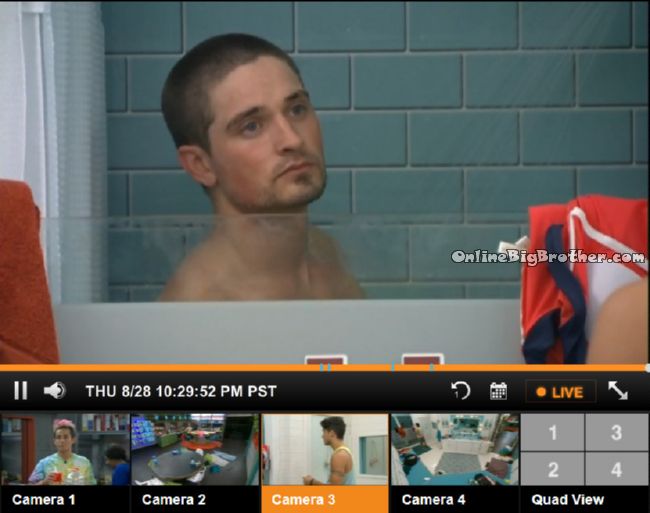 10:29pm Bathroom
Cody says he heard Nicole tell Christine "Scoop the jelly Christine"
Cody saying the girls are getting close Christine could have won the ball was withing reach but she didn't know she could reach it. Once Caleb got his she tried and pulled it out right away.
Caleb saying he was doing his military drills to work through the pain, "I don't need to stop and drink Gatorade waste time.."
Caleb explains he drank the competition water but never swallowed it.
Cody – Still some of it went in your mouth that sh1t was nasty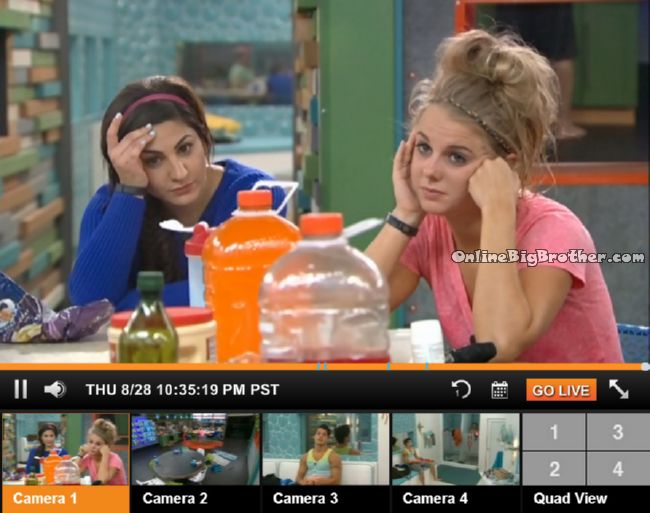 10:43pm Frankie and Nicoole Kitchen
Frankie keeps saying "So strong those women are so strong"
Frankie says everyone loves Donny he's going to win America's favorite.
Frankie says Donny made him feel really bad "He's so good at that.. it's hard to look at him.. WOW"
10:47pm Living room Derrick, Victoria and Christine
Christine is saying she loved that competition. Derrick hated it say he wiped out really bad hit his head a couple time.
Frankie scream – Dinner's ready
10:50pm Rock room Caleb and Derrick
Caleb says Nicole came to him asked 'Can we talk later" Caleb smirks "OKAY"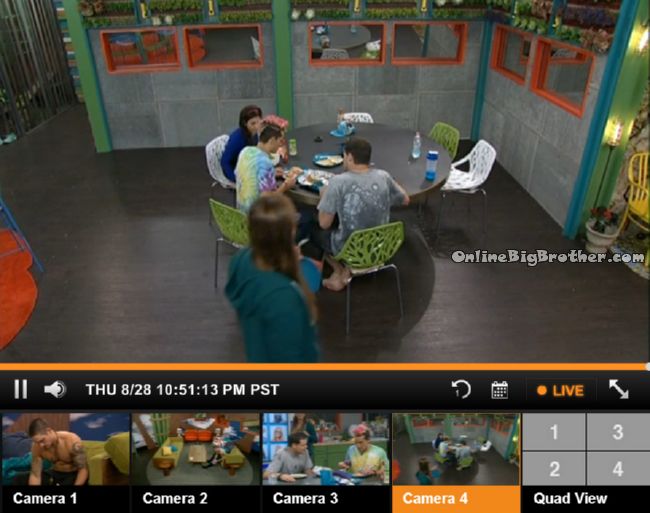 10:52pm Dinnertime
Frankie – The obstacles that those 3 women have done makes me feel like a sh1thead for thinking anything I've accomplished in this house was hard.
Frankie – Caleb what do you htink of my sister now that you've seen her for real.. SMOKE BOMB.. god she's hot it's ridiculous"
(Caleb is walking around on his own now)
10:01pm Caleb, Christine and Frankie
Frankie is bothered about Donny's popularity keeps saying how he's not winning America's favorite Donny will. He cannot understand why says "Donny did shit in this game what did he do!" Christine mentions DOnny was on the block almost every week and won a crap load of competitions.
Frankie – Caleb that was HUGE victory what a GREAT GREAT comp
Frankie say there's no point in Nicole talking to Caleb it's over for her she's done. "I've been in teh house with her 77 days I know what she is doing"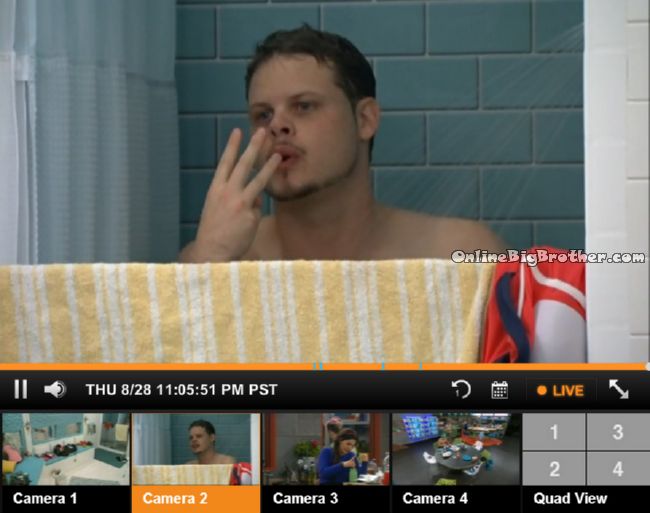 11:05pm Derrick and Nicole
Derrick – you hear that cheer Donny get
Nicole – he had a good heart
Derrick says he cannot believe how much his daughter has grown it's really killed him seeing her.
Derrick is worried the baby will forget about him.
Nicole tells him not to worry she'll remember Derrick.
11:22pm Caleb and Derrick
Derrick telling him next week it's mental him, Frankie and Cody are going to kill it. Derrick says they won"t study near Christine they'll just drill and drill all week. Nicole won't be competing either.