POV Holder:
Cody
Next POV
Aug 30th
POV Used
?
POV Ceremony
Aug 25th
HOH Winner 1:
Cody
Next HOH
Aug 28th
Nominations:
Donny & Nicole
Have Nots
Donny & Nicole
POV Players
Donny, Nicole, Cody, Frankie, Derrick, Christine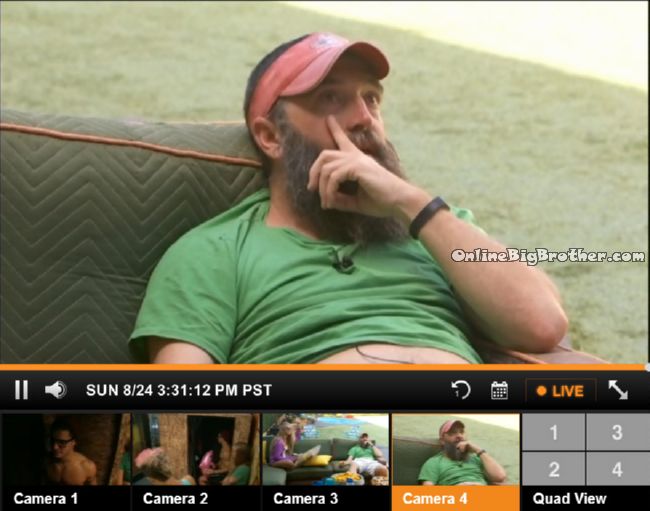 3:29pm Backyard Nicole and Donny
Nicole says one of them gets to go home this week just like that last week "Deja-vu
Donny mentions how they will be with good people in the Jury house,
Nicole says she loves Jocasta she's is so great. Nicole hopes they stay in touch after this is all over.
Donny says Jocasta is only 80 miles from him her husband is a truck driver.
Nicole didn't want Zach to come back.
Donny mentions that Zach was ready to go.
Nicole – Hayden was ready to come back
Donny – was he
Nicole he misses you a lot talks about you all the time..
Donny – that was an awkward night.. It was Awful.. that was a hurricane
Nicole asks him if he had a chance to talk to HAyden before he left.
Donny – Ya ya ya made my eyes water.. we didn't get to talk much the night we left
Donny starts to cry.. "You ever get the tears once and awhile" (Jeepers creepers this is the saddest season)
Nicole – Yeah all the time
Nicole – it's tough when you don't have anybody.. we all knew coming back in that we would only have you we were hoping you were not on the block going home.
Donny – I won the Battle on the block by myself..
Donny – the thing is.. if you make it a little further there is always a new friends.. .like Caleb he'll be a new friends then something will happen to him there will be cody
Nicole thinks they are going to be evicted back to back.. "We could be leaving on the same night..
Frankie joins them … .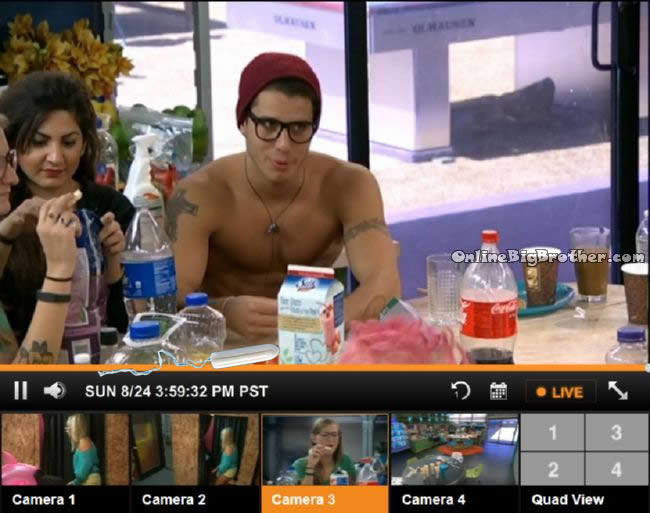 3:55pm Victoria and Frankie Kitchen
Talking about the play later tonight..
VIctoria – I'm going to wear heels and a dress..
Frankie – A small dress..
Caleb walks in
Frankie – She's Amber
Frankie – we're starting off as monologues in the DR.. i'm so excited I made it so far.. this is how I feel about the people that left.. theses are my favorite moments..
Cody comes in does a twirl and a hip bump (the Zach dance) says he's zach.
Christine follows.. Frankie says he can't wait for CHristine, She's POWPOW
Frankie – I'm so excited to show up as Joey.. I have to shave my chest and my a$$.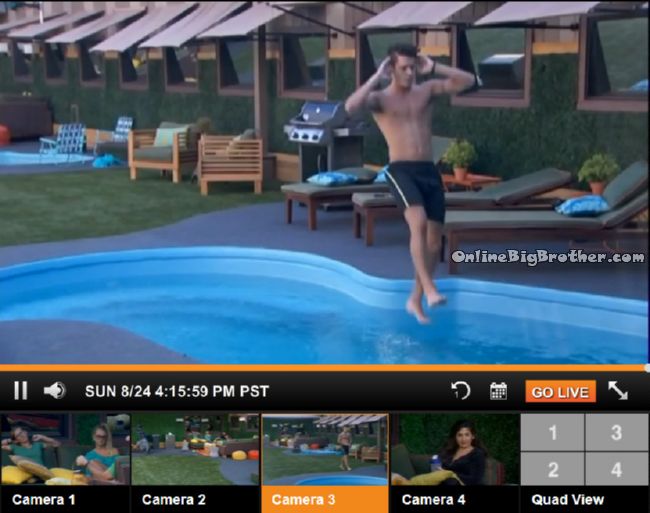 4:05pm Backyard COdy and Donny
Donny – you know I like you cody.. a lot..
Cody – I know..
Donny – I would run with ya if I had good knees..
Cody starts to run..
Nicole comes out.. I ain't missing this.. "C'Mon Christine" (Cody's running)
Christine runs out.. meets Nicole in the backyard couch. Donny and Victoria eventually wander towards them. . Chit chat about the play begins..
Frankie starts running with Cody..
Talking about Villains in past seasons and Zach
Christine – I never hated a character more than Evel Dick I thought he was so gross..
COdy finishes his run jumps in the pool.. Frankie behind him.
CHristine Is Derrick still sleeping
Victoria – ya
Nicole – you guys are night owls
In the pool COdy tells Frankie his fitness meter is at a 5. Frankie is amazed his is only at 3.
4:23pm Backyard
Frankie talking about how excited he is for tonight's play.
Frankie – I'm most excited to see Derrick as Jocasta he doesn't know he is but ohh well.. what are you going to talk about in your monologue
Cody (as Zach) – going to talk about how the house is getting on my nerves.. I'm the man.. everyone is a fruit loop dingus..
Frankie – open or close
Cody – close it, whose Devin
Frankie – Donny ..
Frankie yells out.. DONNY GET READY IT"S A MONOLOGUE NOW most of your's will be about your relationship with Brittany.
Lots of Play talk begins..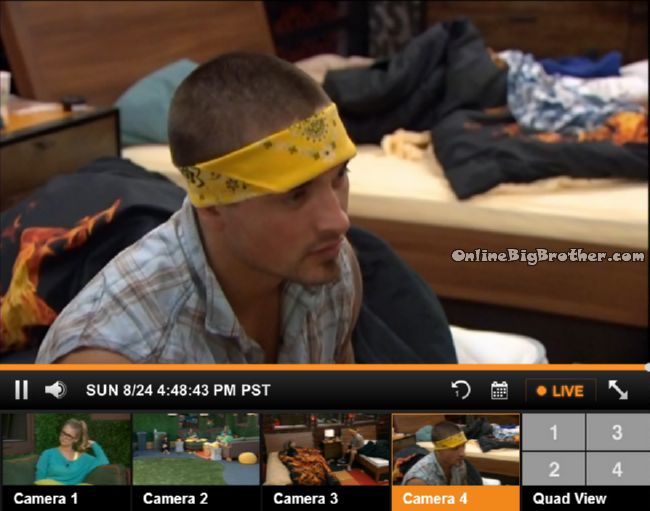 4:43pm FIREROOM Derrick and Caleb
Caleb – Everyone is just kicking it…. Nothing is going on
Caleb starts talking about his phone. (His stressing about his social media presence continues) He is trying to get a message to his mom to turn on the service
Caleb – "Frankie said his mom called and asked for his phone password"
Victoria joins them
Caleb starts talking about a dream where a kid was saying at the airport "Hey look mommy it's beast mode look" Goes on and on about people recognizing him and the beast mode brand.
Caleb – That little boy wanted my signature on his cast so bad.. it was funny it was a white pen.,. his brace was black..
Caleb tried to write on the cast but his hands couldn't write.
Caleb – That little kid wanted my signature so badly.. BEAST Mode Ran up and Jumped on me arms and I picked him up ..  I was like whats up buddy..
Caleb – he was like I love you beast mode"
Victoria leaves.. Caleb starts talking about when they are final 6 and need to go down to final . They have to send Christine and Victoria home it's going to be tough.
Derrick says it's going to be rough they've spent a lot of time with them. Derrick knows how hard DOnny has played theres a little part of him thinks it sucks he's going home .. "It's going to be a lot worse with someone I've worked with this whole time.. I dunno this game is stressful"
Caleb says they have no way of winning with Frankie in the final 2..
Caleb – Frankie sorry buddy I Love you but I know for a fact I have no chance of winning the big prize
Derrick – Calzone is becoming a beast to.. he's got the girl vote.. you didn't play that game you are a good looking kid but you were loyal to Amber
Caleb is convinced there will be two guys in the final 2
Derrick hopes there's not a crazy twist that keeps Victoria in.
Caleb – ME and you have played the straightest  games in the house.. I don't know about Cody
Derrick says Cody played a flirty game he's got JOcasta's, Christine, Hayden is a coin flip..
Derrick thinks Cody and Caleb in the final 2 could be a problem for Caleb, "I know he would beat me"
Clawb – I know I have Donny's, Your's Frankie's, Zach;'s..
Victoria comes in,.briefly.
Derrick – You got to get there… and go from there..
Caleb – If it's me you and cody I'm picking you if it's Frankie And Cody I'm picking cody..
The Live Feeds are archived. You can go back and watch everything that happens
Try It Free! Subscribe now to the official BB16 Live Feeds
5:13pm Frankie and Derrick
(Apparently the Diary room told Derrick the Play idea sucks. they want the task to be save Donny but Frankie and Derrick want to evict DOnny)
Frankie says Caleb looks concerned.. he won't play Brittany now..
Derrick – Did you get the same impression that I got with the play not being that good..
Derrick says he could tell by Production's response they didn't think BB Broadway was very good.
Donny walks in briefly .. "whats up Jocasta"
Derrick – I'm Jocasta now.. I don't care i'll be whoever"
Frankie – I didn't tell ya"
Derrick – It's the impression I got.. I told them it's not the best thing in the world but it's a safe bet this late in the game..
Derrick says Production liked some of the other options they were considering "You stirred up so much sh1t last week".
Frankie – they want Donny to stay
Derrick – ya..
Frankie – Dude we're ripping people to shreads out there..
Frankie – so you wantr to flip teh vote s
Derick – DOnny's going home.. Donny's going home
Frnakei – whatever options are there.
Frankie says The DR told him he can't play the producer.. "It should be called the BB bash.. BB roast"
Frankie starts talking about the Play..
Frankie adds that this is the best they can do by tomorrow.. Production threw them a bone this weke.

More polls here https://www.onlinebigbrother.com/big-brother-compendium/big-brother-16-polls/
[polldaddy poll=8263785]
[polldaddy poll=8260325]
[polldaddy poll=8261457]