POV Holder:
Cody
Next POV
Aug 30th
POV Used
No
POV Ceremony
Sept 1st
HOH Winner 1:
Cody
Next HOH
Aug 28th
Nominations:
Donny & Nicole
Have Nots
Donny & Nicole
POV Players
Donny, Nicole, Cody, Frankie, Derrick, Christine
8:00pm Frankie and Cody walking laps and studying. Donny and Caleb join them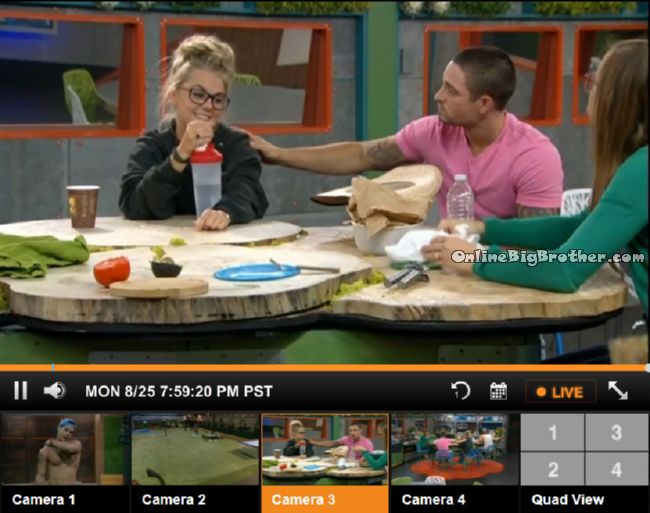 8:00pm Kitchen
Caleb farmers that farm tobacco, corn wheat are wealthier than doctors.. Thousand of acres of corn, tobacco, soybeans.. but they grew up in it..
Nicole – they work their a$$es off.
Caleb – kids that grow up farming take one acre of corn they put a combine on it mix it in with their family.. next year they buy two acres.. buy the time they are 27 they have 600 acres and making Cheese.

8:10pm Donny and Frankie walking laps
Frankie telling him about promoting his sisters album he would tweet out that he's going to a particular best buy so they would buy up all the sister CD's and he would sign them. and give them away. THey would move through the city buying up all the albums.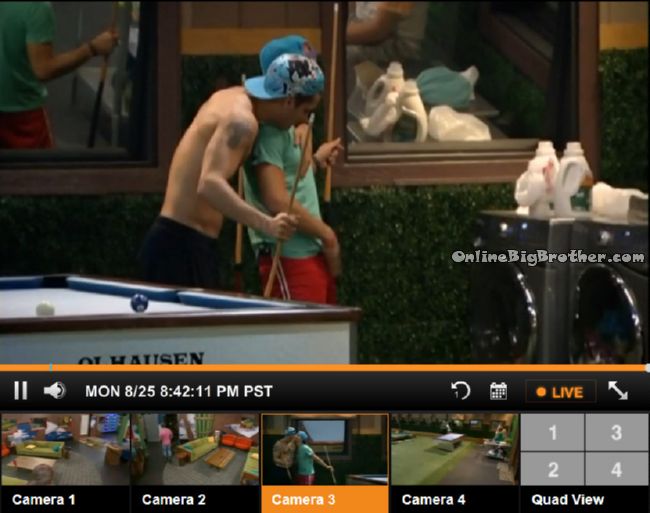 8:25pm Pool Chit chat.. Frankie being cuddly with Cody
8:54pm
Caleb and Nicole tossing pillows at each other Caleb misses and hits the vase.
Caleb – I broke it.. I'll stop.. take it out of my stipend.
The Live Feeds are archived. You can go back and watch everything that happens
Try It Free! Subscribe now to the official BB16 Live Feeds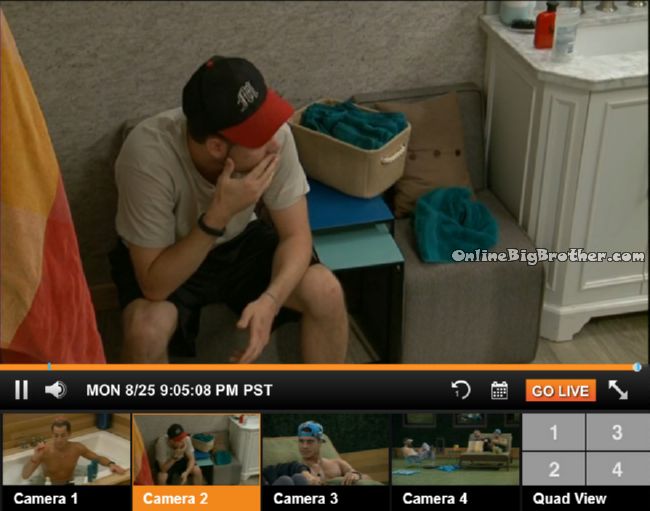 9:04pm Frankie and Derrick
Frankie says Christine is concerned about Nicole and Victoria and Caleb is teeter tottering
Derrick thinks Caleb is just second guessing everything right now
Frankie talked to COdy he's concerned Nicole is integrating quickly but any of us can beat her in the HOH
Derrick – I do think with theses endurance comps they are set up for girls to win.
Frankie – Absolutely
Derrick – it's going to be tough.. are you dead set convinced it's the right now
Frankie – I am dead set it's the right move..
After him and Derrick were talking about keeping Donny Frankie got called into the Diary room they were asking him excitedly "Is it a possibility.. whats going on"
Frankie says they are team America and "It's our responsibility to at least try if it can be done lightly and if doesn't work it doesn't work.. there's enough doubt already in people's minds"
Frankie says if they do this to him and he wins HOH they are safe. If NIcole wins he's going up and if she's smart she would put up caleb with Frankie.
Frankie – he's the underdog.. when I was the underdog I got the support.. it's us..
Frankie points out if Derrick was ever the underdog he would feel it to.
Frankie – the way certain things have been hinted at to me it seems the popular choice (With production)
Derrick – the seed has been planted in Christine and in Caleb and Victoria will vote with the house..
Frankie thinks Derrick should be the one to tell the boys
Derrick will tell Caleb if he brings it up but Caleb trusts Frankie more than anyone in the house.
Frankie says all the reason they wanted Nicole out first are still valid.
Derrick doesn't think Donny will put up Christine and Cody.. He wants to hear from Donny own mouth who his targets are.
Frankie this is going to be tough
Derrick people are very paranoid and very on edge
Derrick – how are things with Beast mode better
Frankie says everything is good people are just getting tired of the game.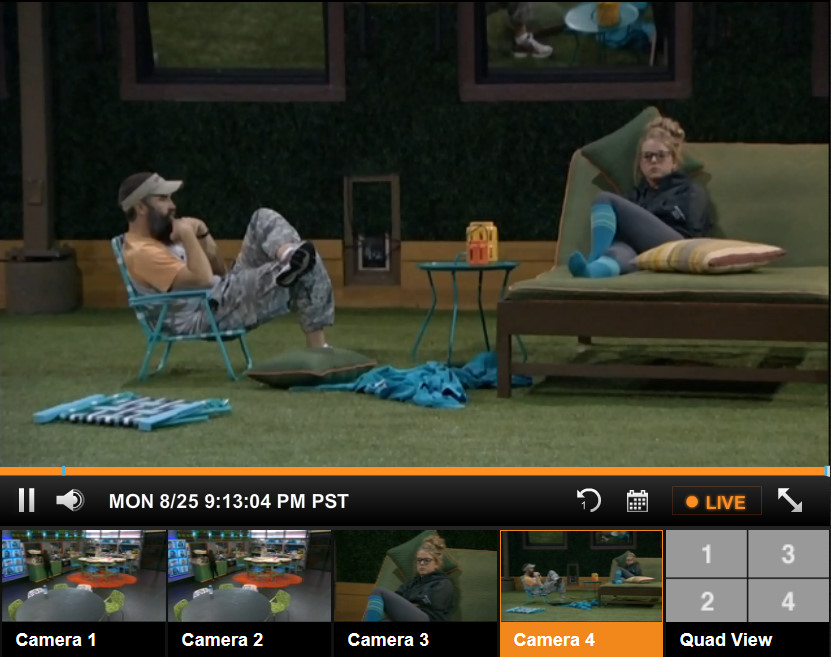 9:12pm Backyard.. Nicole and Donny
longs Silence is broken
Nicole – "There's so much downtime"
Donny – I like it