POV Holder:
Cody
Next POV
Aug 30th
POV Used
?
POV Ceremony
Aug 25th
HOH Winner 1:
Cody
Next HOH
Aug 28th
Nominations:
Donny & Nicole
Have Nots
Donny & Nicole
POV Players
Donny, Nicole, Cody, Frankie, Derrick, Christine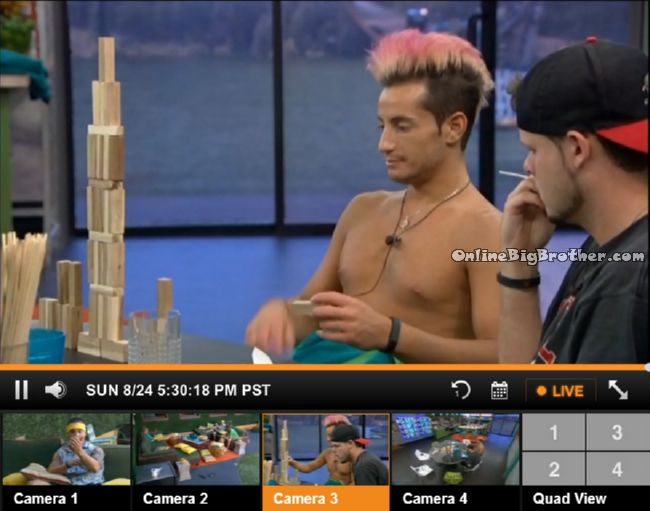 5:30pm Kitchen Derrick and Frankie
Derrick telling Frankie that People have to be really into this play for it to work out.
Frankie – they will be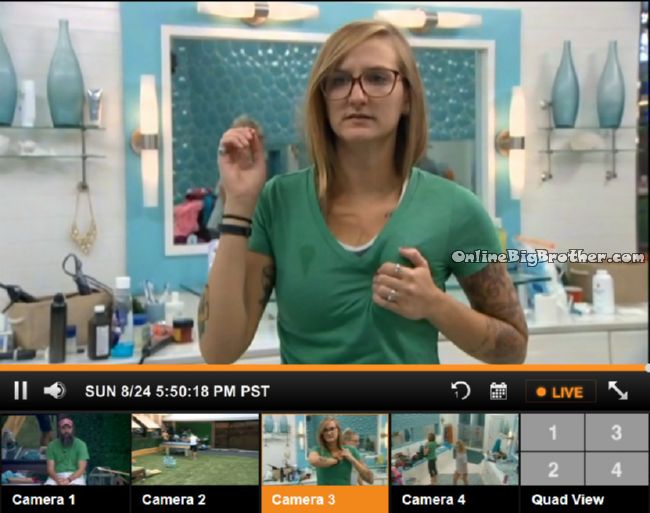 5:53pm CHristine and Nicole in the bathroom getting ready to run. they are saying seeing Amber run around in her sports bra made them not want to run.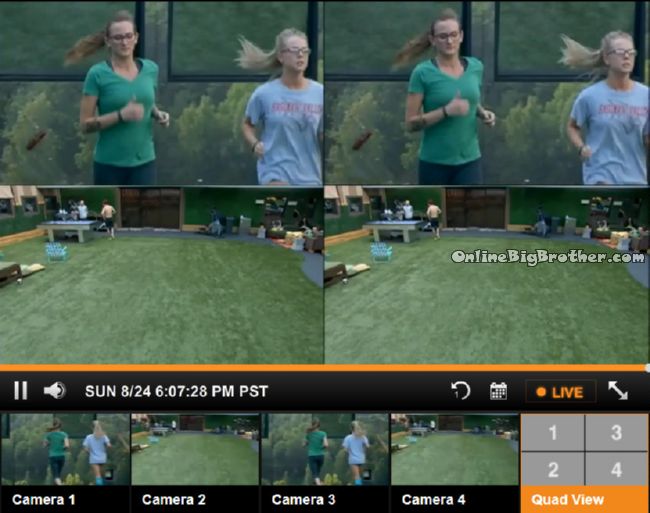 6:08pm Christine and Nicole Running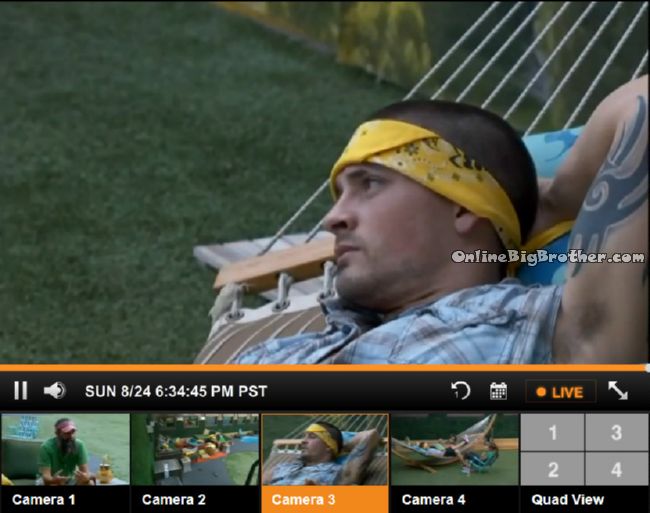 6:24pm Hammock COdy and Caleb
Caleb telling him about the dream where the kids are screaming "Hey it's beastmode cowboy.. I love you beast mode cowboy"
Caleb adds he was running through a carnival people asking him for signatures,, taking picture and video, they were celebrities, "We were much younger it was crazy"
Cody says it's only 4 more weeks he wonders what it will be like for them outside the house.
Caleb – four weeks and literally my name isn't Caleb anymore
Cody – ya I know
Caleb – you know what I mean.. It is on my birth certificate but people are going to see me as beast mode cowboy millions of people know who I am now.. I hope I got a bunch of hot girls messing with me on facebook.. Smoke bombs.
Caleb says if they keeping doing what they are doing they should get to top four
COdy – next week one you three win it
Caleb – It;s OK if CHristine wins it for now
COdy She makes me nervous.. but she knows who to put up
Caleb – SHe's second place against ANy of us.. she's done nothing
Cody – She floated with me all season.. We've chose to keep her every week every single week
Caleb thinks If Nicole wins HOH Christine will throw them under the bus
Cody – I think she already has.. not this week but before.. Frankie said Nicole knows too much because Christine told her.
6:35:47pm Someone with the megaphone
"Frankie cannot be trusted he's the saboteur"
Cody – Don'y pay any attention to it otherwise we'll get called in
The Live Feeds are archived. You can go back and watch everything that happens
Try It Free! Subscribe now to the official BB16 Live Feeds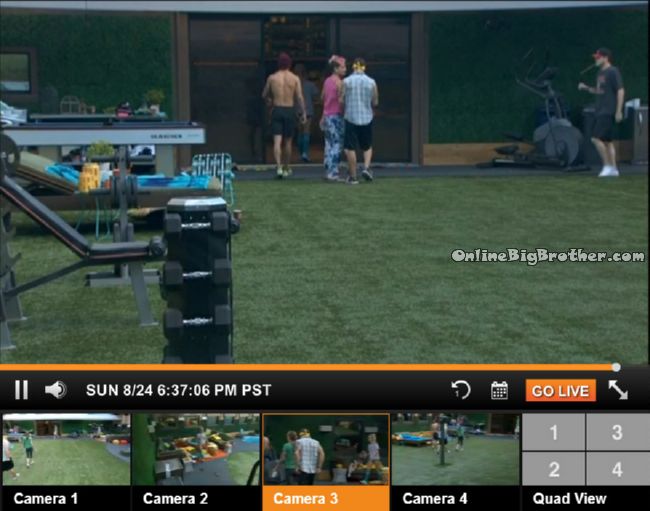 6:36pm indoor lock down called
Frankie "Derrick.. it's called BB Broadway PResents House Swap"
Derrick – House swap Cool
Frankie and Victoria in the kitchen start working on Victoria's AMber monologue..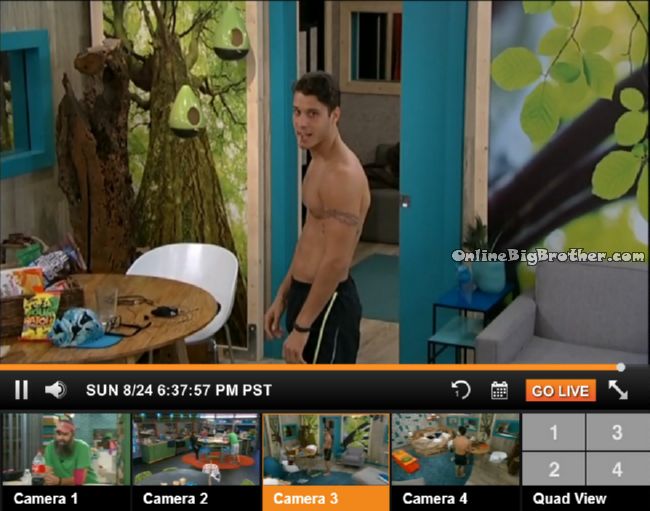 6:38pm HOH Claeb and COdy
Cody is pissed off about the megaphone..
Cody – F*** a$$holes
Cody – you hear what they said.. I don't know what they said..
Caleb – just sounded like the Police to me didn't hear what was said
Cody – I don't want to talk about it.
Caleb – You know something I don't know
Caleb- do you think it was someone with a megaphone, yelling something out?
Feeds cut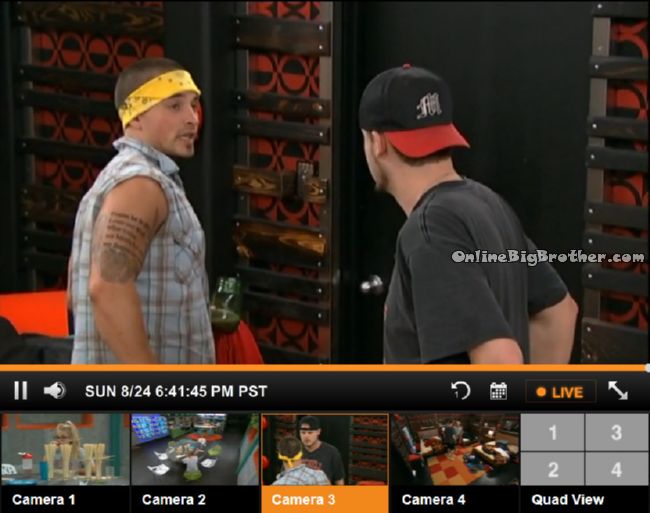 6:42pm Caleb and Derrick
Caleb – I heard.. Frankie is the saboteur..Cody and I heard the same thing
Derrick – Are you serious .. Frankie was the saboteur
Caleb – that is what they yelled
Derrick – Thought it was the cops.. (there was a loud speaker)
Caleb no
feeds cut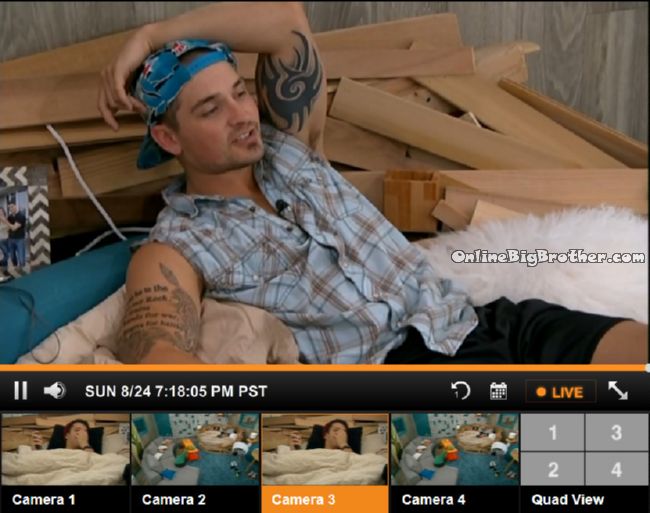 7:02pm HOH Frankie, Cody, Caleb and Christine.
Caleb is air drumming like a maniac..
Christine says her church has ear plugs because they play the music so loud..
Chit chat..
Frankie leaves and Christine/Cody talk about what they heard. Clawb says he thinks it was a donny fan trying to get them to flip the script.. (Feeds cut in and out)
Cody says they need to have people on the outside locking the house down.
Christine wonders if it happened last year
Cody – I think it happens every year and henar the end more..
Feeds cut.. when they come back talk is about becoming famous after the season will be over.
They leave to get food, Caleb – Seeya.. Donny is going home"
7:36pm Dinner time

More polls here https://www.onlinebigbrother.com/big-brother-compendium/big-brother-16-polls/
[polldaddy poll=8263785]
[polldaddy poll=8260325]
[polldaddy poll=8261457]