POV Holder:
Cody
Next POV
Aug 30th
POV Used
?
POV Ceremony
Aug 25th
HOH Winner 1:
Cody
Next HOH
Aug 28th
Nominations:
Donny & Nicole
Have Nots
Donny & Nicole
POV Players
Donny, Nicole, Cody, Frankie, Derrick, Christine
7:55pm COdy and DOnny
Working out together and CHit chat
Cody – A good DJ never play the same song twice..
Donny – "Oh look you jumped up to 35 lbs that is why you are struggling.. and I was thinking you were a sissy or something"
Totally crushed totally calling him out tomorrow.. or the next day

8:17pm Frankie and Victoria
Getting ready for this play that starts at 9.. The guys are playing pool.
Derrick comes in says CHristine isn't dressing up Caleb isn't dressing up people are starting to not want to do it.
Victoria – All Christine needs to do is wear suspenders
Frankie – I don't understand everyone wanted to do it.. Derrick help motivate them
Derrick – I'm doing it and Donny is doing it..
Derrick says he told them all idf Donny the least social person is doing it they should all.
Frankie – It's going to be fun
Victoria it's going to be fun.. something to pass the time.
8:42pm Bathroom Joey and Victoria.
Nicole comes in says she wants to do it but no one else is getting dressed up.
Frankie says all Christine has to wear ia a hat
Frankie thinks once people see how into it he is they will all start.
9:01pm The play starts Frankie introduces it.
Frankie says lets do something fun if it's stupid it's stupid.. we can be short whatever..
Cody – I'm going to crush it..
Frankie – BB Broadway presents House swap… we will portray the 8 house guests that were evicted..
Frankie says He will go first as Joey
Frankie will ask each of the houseguests three questions
1 – How did you think you made to the top 8 ?
2 – Whats your relationship with the current house guests ?
3 – What is your strategy moving foreword ?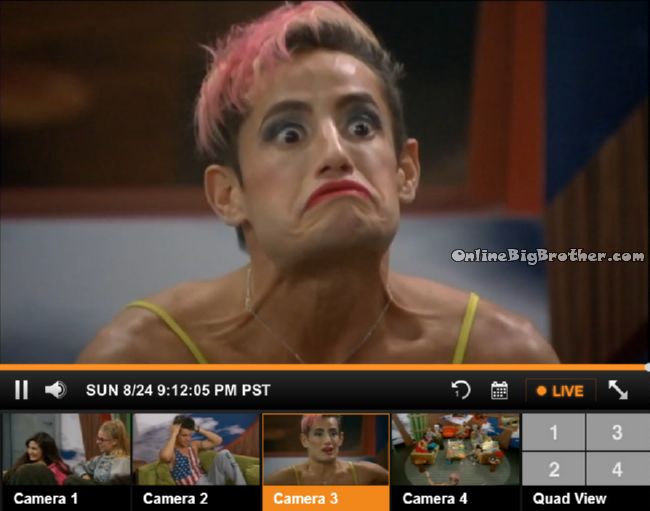 9:09pm Frankie doing Joey
Frankie impersonates Joey making fun of her personality and game play. Says the girls formed an all girls alliance called the "Scissor sisters"
As the Joey Character he says she had sex with all the guys in the house but it's not cheating on her boyfriend because they d1d her in the a$$.. Goes on about having s$x with POWPOW
… ETC ETC…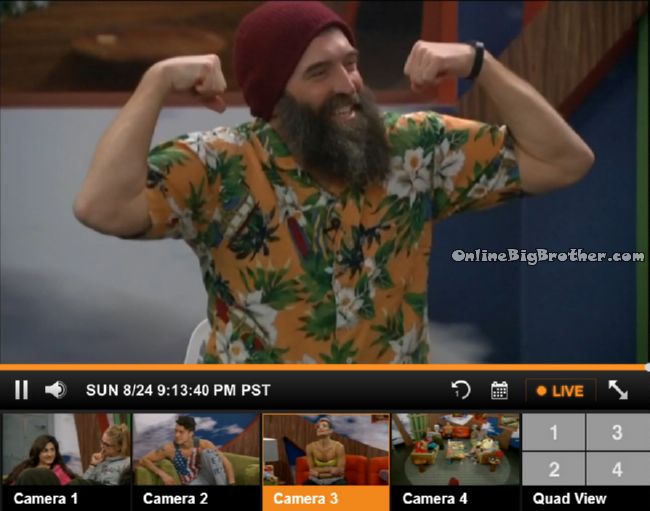 9:13pm Donny doing Devin
Donny (Devin) I'm toting everyone on my back till the end
Donny (Devin) says he's having a showmance with Joey and Brittany "I've even invited POW up a time or two"
Donny (Devin) – keep on being a competition monster and tote all these jamoks to the end and try to get at least 6 votes.
The Live Feeds are archived. You can go back and watch everything that happens
Try It Free! Subscribe now to the official BB16 Live Feeds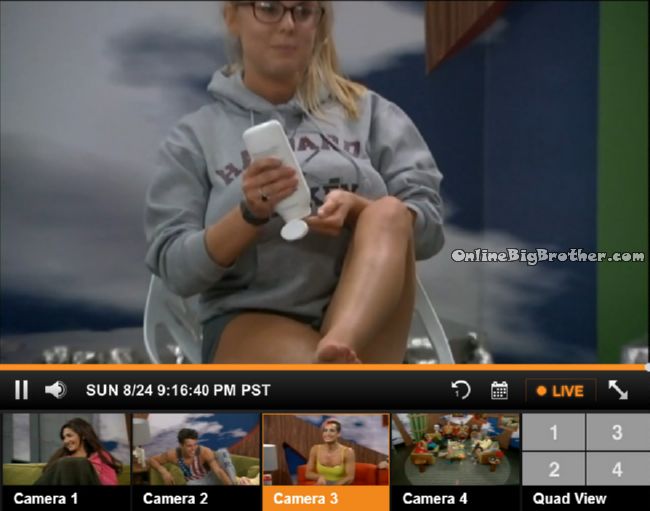 9:16pm Nicole doing Brittany
She's rubbing lotion on her legs something Brittnay always did
Nicole – I made it to the top 8 because I kicked 2400 goals and I completed all my punishments..
Nicole – I have a showmance with Devin kinda… I have an alliance with Amber we don't sleep we drink Coffee and we clean and we cook.. it's called the housekeepers alliance..
Nicole – Keep completing those punishments cause i'm going to get rewarded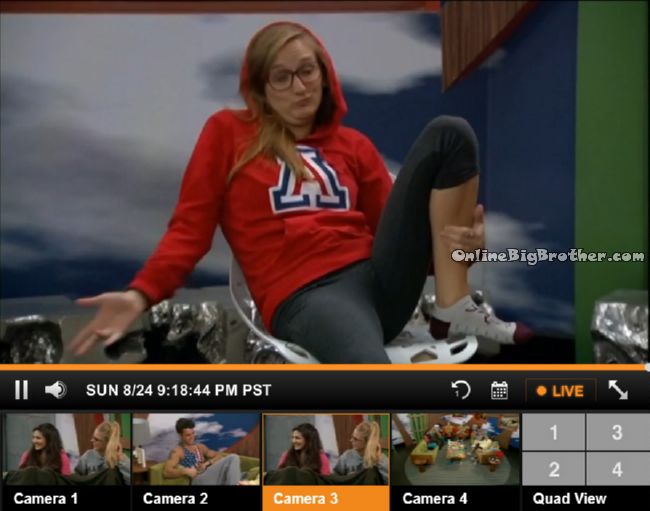 9:19pm Christine does POWPOW
She occasionally lets out a fake fart
Christine – Tried to get in all their pants they didn't want it..
Christine – Tried to get in DEvin's pants, Tried toe get in Zach's pants, tried to get into Hayden's pants. I'm just one of the bros.. I just do things with Joey.. Scissor Sisters.. cooking rice and bacon.. she does the dishes .. Get with the goods she keeps me safe..
Christine – pleasing Joey.. None of DEvin's personalities want anything to do with me.. i've tried all 5.. they all suck.. . I'm going to make it to the end cause i'll be on teh block 12 times total i'm breaking a record.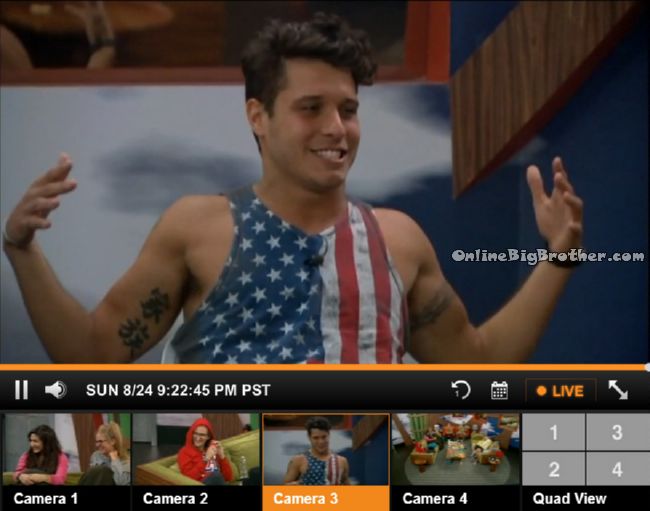 9:22pm Cody as Zach
Cody – Zach Attach… Amber wants me it's clear.. I just scream at POWPOW all day and she still takes me to the jack shack.. she's the worst.. Devin keeps talking about my body..
Cody – Hows my relationship in the house? I got a relationship with PWOPOW I don't know why she's the worst..
Cody – me and Devin have a final 2 alliance it's pretty sweet Hayden thinks i'm with him but I talk bad about him all the time.
Cody – Zach Attack.. I sleep all the time I just sleep all the time..