POV Holder:
?
Next POV
Aug 23rd
POV Used
?
POV Ceremony
Aug 25th
HOH Winner 1:
?
Next HOH
Aug 28th
Nominations:
 ?
Have Nots
?
POV Players
?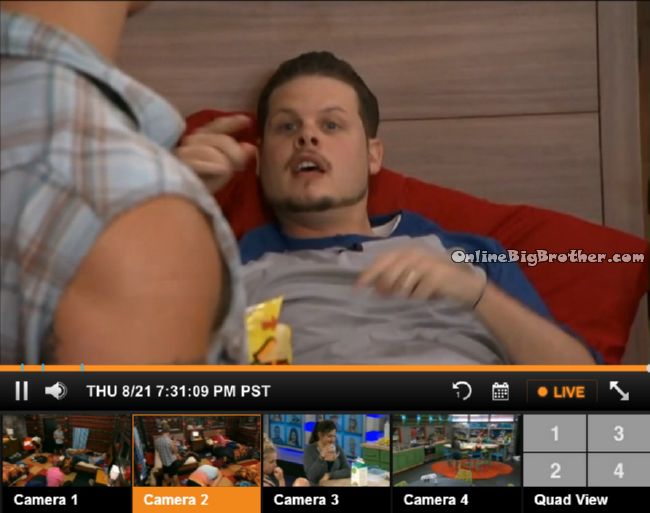 7:30pm FIREROOM Derrick, Cody, Caleb, Frankie
Derrick telling them to not go in closed doors with Nicole, "We stick together we win HOH we put them both up and we're back to where we were"
Frankie – We're six versus two"
Derrick – If she don't win if he don't win we're putting them up together.
Derrick says Nicole doesn't belong back in the game.
Derrick – If we are being realistic this person coming back in is worst for Frankie and Christine
Derrick – Theres no need for us to go into the beehive with her and explain anything
Cody says Nicole needs to explain things not them.
Derrick warns that she is way more prepared now after spending so much time out of the house.
COdy – Donny sealed his fate this week
Frankie – He needs to go over her..
Derick – we haven't had a chance to watch movies and make out..
Derrick's really worried about people going behind closed doors with Nicole.
Cody – If I have a closed door meeting I'm calling her out and DOnny out..
Frankie mentions that taking Zach out was the right decision because if Zach was left in the game and Nicole came back. Zach might have flipped with Donny.
Frankie and Derrick agree they wanted Zach or Jocasta back in. "When i saw Jocasta almost win i was like Praise jesus"
Derrick says there's a HOH tonight they know what needs to be done they have to win it and if Nicole wins it they have to accept what she does.
Cody leaves..
Frankie tells Derrick that Caleb is down with them.
Derrick tells him not to be down he knows Nicole coming back is rough for his game. They will win the HOH they have the numbers. Cody comes back and they start talking about not going behind closed doors with Nicole. They keep bringing this up Derrick especially.
Caleb rolls on…
Derrick starts giving them a pep talk.. our fate is in our hands tonight..
Derrick says he thought Cody was going to back hand Donny after what he said to him.. Cody – was he talking about my hair.. quite frankly I don't care I'm on a different level pumped to win. (Something about "Did you mean for you hair to be like that)
Cody is super pissed at Donny is about ready to call him out.. wants to walk out into the kitchen tell Nicole and Donny if they don't win HOH they are going to be nominated.
The Bros stick together
7:42pm Kitchen
talking about usually the player coming back has immunity for one work.
nicole – not this time
7:47pm Nicole and Donny at the kitchen table. alone
Nicole – I got your back.
Donny says Victoria has no clue about nothing really has no idea what is going on in the game.
Victoria walks by them Donny tells Nicole that Victoria is now going to tell "Them" everything she can. Most likely they are together scheming.
Nicole they all know we're together..
Nicole – I need to go after Derrick and Cody those are my two..
8:00pm Derrick, Victoria and Christine
Christine is worried people are going to get sketched out by her being in the kitchen chit chatting with Donny and Nicole. She wasn't there that long most of the time she was in the Diary room
They Agree Donny goes home before Nicole
Derrick telling her the no closed doors rule with Nicole. Frankie comes in and they continue to make plans to ignore Nicole.
Chrsitne – No NAMES.
Frnakie – Don't tell her any names.
Derrick – We control the rumor mill.. to be honest I would rather her than Hayden.
Derrick – You don't have to kiss anybody's a$$.
Frankie – no never.
Derrick wants to be honest with them if Donny or Frankie win the HOH Christine is most likely going up.
8:05pm Victoria and Derrick
Victoria tells she was really disgusted in seeing Donny and Nicole "Pound it" She left the room after that. but before she left she heard Donny tells Nicole he's all alone.
Victoria – They are working together..
Derrick storms out says they have to won the HOH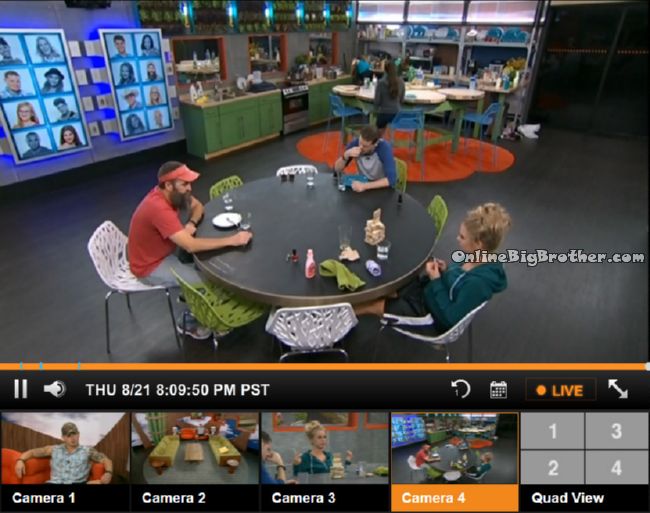 8:21pm Talking about where they are sleeping and if the HOH will be on TVGN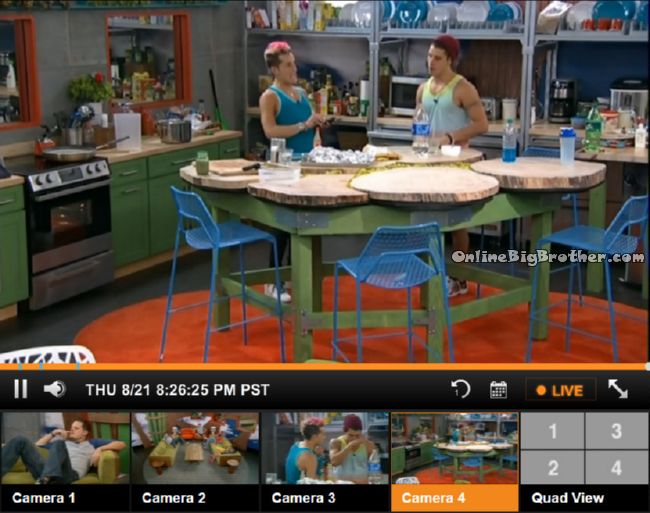 8:27pm Frankie whispers to Cody they have a simple objective (Get Donny and Nicole out)
They start doing their British accents, Frankie – 'Put the D1ck in your hole.. open hole.. My hole big and open, open is great" .. (Ugh)
There's some random chit chat going around the house about Jocasta being close to talking in tongues during the Jury competition.
Caleb – that bottom lip was rumbling she was about to let it go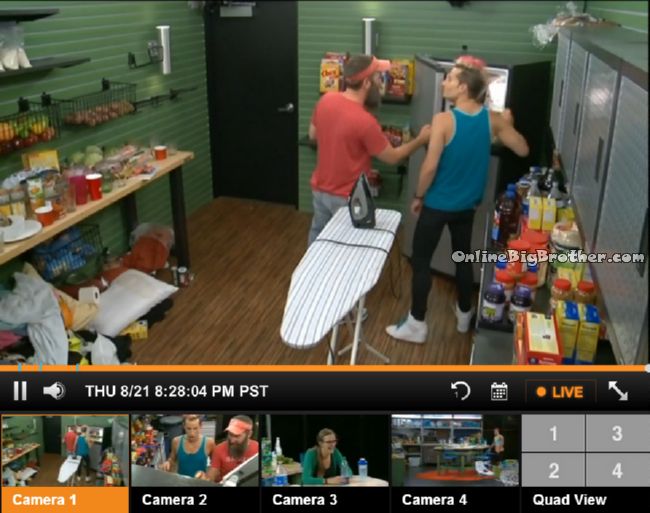 8:29pm Storage room Frankie and Donny
Donny acting all excited "Maybe we get a chance at another 5 thousand dollars"
Frankie – of course we will.. WE're on .. we're on fire right now .. we're back
8:50pm Feeds go to Jeff.. Probably the HOH competition
10:00 Feeds still on Jeff
Cody is the New HOH From TVGN for some reason Feeds are down
Alliances
"The HITMEN" – Cody & Derrick
More polls here https://www.onlinebigbrother.com/big-brother-compendium/big-brother-16-polls/
[polldaddy poll=8255055]