POV Holder:
Cody
Next POV
Aug 30th
POV Used
No
POV Ceremony
Aug 25th
HOH Winner 1:
Cody
Next HOH
Aug 28th
Nominations:
Donny & Nicole
Have Nots
Donny & Nicole
POV Players
Donny, Nicole, Cody, Frankie, Derrick, Christine
Take Advantage of the FREE 2 day Trial to watch all the drama!
11:10am – 11:45am Big Brother blocks the live feeds for the Power Of Veto ceremony to take place. As the veto holder Cody has chosen not to use the veto as a result Donny and Nicole both remain on the block for eviction. Either Donny or Nicole will be going home on Thursday.
Veto Ceremony Results:
Cody did not use the veto
Donny and Nicole remain on the block

11:44am The live feeds return and Donny and Nicole are out in the backyard. Nicole says that she's embarrassed. Donny says don't be embarrassed, you're funny. Nicole says I forgot what I was going to say. Donny says I was tickled. I was laughing and I'm on the block. Nicole asks what are we going to do this week Donny. I feel like I've been up there the last few weeks. Donny says I feel like I've been sitting up there all season. Nicole says you've definitely had it rougher than me. I think I've had it next roughest. Donny says you have. Christine joins them.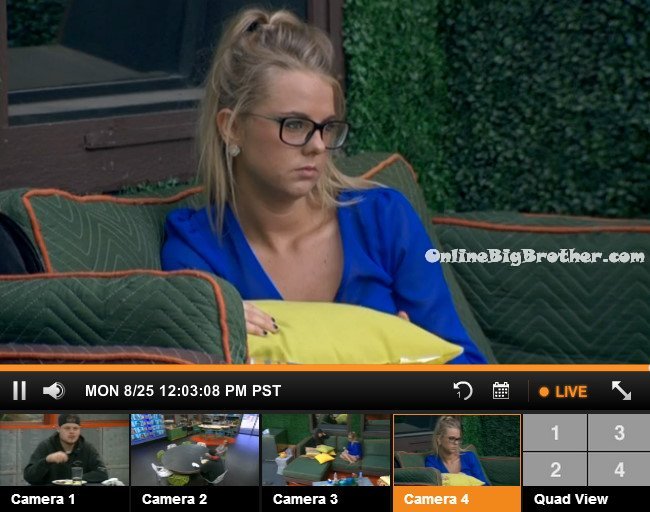 12:10pm In the fire room – Frankie comments on how "they" loved it. Loved it! (The BB broadway). Derrick says I'm surprised he (Caleb) didn't want to get into it.. to build like his acting career. Derrick says that Donny did amazing at it. No bullsj*t I was impressed. Frankie agrees. Derricks says I think it was enough. Frankie says what do they want us to do sell our first born child. Frankie says they wanted us to have fun. It was like a freebie. Derrick says that wasn't Amber at all. She just wanted to show her boobs and a$$ off. When she went like this (jiggled her t!ts) I was like OH MY GOD Victoria! Caleb joins them and talks about how whenever he's talking to Cody.. Christine always comes over and crashes it. I can't ever talk alone with him.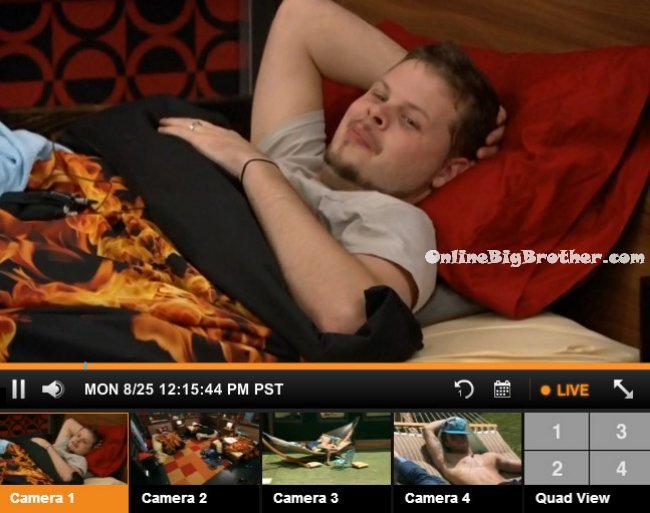 12:20pm Out in the backyard – Nicole asks Christine do you know what you're doing this week. Christine says yes. You're not going home. Don't worry about it. Christine says I've wanted Donny out since week zero! And there is no way in hell they would do any different. Donny joins them. They talk about how Caleb, Frankie, Derrick and Victoria have gone back to sleep.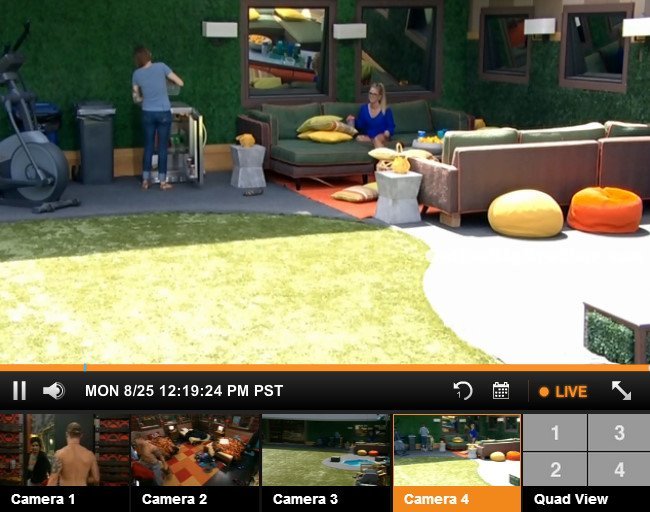 Derrick says I can't believe we potentially have $38,000 coming. I wanted to thank you because you've been doing a great job. I know you're not doing it for me or Donny but I appreciate your effort. You were amazing. You came up with 3 ideas and executed one of them. Literally we're at $38,000 and we don't know how many more we're going to get. We could get another 3. Derrick comments during Elissa's season there was a week off after the buy back and then there was another double eviction. It would make sense for this week to be an endurance.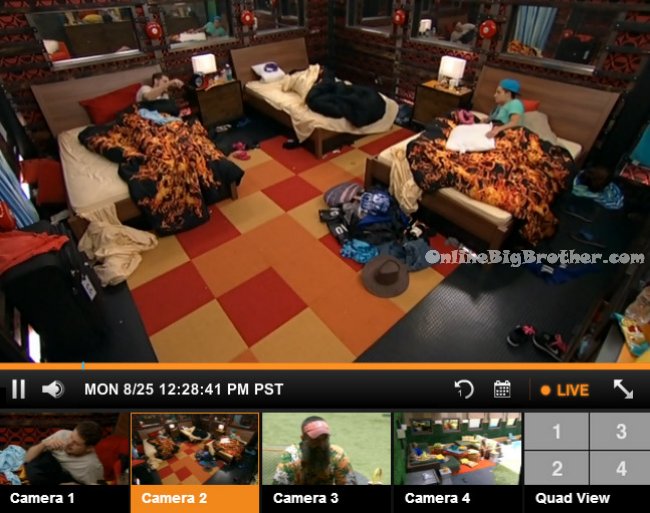 12:35pm – 12:45pm Donny, Christine, Nicole and Cody are sitting on the backyard couch talking. They're talking about words that sound gross like ointment and placenta. Victoria joins them. Nicole says I got to play with a placenta. Cody asks what's a placenta? Nicole explains its what feeds the baby and comes out when you give birth. Donny asks you played with it?! Nicole says well not played with it but dissected it for nursing.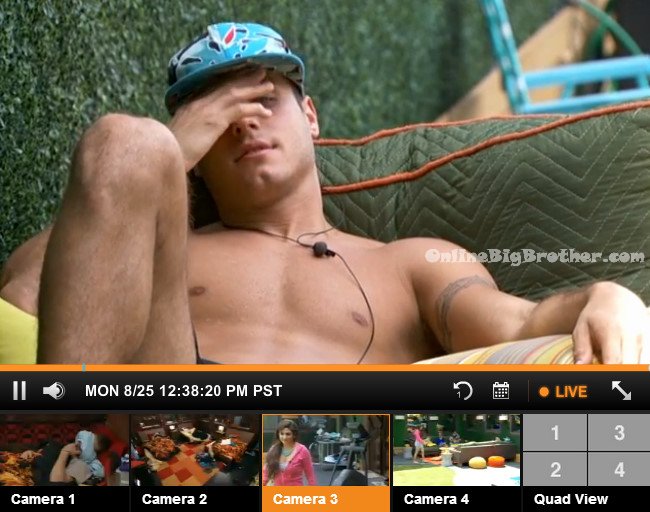 1:20pm – 1:50pm Nicole, Donny and Victoria are in the kitchen cooking slop and tofu. They talk about going to nap soon while the others are napping. Donny says because if we don't and we nap later when everyone else is up its constant (the noise).

2:35pm All the house guests are sleeping. Big Brother calls Cody to the diary room.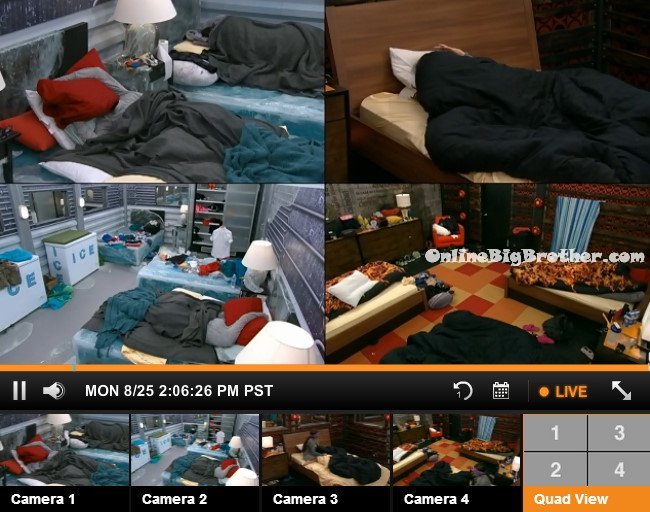 2:40pm Cody comes out of the diary room and Nicole gets called in. Victoria and Christine wake up too. Cody heads up to the landing outside the HOH room door. Cody says we're gathered here to celebrate the opening of Pandora's Box! You all are going to be showered with manure and I'm going to be showered with MONEY!! HAHAha just kidding! I would let you come up here but no peasants allowed. Cody buzzes them up to join him. Victoria talks about how annoying Donny was when she was cooking the tofu earlier. She says that he was watching her every step and being super annoying. God pissed me off man! Then I told him Donny you're so rude! Stop! Christine asks wait you said Donny's rude to his face? Christine says that's awesome! Victoria says its so rude I don't need someone doing that when I'm trying to help make them something. Cody jokes that he contemplated using the veto. Christine slaps him. Cody says on Victoria!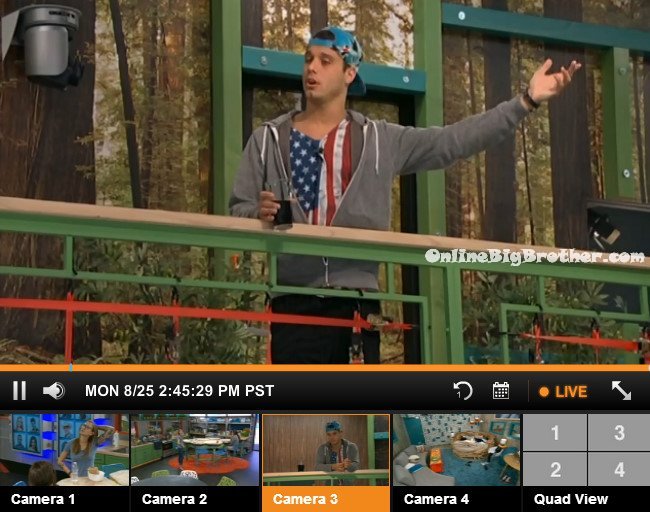 3:18pm Donny and Nicole head out into the backyard. Nicole says that the tofu they made earlier made her stomach hurt. She says at this point I don't even want to eat at all the next 3 days. Donny says you have to, it might be hanging on a wall on Thursday. It's about time for that. Nicole asks does Hayden really talk how Caleb made him sound? Donny says that Caleb did the worst last night. He didn't make him sound like he sounds. Donny says on the outside I am not the older guy. I am know to be a nice, funny guy. In here its different. Nicole says you're like what I hang out with in my town. I'm their age and I feel excluded. Its just a game. Donny says that likeability is negativity in here. There is a lot more competition in here. Donny says my goal was to be likeable. And if that's your goal that will only take you so far. My heart out weighs my brain .. so these games aren't made for me. Nicole says she is so disappointed in herself in the stay and fold competition. Donny says I don't want to say right now we can talk about that when we get out. But I think we were in the same boat in that one. I think you know what I mean. Donny says lets not talk about that right now .. we can talk when we are gone because right now we are against each other.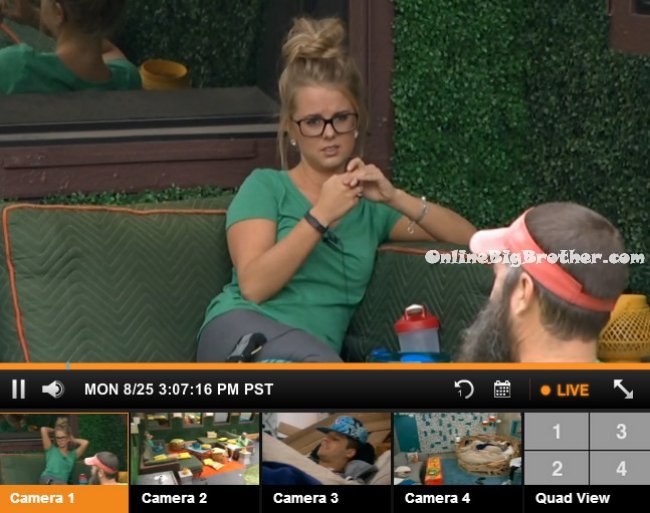 One way to support this site that doesn't cost you anything extra is making your
Amazon purchases through the links Below
For in Canada use the following link:
Amazon.ca
More polls here https://www.onlinebigbrother.com/big-brother-compendium/big-brother-16-polls/
[polldaddy poll=8263785]
[polldaddy poll=8260325]
[polldaddy poll=8261457]