8:52pm FIREROOM Derrick and Caleb
Caleb – Donny's going home and we're winning it again.. another easy week..
Caleb leaves
9:25pm kitchen everyone but NicoleChristine tells them she makes more money than Tim so he can focus on his music "I'm trying to make it in five years he's paying for everything and I don't need to work anymore"
Caleb says that is like his brother and his wife she makes Bank and he does nothing, adds that he's got landscape business but the wife makes moire
Frankie says that was like his mother and her first 3 husbands, "One of my moms husbands worked for her"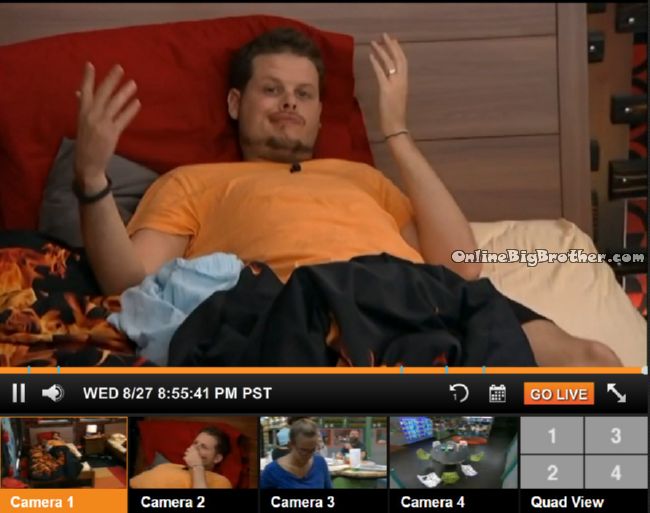 Derrick looks at the camera.. "I Dunno"
9:01pm Nicole joins Derrick
Nicole tells him it's bad for Frankie's game if she stays and it's bad for Derrick's game if Donny stays.
Derrick tells her he's voting for her to stay "As far as I know you are staying"
Derrick blames the almost flip on Frankie.
Derrick – I'm not Flipping, Caleb is not flipping, Christine won't flip
Nicole – She swore on her life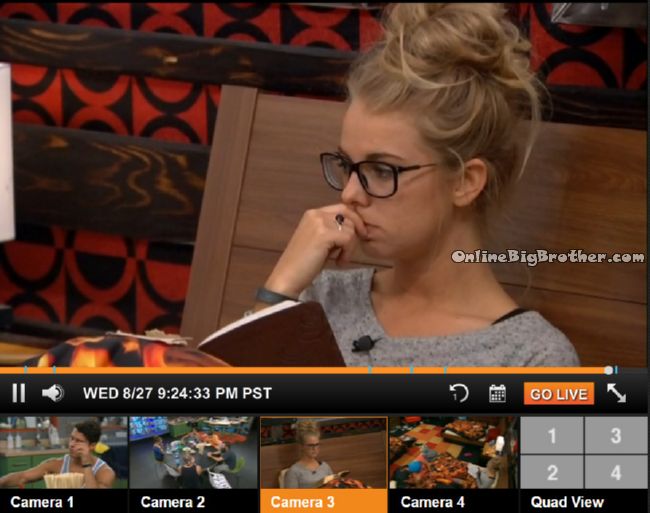 9:28pm Nicole Fire Room
Nicole – I need to man up man.. quite being weak it's just weird being back in this house.. I get a second chance I need to utilize it for sure.
Nicole – There so many options I don't know what is best for my game right now.. What am i supposed to do comes back into this house all fired up and put a target on my back again.. I have to lay low If I have to look weak I have to look weak..
Nicole – I have a good excuse my heads out of it…. really my head is in the game more than it's ever been.. the first comp I sucked I didn't even know what DAy it was in the house.. I Was really already pumped to be in the house.. I went out first it was super embarrassing Builds a weak persona right there though
Nicole says for the POV she knew they all were folding she just couldn't risk Donny winning it to be completely honest with you.. so I had to stay and let him get eliminated. .
Nicole – Donny could have won took himself off the block for sure.. sometimes you have to look weak .. I'm not weak .. I am because i'm a have not..
Nicole – I can't'; stand anybody in this f*** house except for Victoria
I got to do what I think will get me the furthest in this game.. I feel terrible for how I did in those competitions..
Nicole – Confidence is the key you need more confidence in what you are doing.. if you survive this week you need to be the gamer you were i will get my confidence back after this week.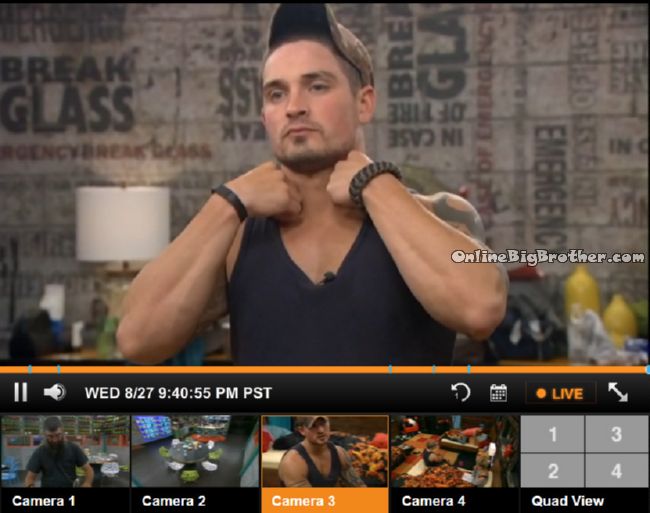 9:40pm Frankie and Caleb FIREROOM
Frankie asks him if he's feeling confident in the decision to keep Nicole. Caleb is he points out they can at least control one of Nicole's nominations. If Donny wins HOH he'll put up two bombsquad member because he wasn't to be the guy that breaks up the bombsquad. Caleb is worried about causing a divide.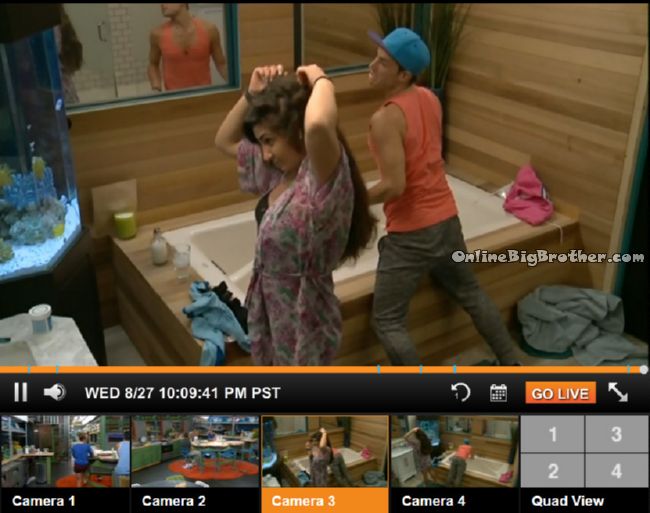 10:07pm Frankie and Victoria in the HOH
Frankie says Nicole spoke to him twice. "Whats your take on it"
Victoria says the plan is still to send out DOnny but next week it's Nicole. Frankie – I just don't know who she will put up I have no f***g clue
Victoria – She won't say.. she's still adjusting to the house
Frankie – if she did put me up I would be like it's f**** on
10:29pm Frankie naked in the HOH tub
He's been studying for a while.. says if it's mental he's going to win it. Also mentions he tried as best as he could to save Donny. (He did try i'll give him that)
10:24pm Caleb squatting Cody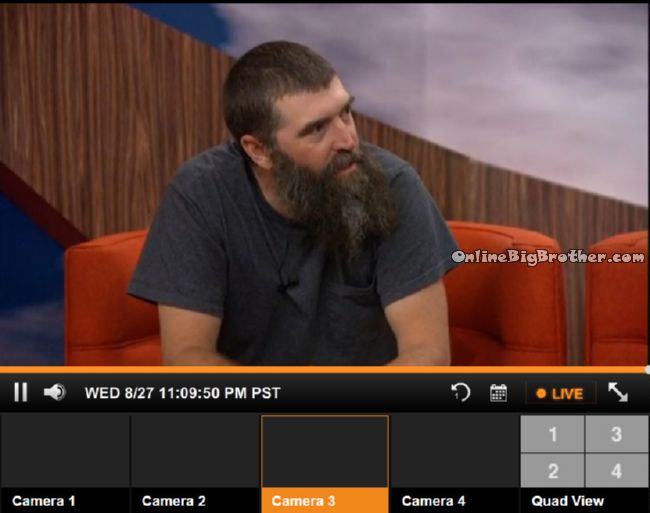 11:08pm Caleb, Donny and Nicole
Talking about TV shows.. DOnny watches a lot of TV.
Caleb always thought Weed eaters were called "We Deter" when he got his job at lowes he learnt it was weed eater like it's eating weeds.. (LOL)
Nicole thought they were called weed wackers.
Nicole – Eww a fingernail (It's Frankies)
Donny thinks Fingernails are the ultimate yuck, "I would rather see a turd than fingernail".
Nicole Leaves.. Donny asks Caleb if people are talking
Caleb says people are considering it
Donny – I've only won 1 HOH she's won 3
Caleb – who would you put up if you won HOH
Donny – she'll put up Fnkraei
Caleb – I think she'll put Christine up
Donny – You and me are even I wouldn't put you up
Caleb – yeah
Donny says it's sad that he's won 6 competitions and Victoria lasted longer than him.
Caleb – I'm with you Don"
Caleb – there's two people that we're trying to think on it.. for me I want to keep ya but i'm only one person.. this is when the game gets tough.
Donny – for one reason I leave I wish you all the luck
Caleb – only one person is going to win it that is the suck thing.
Donny – If I leave I'm a vote
Caleb feels that from here on in everyone that goes home is going to suck because they are close
Donny asks why they are hanging on Nicole. Celeb says it's because she's easy to beat easy to get out
Caleb says Cody was in the conversation but is scared Donny will target him.
Caleb says Caleb, Frankie and him want Nicole to go.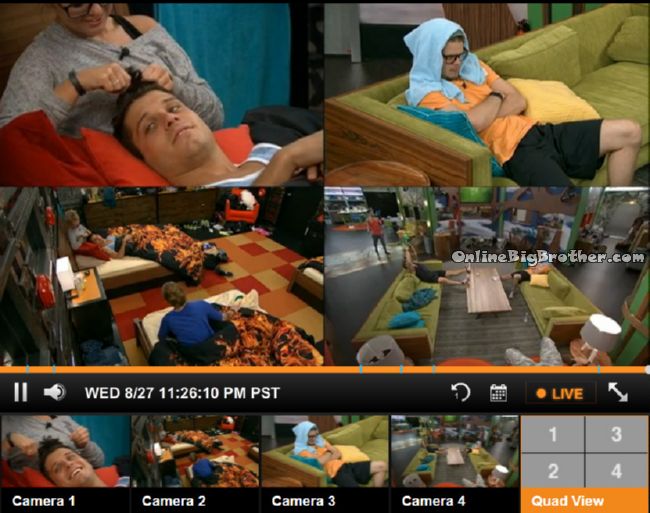 11:27pm Caleb is going to go to bed early today
Cody and the girls are in the fire room giggling away.. Frankie and Derrick were in there in a bit before chit chat about Twitter.
11:29pm Cody and Derrick in the living room.
Caleb gives him the rundown of the talk with Donny. Caleb says Donny was upset because he's leaving before Victoria
Derrick – that's the game
Derrick says if Christine wins HOH she's not putting COdy up I would hope Christine would put up Nicole/Victoria but he really no idea. Derrick doesn't know where Christine is at.
11:39pm Frankie, Caleb and Derrick They are agreeing Cody doesn't want Nicole sent home because she won't target him none of the girls will.
Victoria joins them.. they joke about Victoria leaving Cody's harem. Caleb says all he hears coming from the FIREROOM is "COdy Cody Cody"
Frankie starts doing "abs"
11:46pm In the Fireroom Christine , Cody and Nicole. Christine is telling them Tim has the best eyelashes.
Cody asks her if she's stoked that she's back in the game for another week. ASks if she was scared when she heard she wouldn't get a week of safety. .
Where the vote is?
Donny going home
The Live Feeds are archived. You can go back and watch everything that happens
Try It Free! Subscribe now to the official BB16 Live Feeds
More polls here https://www.onlinebigbrother.com/big-brother-compendium/big-brother-16-polls/
[polldaddy poll=8260325]
[polldaddy poll=8261457]
Share it YO!
Tweet