POV Holder:
Cody
Next POV
Aug 30th
POV Used
No
POV Ceremony
Sept 1st
HOH Winner 1:
Cody
Next HOH
Aug 28th
Nominations:
Donny & Nicole
Have Nots
Donny & Nicole
POV Players
Donny, Nicole, Cody, Frankie, Derrick, Christine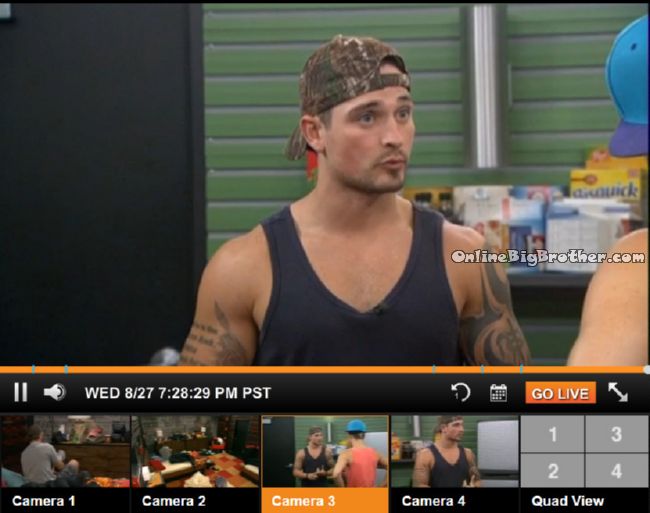 7:25pm Storage room Frankie and Caleb
Caleb says he thinks getting rid of Nicole is a better play. "If Nicole wins will Christine flip"
Frankie – YES
Caleb says Cody will be mad because he knows that the girls won't put him up but for Caleb and Frankie keeping Donny is better.
Frankie – It's better to send Nicole out.. I've been thinking that
Caleb – She's a much bigger threat than Donny.
Frankie – it will be better for all of us
Caleb – tomorrow's the big day we can make a big decision..
Caleb says they will have a meeting with Cody and go over all the pros and cons.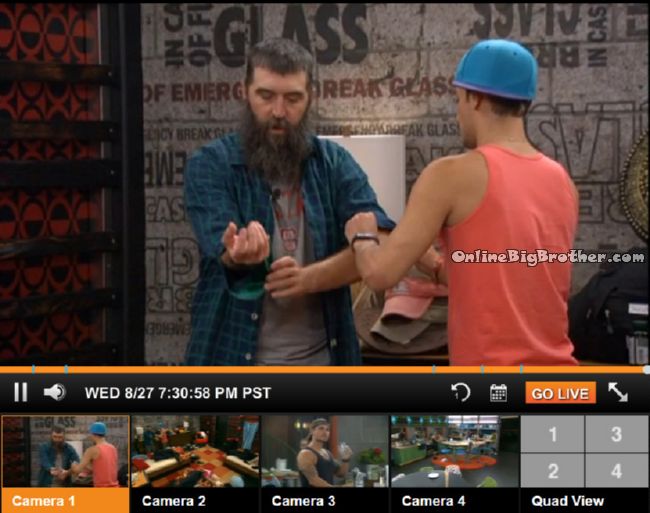 7:30pm FIREROOM Frankie, Derrick and Donny
Frankie tells them that Caleb is talking about keeping Donny..


7:35pm HOH COdy, Caleb and Frankie
pitching the idea to Cody to keep Donny. Cody says they have tried to get Donny out and couldn't they tried only once to get Nicole out and got her out.
Cody – For me Donny would take a shot at the guys
Cody – No chance I would let Donny slip through"
Cody says Nicole is more likely going to work with than Donny.
Frankie says Nicole wins HOH if she wins they are f***
Cody – So will he
Frankie – I think he will put up Christine
Caleb wants to weigh all the options, "Nicole is the biggest threat for me"
Frankie says Nicole has integrated back in with the girls but DOnny is alone
Cody thinks this is just because he's on the block last week he was talking sh1t to everyone.
Frankie – Christine said next week the girls will equal the guys again.. I dont' want Chritne to have another Ally
Derrick comes in says it's a lose lose either way.. ASks them who is Donny's target
Cody – There is no way I'm flipping my head on keeping Donny in this game
Derick says what Caleb told him resonated with Derick, "Donny is extremely mental but not physical Nicole is intelligent and a bit physical"
Derrick says Nicole was talking a ton of game in the jury house.
Frankie points out that the girls are all together in the kitchen where's donny? he's alone.
Cody lists out the competition that Donny have won.. is saying he's won 2 of the more physical competitions
Frankie – ya he almost died
Cody – he won
Derrick tells them to go to Donny and Nicole and find out who he will target.
Frankie disagree they should not do that "that's Beehives and… "
Frankie warns them that Nicole's Social game is on point
Caleb says he's OK with DOnny going home he just wants them to talk through everything before they make a decision.
Derrick says unless all 4 of them are in agreeance they won't be keeping Donny.
Cody – Donny is 10 times bigger of a threat
Cody goes through all NIcole's comps pointing out how her wins were not a big deal
Caleb – if we Keep Nicole we can control who she puts up but we can control DOnny
Cody says Donny is targeting one of them three (Not Caleb)
Frankie and Derick says Christine
Caleb – Donny will put up to of us guys
Cody – he won't put up Caleb
Frankie – Nicole's put you up
Caleb – they both have
Caleb and Frankie warns that Donny can beat them in HOH but donny might.

THey agreed the girls will vote out Donny. COdy says if the house fkis Christine will be livid.
Frankie – this makes me nervous that Victoria and Christine are dead set against voting out Nicole.
Caleb isn't worried about Victoria
Derrick – Victoria has changed this past week she's starting to think for herself.. we cannot rely on her like we use to
Frankie points out that Victoria spends more time with Nicole now.
Caleb asks them who do they want out.
Cody – Donny
Frankie – Nicole to go
Derrick – I'm torn
Caleb – I'm torn
Derick leaves to make food says when he comes back they'll have an answer..
Caleb now saying he wants Donny gone because donny wins in final two against them but Nicole won't
Frankie tells him if Nicole makes it to final 2 after coming back into the game she'll win it
Frankie and Cody don;t think Nicole will get there
Frankie – I don't think DOnny is the
Caleb now saying they should keep Nicole because if she win the HOH they can intimidate her to put up Victoria and Christine.
Christine joins them..
(They're spinning in mud at this point so far 2 vocal to evict DOnny 1 vocal to evict Nicole. Derrick has not shared his vote yet)
One way to support this site that doesn't cost you anything extra is making your
Amazon purchases through the links Below
For in Canada use the following link:
Amazon.ca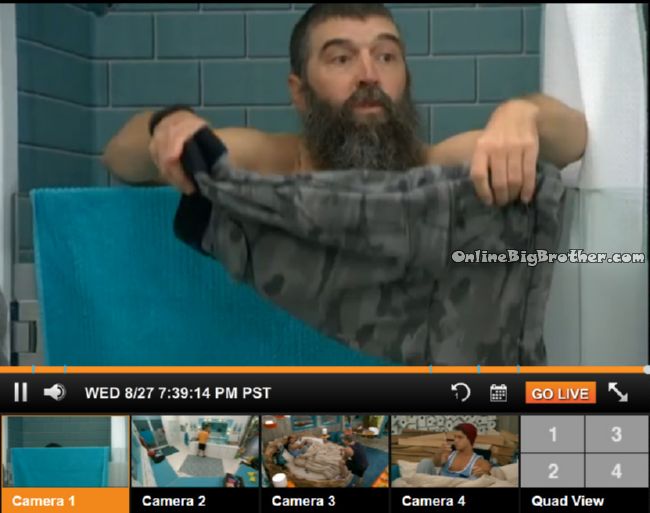 7:37pm Bathroom Donny and Derrick
Donny tells him he won't put TEam America up "I don't;really want to put up Caleb I like the boy when I say we are square we're square"
Derrick says he's going to try but if he does this he doesn't
Derrick – I want you to believe I really am trying..
Derrick think she might have been able to sway Frankie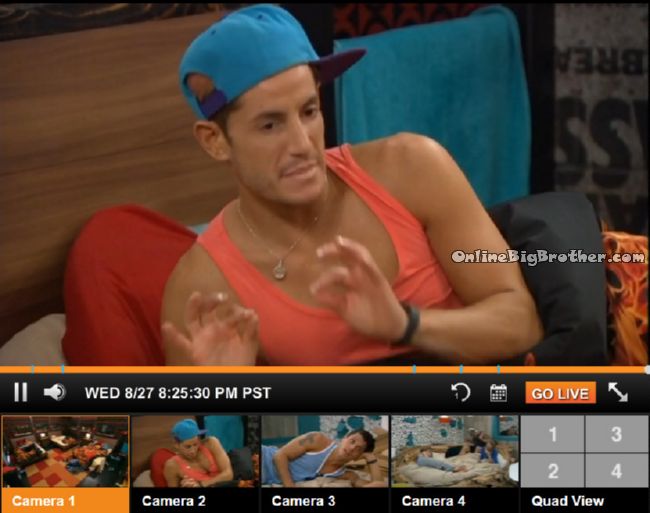 8:18pm FIREROOM Derrick and Frankie
Frankie warns that Cody going around saying he controls Nicole and CHristine means he's working with them again.
Derrick biggest concern is they go against Cody they have a divide in the house.
Derick – Donny could go with them.. dude there is no doubt in my mind that dude has thrown our names under the bus for his game
Frankie – I've thrown you under the bus for my game.
Derrick – Have you
Frankie – when I told Nicole to put you up i told you
Derrick says that he asked Donny straight up and donny told him he's never used Frankie or Derrick's name
Frankie guarantees that Caleb will vote to keep Donny if they are down for it.
Derrick is worried there will be a divide in the house he thinks they should avoid that
if they send Nicole home the divide will be him, Caleb and Frankie vs Cody, Christine and Victoria
They agree that Frankie sent Zach home For Cody.
Victoria joins them.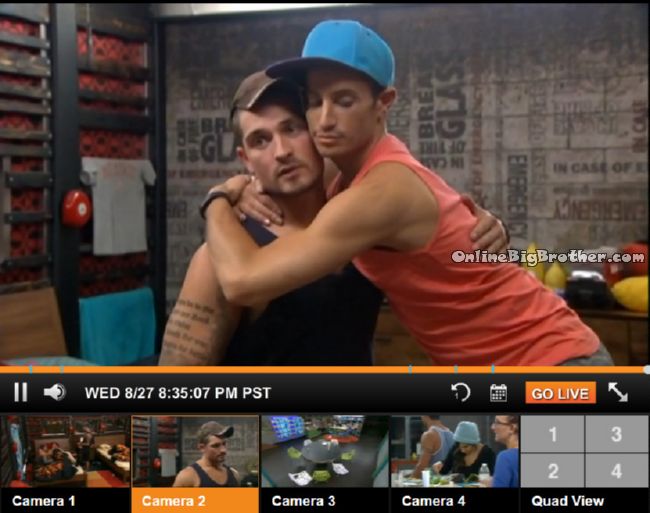 8:36pm FIREROOM Caleb and Derrick
Caleb saying he wants to vote out Donny
Frankie join them.. "We know Nicole is bad for me.. It's in our best interest to send Nicole home the three of us"
Caleb warns them that Cody will join the other side and kick them to the curb.. lets roll with it roll with the punches (Keep Donny)
Frankie – are they mad at me suggesting Nicole
Caleb no
Frankie leaves
Derrick tells Caleb that Cody has more vote than him the girls love them and the guys trust him if he's going up on the block with them they are going home.
Derrick – If up against Cody I'm going home
Derrick – Donny told Zach he doesn't like any of us
He adds that Nicole has spent time in the jury already she's got votes on lock. Presses the point that Cody will not go up if Nicole win HOH but he might if DOnny does .
Derrick – so we send home DOnny and roll the ice?
Caleb – it's tough dude..
Derrick lets do it dude..
Caleb – lets keep her..
Frankie joins them,
Caleb – We send Donny home this week.. we win like we always do send Nicole home.. during Double eviction"
Frankie agrees to keep Nicole they hug it out again and Frankei leaves.