POV Holder:
Cody
Next POV
Aug 30th
POV Used
?
POV Ceremony
Aug 25th
HOH Winner 1:
Cody
Next HOH
Aug 28th
Nominations:
Donny & Nicole
Have Nots
Donny & Nicole
POV Players
Donny, Nicole, Cody, Frankie, Derrick, Christine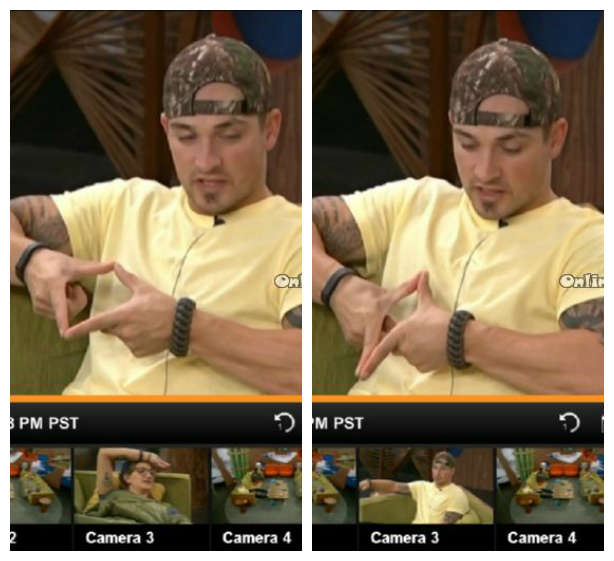 9:04pm Living Room Victoria, Caleb, Christine and Derrick
Victoria says she started dating a man whose 40's he's beautiful, gorgeous and gentlemen
Caleb says his balls looks like two dried up tatter sacks. .
Victoria says she asked her dad if she should go on a date with him because he was so much older than her
Christine he's twice your age. .
Derrick says if his daughter was seeing a man so much older he would have a problem with that.
Victoria says he makes very good money has the perfect personality and is stunning.
Caleb – he wants a young girl for one reason
Derrick – that guy has ulterior motives
Christine – why is he still single
He told Victoria he never found the right girl
Victoria – Derrick you think he only wanted one thing from me
Derick – for sure
Christine a man that old always has ulterior motives
Caleb says when a 40 year old is with a 20 year old he wants the young Vajayjay
Christine – He's not coming to you for the intellectual conversation
Victoria – yes he was
Derrick – really
Caleb shows us a 40 years olds… vajayjay compared to a 20 year olds. (See image)
Derrick – what Caleb .. oh my god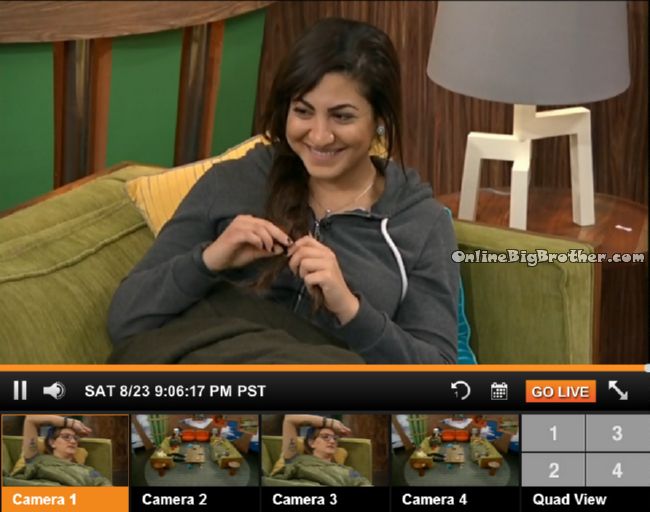 9:12pm They come back from watching the show Scorpions THey bring down a bunch of candy..
Donny says the show was action packed you couldn't go to the washroom if you had to.
(Everyone gathered around in the living room chit chatting eating candy.. )
Donny – I did burp for a minute straight

9:53pm Nicole wonders if they are going to do DR's tonight because she is so tired wants to go to bed.
Frankie isn't sure what Production has planned. Most the other house guests seem ready for sleep but they'll still stay up until 6am.

10:03pm
TAlking about the PC correct way to call a person from Mexico or latin America. Christine says in her state all the signs are 1/2 Spanish.
Donny says Zach's second toe was longer than his index finger.
Derrick – his toe was massive
Donny – it was like ET's finger. (See image below)
Frankie – he was nice everywhere else
Donny says if Zach got riled up it would take a lot to calm him down he's strong..
Christine – This is going to be the longest 4 days of our lives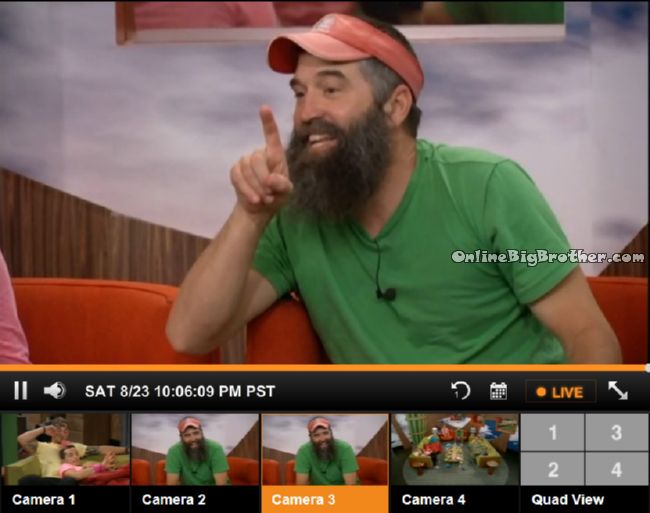 Caleb says the last week before he leaves the house he's going on slop so he's shredded for the afterparty. He plans to walk around with his shirt off. Everyone giggles.
They start talking about the finale party. Caleb says he might get pretty drunk at Rachel's house after.
Donny and Caleb talking about speaking in tongues and how Jocasta doing that was a bit odd. Caleb says when you speak in tongues you are supposed to have a interrupter. . Clab was raised southern baptist and he never heard someone speaking in tongues like Jocasta was doing.
Donny – if they do it and I don't understand it what good does it do for me
Donny brings up in one of the interviews they did was "gays were they born that way"
Derrick I think I know what you opinion is.
Frankie – I bet you don't know what my opinion is
Frankie thinks that people are born to have a predisposition to be homosexual bur their environment can sway them either way.
Donny says for him it was not a choice because when he was 10 11 or 12 he never chose to be heterosexual he just was.
Frankie says the problem with the wording "Choice" is it can be implied that choice can be changed.
Frankie – If you are born gay that means there is a genetic marker.. it's a combination of born and choice.
Frankie – Many Lesbians CHOOSE to become Lesbian later in life.. Women who have been with men after men after men CHOOSE to become a lesbian later in life.. Gay men it doesn't usu usually work that way.. they are like no I'm gay..
Frankie – just like there is a lot of gay men that choose to be heterosexual for the rest of their lives.
Caleb asks if it can happen with men they date girls for a long time and decide to go with Men because the girls treat him wrong.
Frankie – I think Zach might do that.
10:37pm Lockdown over Pool games begin..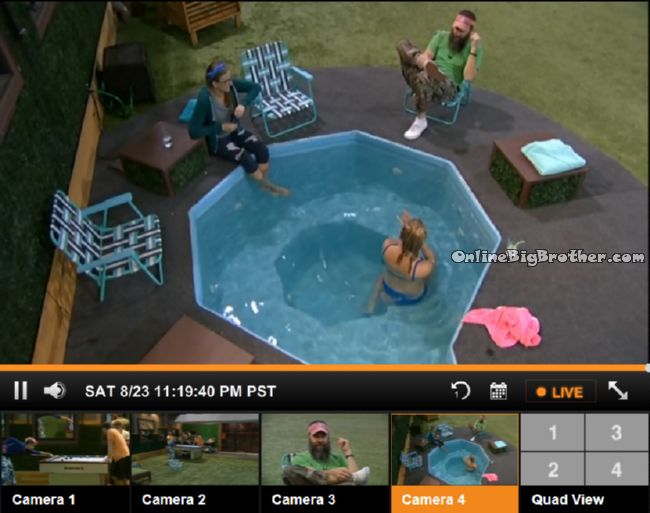 11:20pm Chit chat and Pool games.
One way to support this site that doesn't cost you anything extra is making your
Amazon purchases through the links Below
For Canada use link
Amazon Canada OnlineBigBrother
[polldaddy poll=8263785]