POV Holder:
Cody
Next POV
Aug 30th
POV Used
No
POV Ceremony
Sept 1st
HOH Winner 1:
Cody
Next HOH
Aug 28th
Nominations:
Donny & Nicole
Have Nots
Donny & Nicole
POV Players
Donny, Nicole, Cody, Frankie, Derrick, Christine
5:05pm Hammock Nicole, Christine and Victoria
Talking about the cheeseburger festival in missouri Nicole wants them all to go with her, Christine and Victoria sound excited.
Derrick and Cody are playing pool the girls on the hammock do not go unnoticed.. (Frankie and Derrick already had a conversation about the dangers of the girls getting together)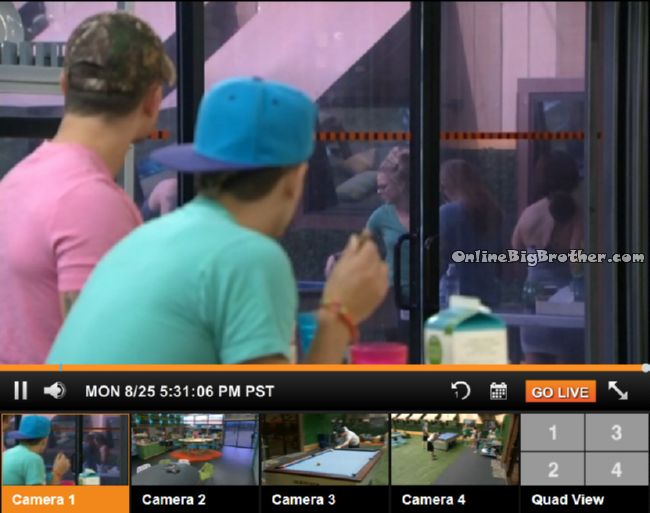 5:29pm Kitchen Frankie and Caleb
Frankie – She's doing a wonderful job reintegrating..
Caleb – Nicole
Frankie – ya
Caleb – I think we know where she stand with us
Frankei – We do know where she stands she wants me out of the house
Caleb – If she don't win she's going home .. the scary thing is if she wins she puts you up next to who
Frankie – well we know it's not COdy .. and I'm not going to lie I don't think it'll be Christine anymore they seem to be getting close again
Caleb – I dunno.. maybe Derrick maybe me.. at the end of the day she's going to do whats best for her game"
Caleb – can't let her win.. we are all the bomb squad we are too good to have her beat us that is why we are where we are, we're good..
Frankie – yup i know
Frankie asks who Donny would put up.
Caleb – COdy and ,..
Frankie – Christine
Victoria walks in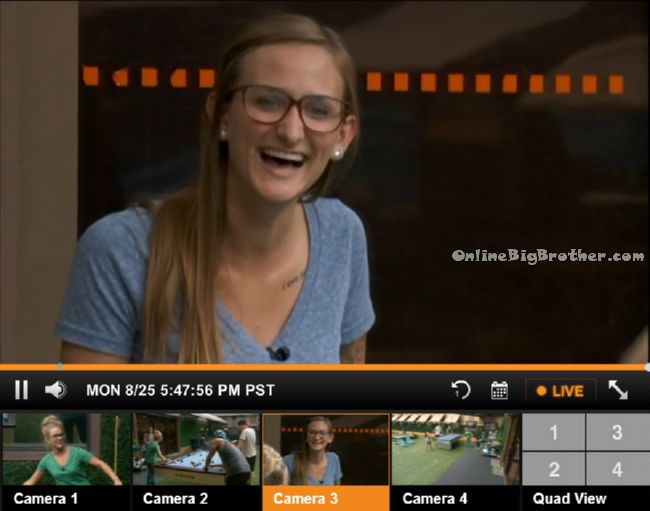 5:46pm Pool
Christine is getting after everyone for saying eXpresso instead of Espresso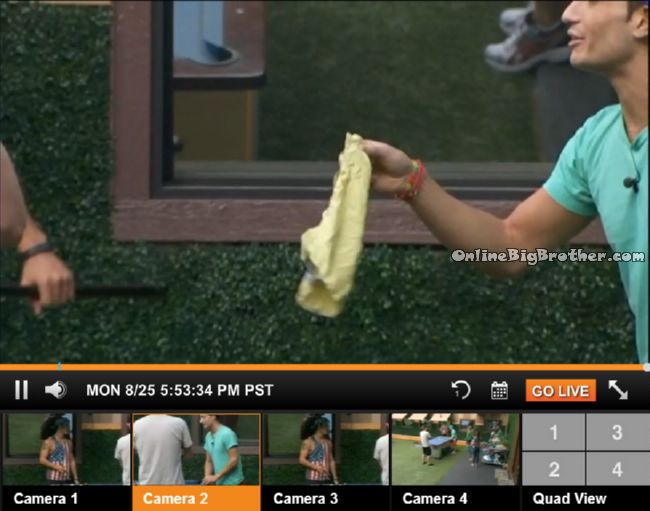 5:52pm
Frankie finds Jocasta;s Shorts says he's going ot wash them.
Frankie playing a "character" says "I'm going to wear JOcasta's F*** shorts and I'm going to wear them f*** her"
Frankie finds Jocasta's underpants starts throwing them around nobody wants them so he throws it out,
Frankie starts humping Cody and Christine (See image below)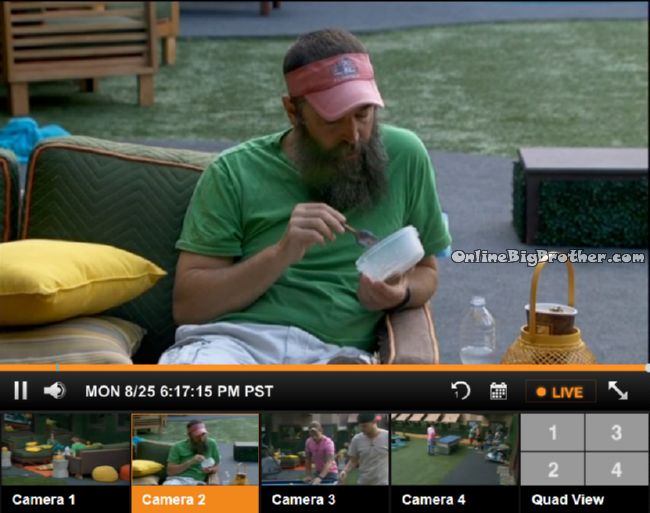 6:11pm backyard pool…
Donny – it's not a bad looking bowl.. the tofu dried nicely
Donny – I can't believe i'm eating something called tofu.. sounds like a big toe..
Nicole – I don't know about that stuff give me a sore stomach
Donny – you know what it really tastes like… like a bit of fat like in a piece of stew beef you get a little bit of fat in there
Nicole – don't tell me I pick it out.
Donny – fats the best part.. this don't taste like fat it look like fat
Nicole – I don't like fat
Donny – I love Fat
Nicole – A lot of people do
(LOL)
The Live Feeds are archived. You can go back and watch everything that happens
Try It Free! Subscribe now to the official BB16 Live Feeds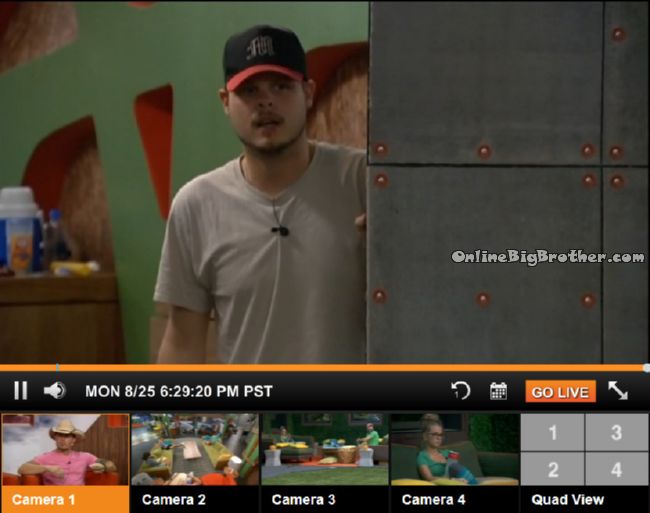 6:22pm Cody and Derrick
Studying past HOH wins etc etc..Derrick thinks he has them just needs to be able to pull them up quicker. Frankie, Caleb and Victoria join them they continue to talk about.
Derrick – I'm calling it now no double evict this week .. single evict into endurance a BIG one
Frankie agrees
.Derrick – This is the big boy this week.. Watch Give Nicole another week to integrate into the game because she didn't have that week of safety
Cody – she could CRUSH a endurance comp
Frankie – CRUSH IT
Derrick – you bet your a$$.. you bet your a$$ she could


6:34pm Hammock Derrick and Christine
Christine – there's so much thinking to be done
Derrick – like what you know your HOH, POV's you can't consume yourself.. I know it's a running joke but i think theres an endurance this week..
Derrick mention that LAst year Andy was head and shoulders above Spencer and Ginamarie in mental comes so he was able to turn out the wins but this year the remaining houseguests left all have their strong points.
Derrick says it might look like a Dan year, "Dan was the best player but he might not win"
Derrick – Hayden/Nicole/Jocasta/Donny are all voting together so whoever they like wins..
Derrick points out that Zach and HAyden were bros in the beginning they are probably bros this now.
Derrick – Victoria is going to vote as a group.. you have those four plus Zach.. they'll give it to the nicest guy
Derrick – Victoria is going to win it ..
Christine I will never vote for her
Derrick – She'll never make it to final 2 because If she made it to the final 3 she'll go to the final 2
Derrick asks her who the jury majority will vote for out of the people left in the house.
Christine – Cody
Derrick – Mama J loves him.. Donny loves him..
Christine – Nicole loves him
Derrick – you're right.. you're right he's a good dude.. ya he'll smoke us ok I gotcha.. he's a beast.. he's a beast man he's played such a good game.
Christine at first thought Cody never won a lot of competitions so he wasn't a threat but now he's bringing in the wins.
Derrick – he's a beast
Derrick says when he Hugged Hayden he didn't get a hug back. Derrick thinks Jocasta and Nicole all talked to Hayden and they all feel the same way about Derrick and Christine.
Derrick says Donny would vote for Cody over Caleb in the final 2.. he was legit not mad at Cody for putting him up
They laugh at Nicole loving Cody again after putting her up.
Derrick – damn he's a beast.. he snuck up on me
Christine – In order for one of us to win we will have to do something brilliant..
Derrick which i'm not mentally capable of.. in order to win you will have to invent something. I would have to win the last HOH and come out and let you know i'm a women and not married and I convince you otherwise..
Christine – "To win against Cody in the final 2 you have to convince the jury you literally masterminded everything"
Derrick says there has been no puppeteer this year no Dan Character
Christine thinks Frankie was for awhile.
Christine – Cody congratulations for winning big brother 16 most attractive houseguests..
Christine says it sucks that Frankie is in the game because he's going to win America's Favorite
Derrick – Unless he's in final 2
They agree it would be Donny, ZachAttack or Caleb who would win it.
Derrick says he's never been nominated because he's not seen as a threat and everyone kinda likes him.
Derrick says he's mediocre
Christine – that's the way to win
Derrick says there's only one other person that hasn't won a lot of comps..
Christine says Donny wins against everyone in the game
CHristine thinks second is beast mode then cody
Derrick – maybe Nicole because who is in there..
They laugh at their predicament both claiming they will only win the game against Victoria.
Derrick says if Nicole stays she'll win the endurance.
Derrick – Donny won't win it
Christine – we don't know it's endurance
Derrick tells her they have equal comp wins at the end they would be evenly matched.
They start talking about their fans, Chrsinte thinks she doesn't have any fans maybe the pessimists will like her. Derrick says she has the barista's. Derrick think she has the dads.
(Derrick thinks the easiest person to win against is Christine followed by Victoria, Frankie, Caleb and Cody based on the jury majority)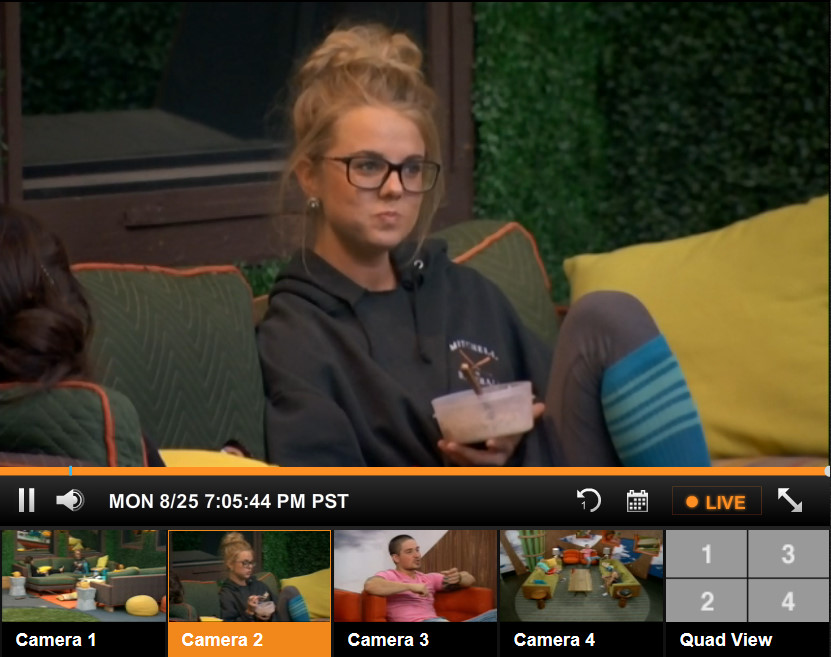 7:06pm Backyard Christine and Victoria
Nicole is saying to the Camera 'America slop sucks"
Victoria says she was on slop for three weeks straight.. straight slop without any "America's Food"
Nicole says Ian was the BOMB.COM for being on slop for so long.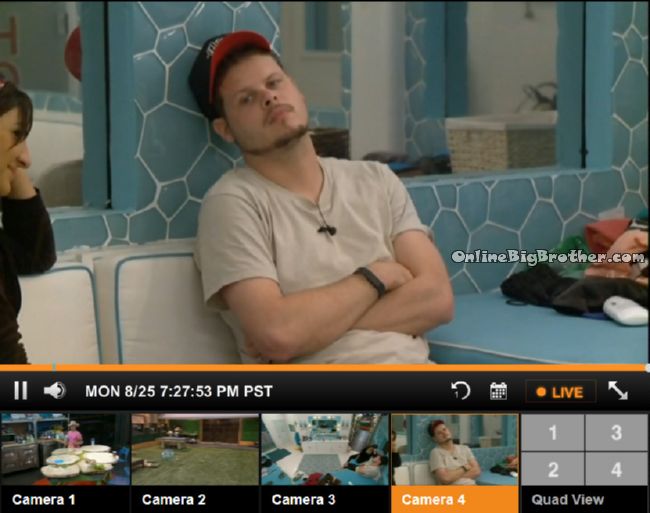 7:31pm Victoria and Derrick
Derrick saying that Nicole is getting close to Christine. Asks her if it comes down to him and Cody will Christine pick COdy
Derrick – she doesn't' talk a alot of game with me so Cody
You talk a lot of game to you I can hear it
Derrick classify the type of game she talks to with him isn't serious game
Victoria – the only pother person I talk GAme game is Cody and the last time we spoke game was when Frankie was HOH.
Nicole wants to go talk in the Hammock but Derrick think it will be too obviouis,. .,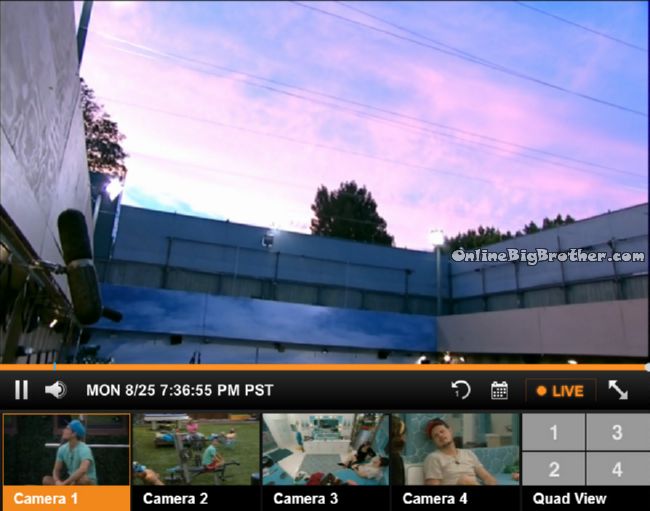 7:36pm BB house sky
More polls here https://www.onlinebigbrother.com/big-brother-compendium/big-brother-16-polls/
[polldaddy poll=8260325]
[polldaddy poll=8261457]