POV Holder:
Cody
Next POV
Aug 30th
POV Used
No
POV Ceremony
Sept 1st
HOH Winner 1:
Cody
Next HOH
Aug 28th
Nominations:
Donny & Nicole
Have Nots
Donny & Nicole
POV Players
Donny, Nicole, Cody, Frankie, Derrick, Christine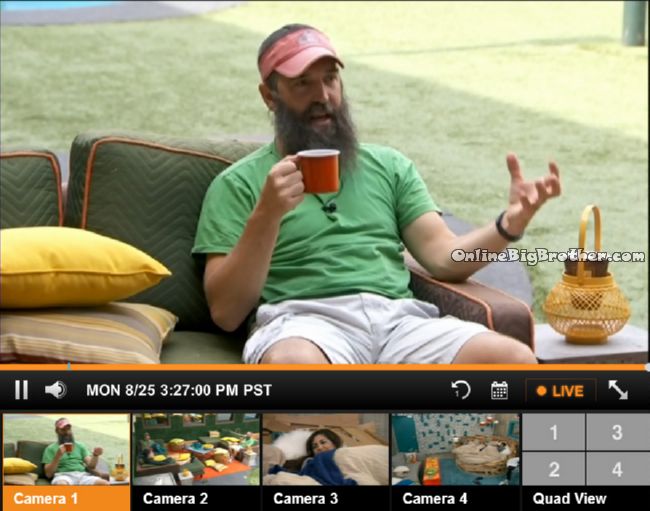 3:19pm Backyard Nicole and Donny
They both agree they want to stay in the game even though they are horribly outnumbered and outgunned. Donny says the only positive for them is they are both packed. It's a better case than Hayden who wasn't packed to go home.
Derrick joins them. asks Donny how he's doing without any chewing tobacco
Donny says being on slop and a place like this might help him quit, "My chew hindered my taste buds."
General chit chat about State sales tax, tobacco, etc etc..
Nicole leaves
Donny asks him if Frankie has changed his mind. Derrick doesn't think so says things might change now that the veto ceremony is over. Derrick says the impression they got from the Diary room is the Play went well so he thinks they got the TA task for last night's.
Derrick says he's not working with anyone in particular, "I did not establish those relationships early on.. i'm happy with the game I played.. I have done anything i'll regret"
Donny tries to tell him that America vote for them to be a team. "America put us together Week three"
Derrick recommends Donny talk to Frankie
Donny says Frankie is a very paranoid person says he's been in this game the entire time with people being paranoid about him says it all started with Devin spreading the rumours about him and snowballed from there.
Derrick says they had some role in keeping DOnny last week and it didn't take much.. Derrick knows that Donny did most of the season on his own and Derrick respects him for that.
Derrick says Donny might have more options other than his past jobs when he gets out. Derrick mentions that last Season JUDD was from a small town like Donny and he had the entire town backing him.. Donny will most likely have the entire state.
Derrick says its' very conflicting for him there is only so much he can do. DOnny understands says Derrick has set himself up all season and he knows if Derrick goe out on a limb for him he'll jeopardize his game.
Derrick – it doesn't look good for me realistically.. there isn't many people that won't vote me out if i'm on the block.. I'm going up there's no doubt about it.. these guys are very physical .. I'm not beating Cody and Caleb..
Derrick thinks they will come out with over 30 grand each from TA alone "Thats a pretty good third place"
Derrick says if they asked him for another month he would turn it down.
Donny – these are some long days.
Derrick – this is the difference between us and them they are all young..
Donny agrees says the young kids can go and do anything right now
All 4 cams are on Donny and Derrick.
Derrick – THeses people's lives are paused .
Donny – I've got elderly parents and relatives… when you have aunts and uncles in their 80's 3 months is a long time.. people can pass away.. I have a dear neighbor who's been closer than a grandfather he was in his 90's"
They agree the other players in the house are all single and young their lives are much different
Derrick remember Christine is married correct him (Cam 3 and 4 change to CHristine and Cody cuddling in the HOH.. Cody is talking about Tommy boy being EPIC and going to it with his buddies and "Crushing it".. Christine giggles and rubs away )
Victoria joins them.. chit chat..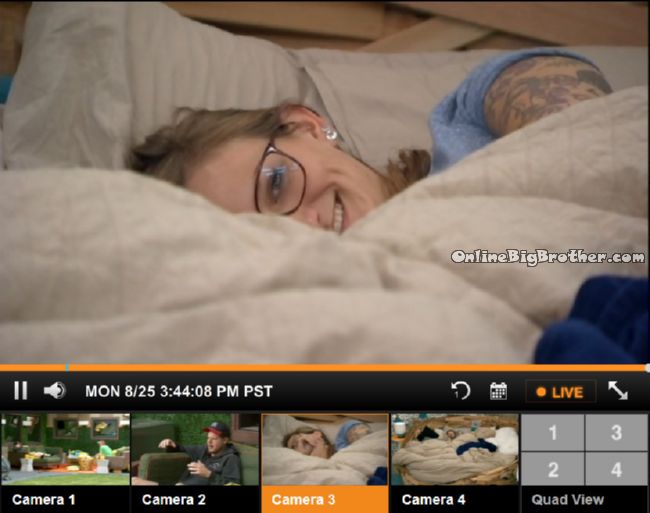 3:25pm HOH Cody, Christine and Victoria
(Of COurse Christine is rubbing COdy's back)
Christine Praying to the "Big Brother Gods" for them to please have a "Fun" HOH from here on in.
Talking about kids, Victoria says she wants 6 kids.
Christine says she begged her mom to have another child but her sister begged her not to and they always go their way.
Christine – If I did have a little brother it would have been CODY.. CODY
3:57pm Indoor lockdown called.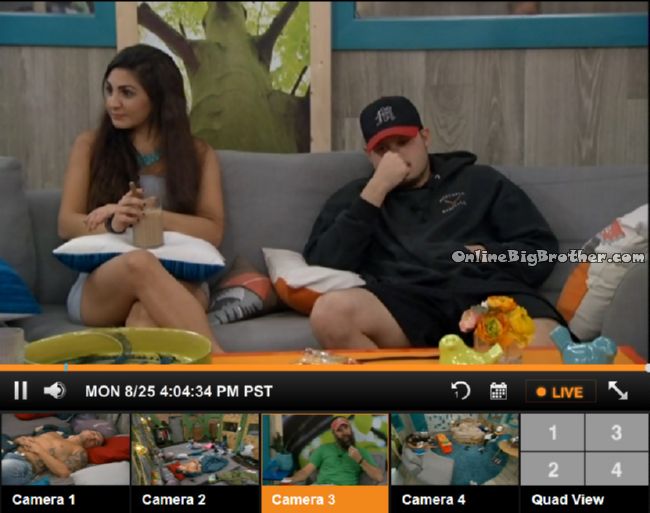 4:03pm HOH Christine, Nicole, Donny, Derrick, Cody and Victoria
Christine says Nick BB15 wasn't attractive AT ALL his eyes yuck
Donny asks them how many birdhouses are on the HOH room wall.. Donny guesses 801
(Just random chits chat.. )
The Live Feeds are archived. You can go back and watch everything that happens
Try It Free! Subscribe now to the official BB16 Live Feeds
4:04 Beast Mode
4:15pm INdoor lock down over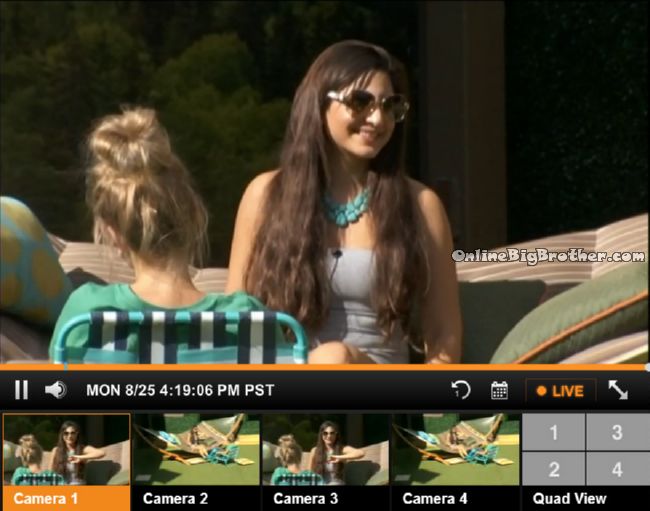 4:20pm Hammock Nicole and Victoria
Talking about Miami, Weather, beast friends.. etc etc..
Nicole says her and Victoria could have been on a BFF level.
Nicole asks if she should go talk to Derrick
Victoria says it's pointless.. Donny is going home 100%
Nicole hasn't really talked to anyone since she' been back.. Victoria and Cody are the only people she's talked game to recently;uy.
Victoria says Derrick was crying because he loves DOnny as a person but it's a game.
Victoria – Donny knows he's going home everyone has told him..
Nicole says this morning DOnny was acting like he was staying
Victoria says Donny is going 100%..
Nicole says her and Christine don't talk any game but they are fine on a personal level, "We're vical"
Nicole – now that i'm back I'm more timid and Shy.. you are my go to person"
Nicole remembers Victoria helping her the week she was left, "Everyone knew I was going and you were there for me.. you helped me survive"
Nicole – We're all human beings outside this game.. you had no idea I was coming back… you were just being nice to me
(you know when Victoria says 100% you are staying that you are in trouble)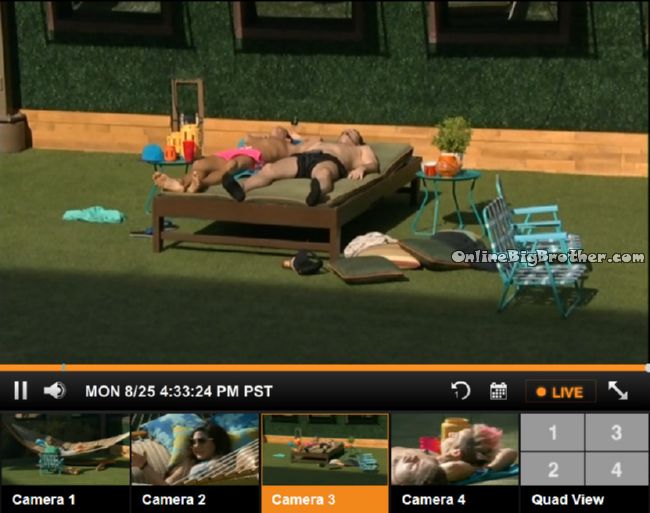 4:30pm Derrick and Frankie laying out in the sun Production tells them to put their microphones on. Derrick gets pissed at this since it tells the house they are talking game.
Frankie – I have a way to get CAleb to flip
Derrick – to keep DOnny
Frankie – ya
Derrick – do you think it's a good move..
Frankie – look at what's happening.. with Cody
Derik – I see it, we need to have a detailed conversation later… Let make magic.
Frankie – I'm back..
Derrick – you were back I f***g love it you were not you yesterday.. you know what made matters worse I wasn't me either..
Derrick – She's a schemer..
Frankie points out that Victoria and Nicole are dangerous.. I think we can make the points to Caleb quite easily. Frankie thinks Caleb is already nervous about the girls.
Frankie – It's time to start f****g around again
Derrick – you want a show america we'll give you a show
Frankie – We have another mission we want to accomplish
Frankie and Derrick agree trying to save DOnny before the Veto meeting would have been suicide for their games but POST veto meeting they can try.
Derrick – you want us to make some good TV.. we'll make some good TV for ya
Frankie – do you think we should get DOnny to lie about his live
Derrick – he won't do it..He's a genuine guy.. he don't trust us that much. He might think we're trying to set him up.
Derrick – I'll tell you one thing I know America will be happy.. I'll tell you Christine won't keep him she hates that man.. you and me need to get alone break it down see if it's plausible if it's a good move.
They agree the swing vote is Caleb and it's doable..
Derrick – we have to have Cody on board.. is it the right move
Frankie – I think so I really really do
Derrick – who does Donny put up if he wins HOH
Frankie – Cody and Christine..
Derrick – How do you know he's not playing us..
Frankie doesn't think America would have put them with someone that is a monsters "Cause we aren't"
Derrick says Week three they didn't have any game to go by so it was all based on their lives back home.. Donny is a silver star winner, Derrick is a father and Frankie is a Social media mougal.
Frankie says he's been given hints
Derrick – Oh ya.. are they for him or for the team.. that is the real question. we know people love him
Frankie – People love me and people love him..
Frankie says he hates Nicole and Christine but only Christine in brief periods.
(We'll see how serious they are about keeping Donny this might be a ploy for them to keep face with the fans.. You can tell that the DR has been heavily campaigning to Frankie and Derrick for Donny to stay. We might not care about this because Donny is our favorite but.. I'm forced to remember all those past season when Production favorites were protected and it drove us mad. Still I'm very excited for something to actually happen after a couple weeks of drought)
More polls here https://www.onlinebigbrother.com/big-brother-compendium/big-brother-16-polls/
[polldaddy poll=8263785]
[polldaddy poll=8260325]
[polldaddy poll=8261457]