POV Holder:
?
Next POV
Aug 23rd
POV Used
?
POV Ceremony
Aug 25th
HOH Winner 1:
Cody
Next HOH
Aug 28th
Nominations:
Donny & Nicole
Have Nots
Donny & Nicole
POV Players
?
Take Advantage of the FREE 2 day Trial to watch all the drama!
2:50pm – 3:50pm Big Brother blocks the live feeds for the nomination ceremony to take place. When the live feeds return we learn that as head of household Cody did exactly what he had talk doing about prior to the ceremony. He nominated Donny and Nicole for eviction. It now all comes down to the Power of Veto competition which will take place tomorrow.
3:50pm – 4pm Donny, Caleb, Christine, Derrick Cody and Victoria are sitting on the living room couches. Nicole is getting things out of her dresser. Cody comments on how they no long have to keep track of the Battle of the Block competitions. Victoria says that she feels horrible. She goes into the diary room. Derrick tells her to ask if when they're going to get the backyard back. Frankie asks Cody are you getting Pandora's box now? Cody says I hope so! They talk about how it didn't happen at all last year. Nicole asks what was the twist last year. Christine says the MVP twist. Everyone leaves the living room but Nicole and Donny. Nicole says so predictable! Donny comments on how they could have a couple hours till the veto. Nicole asks do you think it will be tonight? Donny says maybe. Donny and Nicole talk about napping to be rested just in case the veto is tonight. Nicole talks about how when she left Big Brother went through her bag and took out all the souvenirs.
In the havenot room – Donny climbs into bed. Frankie comes in and says sorry. Donny says its okay I'm used to it.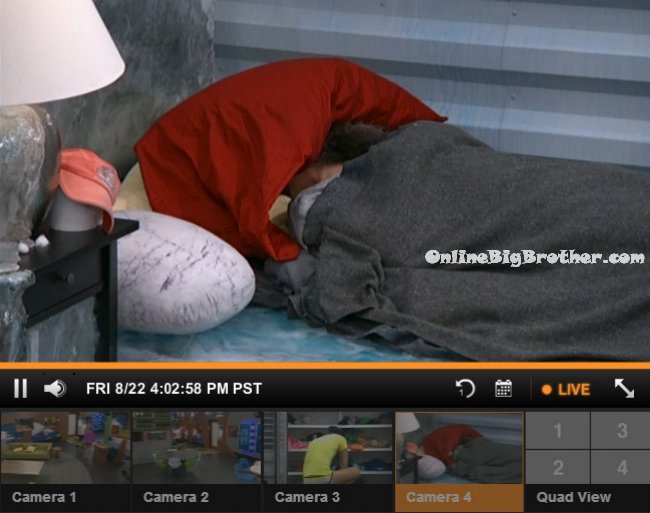 4:15pm – 4:40pm Caleb is in the kitchen talking about how if he had made the nomination speech he would have given an amazing speech. Caleb comments on how both Donny and Nicole went to take a nap together. We're not dumb we know you're not taking a nap. Frankie brings lemons from the storage room and says that his balls are bigger than they are. The others don't believe him. Frankie then pulls his balls out and proves they're bigger than the lemons. Cody holds up the lemon to compare and says HOLY SH*T they are!!! Frankie says sorry they're so hairy! Frankie starts telling them about his Mamma Mia Broadway stories. Cody asks has anyone punched someone? Frankie says yes a guy tried to punch me backstage and told me shut the F**K up you .. and called me the F word. I ran screaming.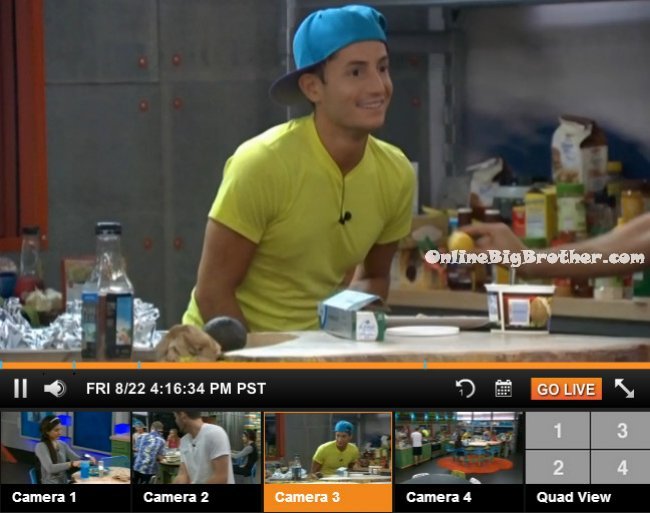 4:40pm – 5pm In the living room – Caleb and Derrick talk about when the POV competition will be. Caleb says he's been hearing banging out in the backyard. He says it might not be tonight but it will definitely be early tomorrow. Derrick agrees. Derrick says that Cody asked and he couldn't use the skittle. Caleb says not there but he can during the POV, he can bring out an M&M. Frankie walks by and says I am going to bring it!! Caleb counts the competition he's played in. Caleb says was talking to Donny and I wanted him to spill the beans about who he really is so that I can tell everyone. I was talking to him and I told him I think he is a genius and he said I appreciate that. I think Donny has a problem.. he is so smart. I watch him. His eyes are constantly moving. He was doing square shapes with his eyes. His lip was moving and his leg was tapping. Derrick says he has tics. I told him that he is smarter than he lets on. You make us all think you're some dumb hill-billy. Derrick comments on how Nicole is extremely smart. Caleb says she's not that smart. She would have won that competition if she was. I guarantee Donny has an IQ of 150 or something. He was probably intelligence for the army. Cody comes out of the diary room and joins them. Caleb continues to talk about his theories about who he thinks Donny really is. Victoria and Frankie join them.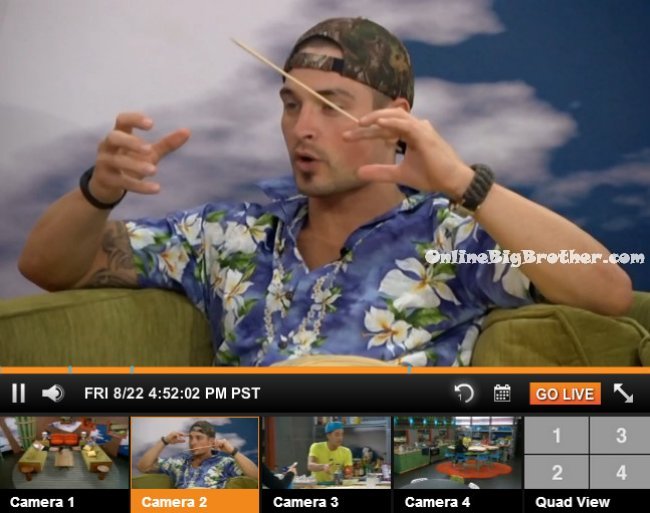 5:10pm In the storage room – Cody says he's going to head up to his HOH room. Derrick comments that Christine will probably be up there up his a$$. Cody heads up to the HOG room and realizes that his door is locked. He tells Derrick and Derrick says its probably Pandora. Dammit they're probably going to do a twist that saves Donny and Nicole this week. Cody says better not!!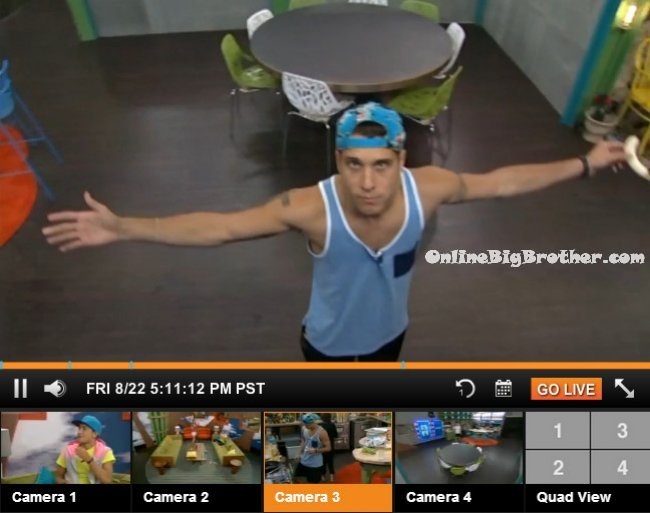 Alliances
"The HITMEN" – Cody & Derrick
More polls here https://www.onlinebigbrother.com/big-brother-compendium/big-brother-16-polls/
[polldaddy poll=8260325]