POV Holder:
Cody
Next POV
Aug 30th
POV Used
No
POV Ceremony
Sept 1st
HOH Winner 1:
Cody
Next HOH
Aug 28th
Nominations:
Donny & Nicole
Have Nots
Donny & Nicole
POV Players
Donny, Nicole, Cody, Frankie, Derrick, Christine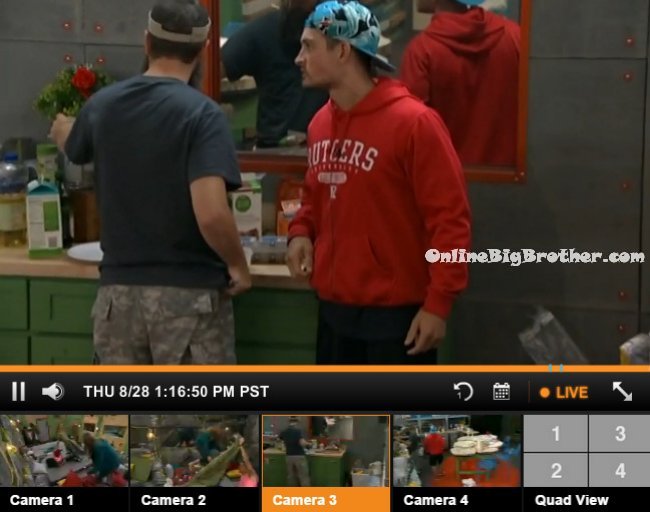 One way to support this site that doesn't cost you anything extra is making your
Amazon purchases through the links Below
For in Canada use the following link:
Amazon.ca
1:10pm The live feed return from being blocked for the HOH lock down. Caleb asks Donny what did he say to you? Donny says that if I was safe I would put up the two girls. And I would, anything I would do to keep myself safe. And I'll promise to stick to my word too. Caleb says well that's what us guys are trying to work on right now. Caleb leaves the kitchen and talks to Frankie in the living room. Caleb says when I mentioned it to Derrick he asked what Cody thought of it. And I told him I would go talk to him. Caleb says I can't ask him with that (Christine always near Cody). I was just going to ask him and Christine walked in. I will ask him and make sure he would be okay with it.
Take Advantage of the FREE 2 day Trial to watch all the drama!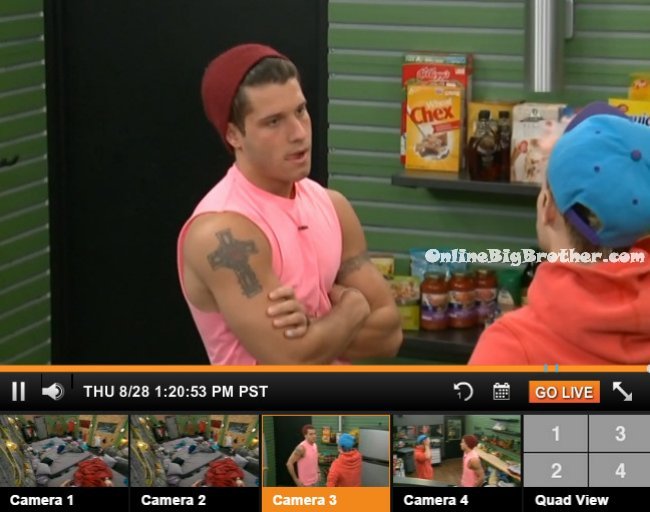 In the storage room – Cody and Frankie talk. Frankie says that Caleb wants to get out Nicole now. Cody says I still want Donny out. Frankie says I know, so does Derrick and so do I. We want to make sure if we do that, that you're not going to be mad. Cody asks who all wants? Frankie says Cody, Derrick and I. Frankie says Caleb went to Donny and asked him to promise he would go after the girls. Cody says he isn't going to keep that deal. I guarantee if I go up to Nicole today to keep the boys off the block she will say yes. Cody says I'm the one that put him on the block. Frankie says so you would be mad if we didn't Cody says yes but if that's what you want to do. Caleb comes in. Frankie asks him to join the conversation. Caleb says Christine won't work with Donny and he wants her out. I asked him to promise and he said he would. The leave the storage room when Victoria enters. Outside the storage room Caleb tells Cody we don't need to keep him if you don't want us too. Cody says I yeah I want Donny out! Cody heads into the earth room and lays with Christine and says that he's frustrated because their flipping. Christine says that pisses me off.
In the living room –
Caleb, Derrick and Frankie talk about what they should do. Caleb asks are we playing Cody's game or our game? What do you think we should do? Derrick says I don't want to piss Cody off. Cody pulls Derrick in to talk about the flip. Derrick says I know you can't say but can you promise Nicole wouldn't put me up. You have my word I will vote Donny out if you want me to. Christine and Donny join them and break up the conversation. When they leave the guys comment on how awkward that was. Derrick talks with Christine and Victoria about how awkward it is people making last minute deals. Derrick tells them that he is going to vote Donny out. He tells Christine not to tell anyone how I am voting. They will know after but it will be surprise. Derrick says I am not swaying my decision last minute that's the worst thing you can do.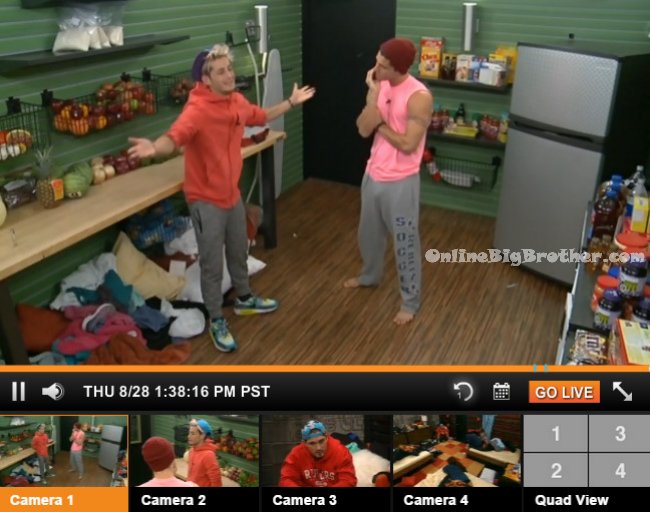 1:35pm – 2:10pm In the storage room Frankie and Cody are talking in the storage room. Frankie says that Donny is willing to make at least a 1 week deal. You need to go talk to him. I trust him more than I trust Nicole. Frankie says he has never done anything wrong to us. Cody brings up how Donny was going around trying to get me out. Frankie tells Cody to go talk to Donny and get him to shake your hand. Donny loves this game and if you made a deal with him he would be excited to just make a deal. Caleb joins them and talks about how Donny is willing to make a promise to go after the girls. Frankie says that Nicole can lie and manipulate. Cody says that Donny lied to my face. Caleb says would you rather have someone lie to your face or behind your back. Frankie says us talking like this is making Nicole and Victoria nervous. Caleb says its way more dangerous to keep Nicole because Christine will work with her. When we went into the fire room Christine followed because she's nervous. Caleb tells Cody to go to Donny and ask him for his word and he'll keep it. Caleb says the girls are going to work together. They've been eating cereal together in the morning. Caleb says if I go home before Victoria I will be so pissed off because what has she done!? If Nicole wins she would have the votes to get rid of one of us. Caleb says Donny is a man of his word. Frankie asks why do we have to run around the house sucking on Nicole's t!ts!? Cody says I'm not here to d**k over people. Caleb says Donny will go after the people that vote to evict him. Caleb says if Nicole makes it to the end she would get the votes to win. If Donny makes it to the end he deserves to win. Cody asks does he? What has he done? We kept him here if we do keep him. Donny has only won 3 competitions, he's not a beast. Caleb says this should end it .. do you want to compete against 1 or 2? Cody says I trust you guys so F**K IT! Caleb says Donny will not win this HOH. Caleb says Donny is from the south, if he shakes your hand and looks you in the eyes he will do it.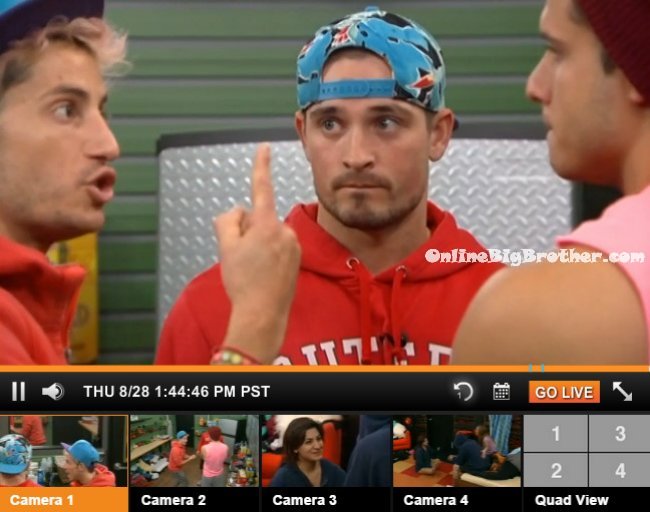 2:15pm Frankie tells Cody that he can't harbour resentment against him from 3 weeks ago. Cody says I can because its my neck on the line and he tried to get me out. Caleb says whatever you decide I have your back. There is no decision yet. I don't want you to fly off the handle and me have to kick you in the d**k with no ice! Cody asks what do you want. Caleb says I want Nicole out because she's good in mental and physical comps. Nicole isn't going to put me up .. she is possibly going to put you (Frankie) up and you (Cody) up. Caleb says tonight is going to be physical, Donny nearly died in that duck competition. Caleb says I trust Donny more than I trust Nicole. Donny has no one in this game. Nicole has relationships in this house. She has an amazing social game. You have to look at it like a globe. You have to back up and looks at it from both sides. Caleb says I want both of you to feel comfortable. A lot more damage can be done with 3 against 1.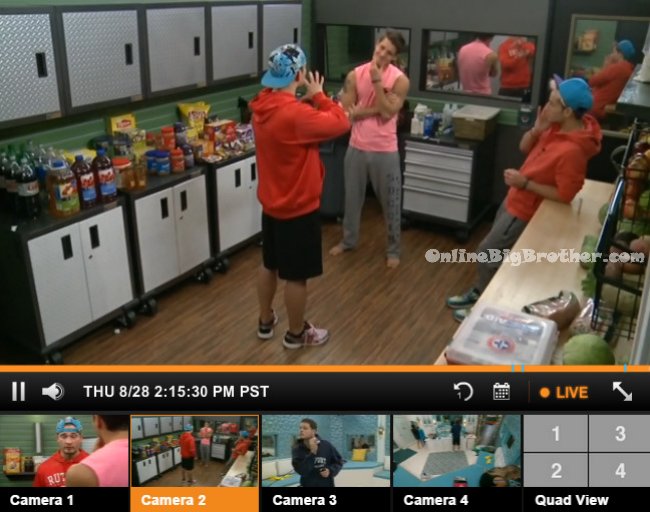 2:18pm IN the bee hive room – Cody talks to Donny. Donny says if I stay I will go after the girls. Donny tells Cody you were never the target. It was just a scenario. I know where all the crap comes from. I was talking there in the morning with Christine and we were both talking through scenarios. Cody says I heard it form different people. Donny says then that is a lie. Donny says I would like to stay even if its just another week. You've never been a target. Cody asks what about next week. Donny says no. I like you and I like Nicole. I am even starting to like Caleb. Caleb joins them. Donny tells Caleb that he isn't his target either. Donny says I have been alone for a long time and I want to stay. Cody asks if you stay and win HOH we want you to go after the girls and if we win HOH we will go after the girls. Donny says well that sounds like a good deal. Caleb says if we wanted you gone you would be gone. We are wanting to make a deal. Caleb gets Donny to agree to not put up or go after Derrick, Me, Cody or Frankie. Donny agrees. My back is against the wall and my word is all I've got. Donny says I have a soft spot for you and Nicole. You all think about it. Donny says if its a double eviction at least I will have my bag packed. Donny says people need to think about how we go because I am a vote. People aren't think about that and they need to. If I leave you've got my vote. Donny says lets just see how this plays out and I won't hold it against you. They hug and leave the room.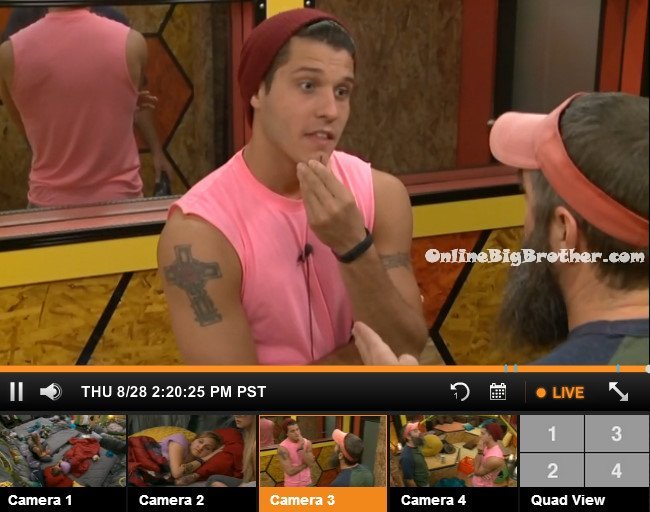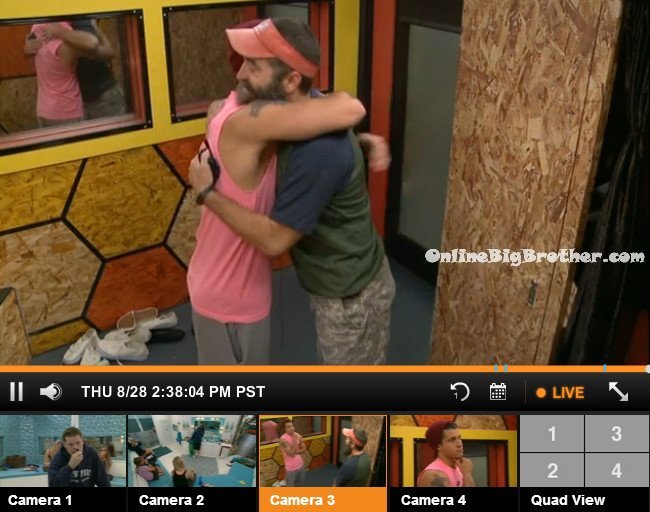 2:27pm In the bathroom – Nicole tells Derrick that Donny will promise what ever he has to just to stay. Nicole asks do I have your vote and Victoria's vote? Derrick says yes but the thing is I have to get Cody on board because if I keep you and I don't win HOH .. they are going to send me home?! I thought we were set. Derrick says I have no idea what's going on. Has anyone come to me and pulled me aside? Nope! Derrick says I have to talk to Cody. Nicole says you have to be straight up with him. Derrick says I will. Nicole says this makes me sick.