POV Holder:
?
Next POV
Aug 23rd
POV Used
?
POV Ceremony
Aug 25th
HOH Winner 1:
Cody
Next HOH
Aug 28th
Nominations:
Donny & Nicole
Have Nots
Donny & Nicole
POV Players
?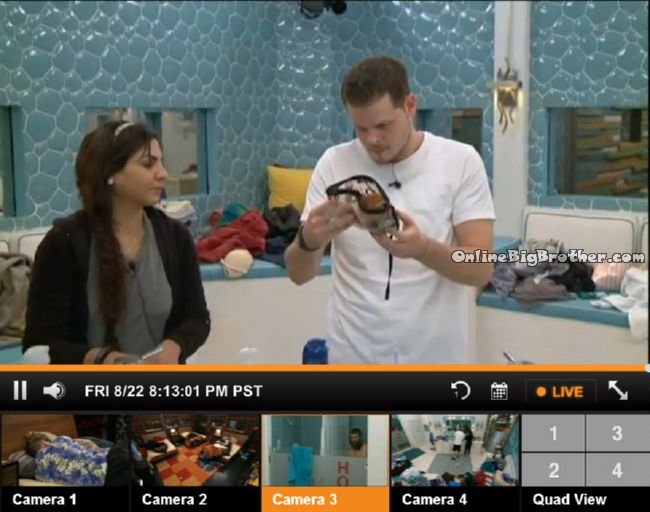 8:11pm Derrick and Victoria
Derrick tells her she's not going on the block but if she gets picked she should still try to win the POV. Victoria whimpers "I'm in pain"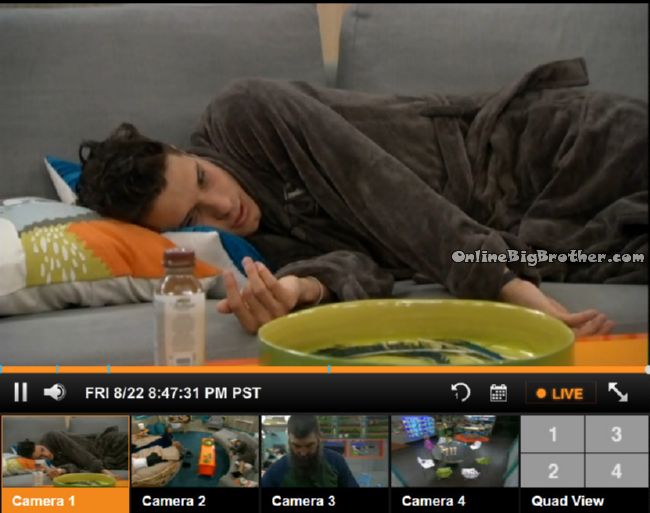 8:22pm HOH Derrick and Cody
Livign room Derrick and Cody..
Derrick – "I'm literally going out of my mind.. this downtime.. this is like a Tuesday
Cody goes up to the HOH.
Derrick follows.
Cody – do you think if Donny comes down I could put up A frankie
Derrick – You're talking a big boy moves.. If you put Frankie up.. yes you could get him out but Nicole and Donny..
Cody says DOnny, Victoria and Derrick are the votes to evict
Derrick – Do I think you can do it.. yes do you think you should no
Derrick explains if they send Frankie home this week without Caleb being on board they will have Donny, Nicole and Caleb coming after them.
Cody – I want Donny out so bad
Derrick – he started talking game to me ..
Derrick says he was honest to DOnny told him in the last few weeks he's been throwing him under the bus all week
Derrick says Donny is pissed about Christine throwing the BOB last week.
Derrick – I was cool with him but the jig is up everybody is talking.. "
Derrick – I don't think anyone is scared of me and you talking..
Cody – I know if Nicole goes our whole alliance is appeased and i'm safe for another week.. and after next week I don't care who goes home I'm turning on the people
Derrick – they want Christine out

COdy – do they
Derrick – Caleb does
Derrick says they should send Donny/Nicole this week and the survivor goes home the following week.
Cody says if Nicole wasn't here he would have put up Frankie and DOnny
Cody – I want to send out DOnny but if Donny goes down I'm thinking Frankie
Derrick think he should put up Victoria "SHe's not going to win the HOH..Nicole has got to go they are lethal together"
Derrick says if DOnny goes home this week next week he'll win the HOH and put up Victoria and Nicole and Nicole will go home.
Cody warns him that Cody and Christine will put them up.
Production tells Derrick to adjust his Microphone Derrick is pissed cause the entire house now knows he's talking game.
Cody – Frankie will be here in a minute
Cody – I want Frankie out before Christine.. CHristine will lock in with us she won't lock in with Caleb.
Derrick says there's three duos in the house Caleb/Frankie Cody/Derrick and Nicole/Donny. Derrick says they have to take the Donny/Nicole duo out first.
Derrick – she told Victoria I was working with her she gets consumed in her own lies (Nicole was working with Derrick and Cody it was called The rationales)
Christine is coming in
Derrick – here she comes Christine and Frankie
Derrick says POV is tomorrow SUNDAY funday and MOnday is nominations
Cody doesn't want the Veto to get used.
Christine – It won't get used.
Derrick doesn't see it happening unless Donny/Nicole used it.
Cody doesn't care for his papa roach CD says he only really listened to two songs when he was a kid. Cody says the CD right after this one is much better.
Cody says on his blog he's going to tell Boogie and Jeff he wishes they were in the house but he would CRUSH them.
Cody – "Yo Jeff you're still the man bro.. I love you.. Jeff you're the man Boogie you got the most swag if you were in the the house I would crush you"
Christine laughs
Cody – If you were in this house I would smoke both you
Derrick – You won't say that..
Cody – yes i will
Derrick – you won't
Cody – why
Derrick – You were scared to punk off Donny today.. you're not saying that to Boogie.. you won't say anything .. The most loved player on big brother no you won't punk them.."
Cody – I didn't say punk
Derrick – you were saying you will crush them..
Christine says Brittany got a little too tanned while in the house "She started looking like my leather couch at home"
They are saying that Amber was not hot, Cody says she needed makeup to look good.
Derrick – POWPOW before she talked was good looking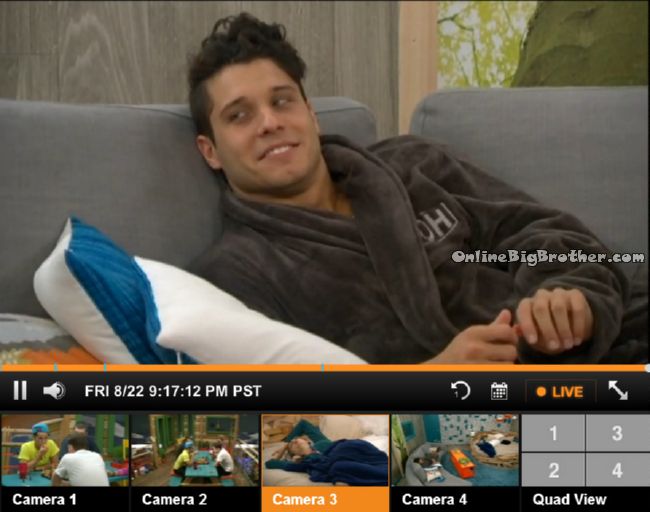 9:15pm HOH Cody and Christine
Christine – Cody I would never put you up
Cody – you're a turd
Christine – you're a turd..
Cody – I'm sending you home next week
Christine – don't send me home
Cody – I Could never put you on the block I would cry
Christine – I would cry too
Donny and Victoria join them they start chatting about Seinfeld.
Donny asks Christine if she goes will she give him a good goodbye. Christine giggle says probably
Donny tells them about Joey always asking him about how's life in South Carolina even though though he told her repeatedly he's from south Carolina. Eventually he gave up and just played along.
Victoria say her face looks like she stuck …
Christine – Cotton balls
Victoria – ya.. I was going to say something but it was very wrong
Christine – mouthful of Balls
Cody – excuse me
Christine – that is what she just said
Donny tells them today is his parents 55 year anniversary.
Cody – leave it to Christine to say it..
Christine – I'm going to get out of here and someone is going to have a quotes of all the horrendous things I have said in this house
Cody – You're not going to be happy about it
They agree Victoria voice sounds weird. Victoria says it's because she cannot open her mouth.
11:00pm Victoria asks Frankie "Have you seen from Justin to Kelly.. it's a musical"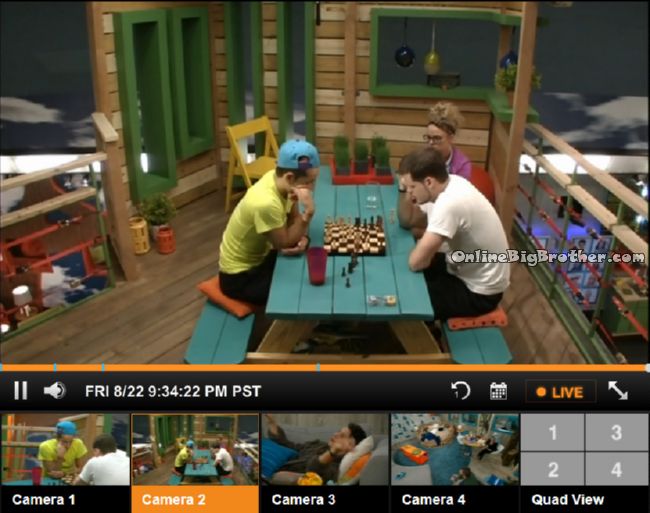 9:40pm -10:03 Chess..
10:05pm HOH Nicole joins them in the HOH. Donny tells her about he zing bot.
Chit chat..
10:13pm Everyone out of the HOH room except for Nicole and Donny.
Donny – we sure can clear out a room
Nicole can't be fake she feels like she's got a thousand knifes in her back.
Donny – When I was head of household Christine actually told me to put Cody up.. Actually..
Nicole says Cody doesn't believe it.
Cody get called into the Diary room.. everyone curious about why (See image above)
Nicole gets called into the Diary room, on her way down she notices they got two bottles of wine and 6 beers.
Nicole is excited but quickly realizes she's a have nots.