ZACHATTACK ZACHATTACK ZACHATTACK thank you for saving our Feeds, that is what everyone at the OBB war room was screaming on Thursday night. It was what can only be described as cocaine hurricane Zach. However the excitement did die down a bit and the game went back into 'Cruise control' …
With a live feed subscription you can go back and watch any event that has been shown. Use out site as a index and watch only the parts worth watching.
Try It Free! Subscribe now to the official BB16 Live Feeds
Brittany is evicted by a vote of 10 – 0 Zach and Frankie win the HOH
Lots of plans are thrown out there and every single combination of pawns is considered. Zach goes full wildcard (here, here and Here ) says he's putting up Christine and Nicole, He calls Christine a floater says she does nothing for the alliance. She lays around giggles and cuddles Cody.
The target is ultimately decided to be Caleb, Amber or Jocasta depending on how the BOB and POV play out
Frankie nominates Jocasta and Victoria Zach nominates Nicole and Christine. Nicole and Christine lose it on Zach say they are targeting him
BOB is played Christine and Nicole destroy Jocasta and Victoria. Zach is dethroned from HOH Frankie retains control of the top spot leaving Jocasta and Victoria as the nominations
POV players are picked Frankie, Victoria, Jocasta, Donny, Hayden & Christine
Hayden wins the POV says he's going to use it on Victoria because she picked him to play for her.
Frankie wants to take out Amber before Caleb but has to make sure Caleb is on-board with her being the replacement nominee first. Frankie and Zach figure out an elaborate plan to get Caleb to turn on Amber.
They start letting Caleb know that AMber isn't into him and she's been acting sketchy with the bomb squad alliance (Yes the bomb squad alliance is still real in Caleb and Amber's head)  Zach plants the seed that Amber is working with the girls.Zach tells Caleb Amber didn't want to go on a date with him but felt like she had no other choice
Caleb goes up to Frankie says they should put Amber on the block to "scare her" if she blows up the bombsquad they vote her out if she doesn't they vote Jocasta out. Frankie elated by this agrees. (Frankie was planning on putting Amber up all along) ** In Caleb's mind he thought Amber would come back crawling on her hands and knees. This appears to be all a ploy for Caleb to get her back.
Zach prepares a speech to blast Amber.Derrick and Frankie egg Zach on in the hopes he accomplishes the team America task of starting an argument during a Ceremony
POV Ceremony Hayden uses it on Victoria allowing Frankie to put up Amber
Frankie tells Caleb that Amber blew up the bomb squad to Nicole, Caleb confronts Nicole which say Amber only said the girls have to stick together or the guys will pick them off one by one. Caleb short circuits still believes AMber likes him and is only acting this way towards him because she's 'guarded' Countless hours of Caleb trying to save her ensues.
Caleb wants to keep Amber and proceeds to campaign like a maniac to get the votes. While this happens AMber complains to the "Bombsquad" says she doesn't feel like she should campaign if her alliance has her back
Amber tells Christine that given the chance she will target Caleb next week she also adds that Caleb is ruining her game. After learning all this Caleb finally realizes that the time has come to let her go. The entire house knows Amber is going except for Amber the biggest blindside of the year perhaps.
The much talked about pickle in a banana is created by Caleb to put in AMber's suitcase..
Christine, Nicole, Frankie lost considerable amount of trust this week
Derrick has noticed Hayden/Donny are spending a lot of time in the hammock together he's worried there may be an alliance.
Donny and Hayden seem to know that Derrick and Frankie are unbeatable in the end they make plans accordingly to fix this but can't do anything until HOH is won.
Memory wall changes to show loops from events on the TV show, They assume they will be given questions regarding these events. Zach, Hayden and Christine are thought of as the front runners. Beast mode says he's going to throw it so he can compete on the WALL endurance competition.
New Team America task has Donny questioning if he should partake as it's damaging for his personal game.
OBB predictions
Amber goes home 8-1 or 9-0
Actual Results
Show starts at 6pm PST
Caleb votes to evict Amber
Victoria votes to evict Amber
Nicole votes to evict Amber
ZachAttack votes to evict Amber
Derrick votes to evict Amber
Cody votes to evict Amber
Donny votes to evict Amber
Hayden votes to evict Amber
Christine votes to evict Amber
Team America does not take on the mission
Evicted Houseguest Amber
HOH Winners are Nicole and Donny
Houseguests out of the competition Jocasta, Victoria, Christine, Derrick, Cody..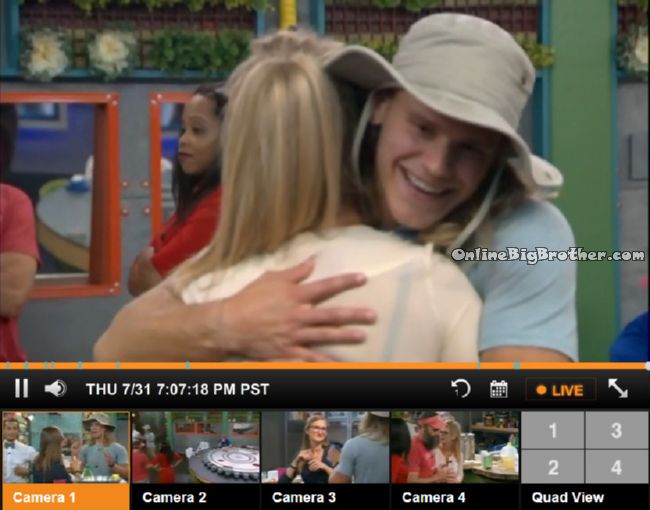 [polldaddy poll=8217242]
[polldaddy poll=8207784]