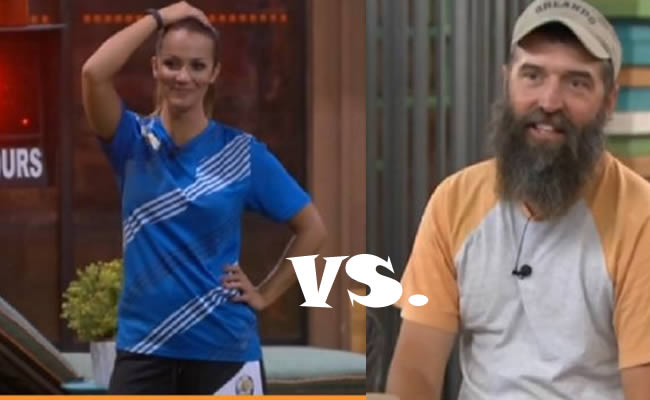 Another nail biter of a week…
This is what happens when you have a super strong alliance that holds the power for weeks. Fear not sooner or later that alliance will blow up only two people can make it to the end. Something will happen to shake up the house it always does after all, this season is supposed to be the full of twist after twisted twist and we haven't seen many twists so far.
Last Thursday Devin was evicted from the Big Brother house by a vote of 11-0. He says he's excited to see his daughter as he exits the house.
HOH competition is played Frankie and Cody win
Second place went to Jocasta and Brittany. Brittany makes it clear to everyone that she almost won and is hence not a weak player
The detonators decide to target either Jocasta or Brittany a distant 3rd target is Donny
Frankie nominated Amber and Jocasta Cody Nominated Brittany and Victoria
The winners of the Battle on the Block are safe from eviction for the week. The HOH that nominated the Winning Team is dethroned and is now at risk to being nominated. The Loser of the BOB are subject to eviction.
Jocasta has been proven to be Competition poison whereas Brittany and Victoria both have BOB wins.
Amber and Jocasta win the battle on the block. They're safe from eviction and Frankie is dethroned. Victoria and Brittany are on the block and everything is going as planned to evict Brittany.
Brittany continues to stay up around the clock ensuring feed watchers don't sleep and are cranky
Power of veto players are picked – Cody, Brittany, Victoria, Caleb, Nicole and Zach
Power house Victoria wins the Power of Veto ensuring she is safe this week. Now the HOH Cody has to pick a replacement.
Cody did not want the veto to be used as his target was Brittany. Caleb knowing this took a 5 thousand dollar prize allowing Victoria to grab the veto. This pisses Cody off big time. Zach also took a trip to Germany, although he didn't have a chance at keeping the Veto would he have taken it.
Penalties and rewards are the results of the POV competition, Brittany has to kick a soccer ball into the net 2400 times in 24 hours if she doesn't complete the task she doesn't get to play in the next POV. Nicole has to wear a germi-tard for 7 days (Till Saturday). Caleb gets 5 thousand dollars, Zach gets a trip to Germany.
Zach/Cody want Caleb to go up a replacement nomination. They figure Caleb will most likely go home if this happens.
Derrick and Frankie persuade Cody not to put Zach up but to put Donny up instead. This hurts Cody's personal game but helps the detonators and Derrick/Frankie's personal games. Cody self proclaims himself as a pu$$y and thinks his brother will think that same for not going after Caleb.
Initially right before the POV Ceremony Cody tells Donny that he will not put him up, however in the short amount of time before the ceremony Cody goes back on his word to Donny and nominates him as the replacement. Cody uses the excuse that he counted the votes and didn't have enough to ensure Caleb went home.
Donny decides not to campaign and just stay lay low. Too much talking got him in trouble before.
Brittany spends a lot of time with Cody in his bed thinking if she can persuade Cody to keep her and he can get the votes for her. All this time spent with Cody upsets Christine more than it should. Her cuddling behaviour around Cody and constant obsession about him causes many to question her. Unfortunately her husband back home is witness to this and his twitter feed blows up. He's sad. "I'm not stoked about Christine cuddling with Cody. no, its not your issue so chill."
ZACHATTACK tells Brittany to call a house meeting because she's got nothing to lose and is going home as of Tuesday night. He also adds that Cody and Amber are working together. #WILDCARD
Cody,Zach, Frankie freaks out by the potential of Brittany calling a house meeting. Derrick sets things straight and tells Zach to call the house meeting off with Brittany
Frankie's grandpa dies and he gives the eulogy .
It's clear that Donny is the only one with the stones to go after the power players in the house and he outlines his plan to Hayden

OBB Predictions 
Brittany goes home 10-0
Donny and Hayden win the HOH's (this is more a wish than anything)
Actual results from the live show
Have nots are = Nicole, Caleb, Christine, Derrick
If one of these people win HOH they are not a have nots.
Jocasta votes to evict Brittany
Christine votes to evict Brittany
Caleb votes to evict Brittany
Derrick votes to evict Brittany
ZachAttack votes to evict Brittany
Victoria votes to evict Brittany
Frankie votes to evict Brittany
Amber votes to evict  Brittany
Nicole votes to evict Brittany
Hayden votes to evict Brittany
Evicted houseguest is Brittany
HOH Winner is Frankie and Zach
Team America task MISSION B
Play the role of puppet master and get two Houseguests to have an argument at either the nomination ceremony or the veto meeting.
Who's got the target on their backs 
(This is based off conversation on the feeds many times people are not truthful about who they want gone but it gives us something to work off of)
Caleb, Amber, Jocasta, Christine, Frankie