POV Holder:
?
Next POV
July 26th
POV Used
?
POV Ceremony
July 28th
HOH Winner 1:
Frankie
HOH Winner 2:
 Zach
Battle of the Block Winner
 Nicole/Christine
Next HOH/ Next BOB
July 31/Aug 1
Original Nominations:
ZACH's Noms (Christine & Nicole) Frankie's Noms (JOcasta & Victoria)
Final Nominations:
?
Have Nots
Nicole, Caleb, Christine, Derrick
POV Players
?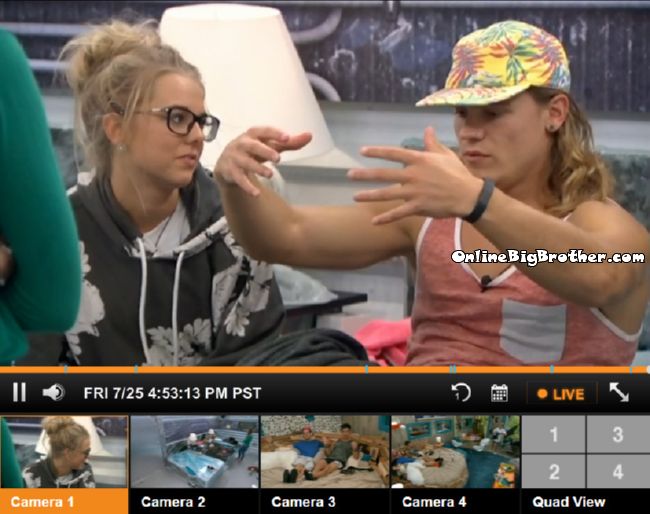 4:53pm Have nots room Hayden, Christine and Nicole
Christine is happy they at least they are have nots together. She adds It would suck if they were in this room with someone they hated. Hayden tells them they were so much better at the Battle on the block competition than Jocasta and Nicole. It was comically seeing those two perform.
Nicole points at herself "This fruitloop dingus is safe this week along with my BFF floater"
Christine says she's glad they laughed after Zach's speech so it doesn't look like they were offended by the "dumbest words in big brother history"
Christine says she doesn't even want to hang out with the guys in the HOH she feels so uncomfortable – Looks at the door "F u I hate your guts"
Christine leaves.
Hayden says Christine has a huge target on her back. Christine told Nicole she doesn't trust Derrick.
Nicole – Derrick and I are good
Hayden – Ya Derrick and I are good and Derrick doesn't trust Christine
Nicole thinks they can trust her. Hayden says Derrick loves the idea (of an alliance) he's only talked to Nicole and Derrick about it though.
Nicole really likes Derrick he's someone they can work with to final 4, "It wouldn't work without Christine though"
Hayden knows Christine is going to be a problem a lot of people see her in a precarious position.
Nicole was a bit scared that CHristine was going to throw the comp today.
Hayden – are you serious
Nicole – she was playing up how sick she is.. get over it.. please don't make me scared for my BB life
Nicole says Christine Sketched her out big time last night, Hayden 'She's got a target on her back"
Hayden says all the guys Basically feel like Christine is just Like what Zach was calling her. "She doesn't bring any information to the table she just listens and agrees and hang out with the guys the entire time"
Nicole – you guys are going to be A-HOLES and pick us all off
HAyden thinks they can get to the end if they can team up with Derrick and Cody.
Hayden wants Amber gone this week, "Victoria has no reason to go right now.. she sucks so much"
Nicole – I can't even talk about it.. her family hates me"
HAyden – Her family hates us all
Hayden will try and bring up the final 5 thing with Derrick And Cody Soon.
Nicole says Derrick, Zach and Cody have a final three deal.
Frankie rolls in
He doesn't know what to do until the POV is played. Hayden suggest they backd**r Amber or Caleb like they were talking about. He also sees Jocasta as a potential target. Hayden thinks if they get rid of Victoria this week it will be a complete waste because they control her.
Frankie asks about Christine and what she's saying about Zach. Hayden says Christine hates Zach the whole house does. Hayden adds that getting rid of Zach this week is a bad idea.
Frankie says Zach is Zach he's just doing stuff For TV. Frankie is thinking about backd**ring someone if he has the chance. Nicole says Amber, hayden ends with "She so fake"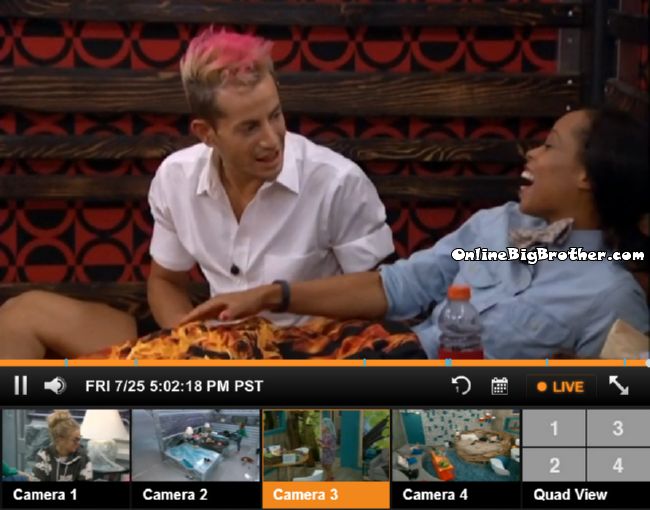 5:05pm FIREROOM Jocasta and Frankie
Frankie tells her she should pick Donny if she gets House guest choice for POV because he's won two Vetoes already and he'll use it on her. Frankie adds if the POV gets played Victoria goes home.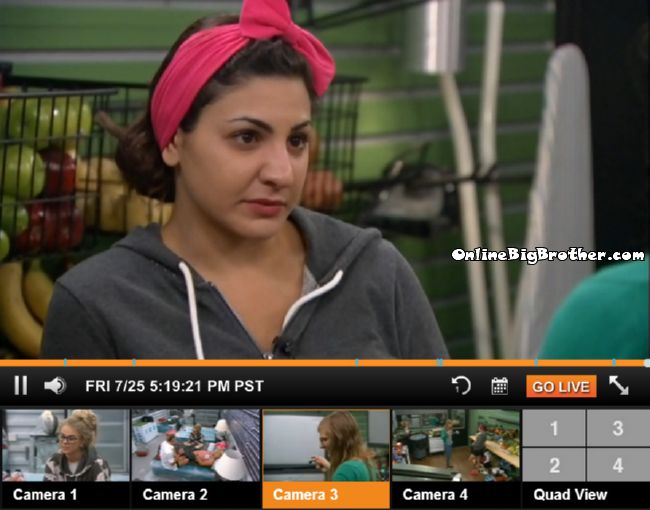 5:19pm Storage room Christine and Victoria
Victoria says she's pissed to be on the block again and pissed that Jocasta sucked so hard at the competition. Christine knows Frankie doesn't want her gone and he's got a lot of pull in the house
Victoria – what if they Backd*or Zach
Christine – that would be great
Victoria – Cody won't vote zach out
Christine – yes he will.. Cody is pissed at Zach. Christine adds Zach messed up a lot of people last night and now that he's not HOH he's being nice to everyone, "Give me a break"
Christine says "EVERYONE EVERYONE EVERYONE" is pissed off at Zach right now.
Jocasta told Victoria she couldn't focus on the competition because of her knee, "She said you lost but you are not alone.."
Christine – thats horrible
Victoria mentions that production always wants things to be perfect so when she pulled "it" off (Harness, jersey, Microphone I don't know for sure ) it smeared her makeup on her clothes . She wanted to go back into the house and change. Zach said something rude to her about it and she's pissed at him.
Try It Free! Subscribe now to the official BB16 Live Feeds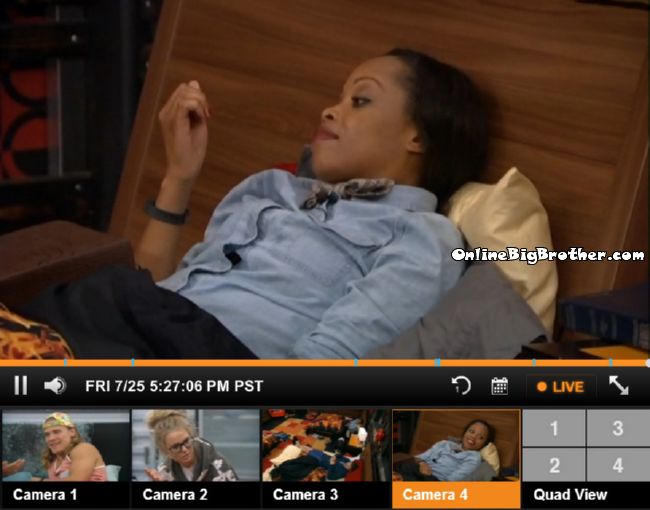 5:26pm Jocasta and Derrick
Jocasta complaining about Victoria fussing about her makeup during the competition.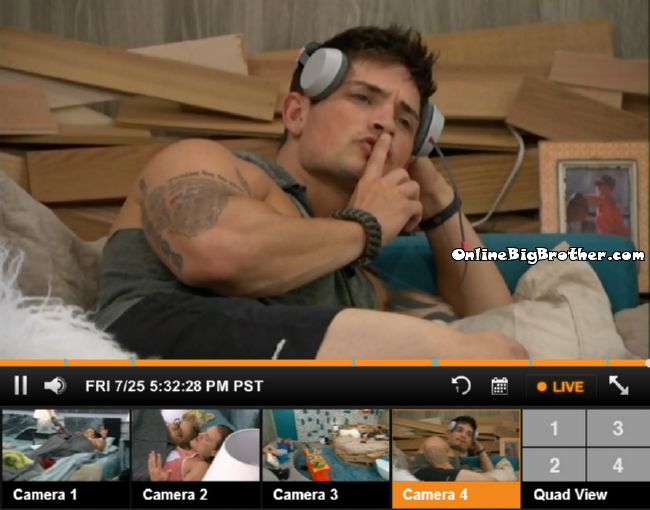 5:32pm Caleb and Zach
Caleb says he's done with looking like an idiot on TV maybe when they are outside the house she'll give him a call and be like "Wheres that date" Caleb is certain if any of the girls win the HOH they will put up 4 guys.
Zach wants Victoria to go this week doesn't want the POV to be used but if POV is played maybe jocasta would go home. Caleb thinks they should put Donny up with Jocasta and they will just send Jocasta home.
Clabe says that amber is sure something he hasn't talked, Sat or looked at her all day, 'She doesn't deserve to hear my voice" If she tries to talk to him he'll say "Shhh SHhh bye bye"
5:37pm Frankie and Caleb
Frankie tells him if Victoria wins HOH he's putting up Donny the power couple.
Frankie – 'you know what I would love is if you win POV and I don't have to do anything"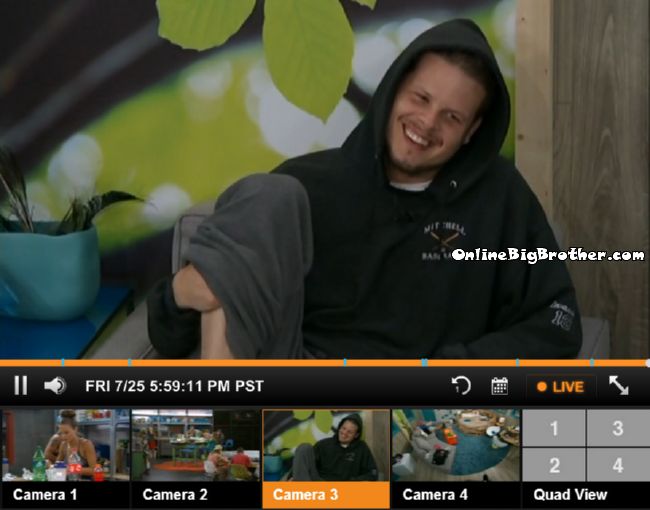 5:55pm HOH Zach Frankie and Derrick
They are trying to figure out what is going to happen. Zach says Donny loves him now for putting Christine up. Frankie says the house will make the decision on what they do. Frankie thinks the vote is going to be unanimous again but they have to see if POV is played.
Derrick asks them who Jocasta's number one targets are. Zach thinks Derrick and Frankie.
Zach says Donny's number one targets are Derrick and Frankie.
Derrick doesn't think Jocasta will target them if she's alone, he's worried that Donny is targeting them both.
They start talking about Victoria.
Derrick thinks Victoria will find a man thats older and ugly as f*** and will think she's a supermodel. He'll be decent looking 40 year old LOADED he's going to get good looking fast, Guys are always good looking driving a maserati
Frankie – that is why they drive them.
Zach – she's not very pretty
Derrick – to a ugly 40 year old she's a dime

6:14pm BEEHIVE Hayden and Victoria
Hayden is giving Victoria some pointers on how to help her game this week.
He says he knows it sucks but she is 100% not going home if she keeps stressing out and crying people are going to send her home, "The person that is freaking out"
Hayden – I'm going to tell you this because nobody else will they want to see you freak out more. I want you to stay 100% and you are 100% going to stay if you can calm down a bit"
Victoria – It is so hard and there is no where to escape
Hayden – you need to to relax
Victoria – I must look like a lunatic
Hayden – You don't seem like a lunatic everyone just sees you as an emotional wreck
Victoria wants to break down and let it all out
Hayden tells her to go to the Diary room go in there and cry for a hour or two.. let it all out.
They hug ..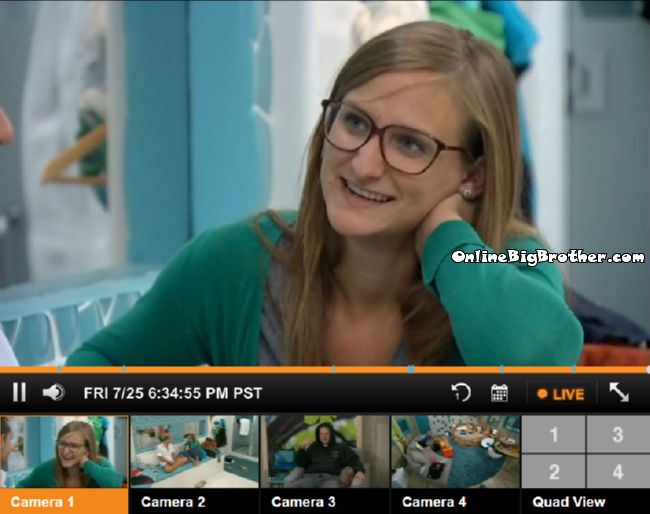 6:34pm Bathroom Frankie and Chrsistine
He tells Christine that the boy are not on board with getting Zach out unless he misbehaves and Frankie doesn't think he will misbehave. Christine just hates Zach on a personal level. Frankie says he's going to have a intervention with Zach and Christine so they can work out their problems he feels like it's his obligation as the HOH, "I want you both to be able to hang out up there"
Christine – "He just can't win any more"
frankie tells her if the POV is not played Jocasta is the person he wants gone.
Alliances
Zankie = Frankie/Zach
The Detonators = Derrick, Frankie, Zach, Christine, Cody
Final 2 Deal "The HITMEN" – Cody & Derrick
Trilogy = Nicole, Christine & Hayden
Team America = Donny, Derrick, Frankie
Old timers = Jocasta/Donny
Nicotine = Christine/Nicole
(Defunct or unknown status)
Bomb squad = Caleb, Amber, Frankie, Derrick, Cody, Christine, Zach, Hayden
Not a showmance= Hayden/Nicole
Los Tres Amigos = Derrick, Cody, Zach
The bottom Feeders = Derrick/Nicole
We hate Devin = Christine and Zach
Outsiders = Brittany, Victoria, Jocasta, Donny
Stalker = Caleb/Amber
Quad Kings = Derrick, Zach, Cody and Hayden (still being built)
One way to support this site that doesn't cost you anything extra is making your Amazon purchases through the links below Amazon.com OnlineBigBrother Link
For Canada use link Amazon Canada OnlineBigBrother
More polls here https://www.onlinebigbrother.com/big-brother-compendium/big-brother-16-polls/
[polldaddy poll=8207784]