POV Holder:
Hayden
Next POV
Aug 2nd
POV Used
?
POV Ceremony
July 28th
HOH Winner 1:
Frankie
HOH Winner 2:
 Zach
Battle of the Block Winner
 Nicole/Christine
Next HOH/ Next BOB
July 31/Aug 1
Original Nominations:
ZACH's Noms (Christine & Nicole) Frankie's Noms (JOcasta & Victoria)
Final Nominations:
?
Have Nots
Nicole, Caleb, Christine, Derrick
POV Players
Frankie, Victoria, Jocasta, Donny, Hayden & Christine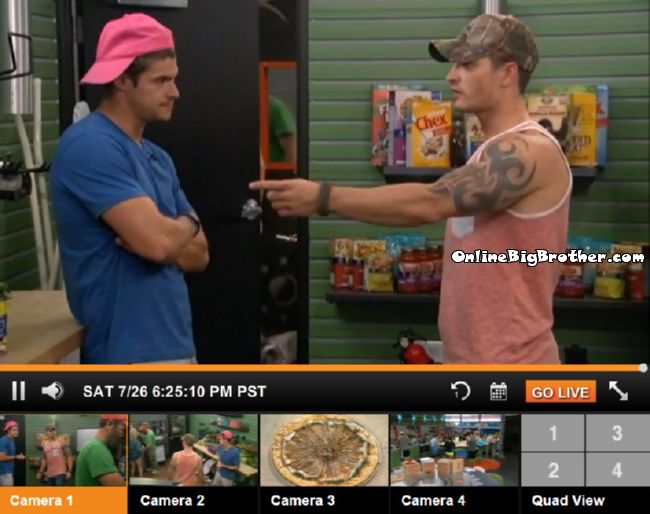 6:25pm Storage room Caleb and Zach
Caleb and Zach going over what Zach will say to Amber. Caleb basically wants Zach to make it sounds like amber is in trouble when they get to jury house and to make her know of all the things Caleb did for her. Caleb is under the impression that Amber is not going home but she might be the first target when they hit jury. The bombsquad still lives on,
Caleb – At the end of the day say he's been nothing but loyal to you and respectful"
Zach – "and you've been saving her a$$ every single week bro "
Zach doesn't' want the sh1t to go sours because they are so close to the goal getting to jury.
Amber comes in to grab something from the cupboard
Caleb – at the end of the day i'll put her up I don't care .
Caleb says he should tell her it's doesn't even look like she cares she's all over Hayden she's all over cody.
Zach – Dude if I were you bro .. dunno… I feel like you don't see it "
Caleb – I see everything
Zach – then how come you just don't want to get her out and be done with it and get your f**ing mind right
Caleb – because if I wanted to get her out I would want to get COdy and hayden out they are part of it.
Caleb – You can't eliminate one source of the problem you have to eliminate the whole thing
Zach – you can cut out one little piece of cancer.
Caleb adds that Hayden and him are cool.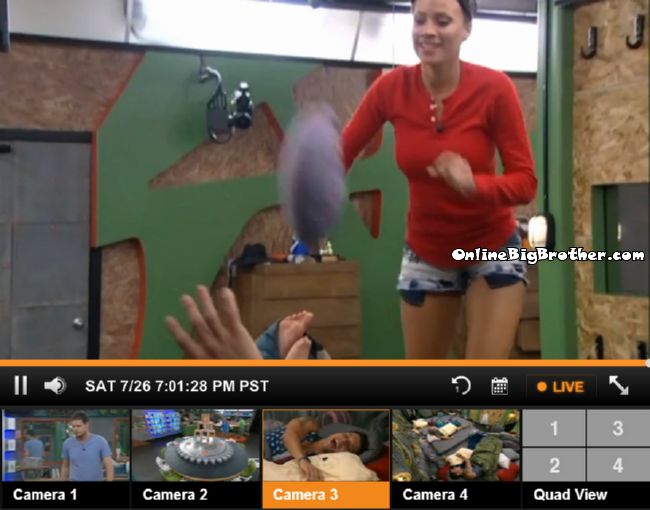 6:56pm Cody and Hayden
Impersonating what the non married girls would sound like when have an orga$im. They think Nicole's would be soft and sweet, Brittany would stare at you but be sexy, Joey would be a man and POWPOW would be like F*** me F*** me,. Amber joins them they say Amber would sounds like a bird. they start cawwing like crows. Amber tosses the pillows at them leaves.
Derrick joins them asks if Hayden has talked to Cody yet. Hayden says they were just talking about the girls moaning. he hasn't had many chances to talk with Cody, "you are always with a girl hanging off your crotch"
Derrick – when you (Cody) get out of here i'm living vicariously through you bro send me some pics"
Hayden – Use Snap chat
Derrick jokes Zach has been j*rking off like crazy that is why he got the fit bracelet numbers so high. There is no other way because zach is so inactive.
They all LAugh, Cody starts making the motion.
Nicole comes by asks them if she should be scared of Zach
"He came by me and said I know you hate me Nicole but you better watch it I can start a rumor about you." (LOL Wildcard)
THey make joke of it Hayden says he'll start a rumour about her instead.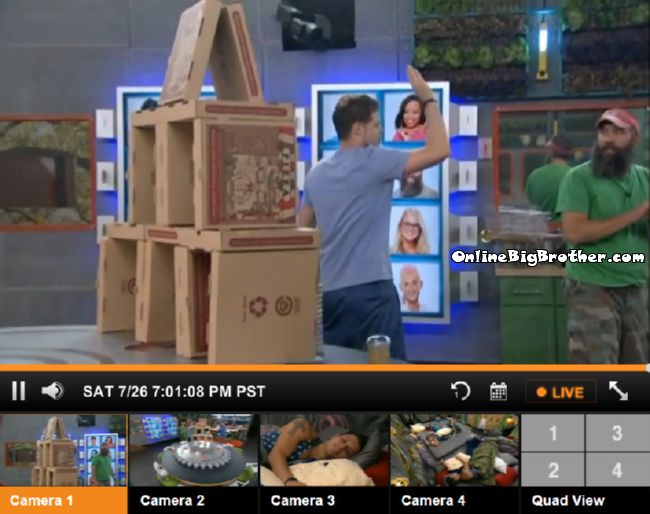 7:00pm Putting the pizza boxes to good use. (Should use them in the have nots bed for padding)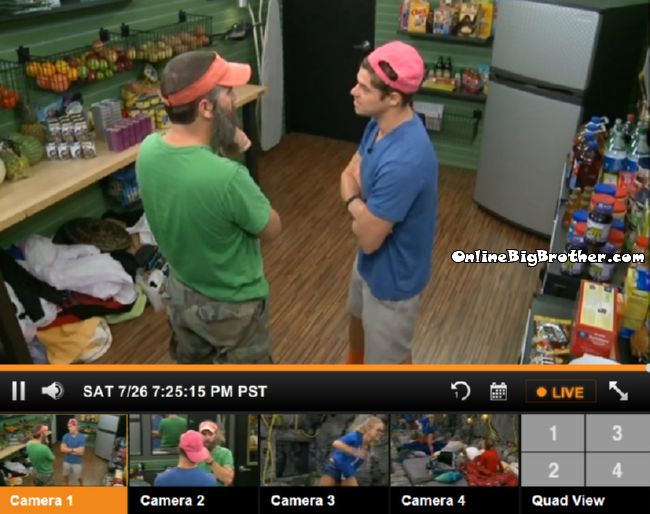 7:25pm Storage room Zach and Donny
Donny saying there could be four of them plus jocasta and Nicole are friend in case they need someone.
Zach says he's close to Frankie, Caleb, Cody and Derrick but nothing has solidified.
Donny tells him not to share anything about him Zach won't say there's nothing to share.
Zach – A lot of people don't like me because i'm an a$$hole
Donny – it's working for you
Zach – it is isn't' it. I'm not going to change you I am be someone I'm not
Donny thinks it counterbalances "That cocky guy out there" (caleb)
Donny says he doesn't have any alliance with jocasta they are friends and bond because they are the older players and have trouble fitting in with the younger kids. It's a big easier for Donny because they all think he's funny/
Zach says Donny is the only person he really trusts he knows whatever he tells Donny stays with donny.
Donny – I have no one to tell.
Donny- Be careful who you trust, right now I put my trust in my friends not the alliances.
Donny adds he doesn't have any Alliances.
Zach- did you like how I put Christine up
Donny- ya. absolutely
Zach says Christine needed to sweat it out. Donny agrees says there's three people now that haven't been up on the block,.
Rewatch any moment on the live feeds with a subscription Try It Free! Get 24/7 access to the house PLUS more for 48hrs before you decide!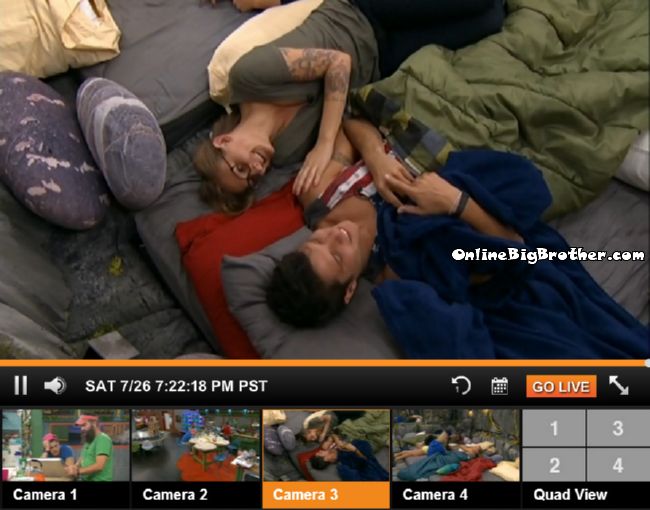 7:22pm Christine and Cody getting their cuddle time in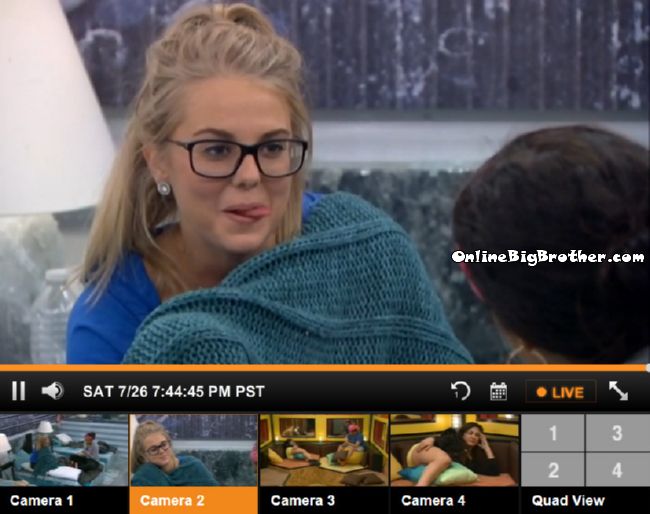 7:43pm Nicole telling Jocasta it doesn't benefit her to vote out Jocasta. Christine doesn't know if the Veto if going to be used. She recommends she talk to Hayden.
Jocasta saying that Amber is teasing people she's too old of a women to be doing that.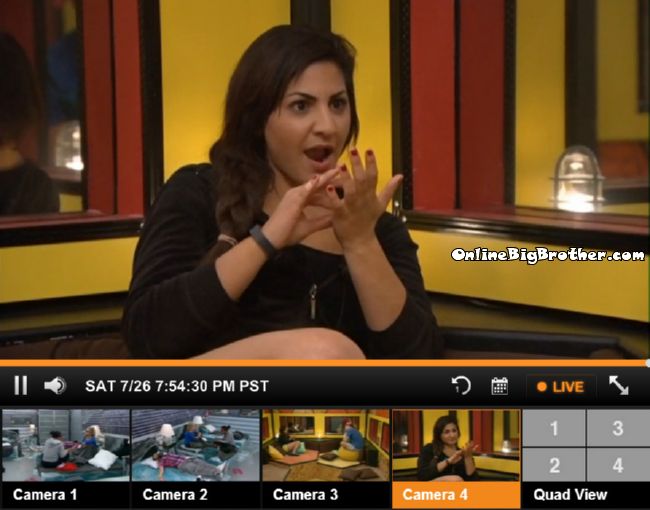 7:50pm BEEHIVE Zach and Victoria
Zach telling her maybe his strategy is to have people not like him. He knows that Nicole doesn't like him alot.
Victoria heard Zach said during the competition "Look at Vitoria she's so slow"
Zach corrects her what he really said was Look at Victoria she looks miserable.
Victoria – why would you say that
Zach – I don't know just saying stuff.. it wasn't an attack on you
Victoria – it wasn't funny i just want to get into you head zach
Zach – I don't know if every single person in this house genuinely hated me I would not give a f**k Zach – I'm bored and stuff
Victoria – is this what amuses you.. it's mean amusement
Zach – I get it I should be more like cody
Victoria – no you be your own person but nice
Zach asks her if he's speech was really that bad.. Victoria says Jenn City is coming after him now.
Zach now admits his nomination speech was pretty bad.
Zach doesn't know what's wrong with him thinks he's maybe crazy.
Victoria wants to know why he thinks he's crazy who diagnosed him with craziness.
Zach says he has trouble not being mean with people
Victoria tells him mean people are people that lack security and crave attention
Zach – I honestly felt bad for a little bit
Victoria – how come you didn't apologise
Zach – Christine and I are good
Zach thinks he's going to get drinks thrown at his face during the finale he really doesn't care if people in this house hate him. Victoria wants him to remember his mom will be watching him.
Zach doesn't think his mom is upset
Victoria – Her child is acting like a crazy person on TV
Zach thinks his dad is laughing his a$4 off.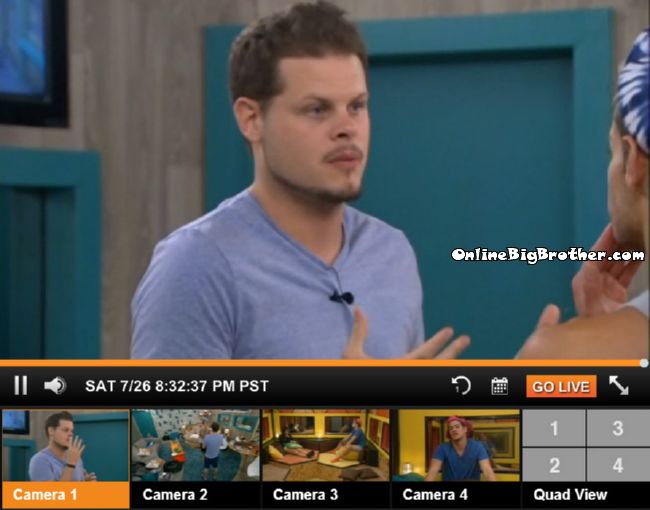 8:09pm HOH Derrick and Frankie
Derrick says the have nots food was great
Frankie tells him Hayden is using the veto on Victoria
Derrick figured that was going to happen
Frankie – Everyone wants him to use it except for Caleb and Amber.
Frankie tells him tomorrow night he's pulling everyone up individually the last person is Caleb
He going to find out who they want him to back door. He's going to tell Caleb what Amber is doing to him she hates him and she's stringing him along "Man to man talk.. going to let him say what he's gotta say"
They agree caleb will probably say back door amber.
Derrick – what if he says keep Amber here causes a issue
Frankie – I back door Caleb
Derrick- oh my god
Derrick is concerned that Amber is going to blow this house up. He's onboard with the Amber thing
Frankie says the only people she's blowing up to is Donny,Nicole, Jocasta, Victoria. Frankie plan is to tell everyone that Amber is going to lie.
Frankie really doesn't want to back*oor caleb. afor his game that's a bad thing to do.
Derrick – Amber Will take Cody, Christine or Jocasta she won't take caleb.
Derrick – you got to have that conversation with that guy because he doesn't get it.
Frankie is going to broker a deal with Jocasta so she doesn't put him up next week in the unlikely case she wins the HOH.
Frankie asks him if he see a downside with the Veto not being played and they just send Jocasta home. Derrick doesn't see any negatives. Frankie doesn't think it looks good for him. .
Derick – She (amber) is going to lose her f***ing mind.. I support you either way.. I'm still working on the team America thing..
Derrick says this is a boring season he can see it there no fights no showmances.. That is why production are letting them do the task again. He thinks they're acting like Saboteurs.
Frankie agrees says he has to put someone on the block to case drama otherwise a fight won't break out and they won't complete their task. Frankie says his nomination helps the game and Team America.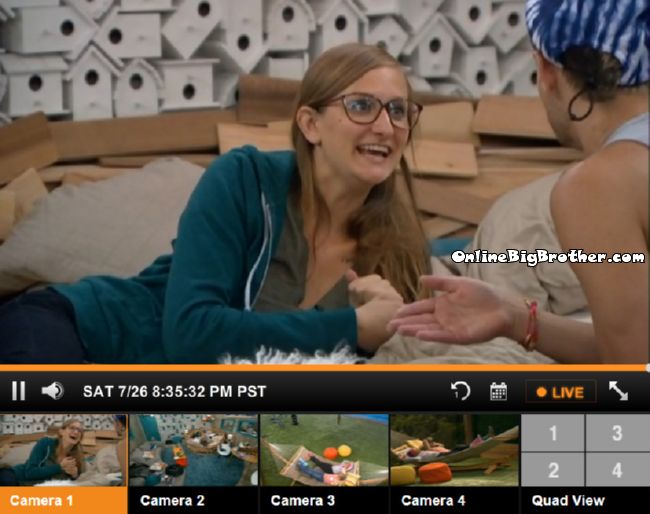 8:35pm Frankie and Christine
He tells her the plan to get Amber out. Christine is happy says she 100% agrees with that. Christine really doesn't want Amber in the house. Frankie stresses that Caleb has to be cool with this decision.
Frankie says getting Amber out will be by far the biggest move of the game and the hardest sell to caleb.
Frankie says he's going to be completely blunt.. If you honest to god telling me you want to take someone to the end of this game that is sh1tting all over you on natoinaly television and laughing at you in the DR I don't want to work with you and you are going on the block. .
Alliances
Zankie = Frankie/Zach
The Detonators = Derrick, Frankie, Zach, Christine, Cody
Final 2 Deal "The HITMEN" – Cody & Derrick
Trilogy = Nicole, Christine & Hayden
Team America = Donny, Derrick, Frankie
Old timers = Jocasta/Donny
Nicotine = Christine/Nicole
(Defunct or unknown status)
Bomb squad = Caleb, Amber, Frankie, Derrick, Cody, Christine, Zach, Hayden
Not a showmance= Hayden/Nicole
Los Tres Amigos = Derrick, Cody, Zach
The bottom Feeders = Derrick/Nicole
We hate Devin = Christine and Zach
Outsiders = Brittany, Victoria, Jocasta, Donny
Stalker = Caleb/Amber
Quad Kings = Derrick, Zach, Cody and Hayden (still being built)
One way to support this site that doesn't cost you anything extra is making your Amazon purchases through the links below Amazon.com OnlineBigBrother Link
For Canada use link Amazon Canada OnlineBigBrother
More polls here https://www.onlinebigbrother.com/big-brother-compendium/big-brother-16-polls/
[polldaddy poll=8207784]