POV Holder:
?
Next POV
July 26th
POV Used
?
POV Ceremony
July 28th
HOH Winner 1:
Frankie
HOH Winner 2:
 Zach
Battle of the Block Winner
 Nicole/Christine
Next HOH/ Next BOB
July 31/Aug 1
Original Nominations:
ZACH's Noms (Christine & Nicole) Frankie's Noms (JOcasta & Victoria)
Final Nominations:
?
Have Nots
Nicole, Caleb, Christine, Derrick
POV Players
Frankie, Victoria, Jocasta, Donny, Hayden & Christine
Take Advantage of the FREE 2 day Trial to watch all the drama!
11:10am Big Brother blocks the live feeds for the picking of the Power Of Veto players.
Power Of Veto Players: Frankie, Victoria, Jocasta, Donny, Hayden & Christine
POV Host: Amber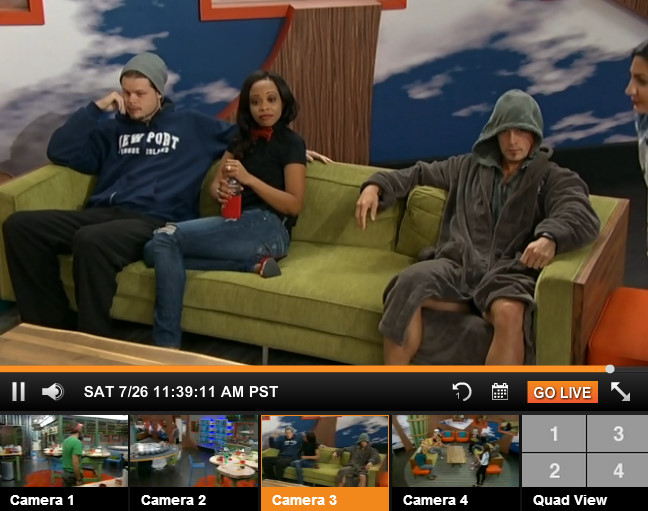 Zach asks Hayden how stocked he is to play in the veto? Hayden says so stocked! Zach tells Frankie that was a good draw. Frankie says it couldn't be better.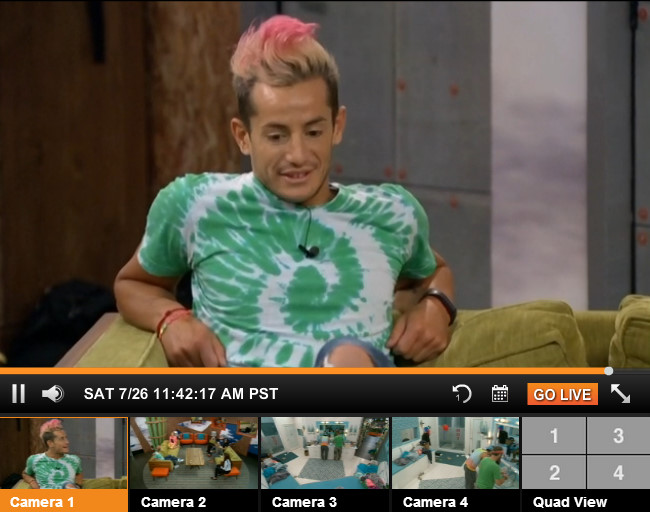 Amber tells Frankie that the nominations need to stay the same. Zach walks by and says I couldn't agree more. Amber says they made a promise and they need to stick to it. Frankie telling her that the only other person he would put up is Donny. Frankie says if Donny wins it, I'm literally f**ked. Frankie says it wasn't the best draw, it would have been better if I had you and Caleb out there but its fine.
In the living room – Christine, Hayden, Victoria, Nicole, Jocasta and Caleb are sitting on the living room couches. Caleb says that he originally tried out for Bachelor and hopes that after this it will be easier to get on it. Frankie says oh yeah reality transfer.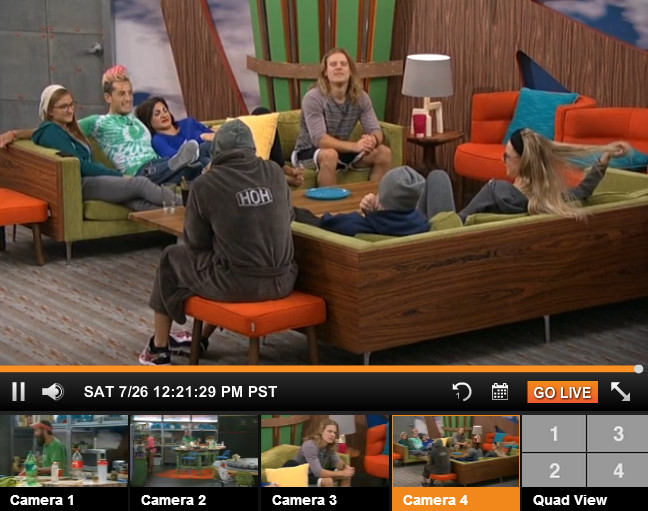 12:22pm In the hive roomJocasta is crying to Amber in the hive room ..she stops crying and looks into camera and eye-rolls and smiles. She then continues to cry.
Jocasta is crying hysterically to Amber because she found out that Brittany stole a family story about her. Jocasta says that when her and Brittany go talking she told her a story about when things got tough they had to take money out of their piggy banks. Jocasta comments that Caleb commented that Brittany was so in need of money that she had to take money from her kids piggy bank. Jocasta says no way you did not just take a story about my life. Jocasta says that her Mom said that she would give them the money so that they didn't need to take from their kids. Jocasta says that it was the worst moment in her life.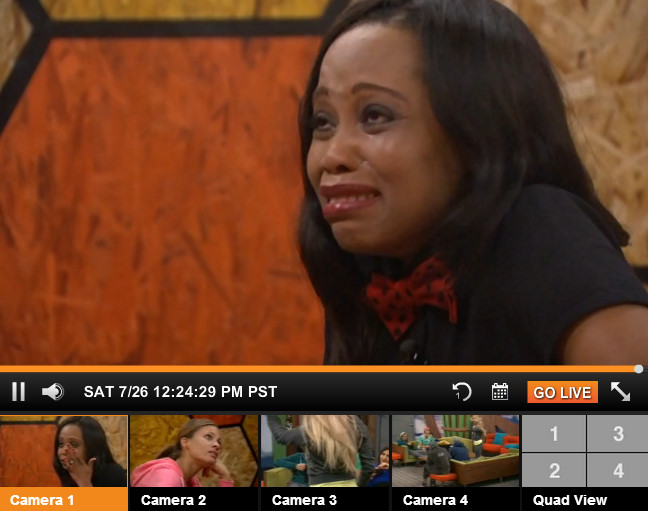 12:40pm – 12:50pm In the kitchen – Jocasta says to Cody that she really just doesn't understand why Brittany took a story about her when she was sharing things with her. Jocasta says that she told Brittany that when things got really hard for her and her husband. Jocasta says that she just doesn't understand why someone would do that! Cody brings up how Brittany is poor she drives a very nice car.
12:55pm – 1:10pm Up in the HOH room – Jocasta is talking to Frankie about Brittany stealing her story. Jovasta say that even her story about living in a one bedroom apartment didn't make sense because she told others she living in a house. Jocasta says that she even mentioned something about a fire pit in her backyard. And I was like wait?! Frankie says yeah you don't have a fire pit with a 1 bedroom apartment. Jocasta says that in the deviled egg competition she felt like Brittany threw it. She dropped two right at the end. That's when I started to question her even having kids because she knew she wouldn't get photos of kids in her HOH and everyone would know. Frankie says immediately he got that tangible evil vindictive side of her. Jocasta tells Frankie I had to tell my kids that I had to go away to get money to bring it home so that we can do stuff.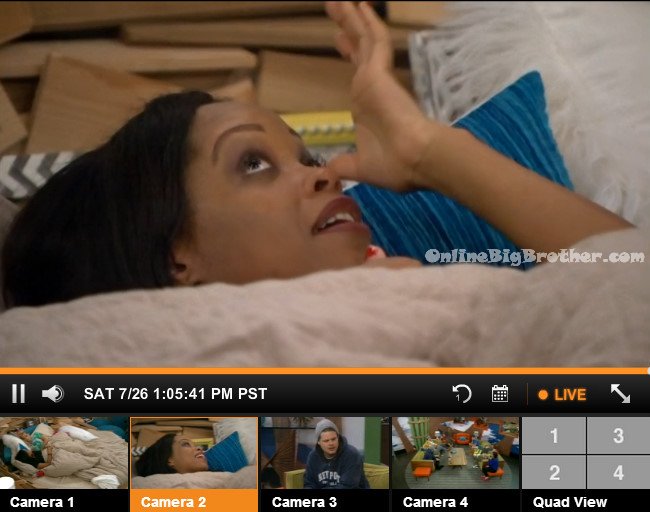 Frankie says that when he was taken to go to sequester he told then that he wouldn't go until he got talk to his grandparents. He says that they faxed over release forms and they signed them right away and then I got to talk to them. They have it taped too and I hope I can have that when we get out.
TEST out the Big Brother 16 Live Feeds for FREE with the 2 Day Trial!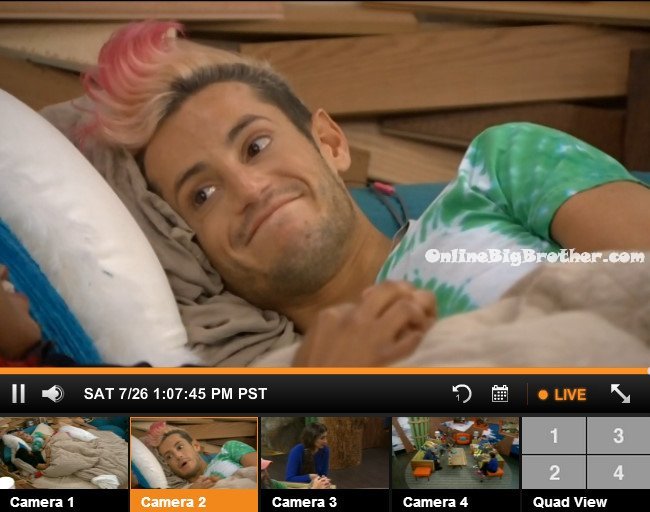 1:15pm In the living room –
Victoria hurt her finger. They tell her to show the camera to ask them if its bad. She holds her finger up and then camera zooms in. She asks if its bad and then camera nods yes. She asks if shes going to be okay and the camera shakes no.
1:27pm Caleb comes up to the HOH room and says that he had to get away when Amber sat down in front of me in the living room and I didn't want to sit in front of her. When she's around, I am not myself. The past few days the agitated, irritated is just not me. Frankie agrees. Derrick and Zach join them. Derrick talks about how he was able to make a video to send to his grandma and wife after his grandfather died. Frankie says he did too. The conversation turns to talking about the veto competition last week.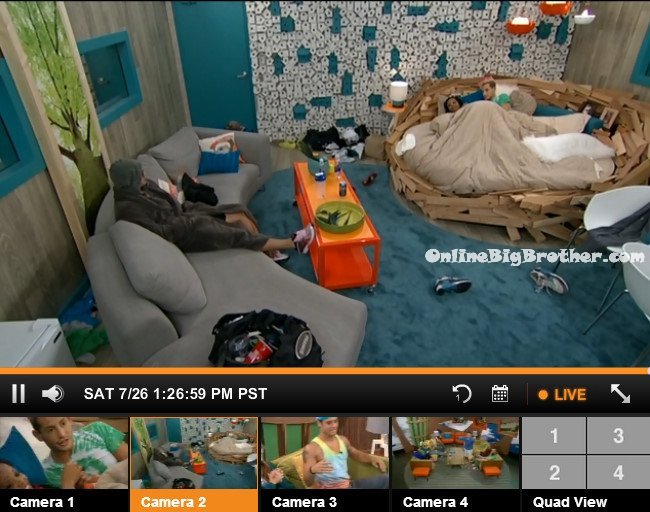 In the living room – Cody lists off all the reasons why Amber said a girl wouldn't want to date him.
I have no personality.
Her friend would like me until she got to know me. I act like an a$$hole
I drink coke so I have bad teeth.
I curse too much.
I have grey hair at 23 years old.
My singing is atrocious .
I sleep on my back
I have pimples on my face.
Christine, Amber, Nicole, Donny, Hayden and Victoria are in the living room doing fake nomination ceremonies. Cody pretends to be Zach.
Donny brings up how out of all of them Cody hasn't had to sit in the nomination chair.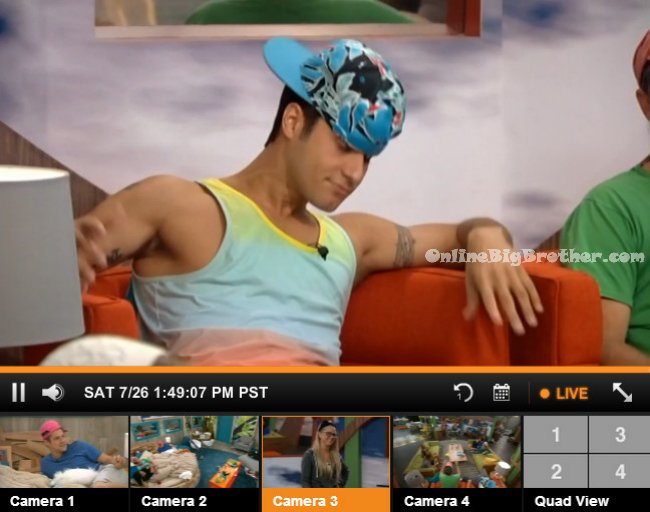 2pm In the living room the house guests are goofing around and chatting about random things. Nicole and Cody finger Hayden and Amber.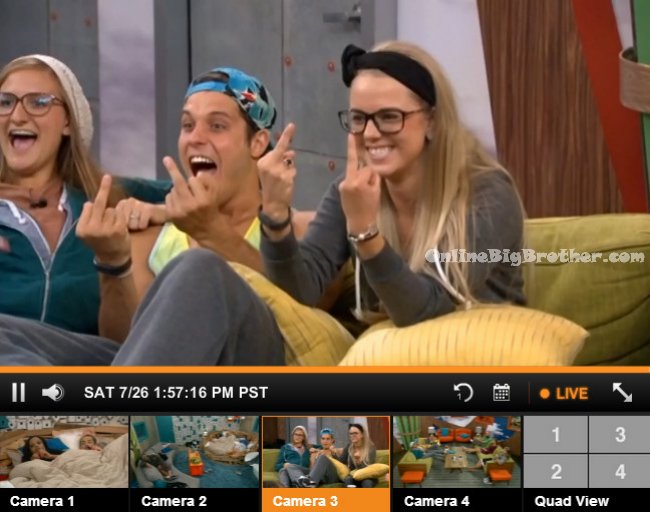 The abs of Cody and Hayden ask Nicole out on a slop date. Cody says we will cook 3 bowls of slop for you and eat at the picnic table. Nicole says yes.