POV Holder:
Hayden
Next POV
Aug 2nd
POV Used
YES
POV Ceremony
July 28th
HOH Winner 1:
Frankie
HOH Winner 2:
 Zach
Battle of the Block Winner
 Nicole/Christine
Next HOH/ Next BOB
July 31/Aug 1
Original Nominations:
ZACH's Noms (Christine & Nicole) Frankie's Noms (JOcasta & Victoria)
Final Nominations:
Amber & Jocasta
Have Nots
Nicole, Caleb, Christine, Derrick
POV Players
Frankie, Victoria, Jocasta, Donny, Hayden & Christine
9:45pm Donny, Christine and Frankie
Donny is saying the second runner up doesn't get the 50 thousand, doesn't get the Jury and
Donny thinks this is a GREAT season , here's a good bunch of Characters in here.
Donny Leaves
Take Advantage of the FREE 2 day Trial to watch all the drama!
Christine doubts it's double eviction tomorrow she thinks the HOH is going to be true false
Frankie tells her it's time to play it safe they need to get out Jocasta next/
"If we go against those boy right now it's bad"
Christine – ya
Frankie – We haven't locked HAyden down
CHristine not yet
Frankie what if we do go to HAyden and he tells them.. what if we are wrong.. we don't have to do anything until we have to
Do you think Zach is serious about knowing COdy can't' go to the end
Frankie says he is , Zach brought it up to him two weeks ago in the storage room (Zach and Cody use to be much closer)
Christine says she's not putting Caleb up if she wins HOH she'll put up Jocasta and Victoria.
They wonder if the POV is used what will happen. "who do you backdoor"
Christine – Maybe not backdoor anyone just put up a pawn.. like Donny.
Frankie – the odds of one of them winning is ridiculous
Christine – ridiculous
Frankie – If you don't backdoor Zach or Caleb, Hayden and Nicole will be pissed
Christine – I know
Frankie – you have to put Caleb up to save face with them.
Christine says if she puts up Caleb he has to go home. Frankie says he won't She would have to tell him he's a pawn.
Christine asks if Victoria ot JOcasta don't win the POV will anyone use it. Frankie doesn't think so.
Frankie says "they" (THe boys) want to keep Caleb in case Hayden flips.. "they don't want to get Hayden out.. they're just concerned if Caleb goes HAyden will rally the other side of the house"
Christine says they wouldn't have to worry personally.
Derrick joins them Frankie asks him if Victoria or Jocasa win the veto who do they put up. Beast Mode joins them. Derrick and Frankie escape leaving Christine.
Caleb asks her what did Amber say that Caleb was doing bad for her game.
CHristine – PIssing her off.. she was tired of being pressured about relationships all the time" Caleb says maybe she does like him personally. He cannot understand why she thks he's bad for her game he's been protecting her all this time.
Caleb says in the house Amber is keeping her guard up. Caleb tells her he wants to take a banana unfold it and put a pickle in it
He'll give her the pickle when she's walking out and i'll tell her when you first saw me you saw something you didn't like but once you peeled back the outside you saw something inside that you liked.
10:15pm HOH Frankie, Cody, Derrick and Zach
Talking about nominations and what to tell Christine what to do.
Derrick tells them they are all on board with Victoria and Jocasta going up but it's the replacement nomination they are unsure.
Frankie was telling Christine to put up Caleb.
Zach would put up HAyden "He's a strong player and if we have a chance to get him out we get him out
Frankie – do you have the numbers
Zach – I would hope a pray
Frankie – I don't think Hayden will go home..
Frankie – I think she should put up Caleb
Zach – And we keep him
Frankie yes.. if she doesn't put up Caleb the rest of the house will get pissed.
Frankie – if everyone is calling for his head and she doesn't put him up everyone will be looking for her head.
Frankie says HAyden and Nicole are on the other side 100%
Derrick – whats i s our side.. If Caleb goes we're fu**d
Zach says Christine is being a HUGE hypocrite
Frankie tells him to calm the f** down
Cody asks him if he put up Donny would he go home.
Frankie says no one will vote out Donny
they are trying to decide who should go first
Donny is on the other side and Victoria doesn't have a side they also control Victoria she's their puppet.
Zach – If Hayden can win COmpetition at will why are we not going after HAyden.
Frankie says Hayden doesn't have a side what if he joins them
Derrick is nervous about Caleb going up because if he goes home they are f***ed number wise. They all know Caleb is never putting them up and he's going to vote with them. Frankie says the detonators have 4 votes it will come down to Christine (the HOH next week) . Frankie worries Christine will get scared and vote Caleb out.
Zach says Donny is the head of the snake. Frankie thinks it's Hayden over Donny.
They decide to tell Christine if she wins the HOH she put up Jocasta and Victoria and if POV is played Donny goes up but stays.
Frankie – I want Jocasta gone before Donny.. and Nicole
They all tell Zach they would not put up hayden, Zach is the only one.
Zach says if Hayden is left in the house he is going to put up Zach and Derrick. Frankie thinks HAyden will put up Caleb.
Derrick for me the way it comes down to votres I think of the numbers. Derrick thinks it's dumb to assume the other side doesn't know something is up.
Frankie says Hayden, Caleb and Nicole are working with them
Zach says not everyone can work with us
Derrick says Jocasta and Victoria are not a threat because they won't win the HOH
Frankie says if a bombsquad member wins HOH 2 of Hayden, Nicole, Donny will go up
Frankie – I'll tell Christine to put Donny up
Derrick wouldn't even tell her that she might not win the hoh
Zach keep pushing for Hayden to go. Frankie says they convinced him to put up Caleb Donny this week
Caleb comes up tell them he's putting put Donny and Victoria if POV is played Jocasta
Frankie – What if Jocasta wins POV and DOnny/Victoria are on the block
Caleb – Nicole
Frankie leaves
Caleb starts talking about Amber telling him he's just like her ex boyfriend a good hearted country boy from Kentucky.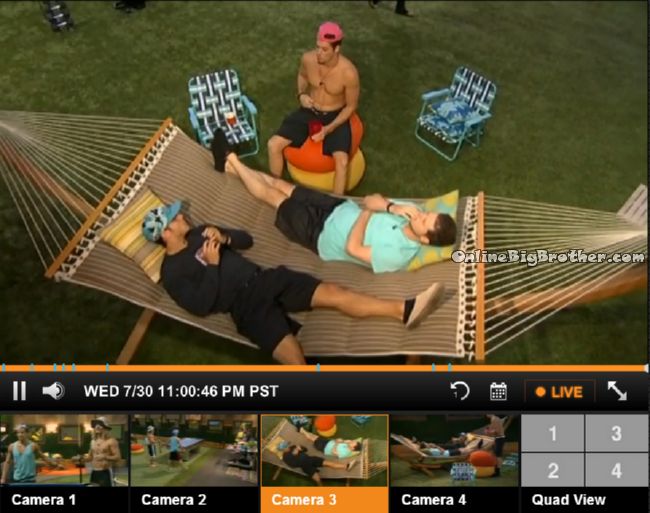 11:00pm Hammock Derrick and Cody
Derrick says because they are not on lockdown yet The HOH will be a quickie.
Cody says Frankie is pissing him off he's so paranoid.
Derrick something's not adding up .. you see what I'm saying
Derrick – If Caleb goes home that's horrible for us but it's great for them.. it would be a wrap for us unless we win HOH
ZachAttack joins them they tell him Derrick says they have to win the HOH this week.
Cody says Frankie is playing the house and it's pissing him off.
Zach says Christine told told Donny that Zach said he's got Donny in his back pocket so he went to Frankie to ask him what to do.
Zach – That's f***d up.. is that bad that I told him "
Derrick says what concerns him is they have an alliance called the detonators everyone else is expendable.. why are they selecting targets..
Derrick is stressing the only thing they should worry about is keeping their numbers.
Derrick says the reason he wants to keep Victoria around is he's not going to beat her in physical or Mental competitions. Derrick warns them that Christine can read lips and she's looking at them./
Cody say he's questioning Christine and Frankie they are super tight now.
Derrick says what if Frankie made a deal with Hayden, Nicole, Christine that is why he doesn't want them out. They joke around that Cody had Christine in his pocket and not hayden does "He pick pocketed me"
Hayden joins them says Amber pulled Victoria aside and asked her what she would wear tomorrow. Victoria told her to wear her best outfit. Amber says she'll save her best outfit for when she really goes out. THey all snicker.
11:25pm Hammock Derrick, Hayden Frankie and Cody
Hayden mentions Caleb saying he's throwing the HOH tomorrow because they told him the HOH during double eviction doesn't get a basket and letter.
Hayden says he'll put up Jocasta and Victoria and hopefully win the vote so it's not used.
Derrick what if one of them pull themselves off
Frankie – If Caleb wins he won't use the veto so then Jocasta.
Derrick teases Hayden says he stole Victoria from from him Derrick says now hayden can confirm that when you talk to Victoria she never talks game.
Derrick I was talking to her for 45 minutes not once did she mention game.
11:36pm Hayden and Cody
Hayden telling him about Backd**ring Frankie. Cody is unsure he'll get the votes.
Cody – Caleb wouldn't, Donny would
hayden thinks they can convince Caleb to vote Frankie out tell him the whole plan to get Amber out was his idea.
Cody – I don't know that Nicole and Christine would vote him out.. Him and Christine are CRAZY tight
Hayden thinks nicole would but isn't sure about Christine.
Codey says Zach tells Frankie a lot of sh1t, he doesn't know where Derrick's head is at.
Cody tells him Derrick doesn't want to cannibalize their numbers he's going after the Donny's and Jocasta's
Cody doesn't want o send Victoria home especially that Derrick and Hayden have her on lock.
Caleb finally makes the Banana PIckle. "You (Amber) looked at me like I'm a Banana"
(In case you didn't know Amber loves pickles but hates Banana's when she first saw Caleb she didn't like him he was a banana but after she got to know him she foudn out he was a pickle something she loves. So Caleb stuffed a pickle inside a banana and used floss to seal it up. He's going to put it in her suit case. By this time tomorrow it will be mush and will scare her)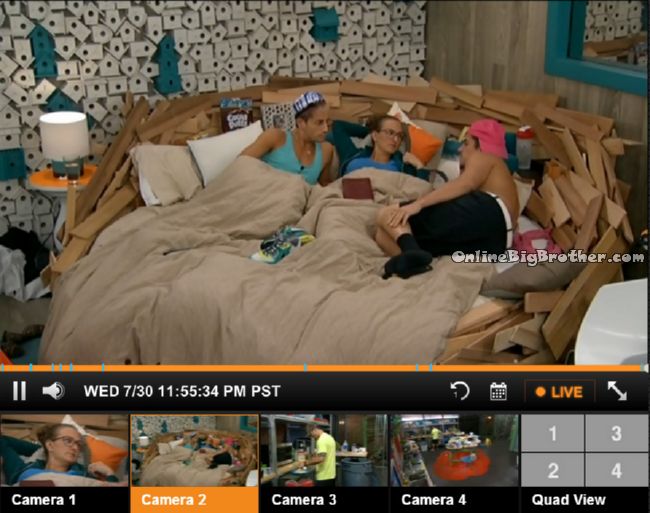 11:56pm Zach, Christine and Frankie
Zach warns Frankie that there could be people who will put him up because they see him as a threat.
Zach – If I wasn't on your side I would be extremely nervous about you.
Frankie thinks Zach is trying to say Cody and Derrick are coming after him.. Zach thinks they should get rid of Amber, Jocasta
Zach – Nicole is the biggest floater in the game"
Christine – I can't disagree.. I can't disagree" Feeds cut.
Christine leaves. Zach says Cody believes that Frankie has complete control over Zach.
Zach – "He called me your messenger boy.. "
Zach says he's protecting Frankie he's cody's closest friend in the house and if he says anything about Frankie he will defend him.
Frankie – Just tell him you are gay
Zach – I should just admit it right.
Frankie needs Zach's help in keeping the target off CHrittine "If Christine is not trusted in this group of 5 and I trust her it's 3 vd 2"
Zach – How can I help you
Frankie – Stop throwing Christine under the bud
Zach – Hayden is not coming after me.
Zach tell him Christine isn't as smart as he thinks. They agree They have to keep caleb in the house. Zach points out if they bring sCaleb to final 6 they can use him to take out Zach and Caleb.
Frankie – We got to lock down our information flow.
Frankie is worried about the detonators turning on Christine. Zach has Los Tres Amigos as his backup bit Frankie doesn't have anything like that. Frankie may have to get Hayden and Christine on his side to hedge against Cody and Derrick.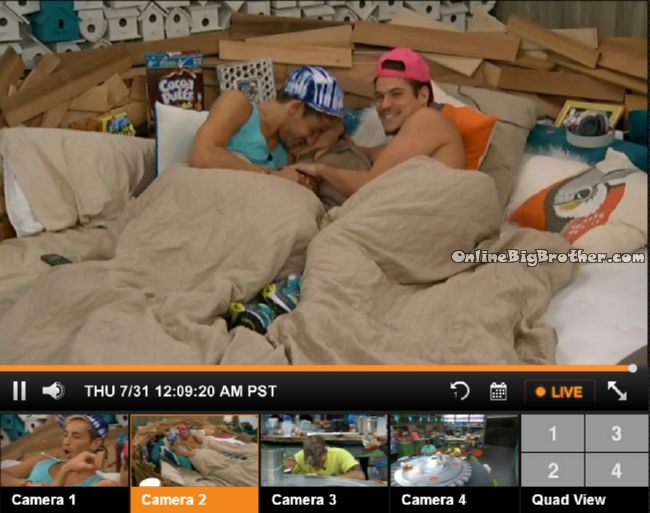 12:29AM HOH Frankie and Zach
Frankie says as long as Caleb is in the house Frankie feel safe. Zach – I think he likes me
Frankie – I do like Cody very much. Frankie says Cody is just like a child that is why he needs Zach's help with Christine. Frankie asks him where all his stuff is in case he's evicted. Zach says he's not going anywhere. Freankisksises him on cheek and leaves.
12:30AM Have nots finished their feast
Where is the vote
Amber's going home 9-0
Alliances
Zankie = Frankie/Zach
The Detonators = Derrick, Frankie, Zach, Christine, Cody
Final 2 Deal "The HITMEN" – Cody & Derrick
Trilogy = Nicole, Christine & Hayden
Team America = Donny, Derrick, Frankie
Old timers = Jocasta/Donny
Nicotine = Christine/Nicole
(Defunct or unknown status)
Bomb squad = Caleb, Amber, Frankie, Derrick, Cody, Christine, Zach, Hayden
Not a showmance= Hayden/Nicole
Los Tres Amigos = Derrick, Cody, Zach
The bottom Feeders = Derrick/Nicole
We hate Devin = Christine and Zach
Outsiders = Brittany, Victoria, Jocasta, Donny
Stalker = Caleb/Amber
Quad Kings = Derrick, Zach, Cody and Hayden (still being built)
More polls here https://www.onlinebigbrother.com/big-brother-compendium/big-brother-16-polls/