POV Holder:
?
Next POV
July 26th
POV Used
?
POV Ceremony
July 28th
HOH Winner 1:
Frankie
HOH Winner 2:
 Zach
Battle of the Block Winner
Next HOH/ Next BOB
July 31/Aug 1
Original Nominations:
?
Final Nominations:
?
Have Nots
Nicole, Caleb, Christine, Derrick
POV Players
?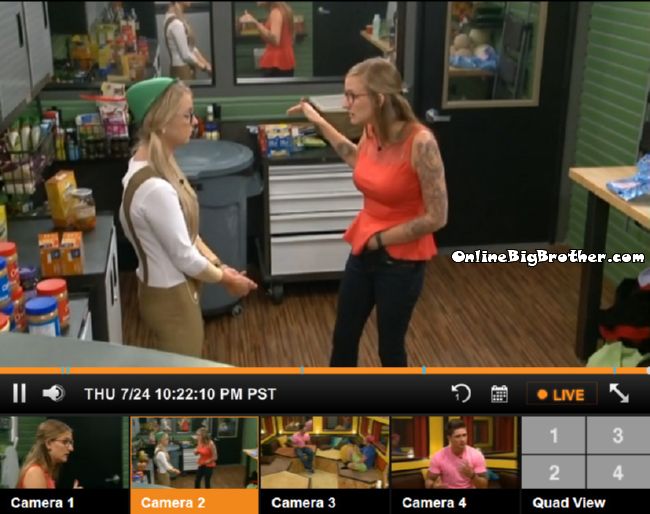 10:25pm Storage room Christine and Nicole
Nicole says Cody told Zach that Cody did Christine and Nicole a favour by getting rid of Brittany last week. Cody said "he took one for the team" Christine says that makes her so mad doesn't believe it thinks Zach is lying.
Christine – "I wish I had won this one.." Christine mentions that Zach is saying she has to earn her stripes but he's not putting Victoria up she's done nothing. Christine calls Zach a idiot says he needs to shut his mouth he's talking way too much.
Christine says Cody hates Zach that is all he never talks about.
You know Zach told Brittany that Cody and Amber Were working together.. Cody is pissed off. Christine and Nicole want Zach gone next week. Nicole thinks she has a good chance teo win the competition if she's paired with Amber but if she's paired with Victoria she's in trouble.
Hayden rolls in
Christine says Zach is so stupid she hates him
Hayden mentions how Zach is asking everyone to throw the Battle of the Block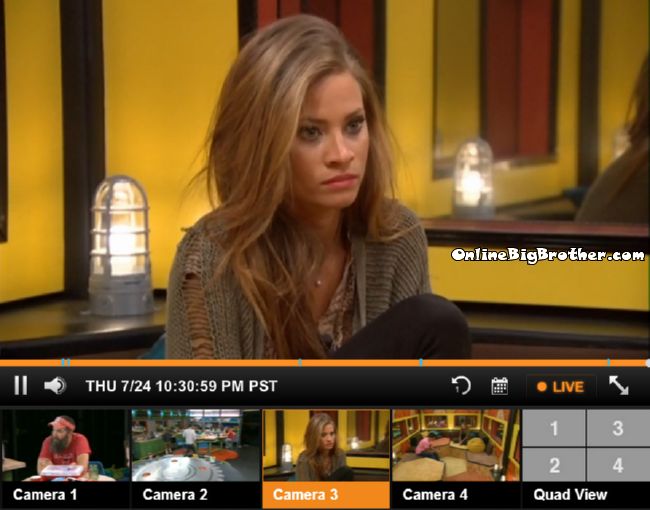 10:30pm BEEHIVE Caleb and Amber
Caleb says people are telling Zach that if you gets power you are coming after him today
Amber says if he puts her up she's mentioning the whole alliance to the house
Caleb – is he your target or not because he's going off what I say
Amber never said anything like that today, She adds Zach is not her target. Explains it was Brittany that said if she stayed in the house she would put up Zach.
Caleb says it was from people within their own Alliance, Frankie, Nicole, Hayden and Christine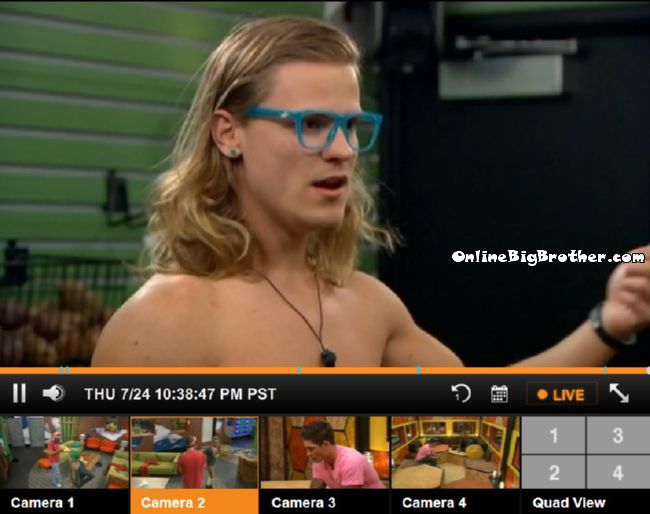 10:35pm Zach Cody and Hayden Storage room
Zach says he told Caleb that he's heard Amber is coming after him and Caleb immediately said it must have been Hayden that told him. Zach tells them he's gathering information from Amber and he's still going to put her up. Zach mentions he's so wondering why Christine won't' throw the BOB.
10:39pm Storage room hayden and Cody
Hayden saying that Zach has been asking everyone to throw the BOB but nobody will.
Hayden you have to be a idiot to throw it.
Cody agrees says no one is going to throw it.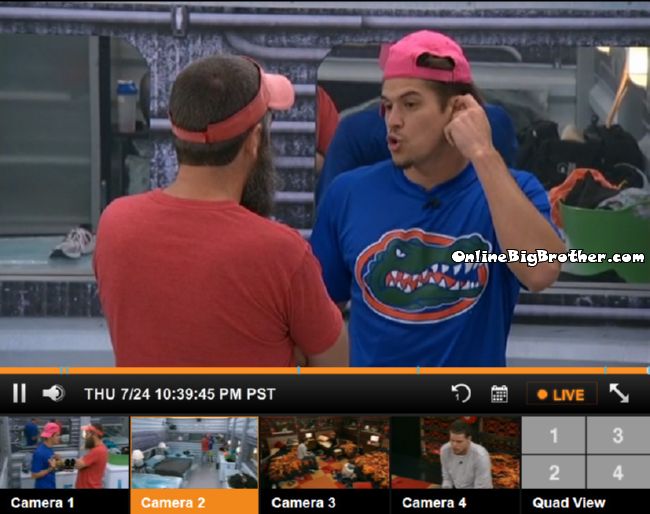 10:40pm, Have nots room Donny and Zach
Zach says he's going to put up Amber. Caleb opens the door to talk to Zach. Zach says he'll just be a minute. When Caleb leaves Zach because very worried that Caleb heard what he just said. Donny assures him Zach was whispering he didn't hear.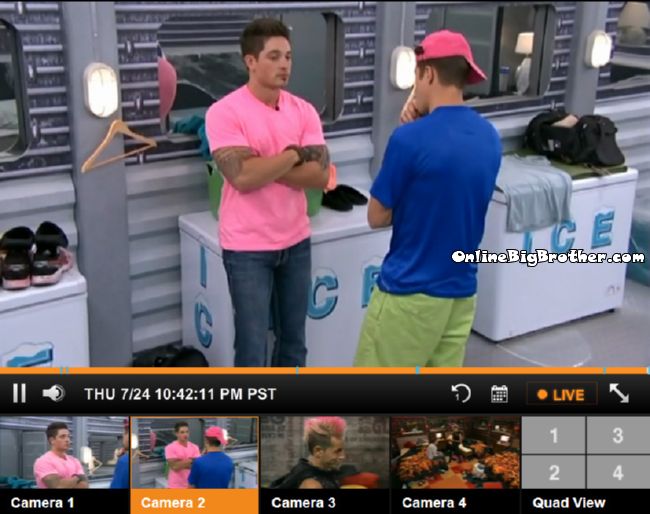 10:42pm Zach and Caleb
Caleb says Amber told him she didn't say she's putting up Zach this morning if she won HOH.
Zach thanks him says it's good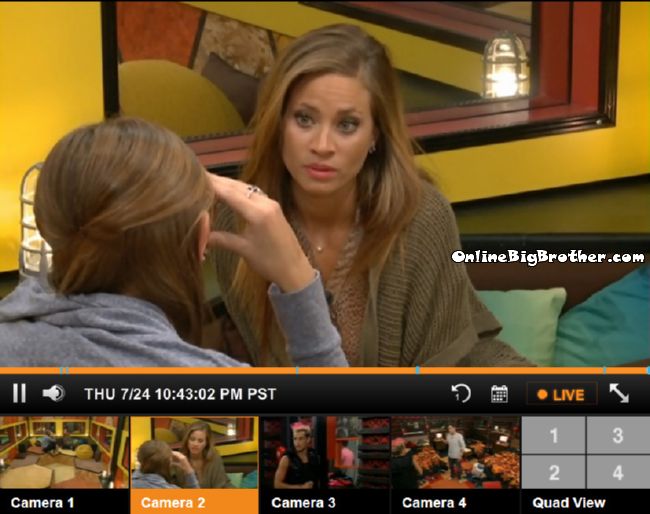 10:43pm Christine and Amber BEEHIVE
Amber says she doesn't want to tell CHristine too much because she doesn't know how close she is with them. Christine says Zach is talking about putting her and Amber up. Christine told Zach she wouldn't throw the competition and if he put her up with Amber they would win it.
10:45pm Bathroom Christine and Frankie
Chrsitne says she's so pisseed off at zach she wants him gone next week
he can't keep his mouth shut. Christine says that Zach told Amber she was the one saying Amber is targeting him.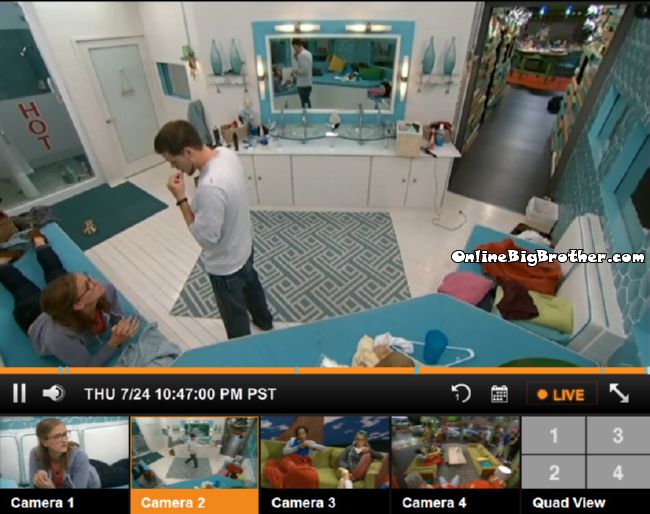 10:47pm Derrick and Christine
Christine – Zach is pissing me off he "Pretty much" told Nicole that bombsquad is still working together.
Christine says she would love it if Zach went home next week. "He's throwing me under the bus twice already.. I pray he goes home this week"
10:49pm BEEHIVE Caleb and Derrick
Caleb says Christine, Hayden, Frankie told zach that Amber Is coming after Zach. Derrick mentions that Amber came up to him and Said she is done talking to the people in the alliance.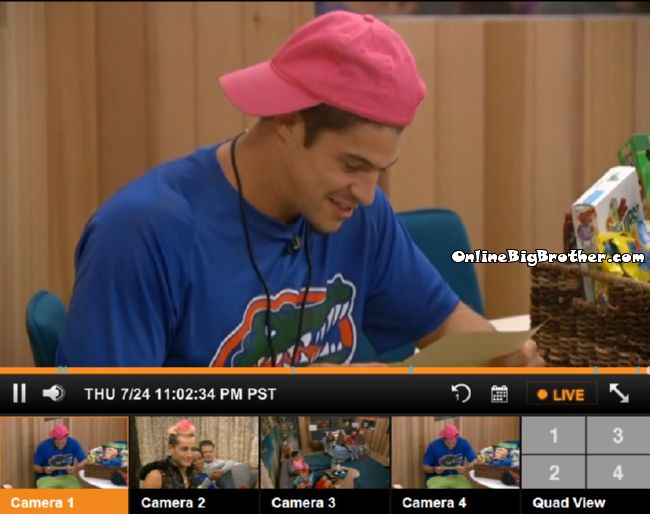 11:03pm HOH Zach cam 1 Zach's HOH Letter
Dear Zach,
This summer has been good. Basketball camp and sports camp is great . I've played two golf tournaments and the first one I shot two over par and the second one I came in First place with 3 over par. You should have seen me play it was great. Tiger is tearing up the house and I think you might have to replace the living room furniture. But mom will talk to you about that when you are home. Mom and Dad are really proud of you. I miss you a lot, can't wait to see you but don't come home too soon, if you know what I mean. I'm so happy you're my real Big Brother.
Love, Peyton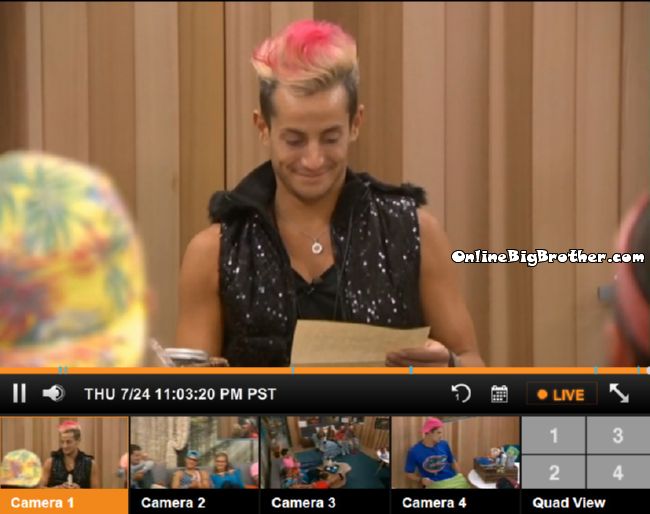 Frankie's HOH letter
My dearest Frankie,
We are so proud of you. If you are reading this you have won HOH congratulations.Well, it's been a heck of a week, as I'm writing this to you… as always I'm here for you and always in your heart, as you are in mine. We all cried and laughed and felt as if we shared Grandpa's news with you in our arms. We were so comforted by all the support of your housemates and how they took care of you in our absence. Please thank them all from all of us. Ari was so warmed by their love.. NONA is sending her love, as well as Ari, Cocoa, Taluss and Ophelia, "my dogs" who are also with us in Florida "oh good" We all miss you so much. Spoke to your father.. he is doing well and rooting for your success. Enjoy your suite and have a great run. I love you, Mommy
Ari has made you various tyedye items and hundreds of beaded bracelets with funny insults on them.. and bedazzled the dragon for you. I guess crafts are the way to go when you are in mourning. Ari says she's obsessed with you and misses her other half. She loves you.
11:19pm Amber and Cody
Amber says she's got to stop talking to people "This game is so crazy"
Cody – Is that directed at me"
11:21pm Christine and cody
Cody asks if Zach is going crazy
says Zach threw her under the bud, "I'm royally screwed"
Try It Free! Subscribe now to the official BB16 Live Feeds
11:26pm Have nots Caleb and Cody Cam 1
Cody thinks that Nicole is getting hints sometimes. Caleb says Christine and Nicole are very close. Caleb says he can only protect her so far if she keeps running her mouth like she has to the people in the alliance it's going to ruin his game and he can't have that. Caleb claims that Amber's game is in his hands whatever he tells Zach will dictate if she goes home or not. Cody says Amber came up to him and told him she's not talking to the people in their alliance anymore. Cody sees this as a big problem . Caleb mentions Amber telling him she will blow up the alliance if she goes up. Caleb thinks if Amber goes on the block she's going home. He can only do so much to protect her.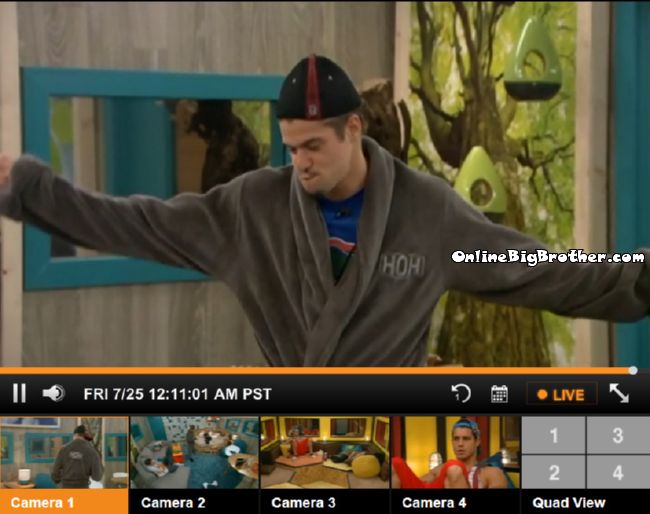 11:35pm HOH Zach and Frankie
Zach says they need to get Amber out but it has to be Caleb before Amber
Frankie says Amber Is freaking out and putting a HUGE target on her back everyone hates her.
Zach – Christine needs to sack the f** up or i'm sending her home.
Right now Zach wants Amber gone, "Why can't christine f***g throw the competition.. what does she bring to the table"
Zach mentions he was talking to Caleb and told her there was people in the alliance that said they are targeting Amber. Caleb figured out it was Christine and hayden. Caleb told this to Amber and Amber ran into the Storage room and told Christine.
Zach says Last week when Cody had a chance to backdoor caleb for himself he didn't do it to help Christine, Nicole's and Frankie's game.
Zach – "it's time for Christine to do something for herself."
Zach – "If she doesn't throw the competition we're done.. I''m throwing her under the bus to everyone I see.. Does this make sense is it rational.
Frankie suggest he puts Victoria up and call it a day
Zach – will it be calling it a day though..I want to put up Christine.. I'm tired of all of us Carrying Christine she does nothing for us.. she's in the bomb squad because of Devin.. wouldn't you rather Hayden be with us"
frankie – "he can't keep switching people in the alliance".
Zach – She always laughing she; happy she needs to sweat it. She always knows she's safe"
Caleb, Derrick and Hayden roll in
Caleb says he talked to Amber and told her who said she was targeting Zach. Zach knew already he's seen her coming out of the BEEHIVE room Caleb says they built this great alliance and now it's crumbling he points out how Amber is threatening to out the squad and has told two people she doesn't want to talk to the alliance anymore. Caleb says he's pissed off.
Zach says he's still wanting to complete the mission. Caleb says there's people in the alliance that don't trust Amber So why are we not trusting her for not trusting those people.
Frankie doesn't believe Amber personally that she will not blow up the alliance, :"Who is she going to blow up the alliance to .. Victoria.. that's what we're worried about"
Frankie points out the alliance already blew up and it really didn't change anything.
Frankie says If Amber is falling apart she cannot be here. Caleb say Amber isn't falling apart the entire alliance is
Frankie doesn't like what he's hearing from Amber. Caleb snap backs say amber didn't like what she heard coming from their alliance with.
Frankie – I know
Caleb – She straight up said No one in the alliance is her target if she goes up
Zach – that's good to know that's breaking news.. Frankie and I haven't had a chance to talk yet.
Frankie san Zach say they will talk to Amber.
Caleb – "You can talk to her I'm not she can suck my B@lls"
Frankie – – can I suck your balls
Caleb – ya
Caleb leaves , Zach – Jesus christ.. I'm good at this game.. I'm an all star I created all this havoc just now.
Derrick what's the story what are we thinking now
Zach and Hayden 'backd**r Caleb"
They all laugh.
Zach says that makes is so easy now "I was so worried about Caleb was going to eat my face off now it doesn't matter"
Zach brings up Cody's move last week to help out the alliance and how it wasn't the best thing for Cody's game. When Zach asked Christine to do something for the alliance she said
"NO NO absolutely not..; who the f** are you what the F** have you done. "
Zach tells them he won a HOH and now he's the target for the group if he's on the block against any of them he's going home that is a legit thing he's bringing to the table.
Frankie – ya ya we know you're a monster
Zach – What the f** does Christine bring to the table she sits right there plays with Cody's hair and she just LAUGHS AND LAUGHS how she's safe"
Frankie are you putting Christine up over Victoria. Zach YA .. no i'm putting up Christine and Jocasta
Derrick – So he's (frankie) putting up Donny and victoria.
Zach reminds them that the sole reason why Devin is gone is because of Donny
Frankie wants to put up Donny and Jocasta says Zach should put up Victoria.
Derrick says Victoria is on Zach's d1ck
Zach had just gotten back Victoria's trust., "I'm the king of the castle now.. i'm not taking this robe off either"
Zach again says All christine does is "Laugh all day, Flirt with Cody, she knows she's safe every single time one of us wins HOH … She brings nothing to the table. she just listens to us game play.. she can flip the house "
Frankie doesn't want Christine to be nominated he wants
Zach – "Everyone needs to stop playing with their f*** vag grow a pair of balls and throw the competition and it will be done"
Derrick – Dude I can't wait for the nomination ceremony tomorrow.. Dude you should blow up on sombody make some great TV"
Zach – "I'm going to" (This is the Team America Task)
Derrick – The people are expecting it from you..
Frankie wants it to be Donny/Jocasta and Victoria/Nicole
(This was insane.. they are going to be going back and forth all night. )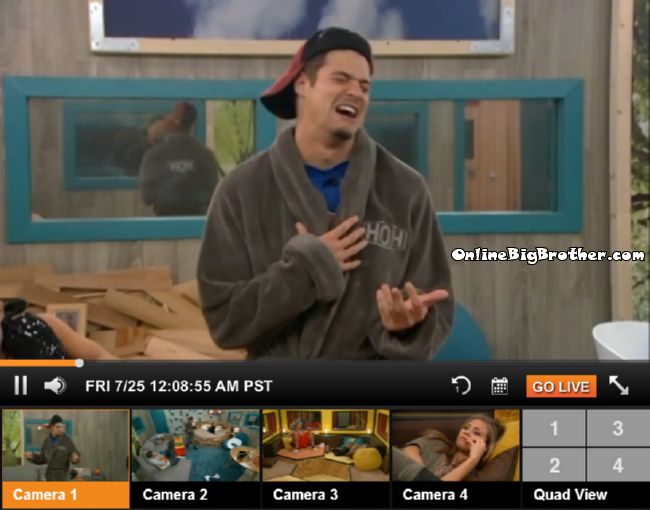 Alliances (Some Of these are defunct)
Zankie = Frankie/Zach
Bomb squad = Caleb, Amber, Frankie, Derrick, Cody, Christine, Zach, Hayden
Team America = Donny, Derrick, Frankie
Nicotine = Christine/Nicole
Not a showmance= Hayden/Nicole
Los Tres Amigos = Derrick, Cody, Zach
The bottom Feeders = Derrick/Nicole
We hate Devin = Christine and Zach
Outsiders = Brittany, Victoria, Jocasta, Donny
Old timers = Jocasta/Donny
Stalker = Caleb/Amber
Quad Kings = Derrick, Zach, Cody and Hayden (still being built)
Trilogy = Nicole, Christine & Hayden
The Detonators = Derrick, Frankie, Zach, Christine, Cody
Final 2 Deal "The HITMEN" – Cody & Derrick
One way to support this site that doesn't cost you anything extra is making your Amazon purchases through the links below Amazon.com OnlineBigBrother Link
For Canada use link Amazon Canada OnlineBigBrother
More polls here https://www.onlinebigbrother.com/big-brother-compendium/big-brother-16-polls/