POV Holder:
Hayden
Next POV
Aug 2nd
POV Used
YES
POV Ceremony
July 28th
HOH Winner 1:
Frankie
HOH Winner 2:
 Zach
Battle of the Block Winner
 Nicole/Christine
Next HOH/ Next BOB
July 31/Aug 1
Original Nominations:
ZACH's Noms (Christine & Nicole) Frankie's Noms (JOcasta & Victoria)
Final Nominations:
Amber & Jocasta
Have Nots
Nicole, Caleb, Christine, Derrick
POV Players
Frankie, Victoria, Jocasta, Donny, Hayden & Christine
1:10am Hayden and Nicole are talking in the hammock. Nicole is having a date with "Carter" the Hayden says that Amber's jaw is going to drop when the vote is 9-0. Nicole tells Hayden that if she was HOH she would put up Victoria & Zach, with Caleb as the backdoor target. Hayden says that is fine with Zach going home. I really want Frankie. Nicole agrees she would be on board. Hayden says Cody is on board. They comment on how worried they would be and what would happen if Frankie didn't go home. Hayden says that he talks game with Cody and Derrick and they're on the same page. Hayden says that Cody & Derrick are sketched out about Christine. Nicole says Christine is worried about Cody. She wanted to make sure Hayden is with them. Nicole says I assured her, and told Christine that even though she (Christine) wanted to keep Amber, they wouldn't be able to rally the votes.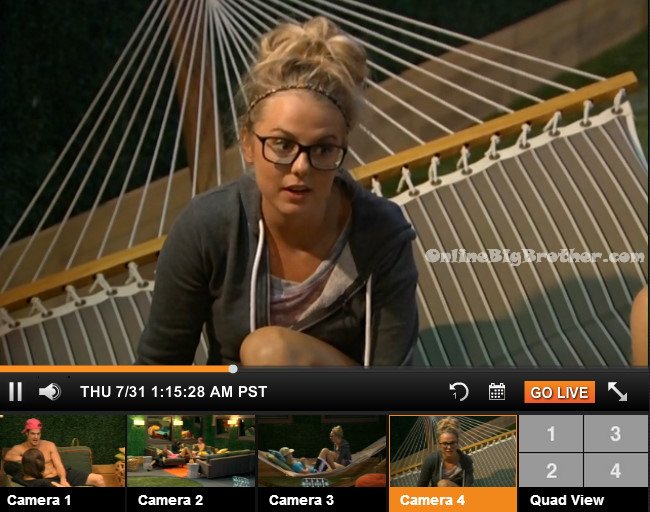 1:35am TEAM AMERICA MISSION: Derrick heads out of the HOH room and wakes up Donny in the fire room. Donny is surprised when he wakes up and says What the!? Derrick tells sorry, Donny we got another Team America mission: "Vote against the majority of the house and then publicly accuse two people during the eviction fallout." Derrick says sorry for waking you but they said I had to wake you tonight. Derrick tells Donny to go to the diary room for the official rules. Donny says we need to decline it. Derrick says it will be easy we can vote to keep Amber and then Ask Caleb and Zach . Donny heads into the diary room. Derrick grabs Frankie to join him in the living room. Derrick tells Frankie that Donny initially wanted to decline the mission. We will need to convince him. Frankie agrees.Derrick says every week America wants us to stir the pot. We're saboteurs.
Take Advantage of the FREE 2 day Trial to watch all the drama!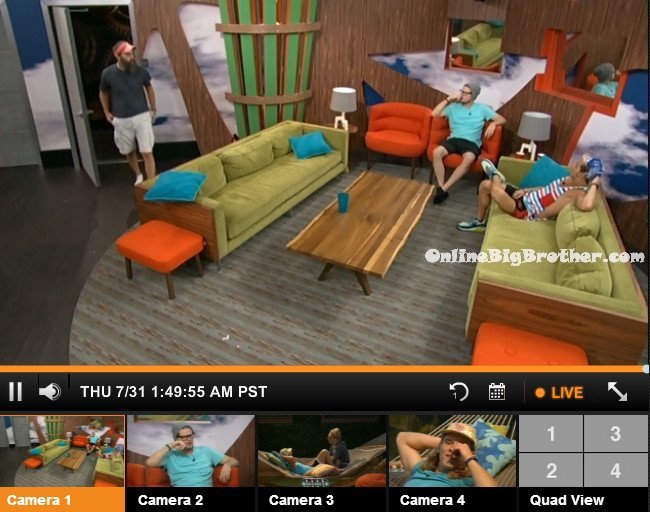 Donny comes back out of the diary room. Derrick says you and I would vote to keep Amber to stay .. that's the two votes, everyone else votes out Amber. Donny says there are a lot smart people and their brains won't quit until they find out. It's out of character and people quit until they find out who did it. Derrick says You and I vote to keep Amber then when we're standing out there. Frankie jokingly asks Caleb you had a change of heart didn't you? I would ask Zach jokingly Amanada's cousin trying to flip the script. Donny says that he's worried but if you two want to do it we can try it. Donny says Frankie can agree to do it but he isn't voting, we're voting. Donny questions what if Caleb does vote for Amber to stay? Derrick says he won't he is planning to publically humiliate her during the live eviction. It uncharacteristic for us to call people out. I don't want to get blamed for something when I'm against it. Derrick says we can talk about it.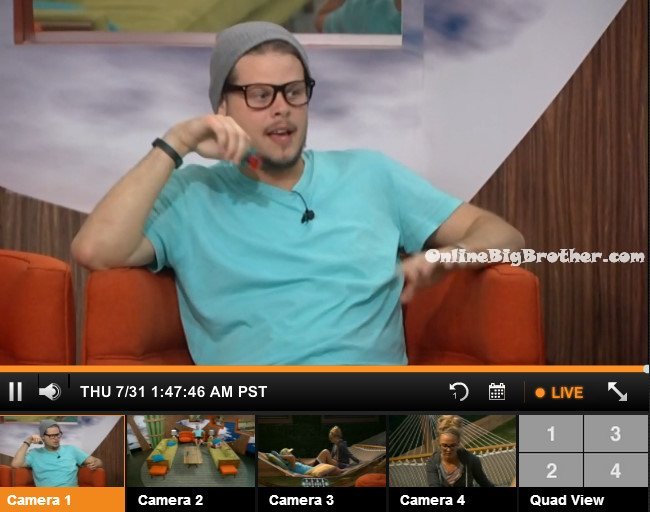 2
:10am – 2:40am Donny, Frankie and Derrick head up to the HOH room. Donny says they didn't pick a bunch of dummies. Its not normal for me to come up to the HOH room at 2am. Donny says I didn't fly across the country to ruin my game. For me to speak out of character and to blame someone like that is very out of character. People are already thinking saboteur. Donny says if you two want to do it then we'll do it but I don't think 1 mission could easily cause these people to backfire. Derrick says we can't blame it on you. Because then we would forfeit all of the winnings. Donny says well you could say I think Donny did this. We just can't blow Team America. Donny says I chose to come play Donny Thompson's game not America's game. They decide they will sleep it on it. Donny heads down stairs. Derrick looks at the camera and says you voted him America! Frankie says Donny doesn't want to be America's player. Derrick says f**k! Cody joins them. Chirstine joins them. They talk about if its a double eviction who they would nominate. Victoria & Jocasta and then only backdoor Donny if we have the votes to evict him.
2:40am Frankie has his bath and Cody takes a shower in the HOH room. Caleb comes up to the HOH room. Caleb tells Christine how Amber will be shocked when its 9-0 vote. I will stand up and say you're the reason why you were still here and I am the reason you're going home! Christine laughs. Caleb says I think when we're at the finale I think she will open up to me. I will ask her for this dance. When she gets opens that banana she and sees the pickle she is going to be like ah I see.. That pickle inside the banana is literally genius! Genius! Christine agrees. Caleb says during the live show I am going to say Amber! I've known all along and quite frankly don't bite the hand that feeds you!
Big Brother 16 Live Feed FREE TRIAL – Use the FLASHBACK feature to watch everything you've missed!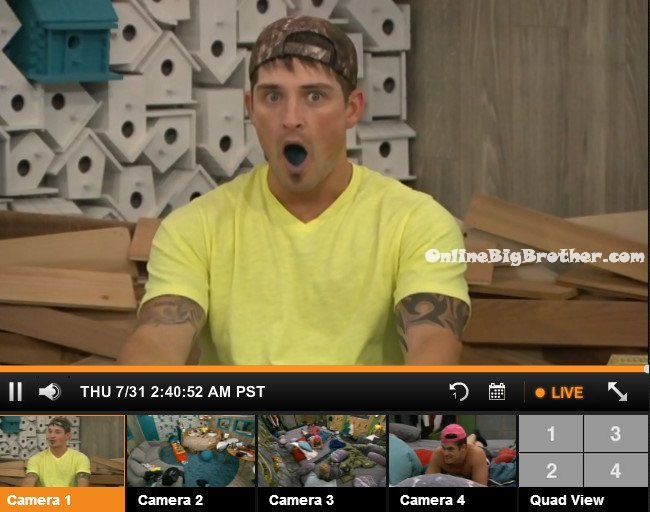 3am Victoria is talking to Derrick in the hammock she says she's so embarrassed about how she looked in the feed loop. Victoria says I take pride in how I look and I'm embarrassed. Do I really look that horrible on camera. Derrick says that's not true. You can't worry about stuff like that. What else is bothering you? Victoria says she is worried people aren't taking her seriously.
3am – 3:50am Up in the HOH room – Caleb, Hayden, Amber, Christine are joking around. Christine makes fun oh Devin when he was pointing at the spy tv talking about who's votes they had. She says he wasn't even pointing at the memory wall. Hayden comes over and says we have this green chairs vote, if you think we have the other chairs you're kidding yourself. We don't have any of these peoples votes. Caleb tells Frankie and Hayden about how its impossible to crack an egg in they're hands if they position it the way he show them. Frankie says I feel like this is a joke where you end up with yokes all over your face. Its an equilibrium. It's impossible. They tell Caleb to go get an egg. Caleb comes back with an egg. Hayden tries and can't do it. Caleb leaves. Hayden says well we can't get rid of him. I have been boosting his ego all day. I genuinely like Caleb as a person but it is really hard to be in the same room with him. His stories are getting more and more ridiculous. He told me the other day that the national football league the colts were looking at him. They talk about Victoria's aggressive cuddling. Frankie says she got me hard and I had to tell her to stop. Hayden talks about how he had to tell Victoria to stop as well. Frankie asks Caleb who he wants out after Amber this week. Caleb says Donny, Nicole, Victoira, Jocasta.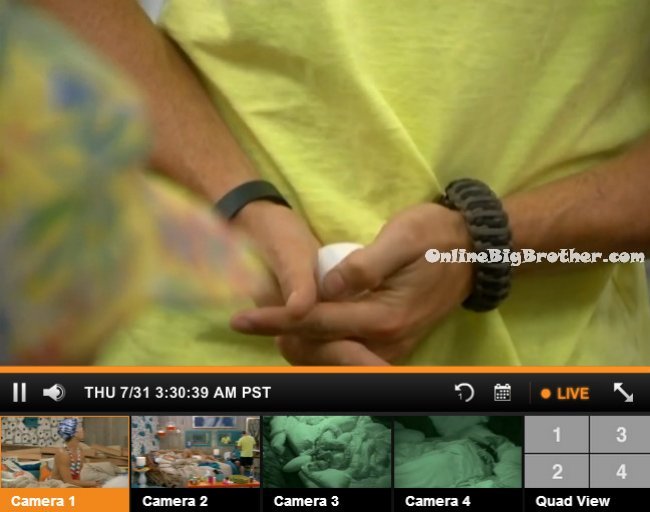 3:55am – 4am In the bathroom – Frankie and Derrick talk about the team America mission. Frankie says I think we should just decline the mission and then work to get rid of him (Donny). Frankie wonders if just you and I work on it and not him I wonder if they would let us. Derrick brings up how Donny was worried about one of them blaming things on him. Why would you be thinking like that? Derrick says we all have to agree to do it or we don't do it. Frankie says but remember last week when they amended it for us? Big Brother blocks the feeds. When the feeds return – Frankie says we'll ask and see.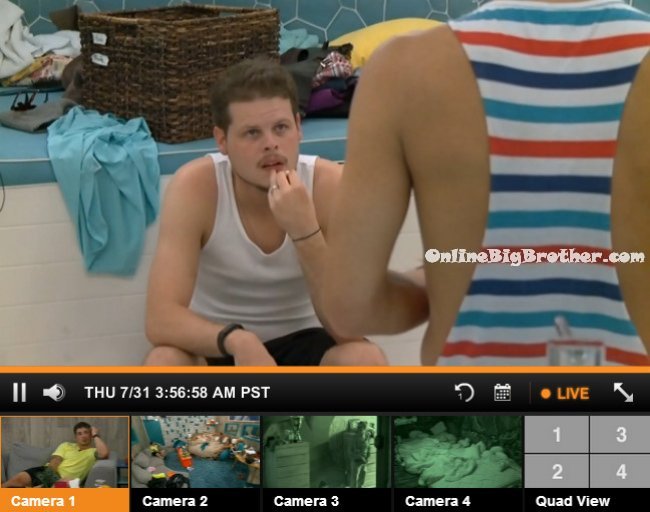 4:10am Up in the HOH room – Hayden Amber asks should I just deep throat a banana? Would you let me stay if I ate a banana? Caleb says Amber just said she would deep throat a banana. Amber leaving says she wouldn't eat it I would just swallow it. Caleb says she will not want to hug me or kiss me or nothing. Hayden agrees. It sucks because who is going to clean the dishes, cook and do the laundry.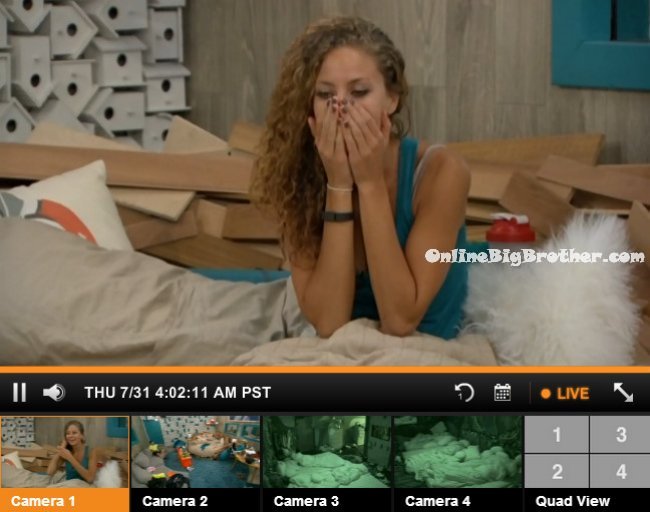 4:20am – 4:30am In the storage room – Hayden tells Derrick Frankie was just up in the HOH room for sure trying to solidify me, Nicole and Christine. Derrick says I don't trust Frankie and just the fact that he didn't include him in that. Hayden says I am set on putting up Victoria and Jocasta. Now how everything has panned out there is no need to get rid of Caleb. Derrick says Frankie would be hard to get rid of. Hayden says if Frankie, Caleb or Donny were on the block .. Caleb or Donny would go home but I don't think Frankie would go home. I dont want to work with Frankie because I don't trust him. Derrick asks where do you stand with Donny. Hayden says I trust Donny 1000 times more than Christine. Cody joins them. Cody says that he is cool with taking out Donny if there's a double eviction
4:30am – 4:45am Out in the backyard – Frankie and Derrick comment on how they are done with Donny. Derrick says it's Donny's mentality towards the missions. I am just glad America got to see that on the live feeds to see how Donny really feels. Frankie says I care about this. It's done it's over. Derrick says that was Donny speaking the truth up there. He was tired and didn't have time to put on the face. That conversation up there was weird. Frankie says and now we have everyone on board with evicting him. How long did that take like 20 minutes? Frankie says the only person I wouldn't too sure about would be if Zach would vote him out. Amber, Christine, Nicole, Cody and Victoria come outside they ask Derrick to tell the story of how he woke up Donny.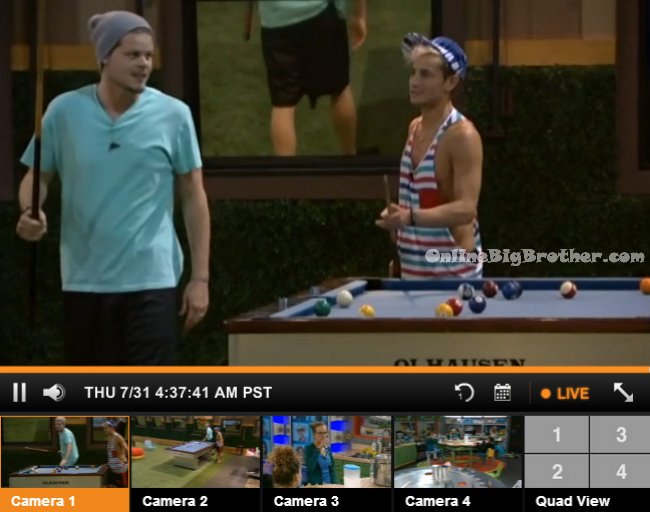 5am – 5:10am Cody and Nicole cuddling..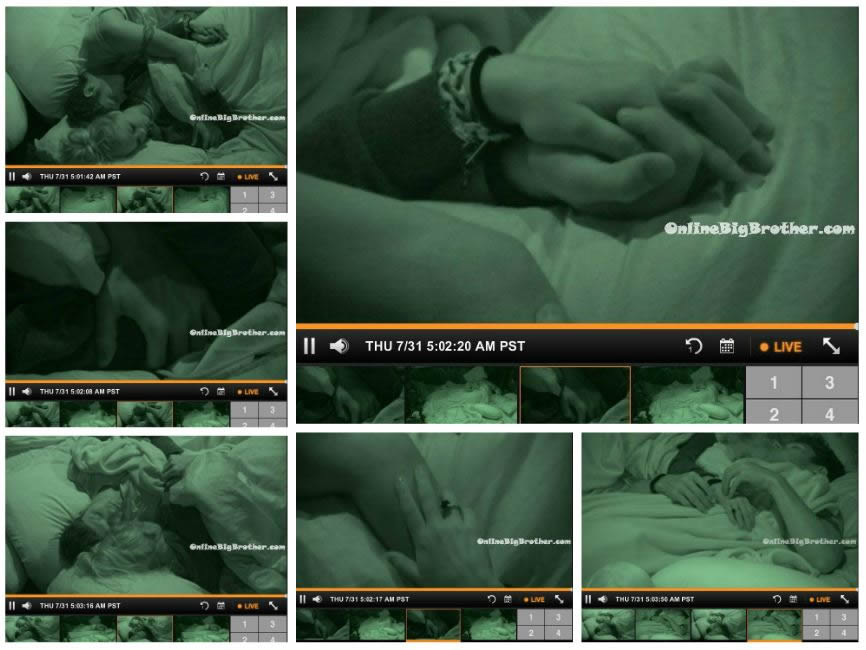 Where is the vote
Amber's going home 9-0
Alliances
Zankie = Frankie/Zach
The Detonators = Derrick, Frankie, Zach, Christine, Cody
Final 2 Deal "The HITMEN" – Cody & Derrick
Trilogy = Nicole, Christine & Hayden
Team America = Donny, Derrick, Frankie
Old timers = Jocasta/Donny
Nicotine = Christine/Nicole
(Defunct or unknown status)
Bomb squad = Caleb, Amber, Frankie, Derrick, Cody, Christine, Zach, Hayden
Not a showmance= Hayden/Nicole
Los Tres Amigos = Derrick, Cody, Zach
The bottom Feeders = Derrick/Nicole
We hate Devin = Christine and Zach
Outsiders = Brittany, Victoria, Jocasta, Donny
Stalker = Caleb/Amber
Quad Kings = Derrick, Zach, Cody and Hayden (still being built)
More polls here https://www.onlinebigbrother.com/big-brother-compendium/big-brother-16-polls/