POV Holder:
?
Next POV
July 26th
POV Used
?
POV Ceremony
July 28th
HOH Winner 1:
Frankie
HOH Winner 2:
 Zach
Battle of the Block Winner
Next HOH/ Next BOB
July 31/Aug 1
Original Nominations:
?
Final Nominations:
?
Have Nots
Nicole, Caleb, Christine, Derrick
POV Players
?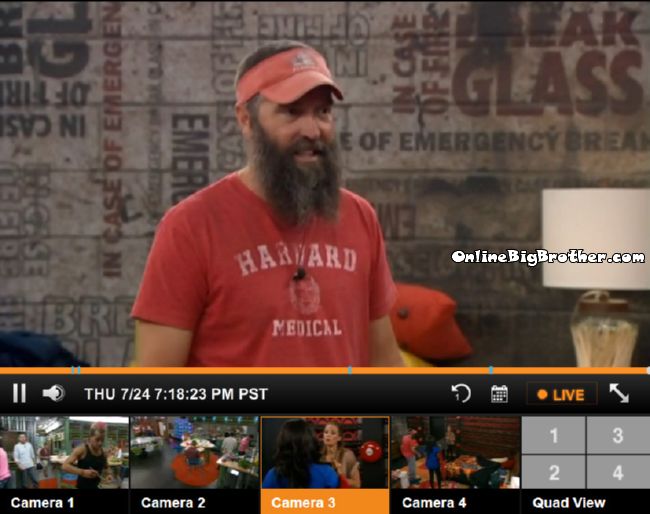 7:17pm FIREROOM Jocasta and Donny
Jocasta says they are both going up. Jocasta points out how Christine was saying right before the show how she didn't know who to vote for. Jocasta doesn't believe that one bit Christine knew who she was voting out earlier in the week.
Amber rolls in, Says she's worried about going up from Zach. They start talking about double eviction happening next week. Amber tells Jocasta if she hears anything she'll let her know. Donny points out they can at least relax tonight.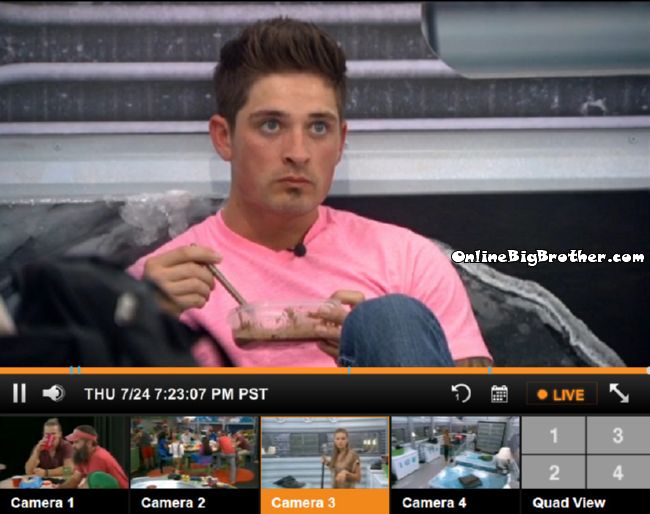 7:20pm Jocasta Caleb and Amber
Saying how nice Derrick was giving the HOH to Donny. Jocasta leaves. Caleb is calling bullsh1t on the bracelets saying theres no way Zach is more active than he is. Amber says Jocasta just asked me if Donny and her are going up.
Caleb – "You should have said YEAH "
Amber – "I don't know"
They agree the Have Nots room last year was a lot easier than this year. Amber mentions how Brittany was pissed at her when she voted her out. Caleb had told Brittany that Amber and him wanted Britany to stay but they were not going to be the only two votes to keep her.
Caleb back to the bracelets and the have nots
Caleb – "America just wants to see me shredded again"
Amber laughs – "you're so cocky Caleb"
Caleb – "I'm confident"
AMber leaves
Caleb talks to the Camera "America these bracelets suck we all know i'm the most active person in the house.. these bracelets are for the birds"
Caleb – "I am ex military so for me the slop is great and these beds Better than dirt.. so thank you"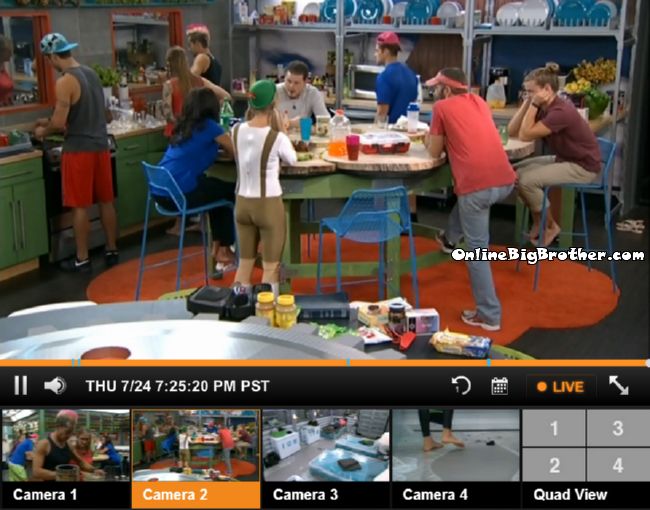 7:31pm Milling around chit chat and talking about the have nots starting NOW
7:36pm have nots room Nicole and Caleb
Nicole says she's living the life now. She thinks the worst thing is going to be the cold showers because she has so much hair. Frankie rolls in and they congratulate him. Frankie says he's probably not going to be HOH the last two his nominee won the BOB . They Caleb says if they put Caleb and HAyden up they will win the BOB but if they put him up against Victoria then.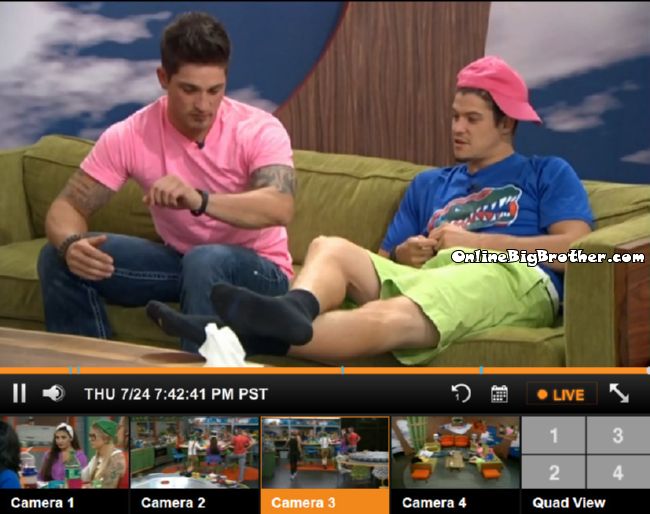 7:39pm Living room Derrick, Zach and Caleb.
Derrick says he threw the HOH to Frankie so Frankie could see a picture of his grandfather
Zach tells Derrick he's safe this week he's got nothing to worry about
Caleb saying the comp was easy but when he got up he could barely hear it.
Caleb says Jocasta and Victoria up on either sides so they guarantee one of them go home.
Derrick says it's already set, "lets hit the cruise control button."
They agree Caleb getting the have nots is a bit fishy. Derrick would have thought it was Zach, himself, Jocasta and Victoria.
Zach – It makes no sense that you are one and I'm not" Zach says all he does is sleep. Zach asks Caleb f he's always wearing the bracelet. Caleb says he wears it even to bed. Derrick – "Ya you always got yours on"
Derrick says the only thing he was thinking about when he gave the HOH to Frankie was now he's gotta be a HAve nots.
Zach – The best part is knowing we're all safe"
Derrick – WE're beasts in this thing tearing it up
Zach – Dude.. every competition.. HAHAHAHAHAHAHAHAHAH
Caleb – HAHAHAAHAHAH
Zach – How hard can this be
caleb points out Frankie has won 3 competitions now.
Zach – He owns that room.
Try It Free! Subscribe now to the official BB16 Live Feeds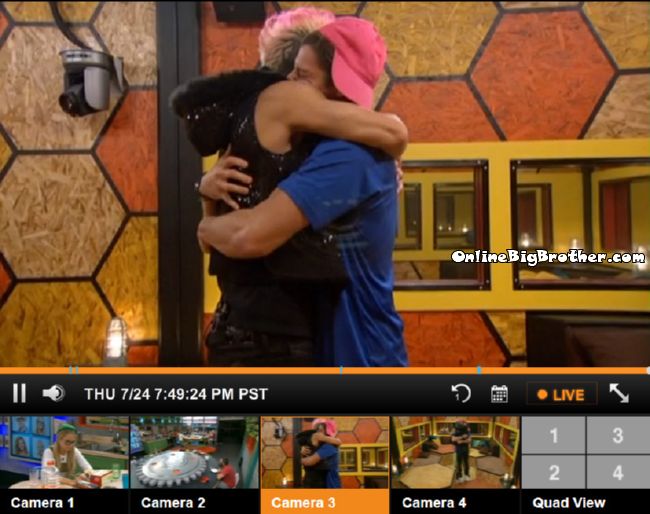 7:50pm BEEHIVE Zach and Frankie
They hug, Zach – "that was the best hung of my entire life"
Zach says he wanted to give Frankie 100% control in the HOH.
Zach – do we have a target
Frankie – you have to be the one that does it (Wins HOH)
Zach agrees
Frankie – you have to put up the people that we (my nominees) can beat
Frankie wonders if Zach should put up Donny and Jocasta.
Zach – I can't put up Donny
Frankie I need to put up people that can win .. why can't you put up Donny
Zach – I can't he's in my back pocket
Zach wonder if he should put up Victoria and Jocasta. Doesn't want to put Victoria up but it's a game.
Zach- we're going to put up the four people that are not in the bombsquad
Zach says the best way for him to lose the BOB is to put up Jocasta and Victoria or Jocasta and Nicole.
Frankie still thinks he should put up Donny, frankie doesn't want o he feels bad.
Zach is going to try and gain as much information as he can. He's going to work on Donny for awhile, "I want to gain his trust completely" Zach says it's stupid to burn his bridges with Donny now if Donny wins HOH Zach will control it.
Zach – "I want to get blood on my hands.. I don't give a f** I want caleb pissed at me"
Frankie says Jocasta or Caleb are the targets.
frankie is talking about putting up Donny and Hayden. Zach warns If his nominees lose the BOB Frankie will have to take out Caleb if he doesn't he loses trust with everyone.
Frankie doesn't want to put up Donny he's thinking Nicole now..
Zach – Is caleb for sure the target because i'm questioning it now.. (Zach is worried if he Backd**rs Caleb and he doesn't go home Caleb will come after him hardcore)
Frankie says if Caleb goes on the block he is going home it's a lock.
Zach – Caleb got his 5K lets send him home"
(Lots of back and forths but it sounds like Zach will put up Jocasta and Victoria or Jocasta and Nicole. Frankie will put up hayden and Donny with the hopes they win the BOB. If POV is not played Jocasta goes homie if POV is played Caleb goes home)
Alliances
(Some Of these are defunct)
Zankie = Frankie/Zach
Bomb squad = Caleb, Amber, Frankie, Derrick, Cody, Christine, Zach, Hayden
Team America = Donny, Derrick, Frankie
Nicotine = Christine/Nicole
Not a showmance= Hayden/Nicole
Los Tres Amigos = Derrick, Cody, Zach
The bottom Feeders = Derrick/Nicole
We hate Devin = Christine and Zach
Outsiders = Brittany, Victoria, Jocasta, Donny
Old timers = Jocasta/Donny
Stalker = Caleb/Amber
Quad Kings = Derrick, Zach, Cody and Hayden (still being built)
Trilogy = Nicole, Christine & Hayden
The Detonators = Derrick, Frankie, Zach, Christine, Cody
Final 2 Deal "The HITMEN" – Cody & Derrick
One way to support this site that doesn't cost you anything extra is making your Amazon purchases through the links below Amazon.com OnlineBigBrother Link
For Canada use link Amazon Canada OnlineBigBrother
More polls here https://www.onlinebigbrother.com/big-brother-compendium/big-brother-16-polls/