POV Holder:
Hayden
Next POV
Aug 2nd
POV Used
?
POV Ceremony
July 28th
HOH Winner 1:
Frankie
HOH Winner 2:
 Zach
Battle of the Block Winner
 Nicole/Christine
Next HOH/ Next BOB
July 31/Aug 1
Original Nominations:
ZACH's Noms (Christine & Nicole) Frankie's Noms (JOcasta & Victoria)
Final Nominations:
?
Have Nots
Nicole, Caleb, Christine, Derrick
POV Players
Frankie, Victoria, Jocasta, Donny, Hayden & Christine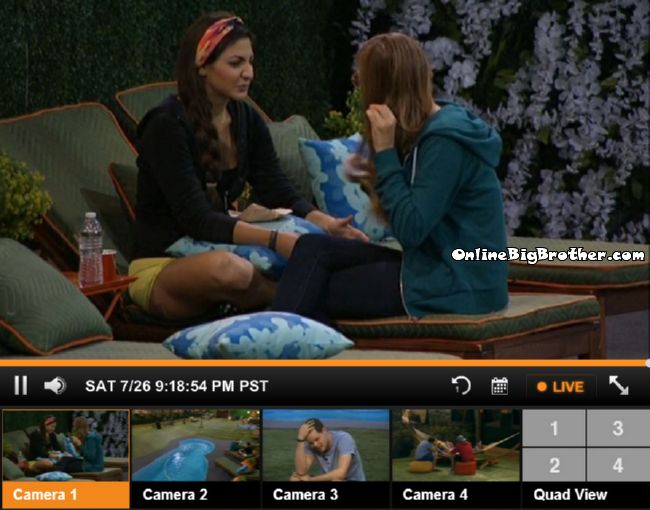 9:18pm Poolside Christine and Victoria
Talking about how dumb Caleb is.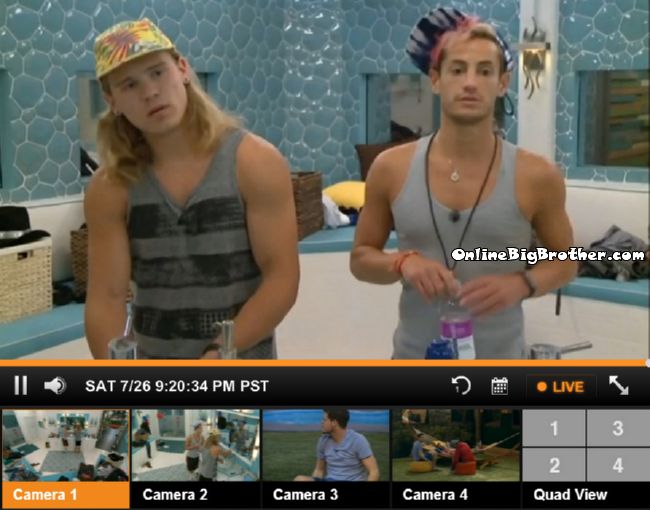 9:20pm Frankie and Hayden
Frankie is telling him Caleb thinks the POV isn't being used and Jocasta is going home.
Hayden – Caleb is a f**ing d1ck dude he was telling Victoria she is going home. .. I'm like I hate you.
He told Victoria that she's in this house to annoy people, Hayden – "i'm like Dude keep saying sh1t keep saying sh1t"
Rewatch any moment on the live feeds with a subscription Try It Free! Get 24/7 access to the house PLUS more for 48hrs before you decide!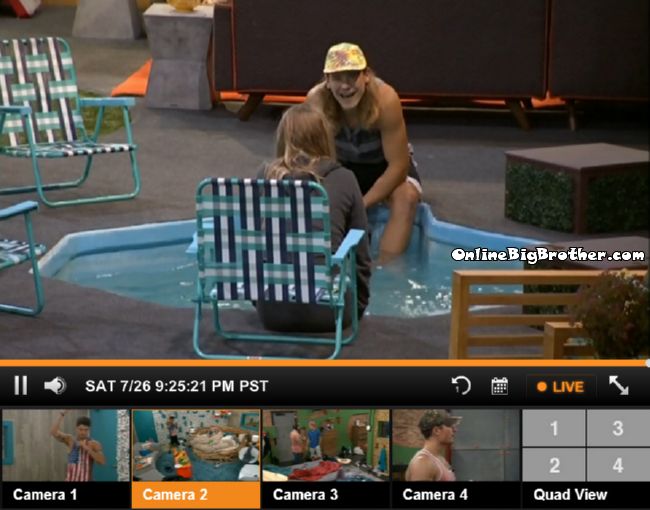 9:26pm Hot Tub Hayden and Nicole
Hayden telling Nicole he doesn't know what he's going to do they will have to see what happened. Nicole says Zach and Victoria were in the beehive room for an hour he talked about his personal life, "weird stuff.. people think that maybe Zach was telling her lies to tell you"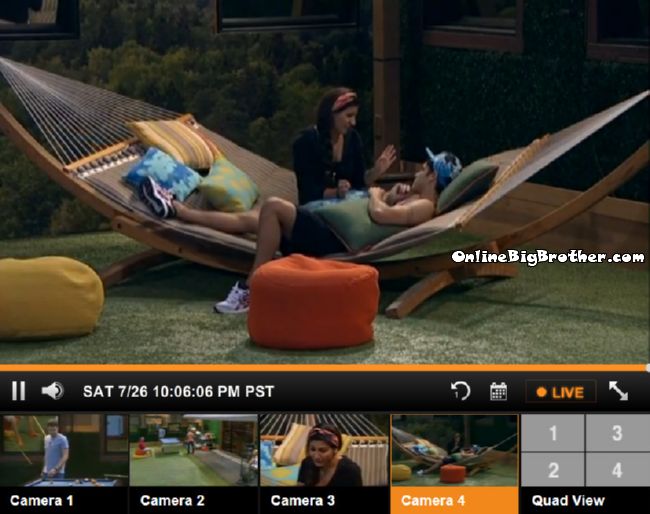 9:36pm Hammock Cody and Victoria
She's mentioning her conversation with Zach She him he was disgusting for being so rude to everyone during the nominations. She wanted him to think about his mother when he acts the way he acts. Victoria goes over her conversations with Zach the cameras switch over.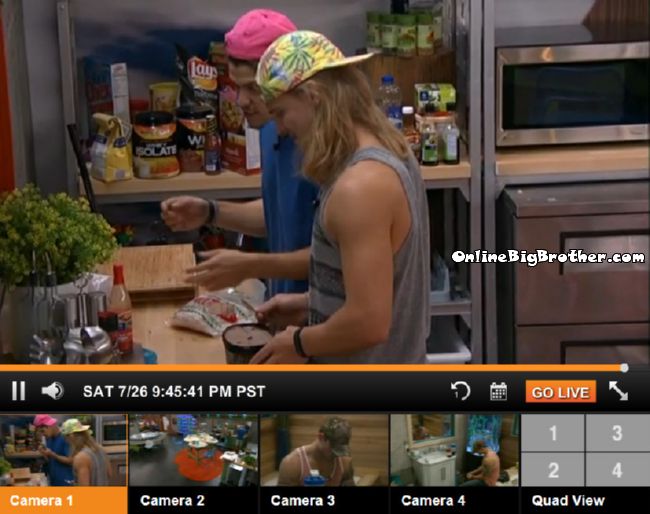 9:45pm Kitchen Hayden and Zach
Zach says he's started laying the groundwork to get Caleb to turn on Amber. Hayden is pissed at caleb for telling Victoria she's going home, "It made me so mad"
Zach – I can't wait until Amber is on the block.. it wasn't 20 seconds after the veto that she was up with Frankie saying they have to keep the nominations the same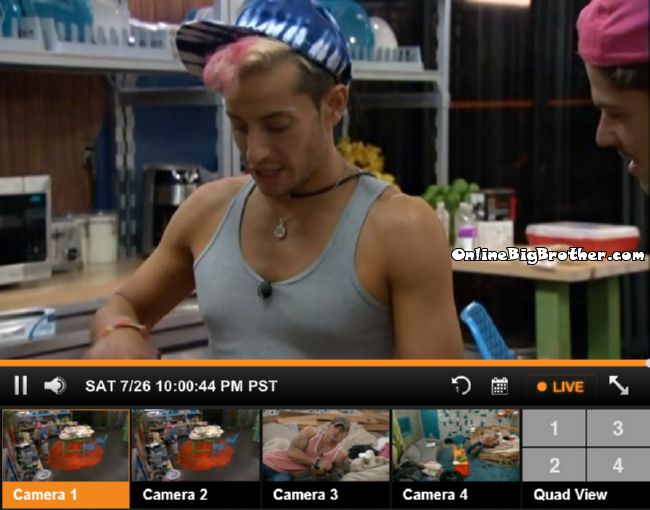 9:56pm Kitchen Frankie and Zach
Frankie says Amber is freaking out. Zach – "really I thought she had no idea'
Frankie – She's just up my a$$hole
Zach brings up Amber saying Caleb is blowing everything up out of proportion.
Derrick rolls in "Caleb brought up he might want Amber up on the block to send her a message"
Zach – "I'm a genius.. i convinced him that.. I convinced him"
Derrick – That's a pure stroke of genius Zach Rance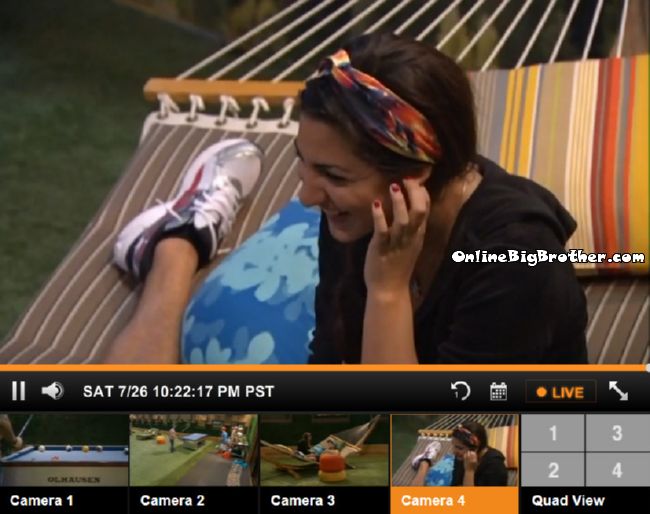 10:06pm Victoria and Cody
She is saying she cannot trust Frankie anymore Caleb has filled his head with so much sh1t.
Victoria says she was in the living room with Caleb and Frankie and caleb was saying to Frankie he would get too much blood on his hands if the POV was used.
Victoria – Caleb is a a$$hole
Cody wants the things thy talk about to be kept private. Victoria tells him she can be trusted.
Victoria adds she loves Derrick because they have a connection his wife is jewish.
Victoria says she has something personal to say. Amber keeps asking her if she has extensions, "five times" , Nicole, Christine and Jocasta know she does but she never told Amber. .
"My whole life I've been known for my hair my entire life one of the reason I didn't want to come on the show was because of my hair"
My best guy friends don't even know this only my girlfriends and family.. three years ago I lost my hair like all of it gone.
Cody asks how
Victoria -doesn't matter.. I wasn't goign to school for a couple months until I found a solution it was the biggest downfall in my life.. This all isn't my hair.. she keeps asking about it.
They agree Brittany had a horrible rats nest of extensions. Victoria was worried that HAyden and Cody would look at her differently. Cody said he would never look at someone differently for have extensions. He says her hair looks great. Victoria thinks maybe Jocasta told Amber.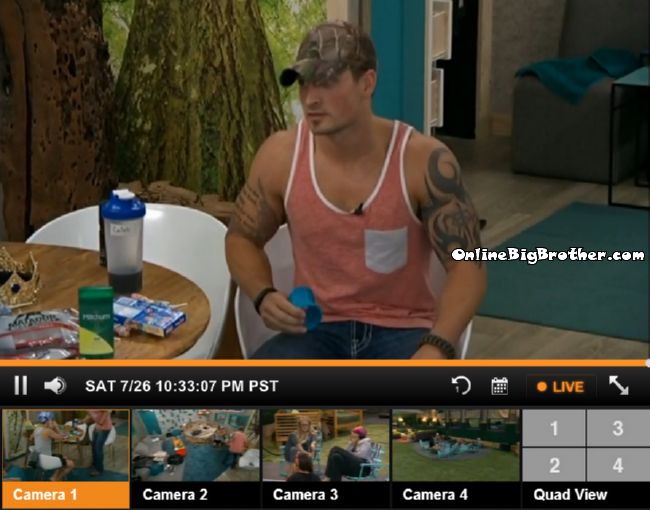 10:33pm HOH Frankie and Beast mode
Lets convince Hayden to pull Jocasta down and we'll put up Amber. This will bring her head back into the game. Make her think hey maybe I'm not as safe as I thought I was.
Caleb – "She's floating to the other side"
Frankie says it's a crazy move but is a great Move.
Caleb – at the end of the day I know who she is going to come to for safety. My allegiance is with you.
Frankie stresses every move he makes in the game is for Frankie and Caleb, "We've had a bond since day one and I won't sacrifice that"
Caleb – I'm the exact same way.
Frankie knows they said they should make side alliance to help main alliance but what Amber did was make new alliance that hurt the 8 alliance
Caleb agrees says they need to help amber by putting her up and scaring her back into the game back into the alliance.
Caleb – Shes going to looks for safety and she's going to go to Cowboy beast mode for safety because he's the only one that can keep her safe.
Frankie asks him if Caleb can control Amber if she loses it.
Caleb – I really want her to be scared.. at the end of the day we're going to be faithful and save her i'm going to look her in the face and say you're questioning our loyalty we're the only people that have been loyal to you. I want her to be scared that she's going home.
Frankie says he's glad Jocasta is staying she's a floater like caleb says but she deserve to be in Jury.
Caleb – We have to now convince Hayden to use the veto
Frankie it's very important that no one speaks to Amber
Caleb – I mentioned it to Derrick and Zach
Calb – The world will not believe the romantic cowboy puts his girl up.
Frankie – I'm not going to lie she's making you look like a little bit of a idiot
Caleb – I just know when her butts in that hot seat she's coming to me.
Frankie – I really think this is a great idea this is the answer. `
Caleb says if Amber blows up their alliance they send her home
Frankie – BEASTMODE is back i love this man this is the guy I Want to play this game with
They hug.
Caleb says at the end of the day they are not voting Amber out but if she blows them all up they will.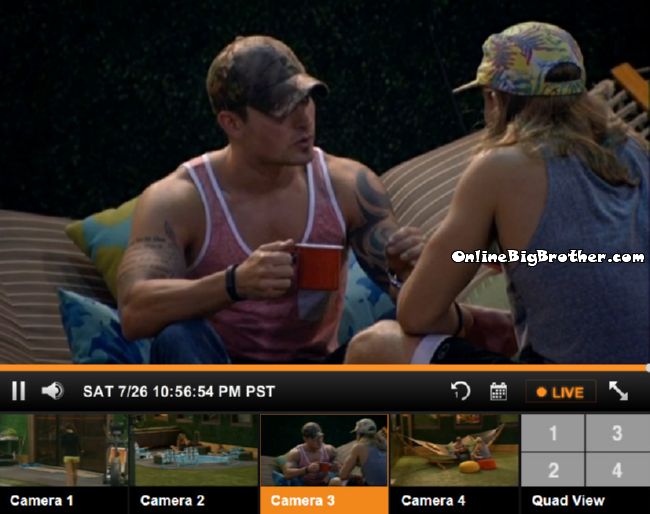 10:57pm Hammock Hayden and Caleb
Caleb wants Hayden to use the veto so they can put Amber On the block. If she blows us up she's going home if she doesn't' blow us up she's going to crawl back to me for safety.
Beastmode cowboy is back in the game no more romantic.guy.
(Zach has created so much Chaos between Caleb and Amber today calbe is now suggesting they put Amber up to scare her. Now all they need is for Amber to blow things up and he will support voting her out. Amazing rankei was planning for the last 2 days what he was going to say to Caleb to get him to want Amber nominated.)