POV Holder:
Hayden
Next POV
Aug 2nd
POV Used
YES
POV Ceremony
July 28th
HOH Winner 1:
Frankie
HOH Winner 2:
 Zach
Battle of the Block Winner
 Nicole/Christine
Next HOH/ Next BOB
July 31/Aug 1
Original Nominations:
ZACH's Noms (Christine & Nicole) Frankie's Noms (JOcasta & Victoria)
Final Nominations:
Amber & Jocasta
Have Nots
Nicole, Caleb, Christine, Derrick
POV Players
Frankie, Victoria, Jocasta, Donny, Hayden & Christine
9:45am – 10:30am Big Brother wakes up the house guests. When the live feeds return – Amber joins Donny in the bathroom and asks him how he slept. Donny says well, not very well. A bunch of young people out there, outside of the door were pretty god dang loud. Amber says I heard you had to go to the DR too? Donny says yes.
Take Advantage of the FREE 2 day Trial to watch all the drama!
In the kitchen – TEAM AMERICA MEETING: Donny asks Derrick which way are you feeling? Derrick says I no you're not feeling it. Donny says look at how fast Frankie threw Nicole under the bus this week. What's to say in three weeks he don't throw us under the bus? Who's going to say when we pick with Zach. That Zach won that button one last week real quick that he don't go out there and win that one real quick and you and me sits beside each other tonight (in the nomination chairs). Just because we didn't pick, we can't pick. Derrick says yeah, I told you guys week one that we're in an alliance. You're a grown a$$ man, I'm not going to try and convince you one way or another. Game or throwing it. You know. Jocasta joins them and the conversation ends.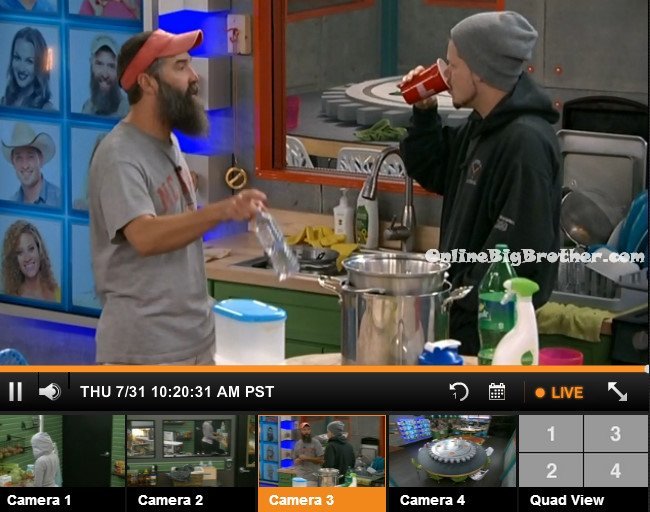 10:30am – 10:40am Big Brother blocks the live feeds. When the live feeds return Donny is in the living room sitting in silence. Derrick comments that the HOH lock down is at 11:15am.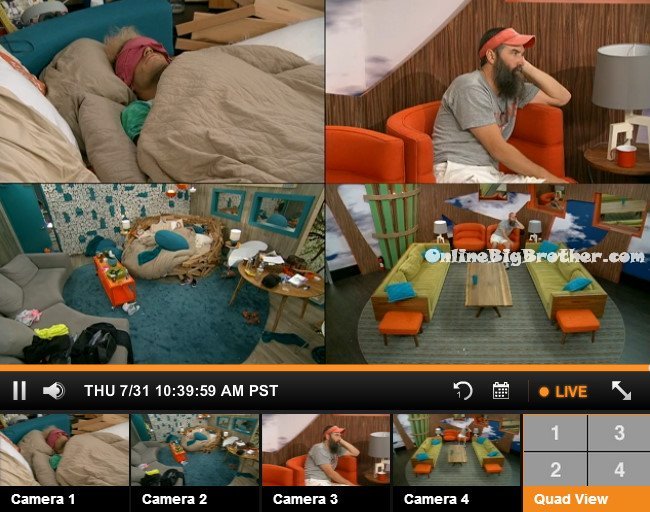 10:40am – 10:55am Jocasta joins Donny. Donny talks about how loud the others where while he was sleeping. He says where I come from if people are sleeping you tip toe and whisper. They had the whole backyard and the rest of the house and they did it all right here! Donny says that he has only a little bit of the bed and had a knee in his tail bone. Jocasta asks Derrick did you know what you said in your sleep? Derrick asks that I am secretly in love with Jocasta? Jocasta laughs and says no. You said Hayden do you believe we're in the big brother house. Derrick says I might have been awake for that part. Donny says if I went into the fire room right now I would open the door gingerly and tip top in… they yell and scream. They even went running over my bed in the rock room while I was sleeping! Donny says they didn't go on for a long long time.. But just enough to get my blood boiling. Got me thinking about how people were raised.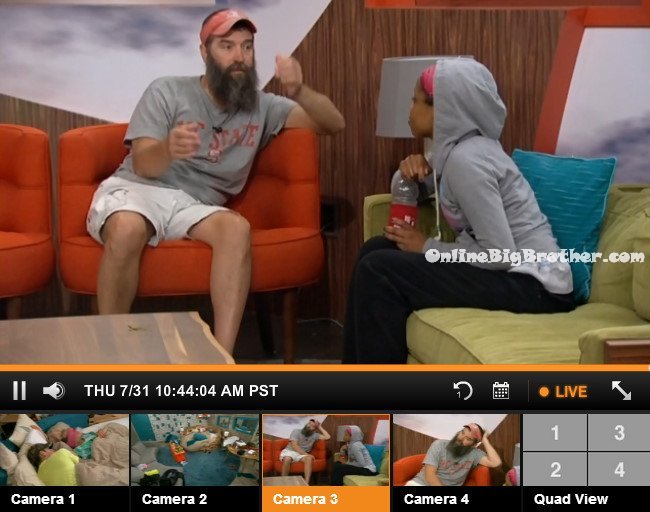 10:55am – 11am Donny asks Derrick did you think about it any more? Derrick says I am not going to try and convince you so we are going to do it. Donny says when we can into this game that $5000 didn't exist. Derrick agrees. Donny says and the looks I got after coming down from the HOH at 2am can you imagine if something else out of character would happen? Derrick says yeah, I explained why you were pissed and how Frankie asked you up there to give you a cream soda. Donny says think about how Devin went out and what if Zach wins. What if people were pointing at you? Derrick says I would be pissed especially for the reasons why I am here. Donny comments on how Derrick has so many people that follow him everywhere. Derrick says its mentally draining. I got to the HOH to take a sh*t and EVERY time there someone sitting there when I come out. Donny says we could do it, get $5000 and go home this week or next. Derrick says doesn't matter we're not doing it but to me $5000 is like 2 or 3 months work and I could go home tonight or next week. Frankie comes and gives Donny a hug. Donny is then called to the diary room.
WATCH the next 48 hours for FREE – Big Brother 16 Live Feed TRIAL!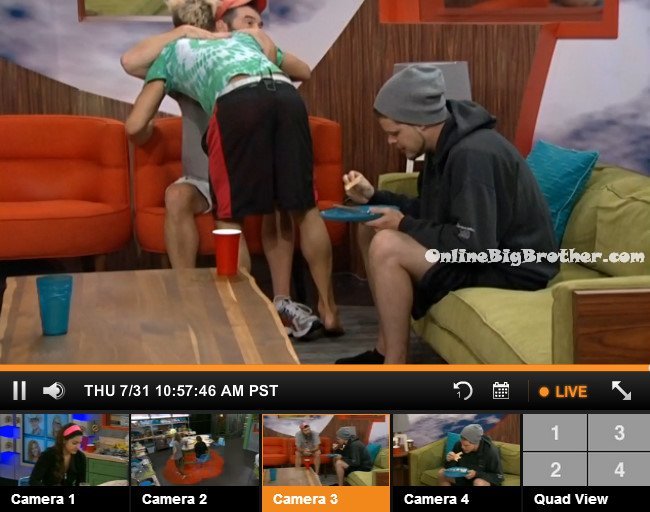 11:15am Big Brother blocks the live feeds for the HOH lock down…
1:15pm The live feeds return – The house guests are getting ready for the live show tonight. In the bathroom – Derrick cuts his own hair and then cuts Caleb's hair. Caleb talks about wanting to start a side business of being a hair dresser along with his personal training business. Caleb is drinking a beer and comments that he quit drinking before coming into the house and doesn't consider having one beer drinking. Derrick disagrees and says that's still drinking. Derrick asks Donny what he thinks. Donny says if I said I quit chewing tobacco and then had some… I'm still chewing tobacco. In the kitchen Frankie comments on how he thinks there would be no way they could do a double eviction with still having the double HOH's. Frankie joins them in the bathroom and Derrick cuts his hair next.
2:35pm – 2:55pm In the fire room – Christine tells Nicole that if she won HOH she would put up Jocasta and Victoria as her initial nominations. Niocle says I really want you, me or Hayden to win HOH. They talk about how awkward its been to lie to Amber that she's staying when she's not. Nicole says that if two gusy wins all girls are going to go up again. Nicole says that she wishes she could win so that she could talk smack. Frankie joins them. Frankie says Caleb is not coming from us ..he wants us 4 till the end.. once Amber is gone he wants Donny, Victoria, Jocasta out next. Frankie says they have to flip Caleb against the boys. Caleb LOVES Hayden like a brother.. since that first challenge ..I feel like Caleb could still be a tool. Nicole comments on how Amber is stressing out. That's why I'm trying to hide. Nicole says if its another BOB I will be pissed .. its old and all the girls will go up again. Frankie says 4 people would be on the block out of 9 people. Nicole says thats almost 50% on the block. Nicole and Frankie decide to take a nap.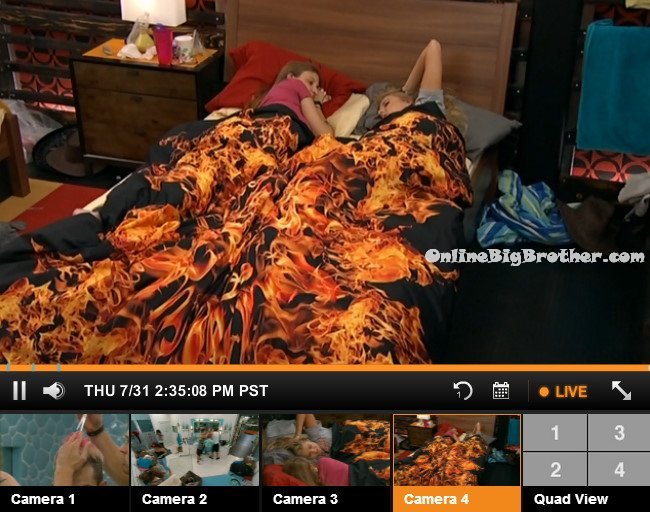 3:10pm – 3:15pm Caleb comes to the hive room with his banana telling her that a banana might look disgusting from the outside but on the inside its beautiful. You've got to give the banana a chance. He says that every banana has different texture just like Derrick, Donny and Frankie are all different. Amber says it looks like an old man. That was the worst banana speech ever. Caleb leaves and heads to the bathroom. He tells Derrick about the banana speech he just gave Amber. Derrick asks what did you do with the one with the pickle inside it? Caleb says its in the freezer. Derrick asks are you going to give it to her? Caleb looks at Derrick and winks.
Where is the vote
Amber's going home 9-0
Alliances
Zankie = Frankie/Zach
The Detonators = Derrick, Frankie, Zach, Christine, Cody
Final 2 Deal "The HITMEN" – Cody & Derrick
Trilogy = Nicole, Christine & Hayden
Team America = Donny, Derrick, Frankie
Old timers = Jocasta/Donny
Nicotine = Christine/Nicole
(Defunct or unknown status)
Bomb squad = Caleb, Amber, Frankie, Derrick, Cody, Christine, Zach, Hayden
Not a showmance= Hayden/Nicole
Los Tres Amigos = Derrick, Cody, Zach
The bottom Feeders = Derrick/Nicole
We hate Devin = Christine and Zach
Outsiders = Brittany, Victoria, Jocasta, Donny
Stalker = Caleb/Amber
Quad Kings = Derrick, Zach, Cody and Hayden (still being built)
More polls here https://www.onlinebigbrother.com/big-brother-compendium/big-brother-16-polls/
One way to support this site that doesn't cost you anything extra is making your Amazon purchases through the links below Amazon.com OnlineBigBrother Link
For Canada use link Amazon Canada OnlineBigBrother

[polldaddy poll=8217242]