POV Holder:
Hayden
Next POV
Aug 2nd
POV Used
YES
POV Ceremony
July 28th
HOH Winner 1:
Frankie
HOH Winner 2:
 Zach
Battle of the Block Winner
 Nicole/Christine
Next HOH/ Next BOB
July 31/Aug 1
Original Nominations:
ZACH's Noms (Christine & Nicole) Frankie's Noms (JOcasta & Victoria)
Final Nominations:
Amber & Jocasta
Have Nots
Nicole, Caleb, Christine, Derrick
POV Players
Frankie, Victoria, Jocasta, Donny, Hayden & Christine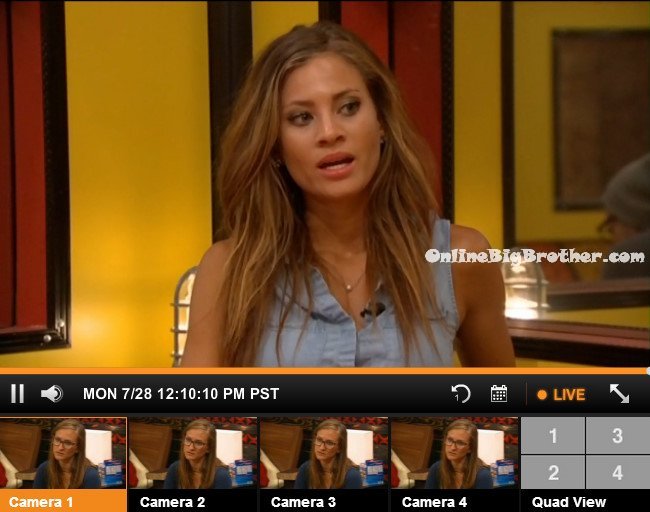 Take Advantage of the FREE 2 day Trial to watch all the drama!
Power Of Veto Ceremony Results:
Hayden used the veto on Victoria
Frankie nominated Amber as the replacement nominee
11:16am – 12:13pm Big Brother blocks the live feeds for the Power Of Veto Ceremony to take place. The plan is for Hayden to use the veto on Victoria, removing her from the block. As head of household Frankie will then nominate Amber as the replacement nominee. Following the veto ceremony before it ends Zach will then give his "Zach-Attack" speech taking aim at Amber. This is all part of the Team America mission – "Play the role of puppet master and get two Houseguests to have an argument at either the nomination ceremony or the veto meeting." According to the rules only 1 house guest has to attack another for a certain amount of time for the mission to be successful. (They failed their first attempt during the nomination ceremony.) Caleb know Amber is going on the block and thinks that its his idea when in fact it was planted in his head. He thinks Amber will apologize to him for being distant with him. He also believes Jocasta is the one being removed from the block which will likely upset Caleb as he feels she deserves to go to jury over Victoria. Caleb plans to take all the blame for Amber being nominated.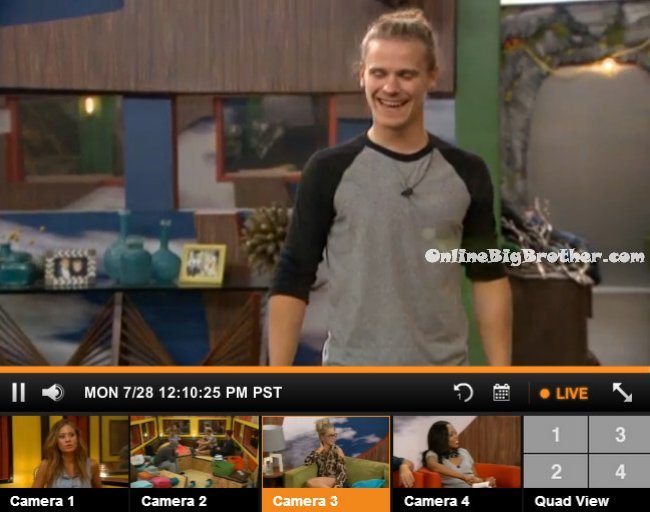 When the live feeds return – Amber is in the hive room talking to Frankie. She tells him that she still wants him to be standing at the end of the game. She says this is just messed up because I trusted you in this game. Amber leaves the room. Cody, Derrick and Frankie talk about how Zach is throwing them all under the bus. Frankie says what you need to remember is that this is Zach's game. They talk about how Jocasta is balling because she is up on the block when she thought she was coming off. Cody says Zach isn't going to burn us .. I just hate how he throws our names out there ..throwing us under the bus. Frankie says Beast Mode Cowboy … Beast Mode Pu$$y!
Amber goes to bed in the earth room. Caleb walks by with his head down and goes outside. Zach tells Caleb he needs to go talk to Amber. Caleb says not right now she is pissed and throwing things around.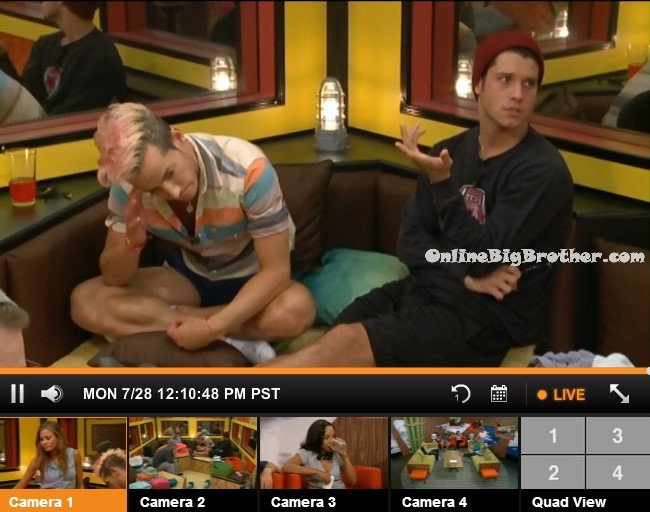 12:17pm Up in the HOH room – Frankie tells Zach first off great job! But you need to stop throwing people under the bus. Zach asks what do you mean. Frankie says you told Amber not to trust me. Zach says I never told her that. Frankie says that Amber says she finds it hard to trust me because of what you said. You need to stop throwing the detonators under the bus. Zach says I was thinking because I want everyone to hate me .. everyone doesn't want to hate me because that's what I want. Frankie says yeah that's beautiful. Zach says that was ether! Zach heads down stairs.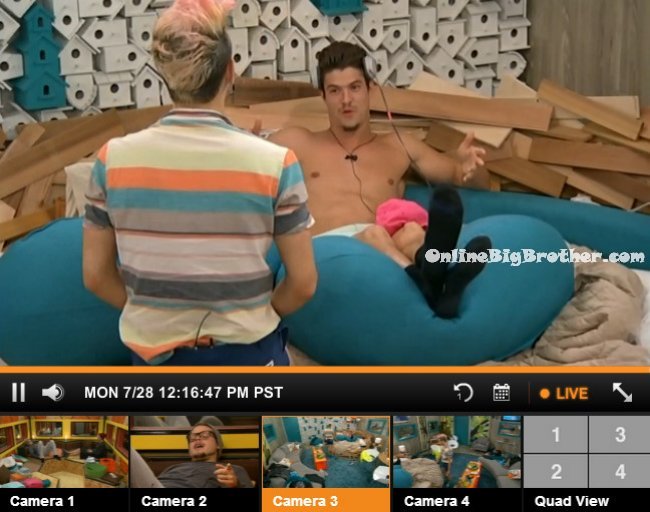 12:30pm In the kitchen – Donny asks if Amber is okay. She says its okay people are just backstabbers.
In the hive room – Derrick and Cody continue to talk. They agree that Amber won't throw them under the bus because she knows if she does she will go home. Derrick talks about how Caleb was taught that if you lose you die. That's why he thinks he can win everything. Losing isn't an option. Derrick says I don't trust Frankie. Cody says you and I have the most trust in this game. If Amber blows us up we have the most to lose. Amber comes in and Derrick asks do you want to talk? Amber asks about what?! Derrick says you think we knew about it? I am not an actor, we were just as shocked as you are. Amber says that you guys are all working together… you all are just using Christine and I as pawns. I don't get why people don't backdoor Zach!? Derrick says that is the plan but.. Derrick tells Amber that she has his vote but you have to get Caleb's vote. Amber says I don't trust anyone in this house.. because Frankie has put me up twice now. Derrick says I think Caleb's plan is that you are going to come talk to him and he saves you again making him the knight in shining armour again. Cody says you don't need to convince me of anything. I am working with you, not Jocasta. Amber says this just sucks that this is because of personal reasons .. Amber gets up and tries to leave and then opens the door again and says that she doesn't want a relationship because she lost someone that was close to her… Amber leaves the room starting to cry.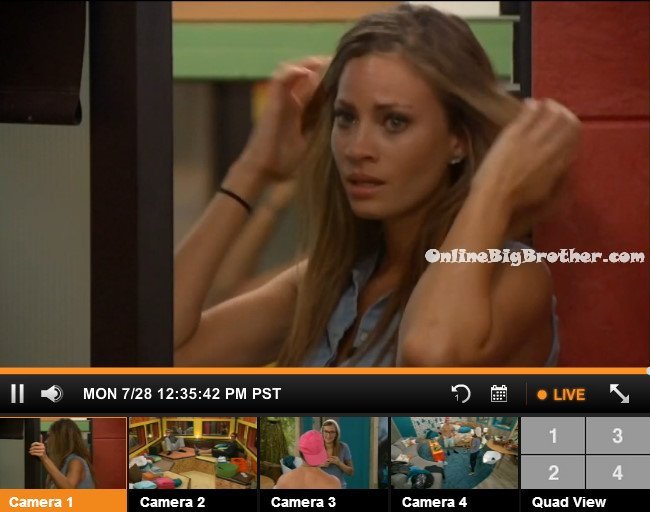 12:40pm Up in the HOH room – Zach asks Caleb how perfect was that?! They laugh about it. Zach then asks but what was up with Hayden using it on Victoria and not Jocasta?! Right?! Caleb says yeah he switched it up. Caleb brings up how Amber told someone to tell him she wanted to talk to him. He says why has she not learned by now that if she wants to talk to me she should come talk to me herself. Caleb says she went up to Frankie and requested to talk to me .. You are not royalty .. you do not request to talk to me. Zach tells Caleb that was a brilliant plan of yours!! Frankie, Cody and Hayden join them. Caleb says Amber is talking to the wrong people .. I am the only one that can save her right now. She needs to come talk to me. Caleb says we are the main 6 and we deserve to be in jury. (Caleb, Cody, Hayden, Frankie, Zach, Derrick)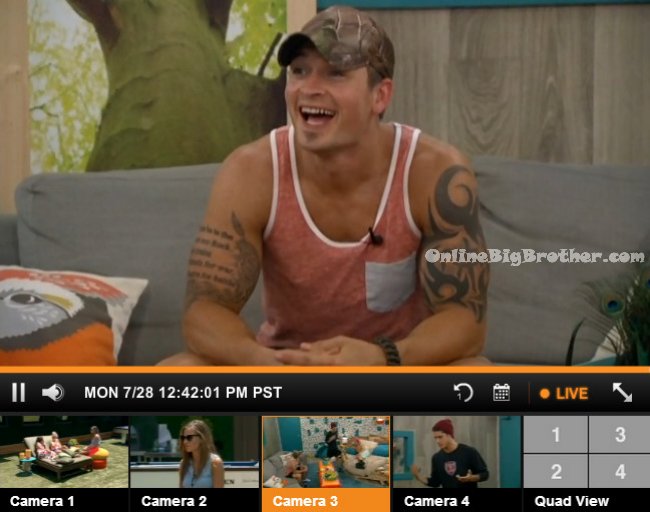 12:50 – 1pm Out in the backyard – Jocasta, Amber and Nicole talk about how Zach has attacked 3 girls this week. Amber heads inside and talks to Christine in the bathroom. Christine comments on how Frankie said he received information this morning… What information? Amber says I saw Zach smiling and looking at Caleb during the veto. I knew it was about to be used and I was going to go up that's why I was so calm. Amber says if I stay we need to win HOH. Christine says if you go I am screwed!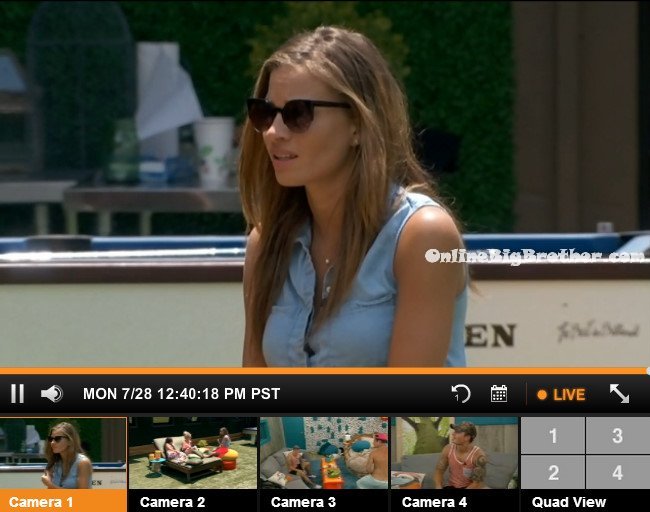 Alliances
Zankie = Frankie/Zach
The Detonators = Derrick, Frankie, Zach, Christine, Cody
Final 2 Deal "The HITMEN" – Cody & Derrick
Trilogy = Nicole, Christine & Hayden
Team America = Donny, Derrick, Frankie
Old timers = Jocasta/Donny
Nicotine = Christine/Nicole
(Defunct or unknown status)
Bomb squad = Caleb, Amber, Frankie, Derrick, Cody, Christine, Zach, Hayden
Not a showmance= Hayden/Nicole
Los Tres Amigos = Derrick, Cody, Zach
The bottom Feeders = Derrick/Nicole
We hate Devin = Christine and Zach
Outsiders = Brittany, Victoria, Jocasta, Donny
Stalker = Caleb/Amber
Quad Kings = Derrick, Zach, Cody and Hayden (still being built)
One way to support this site that doesn't cost you anything extra is making your Amazon purchases through the links below Amazon.com OnlineBigBrother Link
For Canada use link Amazon Canada OnlineBigBrother
More polls here https://www.onlinebigbrother.com/big-brother-compendium/big-brother-16-polls/
[polldaddy poll=8207784]