POV Holder:
?
Next POV
Aug 2nd
POV Used
?
POV Ceremony
Aug 4TH
HOH Winner 1:
Donny
HOH Winner 2:
Nicole
Battle of the Block Winner
 ?
Next HOH/ Next BOB
Aug 8/Aug 1
Original Nominations:
?
Final Nominations:
?
Have Nots
?
POV Players
?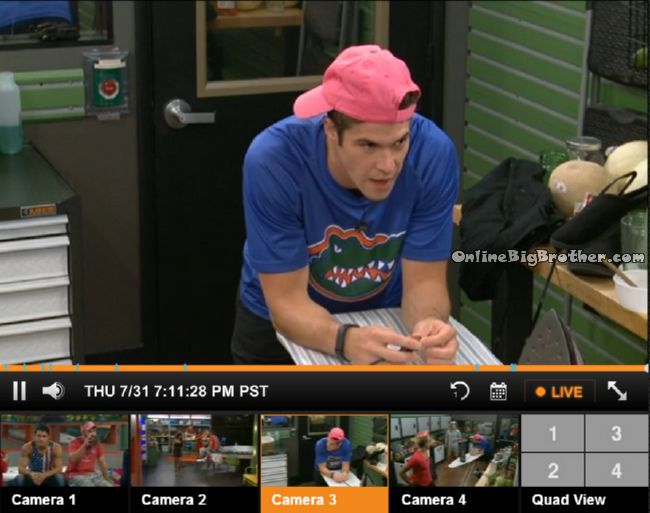 7:10pm Storage room Frankie, Zach and Hayden
Zach is freaking out that Nicole is going to put him up. Frankie thinks they can get Jocasta and Victoria put up and they will lose the BOB and stay on the block.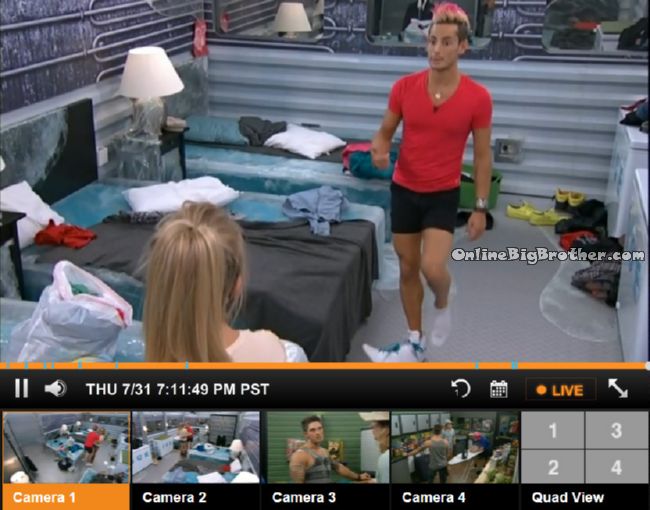 7:11pm Have Nots Frankie and Nicole
Frnakie says she needs to put up two weak players so she stays HOH. Frankie thinks Donny will want Caleb and Zach put up. Frankie asks her if she can try and keep him safe it would be much appreciated.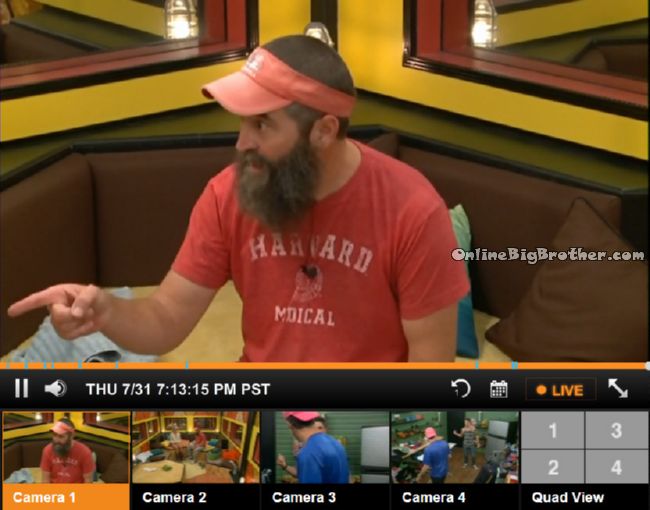 7:13pm Donny and Nicole BEEHIVE
Nicole thinks they can come up with a really good plan this week.
Donny says it's going to be a perfect plan
They agree they cannot nominate certain people themselves so they can use each other.
Donny wants to pull in Hayden on making these decisions. Nicole is 100% down with that plan. Donny says they have to be careful if the house sees Hayden with them too much it will alert them. Donny proposes they invite everyone to talk to them and try to spend equal time with everyone before the nomination ceremony. .
Donny was cheering when Christine lost the HOH because she was going to put him and Jocasta up he knows that for sure.
Donny says there isn't a lot of choices for people to go up only 9 people. They agree HAyden isn't going up.
Donny – we need to throw a weak player on each team.. someone they will consider is weak at least.
Nicole – we need to pretend we don't know each other's nominations
Nicole says there's people in the house that are throwing competitions it pisses her off because she has to fight in the competitions. . Donny says after today there's only a handful of people that haven't won a HOH and there's only 3 people that haven't been nominated , COdy, Derrick and Frankie.
Nicole wants them to be chill tonight. Donny says they have some time in the morning to talk/
Nicole feels she was going to be used again this week she's happy she won the HOH.
Donny thinks he would probably have gone up again too. He says he doesn't want CHristine to go home but she might have to go up.
Donny says he's had a bad day he was sitting thinking he wasted a whole summer to hang out with a bunch of juveniles. He's really needed this win.

7:20pm Jocasta cries because her showing in the competitions is beyond bad
Derrick come sin at 7:25pm to comfort her.
7:30pm Storage room Nicole and Zach
Nicole says she does have a reason to put him up. She tells him she has a target and it's not Zach but some guys have to go up this week, "It's all been girls so far"
Zach says he knows 4 people she's not going to put up he thinks he'll be one of the 3 options she says because Donny will have 2 people he wants up for sure. "I expect you to put me up"
Zach tells her he doesn't mind if she puts him up he can get more air time
Nicole – I could put up Victoria and Jocasta
Zach – THen you will stay HOH
Nicole – I don't know if this will be a working thing (She's pretending the HOH's will not work together this week like all the past weeks when really they will be)
Zach – you guys want two different people up.. he wants Caleb gone
Zach wants to know what Donny and her were talking about in the BEEHIVE room. Zach says he told Nicole everything when he was HOH.
Nicole says he bull crapped her when he was HOH .
Zach – I can tell this will be the first BOB where the HOh are not working together
Zach – Who is your target Boy or girl.. I can keep my mouth shut
Nicole – Please
With a live feed subscription you can go back and watch any event that has been shown. Use out site as a index and watch only the parts worth watching.
Try It Free! Subscribe now to the official BB16 Live Feeds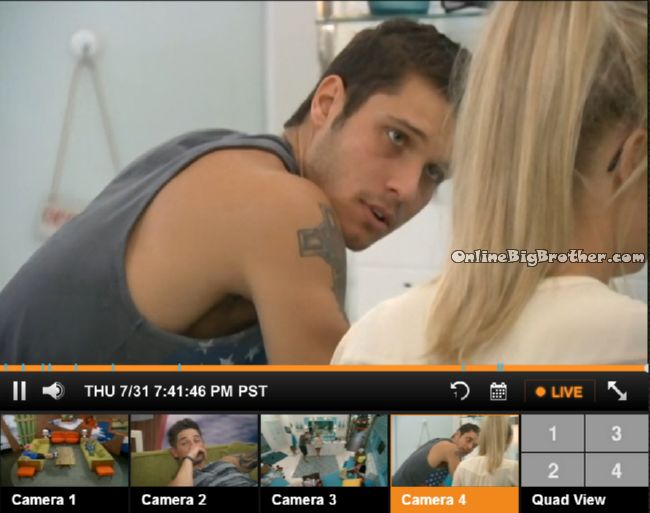 7:41pm Nicole and Cody
Nicole is saying she wants to solidify something with Cody, Derrick and Hayden. She's not sure she'll be working with Donny on this HOH.
Nicole says Donny told her he's having a bad day that's all they've talked about so far.
Nicole says she thinks Donny wants Caleb gone, But she really doesn't know for sure.
Cody doesn't' want Donny to target Derrick
Nicole agrees – "I trust Derrick a lot" Nicole is going to try and protect Derrick this week. Nicole assures him he's not going up by either HOH this week.
Christine comes in and hugs her.
Alliances
Zankie = Frankie/Zach
The Detonators = Derrick, Frankie, Zach, Christine, Cody
"The HITMEN" – Cody & Derrick
Trilogy = Nicole, Christine & Hayden
Team America = Donny, Derrick, Frankie
Old timers = Jocasta/Donny
Nicotine = Christine/Nicole
More polls here https://www.onlinebigbrother.com/big-brother-compendium/big-brother-16-polls/