POV Holder:
?
Next POV
July 26th
POV Used
?
POV Ceremony
July 28th
HOH Winner 1:
Frankie
HOH Winner 2:
 Zach
Battle of the Block Winner
Next HOH/ Next BOB
July 31/Aug 1
Original Nominations:
?
Final Nominations:
?
Have Nots
Nicole, Caleb, Christine, Derrick
POV Players
?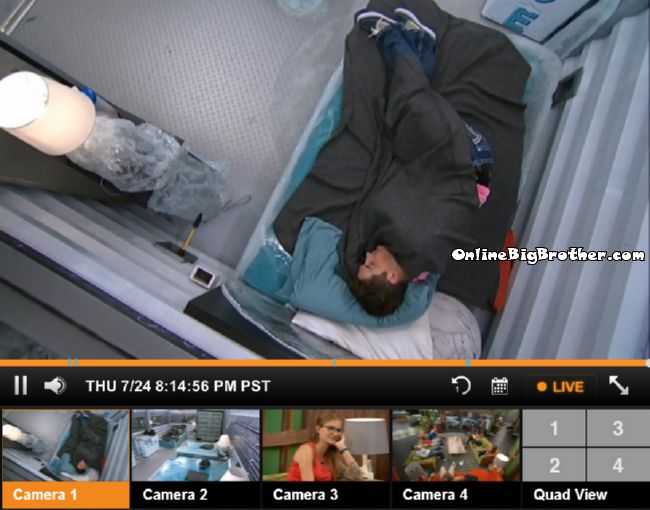 8:15pm Back in the gutter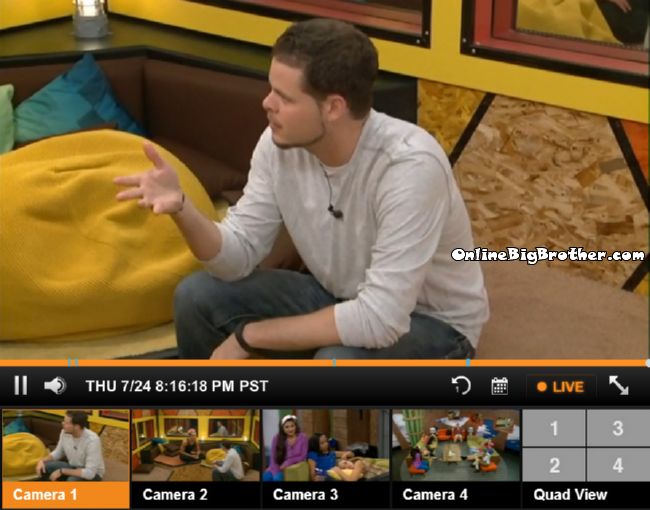 8:16pm Derrick and Frankie BEEHIVE
Frankie says he's a little concerned, "Do we want him to stay HOH " (Zach)
Derrick – probably not..
Frankie – He wants Caleb gone.. he doesn't want to put up Donny.. which puts me in a awkward position
Derrick – "and Donny is part of team america.. who does he want to put up"
Frankie – Jocasta with either Nicole or Victoria
Derrick asks if Amber was trying to get donny out or one of them during the HOH competition.
Franke says Amber doesn't think She saw "Pretty colours" and was preoccupied
Frankie wants Derrick to try and get Zach to put up Donny.
Derrick says Frankie has to be really careful with Zach because he's all over the place. If Frankie is forced to put DOnny up he'll have to pull Donny aside and tell him everything about the plan this week.
Derrick wonders why Zach is protecting Donny derrick thinks if Donny won HOh he would have put Zach up for sure.
Derrick – you got the hardest HOH to work with (Zach)
Frankie – He's predictable in his own unpredictability
Frankie wonders if he should put up Donny and HAyden. Derick is worried about the repercussions. Frankie can tell Hayden do you want to fall on the sword for Nicole she's a Have Not don't want to put her up. "

8:32pm BEEHIVE Frankie and HAyden
Frankie tells him the plan is to backd**r Caleb. He says the four people that are not on the bombsquad are going up but he doesn't want to put Nicole up because she's on slop and might lose. He doesn't want to put DOnny up because he's won so many competition already.
Frankie – What are you thinking of
Hayden – Ego wise I want Caleb to go. BUT Caleb won't put any of us up so why get rid of someone like that"
Hayden says amber and Jocasta are two player that will put them up those are the better targets in his mind. even though caleb is annoying to live with he's good with them. Hayden's list of people to go this week is 1) Amber 2)Jocasta 3)Donny
Hayden says Donny's targets are Amber and Caleb they're the same targets as them so he should stay a bit longer.
Hayden says Amber/Victoria vs Jocasta/Donny
Hayden says this way their options to evict are Jocasta/ Amber or Caleb if they want to backd**r him.
frankie says Caleb is going to freak out.. he wonders if Zach is going to do it. Frankie tells Hayden to go talk to Zach and tell him to do it, "It's the smartest thing"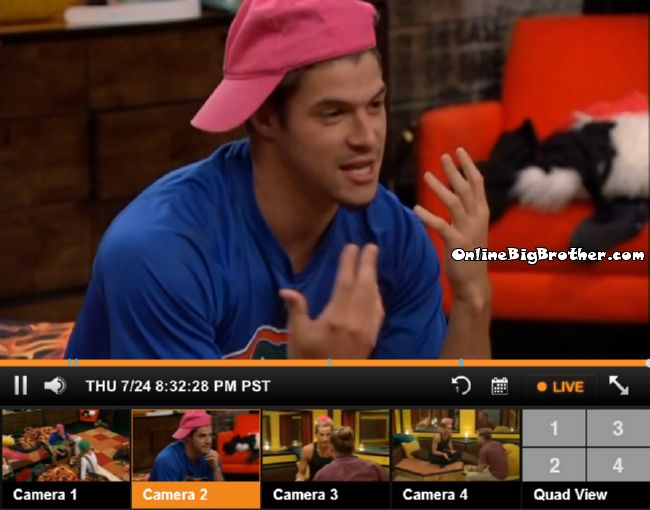 8:32pm Zach and Nicole
Nicole tells him she will never put up the guys. She points out she gave him the germany trip. Zach thanks her says he does owe her a favour. Zach proposes he puts up Victoria and Amber, Nicole calls this a big move.
Zach says the plan is to backd**r Caleb the four pawns are Jocasta, DOnny, Victoria and ??? Nicole thinks it will be her.
Nicole says she's not putting Zach up she wants to work with him.
Zach says he's going to be the HOH so Frankie is putting up strong players.
Nicole warns him that Amber is after Zach 100% Amber told her to her face.
Zach is worried about taking out Amber before Caleb he's going to go crazy in the house.
Zach and Nicole hug he promises her she will not be going up by him.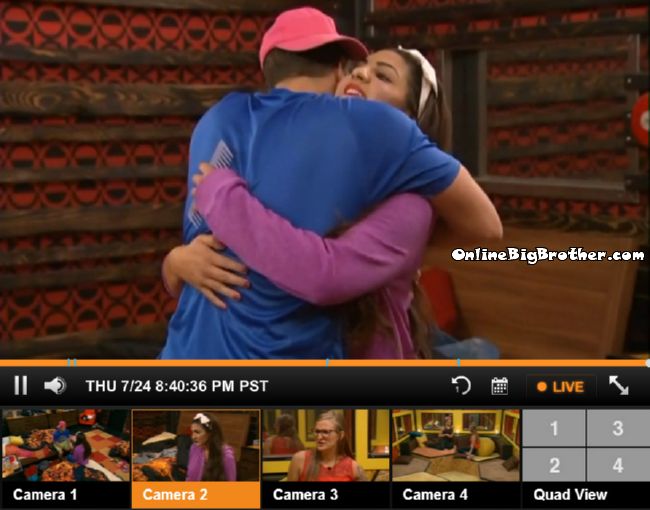 8:39pm FIRE ROOM Victoria and ZACH
Zach tells her he's not putting her up. they hug

8:38pm Christine and Frankie
Frankie says Zach doesn't want to put Donny up which is fine Frankie will do it, "I wanted hayden to be like I'll go up but he didn't… cause that will be awesome Donny and hayden up"
Christine tells him to put up Donny and Nicole. Frankie – She'll kill me
Christine will tell her she's not going home.
Zach comes in says Christine is going to have to take one for the team. He says Christine has a severe case of narcolepsy and will fall asleep in the BOB. (#WILDCARD)
Zach says Victoria will not throw the BOB he was just talking to her.
Christine says she will not throw the Battle on the block She's watched this show too many times to know that is a bad idea.
Zach asks her why she won't throw it. you are not going home.. lets be honest Christine.. you can't throw the competition cmon.. earn some stripes for the team.
Christine – NO"
Zach – Christine cmon you gotta do this
Christine – I'm telling you right now you put me up i'm not throwing it.
(They got back and forth through all the possible scenarios it's pretty exhausting Zach is going to have a brain aneurysm)
Zach puts up Hayden and Amber with Hayden throwing the s1t out of the BOB
Frankie will put up JOcasta and Donny
Christine – so Victoria isn't going up at all.. what if Caleb win the POV and pulls down Amber then you can't get rid of Donny, Amber or Caleb
Frankie's jaw drops
Zach reminds them they can't send amber home before Caleb, "we've talked about it this last week"
Hayden rolls in .
They tell him theres a new plan, Hayden will go up with Amber and throw the competition
Hayden – I don't want to be involved again. .
Hayden suggest they put up amber/Victoria and Donny/Jocasta, "No matter what happens we have an opportunity to backdr**r Caleb if POV isn't played Jocasta or Amber goes home.
Hayden says the chance of Caleb winning the POV and taking down Amber is slim
THey ask him again if he'l throw the comp
Hayden says he'll try and not make it too obvious but he really doesn't want to .
Hayden points out that Caleb won't put them up he's after the same targets as they are.
Zach proposes he puts up Victoria and Caleb and convince him to throw the competition and if Caleb wins the POV he'll put up Amber if he doesn't Caleb goes home. Zach will tell Caleb to throw it
They agree with Hayden.
Hayden – I want to see Caleb go more than anyone else in this house but let's get rid of Amber and Jocasta the two people that will put us up.
Zach's plan A is to convince Caleb to throw the competition
Frankie – That is really smart
Plan B Amber/Hayden or Donny and they throw it they have the risk of Caleb winning POV and taking down Amber down.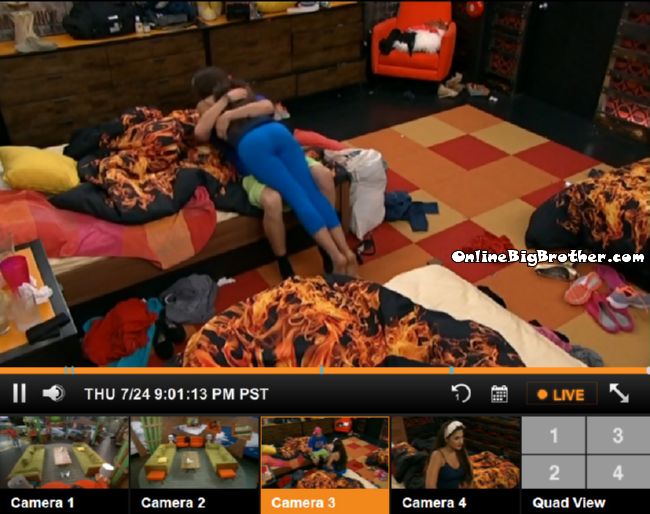 9:00pm FIRE ROOM Zach and Victoria
Zach tells her they have three plans and she's not involved in any of them
Victoria people volunteering,
Zach – "I hope so it's all contingent on Caleb'.
9:03pm Zach and Donny
Zach tells him he has to convince Caleb to go up on the block and throw the BOB. Donny doesn't want to go up says he's done enough for the house.
Donny says the target should be Amber because she controls Caleb.
Donny says theres 4 people that haven't been nominated why can't one of them go up "I've paid my dues" suggest one of Derrick or Christine goes up just to be fair.
Zach thinks this is good idea says Donny has "paid it forward 100%"
Zach – "Donny you are exactly right. So Frankie puts up Derrick/Christine or Cody/Christine.
Zach tells him about Plan A put up Caleb/Victoria and Derrick or Christine. They have Caleb throw it.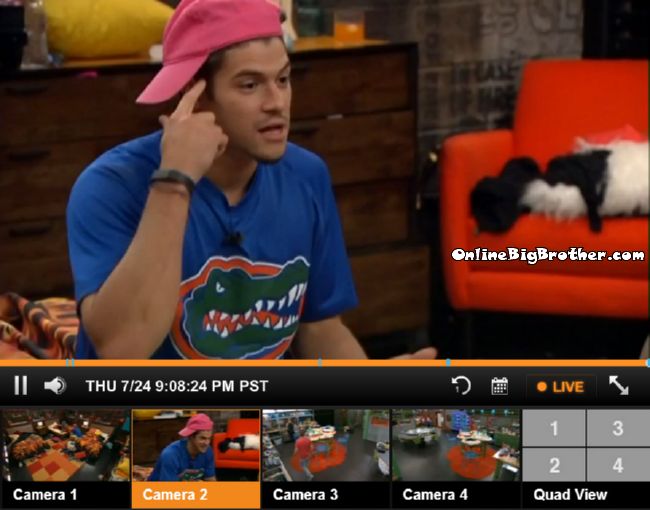 9:07pm Cody and Zach FIREROOM
Zach tells him there's a Plan A, Plan B and Plan C
Plan A convince Caleb to go up on the block with Victoria and throw it to Christine and Hayden.
Plan B he puts up Amber/HAyden and Hayden throws it . Zach adds that Amber is targeting him everyone has said it.
Cody doesn't think people are going to throw these competitions.
Zach says Christine hasn't done sh1t she needs to go up.
Cody – I don't' want christine to get f** but at the end of the day" he explains everyone in the alliance has to do something, they've all won HOH's Christine has done nothing.
Cody warns if amber goes home they have BEASTMODE cowboy comin in hot
Zach – He's coming in hot anyways.
Derrick rolls in, Zach says Christine has got to go on the block.. "
Derrick – she's safe.
Zach – Devin brought Christine into the alliance says she has done anything for them.
Zach to Cody – You have Christine in the palm of your hands.. all she does is laugh all day and let us do the work
Derrick – you've seen Andy's season right.. he flipped on his alliance
Cody – She can flip and f*** us
Zach – she's going up
Derrick- she doesn't have a choice..
Cody – you have me to calm the storm
Zach – she's going up with Amber against Hayden
Derrick she will win
Zach – Hayden and Caleb. (they are all over the place with their nominations)
Derrick says Hayden is more intelligent than Christine.. he's going to embarrass her
Derick says Caleb will not throw himself on the block again he's going to have to be backdo*rd
Zach – this sucks dude
Derrick – welcome to the club dude
Zach – WE all got it Back to back to back
Zach tells him what he brings to the table is he's the target over all of them.
Zach – Oh my god dude this game is hard'
Zach tells them they are both safe. THey thank him say they are BEAST in this game.
Zach leaves
Cody says to Derrick "Bro we are so good at this game"
Cody – Bro i'm going to miss seeing Brittany walking around in her bikini
Zach rolls back in,
Zach is pissed that Christine is in the Detonators and Hayden is not
Derrick says not everyone can be in the alliance.
Cody says Caleb only worked out one time he is the least active
Zach Victoria and Amber next to Jocasta and Christine ..
Zach – Dude that's it.
9:12pm BEEHIVE Donny tells Frankie about the Team America task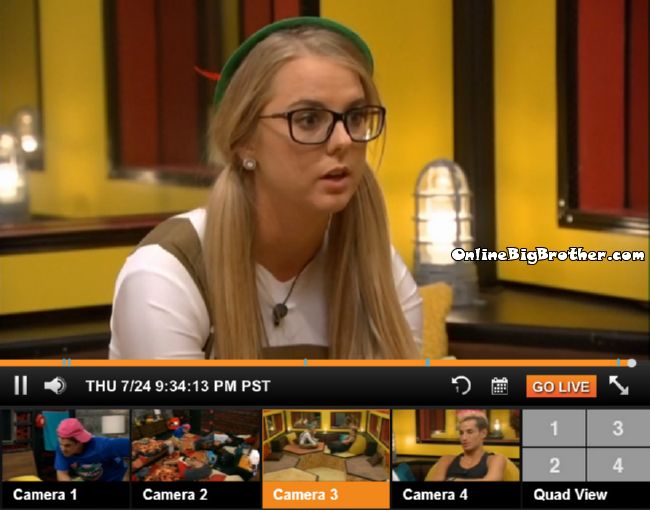 9:44pm BEEHIVE Nicole and Frankie
Try It Free! Subscribe now to the official BB16 Live Feeds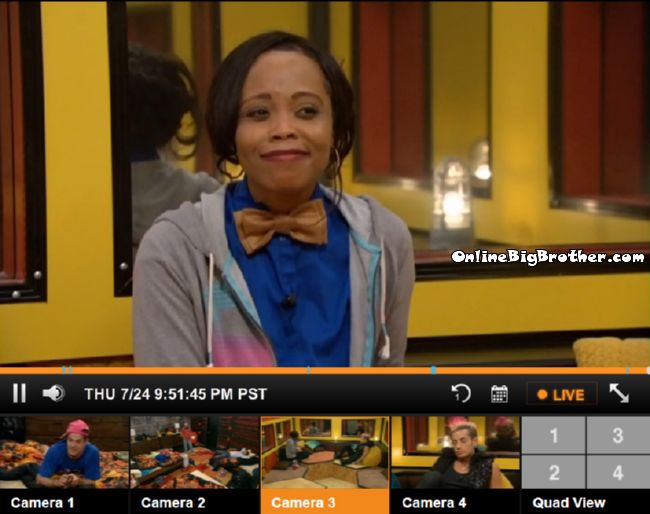 9:52pm BEEHIVE Jocasta and Frankie
Try It Free! Subscribe now to the official BB16 Live Feeds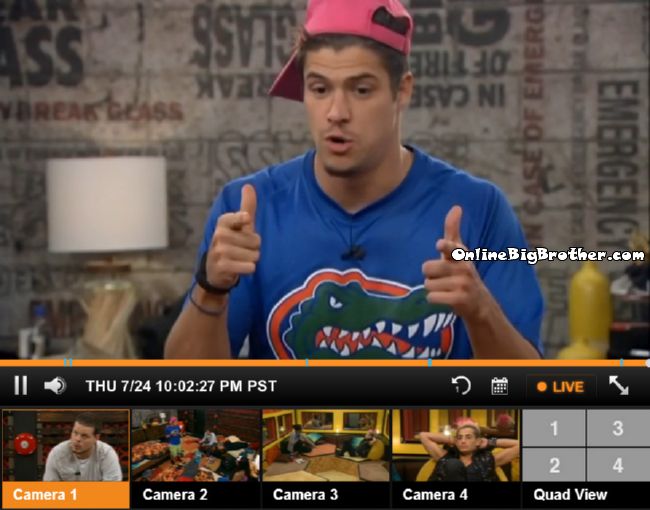 9:54pm FIREROOM Derrick, Zach and Cody
Zach – Christine.. if she goes home whatever.. I know things are changing dude.. I truly think I take a lot of heat off your guys back.,. you know that's something to bring to the table
They agree they don't want Donny to go up he's done enough pawn work.
Zach points out that 20 seconds after Zach won the HOH Caleb came up to him and said "You're not putting up Amber right"
(They are pissed at Christine for not being a contributing member of the alliance. Christine told Cody she wanted Donny to go home this week This pisses Cody off)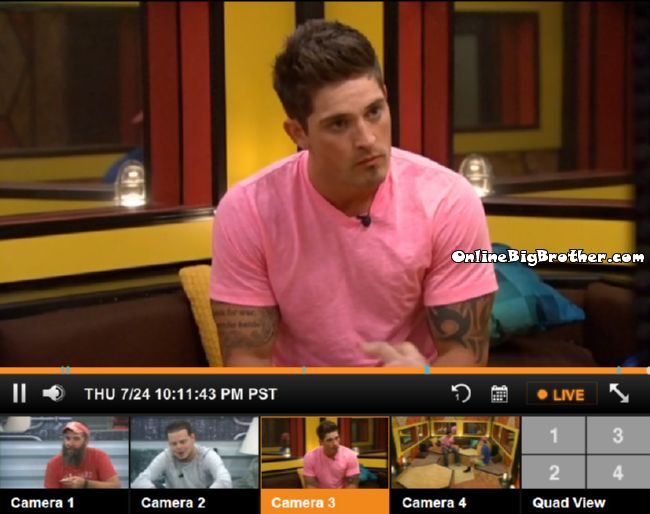 10:16pm Beast mode Cowboy and Zach
Zach say Amber is telling people today that she's putting him up if she wins the HOH, She told people inside their alliance and not just Christine. Zach asks him who he should put up. Zach says they needs someone to go up that will throw the BOB.
Beastmode says no way is he volunteering.
Zach says if he doesn't figure out what to do tonight tomorrow morning he's going to do something stupid.
Caleb tells him when Zach was on the block the entire alliance turned on him because of what he did. They turned it around and Zach was saved because he was in the alliance. "It's the alliance that saved you"
Alliances (Some Of these are defunct)
Zankie = Frankie/Zach
Bomb squad = Caleb, Amber, Frankie, Derrick, Cody, Christine, Zach, Hayden
Team America = Donny, Derrick, Frankie
Nicotine = Christine/Nicole
Not a showmance= Hayden/Nicole
Los Tres Amigos = Derrick, Cody, Zach
The bottom Feeders = Derrick/Nicole
We hate Devin = Christine and Zach
Outsiders = Brittany, Victoria, Jocasta, Donny
Old timers = Jocasta/Donny
Stalker = Caleb/Amber
Quad Kings = Derrick, Zach, Cody and Hayden (still being built)
Trilogy = Nicole, Christine & Hayden
The Detonators = Derrick, Frankie, Zach, Christine, Cody
Final 2 Deal "The HITMEN" – Cody & Derrick
One way to support this site that doesn't cost you anything extra is making your Amazon purchases through the links below Amazon.com OnlineBigBrother Link
For Canada use link Amazon Canada OnlineBigBrother
More polls here https://www.onlinebigbrother.com/big-brother-compendium/big-brother-16-polls/