POV Holder:
?
Next POV
July 26th
POV Used
?
POV Ceremony
July 28th
HOH Winner 1:
Frankie
HOH Winner 2:
 Zach
Battle of the Block Winner
Next HOH/ Next BOB
July 31/Aug 1
Original Nominations:
ZACH's Noms (Christine & Nicole) Frankie's Noms (JOcasta & Victoria)
Final Nominations:
?
Have Nots
Nicole, Caleb, Christine, Derrick
POV Players
?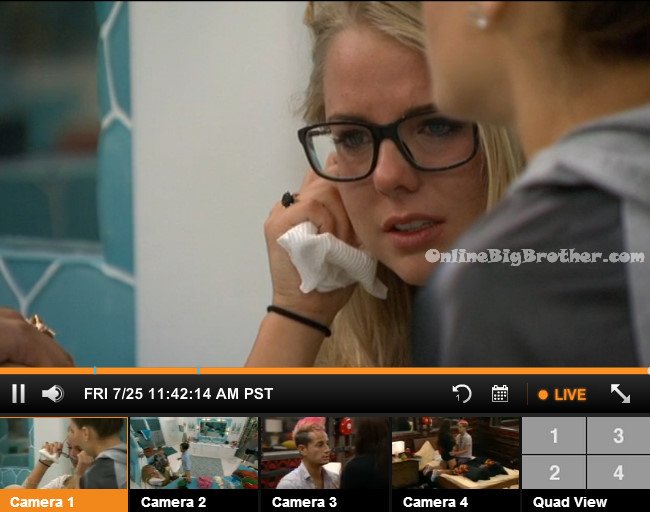 Big Brother 16 Live Feed FREE TRIAL – Use the FLASHBACK feature to watch everything you've missed!
10:15am – 11:35am Big Brother blocks the live feeds for the Nomination Ceremony to take place. As heads of household both Frankie and Zach have the task of nominating 2 house guests each. This week the Team America Mission has taken a role in instigating drama with the nominations this week, however I think Zach's nominations would be just as insane without the added fuel from Derrick, Frankie & Donny's incentive to bank another 5 stacks each.
Team America Mission:
Play the role of puppet master and get two Houseguests to have an argument at either the nomination ceremony or the veto meeting.
Zach's Nomination speech for CHRISTINE & NICOLE:
I nominate You Christine and you Nicole. Christine if we pulled out the big brother dictionary today and we looked up the word floater there would be a picture of you and Jenn City holding hands never being called to the diary room. Basically irrelevant!
Nicole, oh, Nicole you're looking super cute in your little Germ-itard, like a true superfan. Well you dingus froot loop, I bet you didn't see this coming!
Frankie's Nomination speech for JOCASTA & VICTORIA:
I could say I was making these nominations out of strength but they're actually kind of cowardly. You 2 have proven over & over again that you can handle being on the block. This has been an emotional week for me and I didn't feel like taking on any additional burden. You're staying here.
When the live feeds return all hell is going to break loose ..
Watch for FREE with the 2 Day TRIAL!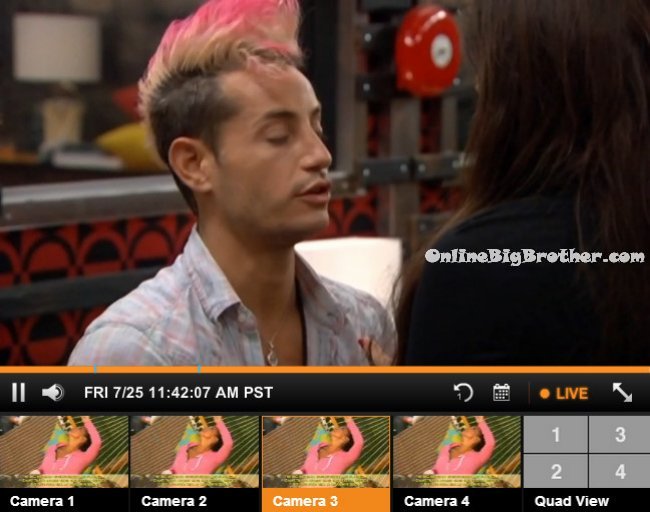 11:35am – 11:55am In the fire room – Victoria is talking to Frankie. She asks why her?! She says that being up against Jocasta if Donny wins the veto he will use it on her. Frankie tells her that he hopes he stays HOH so that Zach isn't in power any more.
Victoria talks to Derrick in the hive room. She's crying and doesn't understand why she always has to go up. Jocasta comes in and asks Victoira to please not throw the Battle of the Block. Victoria asks are you serious!? Every competition I go into I kill it! Jocasta says I just think that was the plan of putting us up.
In the bathroom – Nicole comments on how Zach called her a dingus. Amber tells Nicole that she did the right thing by laughing. Nicole hugs Jocasta and Hayden. The cameras switch to the storage room where Cody is talking to Christine. Cody reassures her that she is fine we have the votes to keep you no matter what. Hayden joins them. They talk about Zach's speeches. Cody says I had no idea he was going to say that! He is just on a power trip right now. Nicole joins them and they laugh. Frankie joins them and tells them that he had no idea he was going to do that. The only thing he told me was that what he was going to do was going to be epic. I just need to remain HOH so that we can do what we what because I have no idea what he's going to do. Frankie leaves. Christine says that Zach is going to look like the biggest a$$hole! Nicole says that she thinks Zach is America's Player. He probably has to complete certain tasks. If that's correct then America must hate us! Christine says he is literally a bigger lunatic than Devin!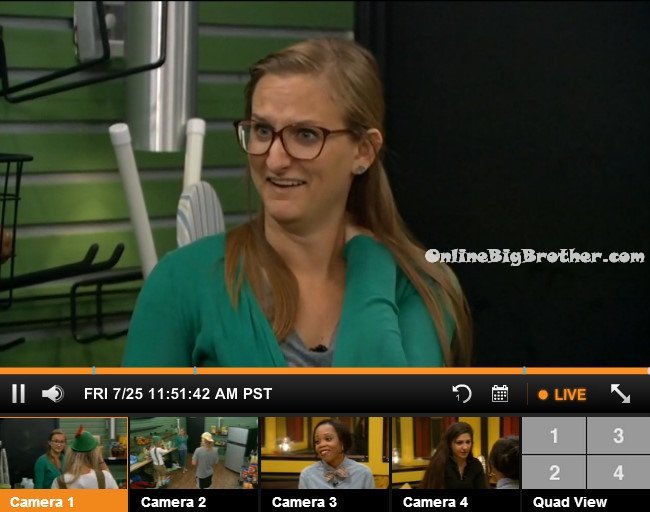 Up in the HOH room – Donny thanks Frankie and Zach for not putting him up. I appreaciate it because I've been up a lot. Zach says that he didn't deserve to go up and that he is the sole reason why Devin is going. We are paying it forward to you. Donny leaves. Zach says I might have told Nicole to not trust Christine.. So now they're not working together. I've stirred up a lot of sh*t in this house and in a good way!! Zach says that Nicole needs to stop crying.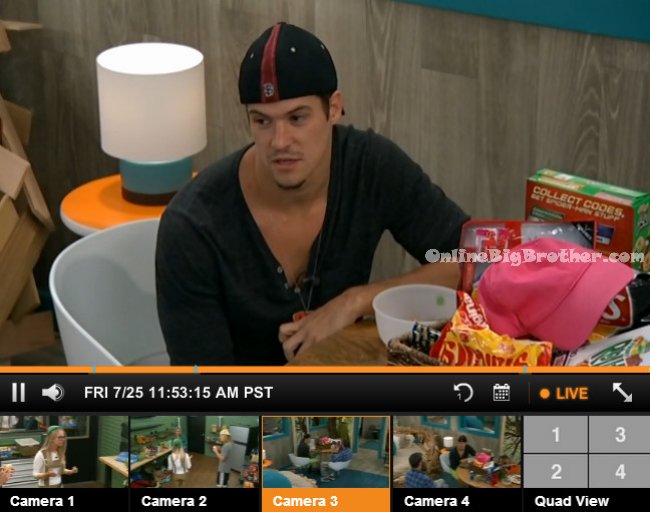 11:55am – 12:05pm Up in the HOH room – Derrick joins Zach and Frankie. Derrick gives a status report of whats happening in the house after the nominations. He says that at the moment everyone is split up. Derrick asks what he is going to do now. Zach says I am probably going to be even worse to them. This was the smartest move I could have made. Zach says that Christine is really pissed at me because I told Nicole not to trust her. Derrick tells Zach to just relax now. Zach asks is Victoria crying? Derrick says of course she is .. she's always crying. Zach says alright I'm going to come down.
In the storage room – Hayden tells Cody that was the funniest thing EVER!! Even before he started talking I almost started to laugh. Cody says me too. Hayden says once Nicoles started laughing so did we. Hayden leaves. Victoria enters and starts crying to Cody. I don't understand it! Frankie wants to be HOH too. He put me up because Jocasta and I were the easiest nominations. Thats just so stupid.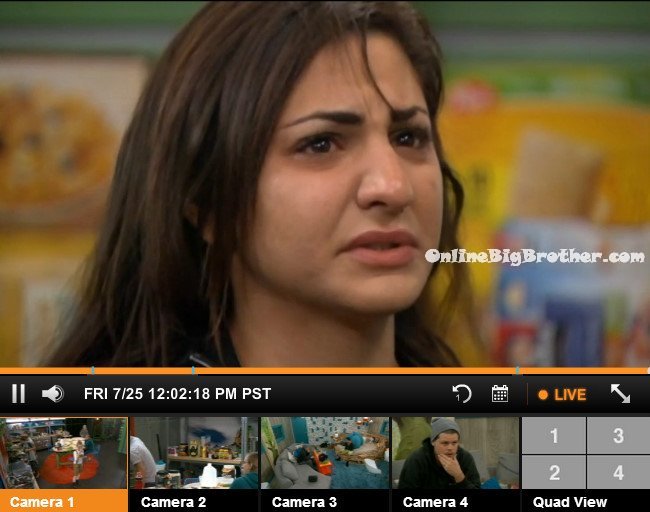 12:10pm – 12:20pm In the kitchen – Nicole asks Victoria if she is okay? Victoria says not really. Nicole says at least you weren't embarrassed on national television being called a froot loop dingus.
Victoria and Derrick head into the hive room. She tells him about how Jocasta asked her not to throw it. Derrick says of course not. Victoria says I just know there will be a high probability that I will lose it. Derrick asks did you think about going into the diary room? Victoria says no, I just feel so foolish I am always crying. It sucks that Frankie is just thinking about himself. I can already see Nicole and Christine winning it. Jocasta isn't a good competitor. She sucks. She's come in last in most of the competitions. It just sucks that even Frankie isn't supporting me. It sucks because I am close to him. Victoria asks why couldn't Amber go up on the block?! Derrick says you don't know there could be another plan. Victoria says If I don't win the veto then there is no back dooring. Derrick says no if he or anyone else he wants to win it .. then it would happen. Victoria continues to cry and says this just sucks so bad! Derrick tells her to just go out there and win it!
Victoria says I have just fought so hard in this game..
Take Advantage of the FREE 2 day Trial to watch all the drama!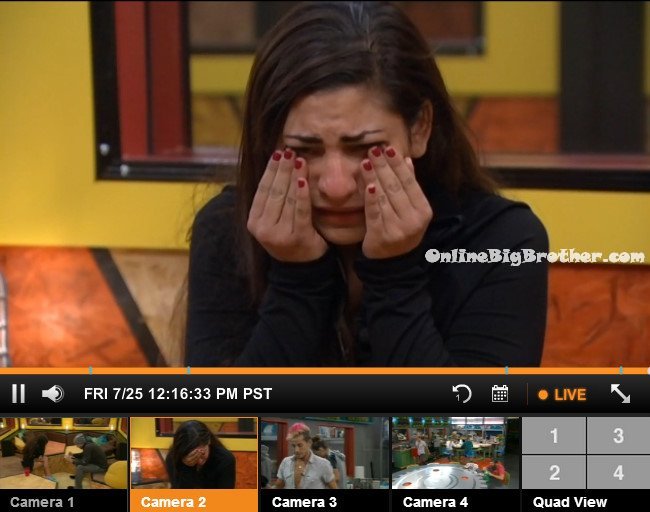 Up in the HOH room – Zach says that Donny told me to keep an eye on Derrick because if Nicole and Christine win the battle of the block he is going to be really happy. He's with them, not with us. They talk about Zach trying to turn Nicole and Christine against each other. Zach says it might not be good for you guys but it is good for me. Zach says Christine brings NOTHING to the table. She doesn't even bring us information. Obviously I don't want to send either of them home but if one of them does go I don't care. I hope that they lose the competitions. Hayden laughs at how sad Nicole looked in the germ-itard and how she's on slop too. Hayden leaves. Cody tells Zach that he doesn't want people to target Zach because you are connected to me. Zach comments on how he doesn't even want Christine in our alliance, I want Hayden in it. Zach says I want to start a new alliance with Hayden in it. Cody says no way .. I am not starting another alliance. Zach says if you're not with us, you're against us. Cody says I am not putting into another alliance we will look like idiots to all of America. Frankie joins them and tells him if your two nominations stay on the block and one of them goes home I think you're f**ked.
In the living room – Nicole and Christine are talking. Christine says we have to win HOH next week so we can put him up.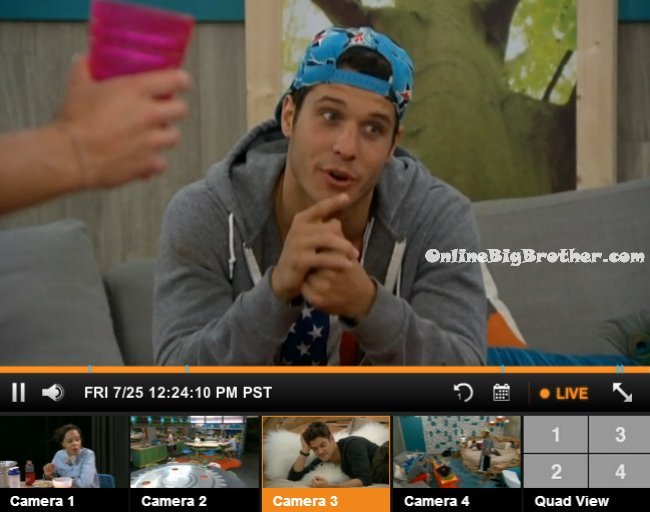 Alliances (Some Of these are defunct)
Zankie = Frankie/Zach
Bomb squad = Caleb, Amber, Frankie, Derrick, Cody, Christine, Zach, Hayden
Team America = Donny, Derrick, Frankie
Nicotine = Christine/Nicole
Not a showmance= Hayden/Nicole
Los Tres Amigos = Derrick, Cody, Zach
The bottom Feeders = Derrick/Nicole
We hate Devin = Christine and Zach
Outsiders = Brittany, Victoria, Jocasta, Donny
Old timers = Jocasta/Donny
Stalker = Caleb/Amber
Quad Kings = Derrick, Zach, Cody and Hayden (still being built)
Trilogy = Nicole, Christine & Hayden
The Detonators = Derrick, Frankie, Zach, Christine, Cody
Final 2 Deal "The HITMEN" – Cody & Derrick
One way to support this site that doesn't cost you anything extra is making your Amazon purchases through the links below Amazon.com OnlineBigBrother Link
For Canada use link Amazon Canada OnlineBigBrother
More polls here https://www.onlinebigbrother.com/big-brother-compendium/big-brother-16-polls/