Week 7
Week 6 ends with Clay being evicted by a unanimous vote. Becky wins the HOH after a gruelling endurance competition, Julia came in second, Jmac, Shelli round up 3rd and 4th place. The initial nominations are Steve and Shelli. The original plan Becky had with Vanessa' was for Johnnymac and Shelli to be nominated. (remember there was that fake final 8 alliance "Give me your word")
Becky tells the goblins she wants to save Shelli and put up Vanaessa she tells Vanessa she wants nominations to be the same to take out Shelli. Steve wins the POV. Becky tells Vanessa, Austin and the twins that Johnnymac is going up as the replacement The day of the veto Becky tells Austin the truth She's going to nominate Vanessa. With Jackie, Meg, James and Johnnymac's vote she can evict her. Once nominated Vanessa goes on a tirade for about a day "You don't know me I don't need the money, F*** u, Sell outs, My Word" Becky made it very clear who her target is and the hate between Becky and VAnessa starts to bubble over. Becky wouldn't put up with any of Vanessa's bullshit schemes, told her no game talk no deals, you're done.. The Goblins on the other hand had different plans.
Late Monday night the goblins start worrying that Shelli is more dangerous to them than Vanessa. They form their goblin circle and start to scheme about keeping Vanessa. They have the votes knowing flipping Austin and the twins will be easy. Come Tuesday Vanessa is back in full form campaigning hard to the Goblins. James approaches Austin and a new mutual level of trust is formed. A temporary ceasefire is agreed upon to take out jmac, Steve and Becky. The goblins want to keep Becky, The Austin/twins want to keep Steve, Jmac is screwed. Come Thursday morning it's apparent that Julia and Liz are becoming closer to Vanessa and they will strike at the goblins.
Shelli tried to stay but after losing clay and having the game implode it wasn't the same. She needed to win a comp this week but couldn't pull it through. I enjoyed Shelli in the house she was their to play. There's always the chance of her coming back.
At the end of the day the brass tacks is Shelli is going to Jury..
Checkout our top Animated Gifs from week 7 I promise you'll laugh
It's double eviction tonight a very exciting night for Big Brother :) Buckle up and grab your feeds.
Try CBS All Access FREE for 1 week.
How the week went down (Links)
Summary of live show
Austin votes to evict Shelli
Liz votes to evict Shelli
Julia votes to evict Shelli
Meg votes to evict Shelli
Steve votes to evict Shelli
Jackie votes to evict Shelli
James votes to evict Shelli
Johnnymac vote to evict Shelli
Evicted Houseguest is Shelli
[envira-gallery id="128117″]
HOH competition is called Getting loopy
Round 1
All right
Round 2
James. Meg, Liz, Jackie are out
Round 3
All right
Round 4
Vanessa and Julia are out
Round 5
All right
Round 6
Steve wins HOH
Steve nominates Meg and Jackie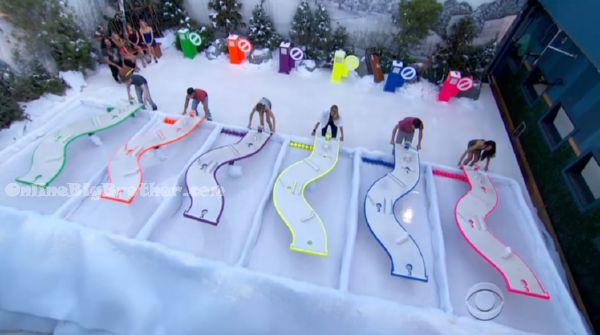 POV players = Steve, Meg, Jackie, James, VAenssa, Johnnymac
POV Competition called Slippery slope
POV Winner is Johnnymac
POV used NO!
Vanessa Votes to evict Jackie
Becky Votes to evict Meg
Jmac Votes to evict Jackie
Austin Votes to evict Jackie
James Votes to evict Jackie
Julia Votes to evict Jackie
Liz Votes to evict Jackie
Second evicted houseguest is Jackie
[envira-gallery id="128146″]
Next HOH is played later tonight.. Buckle up
Some more information about Double Eviction.
It's going ot be a new game tonight.. the changes in the house will be massive. Get the feeds and have some fun.