POV Holder:
Steve
POV Competition
Aug 8th
POV Used
Yes
POV Ceremony
Aug 10th
HOH
Becky
Next HOH
Aug 13th
Original Nominations:
Shelli and Steve
After POV Nominations:
Shelli and Vanessa
Have Nots
Meg, James and Jackie
6:54pm Storage room Goblins
James tells them Austin and the Twins are on board with keeping Vanessa.
They agree to form a goblin circle in the goblin den once Becky goes to work out.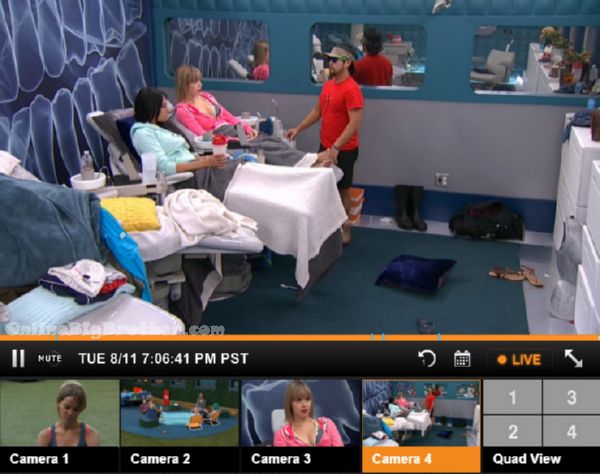 Goblin form their circle
James – Oh my god I got so much information my brain can't reciprocate all this stuff, I knew Becky was a snake in the grass
Meg says Becky was in the have nots when he was talking to Austin she told them they can't trust Austin "I don't know, none of it sounds good"
James starts to upload the information to them from his conversations with Austin and Vanessa.
James says everything vanessa is telling them is genuine it's very detailed (Zomg)
Meg – even if she's making things up there's still truth in they're (Zing Zomg)
James tells htm about Becky thinking he's sexist so when he's in power Becky tries to be the "women in the house" to romance him
James mentions Becky was feeding information to Shelli and Clay when he was HOH that is why they knew.
Meg thinks it was a bit of Vanessa/Becky
James tells JAckie Becky was telling them she can't talk game with Jackie because she's all over the place.
Becky was telling Shelli and vanessa that James was the target of Becky's
James goes off about the 3 steps Becky did to prove to Shelli, Clay and Vanessa she's loyal.
James – she told them she was part of the night crew gathering information from us, She switched to the day crew
James says Austin is agreeing with a lot of things Vanessa was saying.
James brings up Steve telling vanessa he's sticking with Shelli and Johnnymac
James- you can't trust Steve if you tell him something it goes to shelli
James- there was a lot of talk
James – Austin is onboard with whatever we need to do
James wants them to meet, "there's all this other stuff they'll tell ya"
The Goblins agree Becky is keeping Shelli safe because Becky knows Shelli is coming after them.
Austin rolls into the goblin circle they starts whispering to Austin about Becky talking shit.
James- the floaters are coming together and picking us apart
Meg – this is a game changer week
Austin – if Becky and Vanessa fight it out we're safe same with you guys
The Goblins tell Austin the scariest Combo in the game is Johnnymac, Steve, Becky and Shelli.
Austin – that's the final three the generals (Assuming Shelli goes home)
They all start laughing at the general's (whenever Jackie laughs it always gets me)
Jackie asks him who are the twins and Austin targeting
Austin doesn't have a issue with Becky but he's really worried about Johnnymac and Steve
They all have noticed Johhnymac has the majority of the Diary room sessions. Austin jokes he's had 40 today.
Austin starts pushing the agreement to keep each other safe through double eviction.
Austin brings up Becky saying She can't talk game to Jackie but can't take her out that is why Becky was trying to get Clay to take her out
Jackie – I'm loyal to my people
Austin says Becky is trying to create all these 3 persona alliance and sit herself at the top of them all.
Jackie – Vanessa is doing that too (-Zomg! the goblins are completely confused)
Austin – Who's playing HOH this week Vanessa, and who is vanessa going after Becky,..
James – and it's double eviction
James says Vanessa has more about Becky that she'll tell them tonight
Jackie tells them she's worried by all these stories Vanessa has "It's not a good thing"
They agree Shelli is stronger in competitions than Vanessa.
They laugh that Johnnymac gets so much Diary room time she's explaining all their conversations for the show.
Austin – what if he's a mole for Production
Austin leaves
they goblins say they trust Austin
Jackie – He wants to protect his girls like you want to protect us
Meg says Austin and the twins are not as close to Vanessa. Meg thinks Vanessa is that groups 4th person like Becky is their 4th person
The goblins agree to tell Vanessa they will vote to keep her if she agrees to not put them up during double eviction.
James – 5-3
Jackie – no 6-2
James- johnnymac and Steve
Meg says until Becky told her she didn't trust them last week that is when she got worried about her.
Meg – she doesn't have our best intentions
james- she's in it to win it
The goblins agree they are ride or die with each other.
Jackie brings up she doesn't like to talk game with anyone but the goblins.
the rest of the goblins agree.
Jackie says once Shelli was giving her advice telling her to sprinkle game talk with everyone. The goblins think this is a stupid idea.
(Damn this season is good)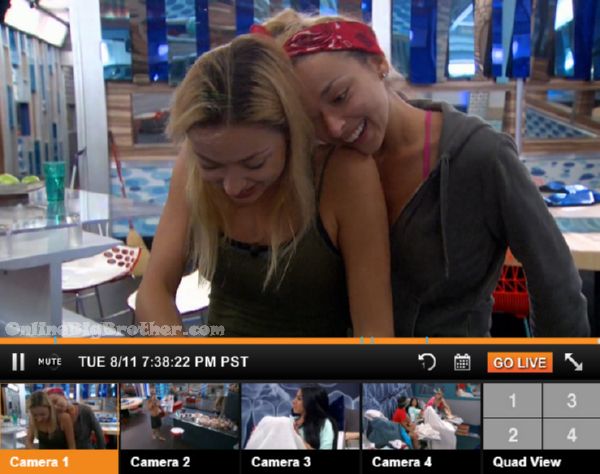 7:40pm Twins Liz is making food
7:52pm Vanessa and Julia
Vanessa says Steve lied to him. Explains she's been workign with steve kinda helping him out, "He's working with Shelli and Johnnymac now.."
They agree it's "So stupid" for James to keep Shelli because she's going after him
Austin joins them.
Vanessa – I have to have one on ones with each of them.
Austin tells him the goblins are nervous that she more information that some of it are lies .
Vanessa- she's not a floater she's a flip flop she's worst
Vanessa says steve made a major mistake turning his back on her.
Vanesa – he told me today he's not voting for me
Austin – did he really say that
Vanessa – Austin he said it.. he told me to my face he said I'm being shitty
Austin – Double eviction is so easy we're all going to be safe JOhnnymac is going home
Austin – unless steve and johnnymac win I have no idea what Steve and johnnymac are doing
Vanessa says they have to still be nice to STeve let him know Freaks and geeks are good.
Austin – she's done everything wrong.. She f***d up
Austin leaves.
Vanessa asks Julia if she knows the expression a wolf in sheep's clothing
Julia does
Vanessa says that is Steve
[envira-gallery id="127729″]
8:00pm Steve and Shelli
Steve saying he's going to vote to keep Vanessa because of an earlier 2 week deal.
Steve – You're staying no matter what at this point.. you have the votes from the gremlins and johnny
Shelli – what if the gremlins flop
Steve – The gremlins won't flop
Shelli says right now she has few people to trust
Shelli says she was nervous about the 8 person alliance Vanessa made to turn on Steve, Shelli and John.
Steve tells her Austin is pressuring him to keep Vanessa.
Steve – I need you here
Steve says he needs her here more than Vanessa.
Shelli tells him she will put up Austin and a Gremlin is she stays. A gremlin would go home.
They agree to work with Austin to get rid of the gremlins once Vanessa goes.
Shelli – if we're close to the twins Austin is extremely forgiving.
Steve says he will use his vote to build trust with Austin.
Shelli – if you vote for Vanessa the gremlins will know
Steve – its' the same thing with Johnnymac and jeff , Jason and Da
8:34pm Julia joins them. Shelli asks her if she will do what Liz did if she won HOH
Steve – that's putting her on the spot
Julia doesn't answer. Julia leaves.
Shelli says Austin will only do what Vanessa is telling him.
Steve – asutin knows Vanessa is goign right now
Shelli – he does?
She wonders why Austin is pressuring him to vote out shelli.
[envira-gallery id="127742″]
8:10pm Hammock Becky and Johnnymac
Becky – I'm so scared Vanessa is coming back
jmac – we'll get her out again
Becky – stay tuned while I take out my first target things are going to get intense.
John – you've ever been attacked by a bear
Becky – only once..
8:20pm Goblins in the hot tub forming a goblin circle
Talking that Austin and the twins are too sacred to turn on them right now.
Meg says once Shelli is gone it's going to be Steve, John and Becky
Jackie – we need to get all of them on our side.. Steve and johnny mac
jackie points out that Becky is really pushing to get Austin and the twins out next week.
Jackie wants Vanesa out of the house next week
james – I'm putting Vanessa straight up if I win
Meg – I would be fine with Johnnymac going out too, Austin's right he's shady
The goblins agree Steve is better to keep in the house than johnnymac
meg – put those two up, Vanessa and Johnnymac, we have the numbers.
Meg – leave the noms the same and if someone wins put up steve
James – ya
Jackie – Ok
James wants to get Johnnymac out if vanessa put up becky and jmac.
Jackei – we have the numbers
Meg – how many numbers do we need
James – we're almost to the point where we control their vote.. all it takes is three.
Meg says Austin and the twins never win HOH they always hold three votes.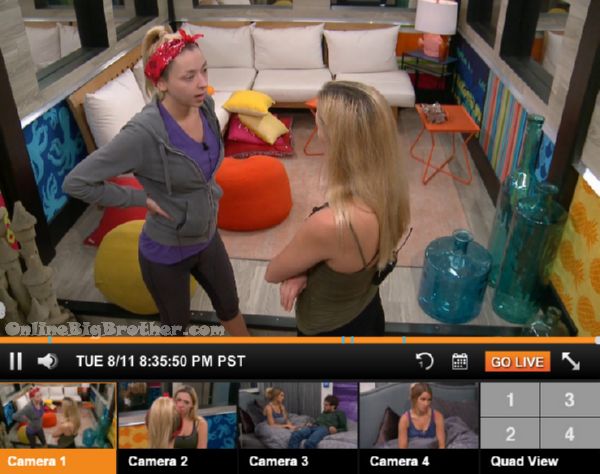 8:35pm Twins in the hammock room
Liz telling him that Steve, Johnnymac and Shelli formed an alliance.
Julia is pissed about Shelli asking her who she is targeting.
Julia never answered
Liz – she's been following you around like a leech(?) you need to tell her she can't talk to you like that
Liz tells her to not give SHelli any more information"She's gone"
Julia says she doesn't know what's going on right now.
Liz – we need to talk to Austin he knows everything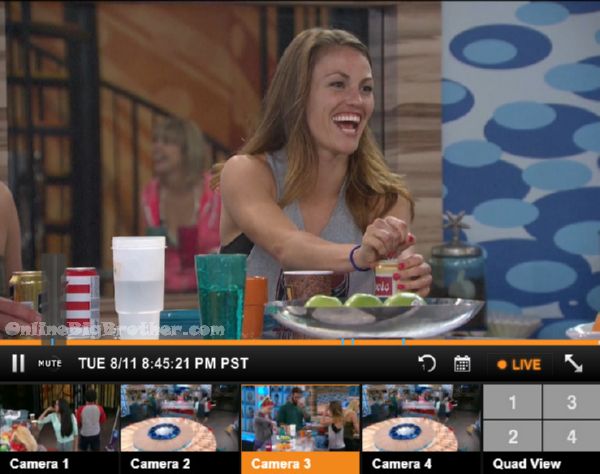 8:50pm they get 4 beers and a bottle of wine.
[polldaddy poll=9015303]