POV Holder:
Steve
POV Competition
Aug 8th
POV Used
Yes
POV Ceremony
Aug 10th
HOH
Becky
Next HOH
Aug 13th
Original Nominations:
Shelli and Steve
After POV Nominations:
Shelli and Vanessa
Have Nots
Meg, James and Jackie
7:45pm Spot the Steve
7:47pm Hot Tub Meg, jackie, Becky and James
Becky is saying that for this weeks eviction the five people in the backyard are voting out Shelli.
Meg says Steve is going to try and win the HOH and he's targeting Austin.
Becky says if she has put up Johnnymac Vanessa would have tried to flip the house to get Johnnymac out.
Becky impersonating Vanessa – you're words are so harsh..
Becky – you straight up told me a lie to my face
Becky – she believes her lies.. pathological
Jackie – she really thought she didn't do anything
Becky – she's a lawyer and a professional poker player
Becky is saying they have a strong group of 4 plus Johnnymac and Steve they have the votes. Jackie tells her she's not switching her vote no way.
7:50pm Bedroom Vanessa and Austin
Vanessa crying
Vanessa tells him her friends suck even Jason had people sticking close to him.
Vanessa – people are treating me like Audrey
Vanessa – do people even give a shit that I'm, OK .. what the f***
Austin – you said you were coming out.. we all thought you were sleeping
Vanessa- yup..
Austin – do you need anything
Vanessa- nope..
Austin says if she needs anything give him a shout
Austin leaves.. Heads to the kitchen to tell people Vanessa is upset.
Vanessa – my f****g friends F***g joke
[envira-gallery id="127519″]
7:56pm Bedroom Vanessa Julia and Steve
Vanessa crying
Vanessa- what the f*** it's bullsh1t .. nobody can see me in 5 f***G hours.. that b1tch yelled at me like f**** game me no reason to do this..
Julia- I swear we thought you were sleeping
Vanessa – I know this is big brother I get it
Vanessa – Honestly I don't give a f**k about the money you guys don't know me.. I don't give a f**k about the money..
Steve says he honestly thought she was sleeping.
Vanessa says Becky yelled at her "It's the rudest thing ever"
Vanessa – do you know why i'm on the block because I don't
Steve – you're asking the wrong person, I didn't see them putting up johnnymac
Julia – they're so close
Vanessa – just tell me it's a game move what's the need of a lie then yelling at me and treating me like i'm subhuman.
Vanessa – she gave her word and she couldn't keep it and now she's feeling
Vanessa – I'm not going to give my word I couldn't keep
Julia suggests they have another talk with Becky
Vanessa – everybody f***g knew and nobody had the balls to tell you and everyone is guilty that is why they are not hanging around me
Vanessa – Steve did you know
Steve – no
Vanessa- everything in my gut is telling me you knew
Steve – I was really suspicious I didn't know know I kinda knew..
Julia- I swear to god I had no idea..
Vanessa – Steve I knew you knew.. don't damage your integrity more.. I know you knew she had no reason not to tell you
Steve – It didn't make sense that Becky would put up Johnnymac I didn't buy it..
Vanessa – I'm telling you straight up I don't think she's a good person.. no grace
Steve and Julia offer to bring her food. She says she's going back to sleep
Vanessa – I hate these people fake mother f****rs
[envira-gallery id="127532″]
8:28pm Backyard Meg, Johnny Mac, Becky, Jackie
Talking about Vanessa.. bringing up all her lies and bullshit. Shelli joins them. Becky does her Vanessa impersonation. (it's flawless)
Becky claims she never yelled at Vanessa, says Vanessa was freaking out. Becky won't talk to vanessa in private nbow because Vanessa is going to make sh1t up.
Johnnymac says nobody is believing her when she says you were yelling at her, "Rwwwhahahawwwwwhahhahwwwwwwwhaha"
Jackie starts saying she's tired of people bashing each other. (Zong!)
Jackie says it's a joke Vanessa thought becky was yelling at her "Stern maybe but not yelling"
Shelli – how long did she talk to y'all
Jackie – we were literally sleeping
They explain they were laying down in the have nots with sunglasses on.
Shelli – did y'all respond
Meg – ya a little bit
Jackie – she said she's going to blow everyones Stuff up
Meg – she said it was really personal what she had
Jackie says vanessa was threatening James if she gets evicted she's going to taint the jury.
Shelli – well everyone is going to talk in the Jury
Shelli brings up a couple times when Vanessa was stirring up shit with her and Clay.
Becky says this week is so comical the way Vanessa is acting.
Says Vanessa was making Austin feel indebted to her because she didn't backdoor him.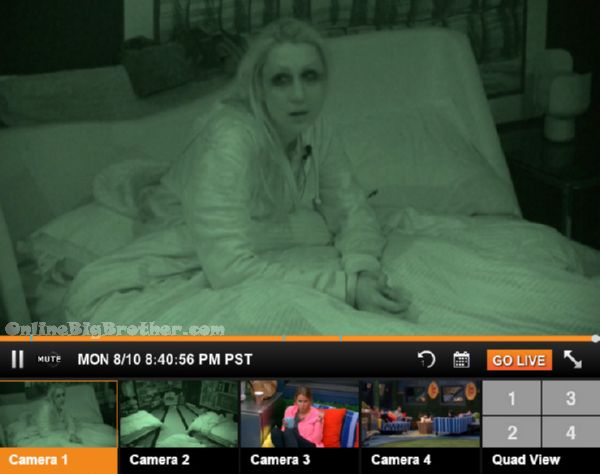 8:39pm Vanessa continues her Audrey transformation

8:45pm Bathroom Austin, Twins
Talking about Vanessa blowing a fuse on him.
They think if Shelli wins HOH they'll be fine.
Austin – we have to talk to James, jackie and Meg, I have already they said it's good but you guys should.
They hear someone come in from the backyard.
Austin – Scamper go
Julia leaves the bathroom
They head to the backyard to hang out with the goblins for a minute. Everyone talking about the phrases being used in the house, Brass tacks, beef cakes, Scamper…