POV Holder:
Steve
POV Competition
Aug 8th
POV Used
Yes
POV Ceremony
Aug 10th
HOH
Becky
Next HOH
Aug 13th
Original Nominations:
Shelli and Steve
After POV Nominations:
Shelli and Vanessa
Have Nots
Meg, James and Jackie
– The live feeds are going to be crazy leading up to Thursday's Eviction –
Watch the next week for FREE with the 7 day Trial!
3:00pm Have nots Shelli and the Goblins
(Most of this conversation was covered by Dawg in the previous post)
Shelli has been campaigning for a while telling them Vanessa is the one close to Austin and the twins and she is the one coming after them not Shelli.
Shelli – if y'all keep me it would be dumb for me to nominate y'all, do I even want to win this HOH
Goblins thank her for a good talk.
Vanessa comes in "I'm really sorry to bug you guys I need a bag to go to the DR
Shelli – she need her bag to go to the DR
JAckie – it's broken
3:11pm Austin's workout plan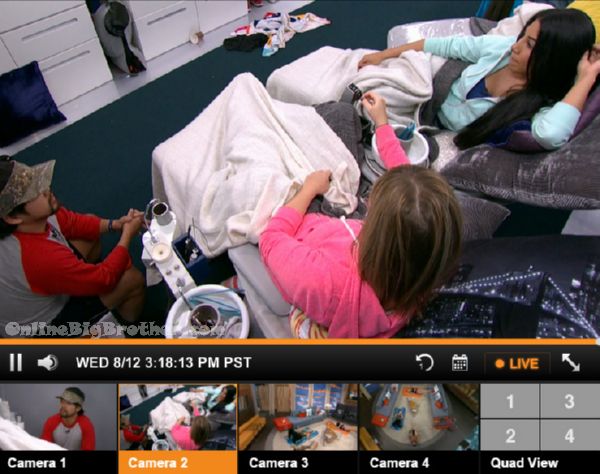 3:17pm Have nots Goblin Circle
JAckie saying everyone in the house is wanting to work with them calling them the "Good Side"
Jackie – Too late now you should have talked us before"
They comment how pissed Johnnymac is.
Meg – Personally I want to Shelli but on a game level
The goblins agree keeping Vanessa is better for them.
Meg – Game wise I don't trust her with us in a group (BeckY)
The Goblins plan on bringing Jmac in as their 4th person knowing that the other side is telling them they are targeting him.
Meg has a real problem with Becky telling them last week she didn't trust them and now this week she's want's to be a "general" with them.
The goblins now agree they have a better chance to beat austwins in competitions than Shelli, Becky and Johnnymac.
Jackie – oh my gosh
Meg – I am torn there's way more risk to keep Shelli
James – Ya
Meg – Vanessa's cards are all out they're
Jackie doesn't understand why Shelli never came to them earlier and gave them the "Oh I'm alone" speech
Meg – Why was she with the twins she realized they aren't voting for her
James- she's trying to jump to this side
Meg – we're not going to listen to Vanessa's Bullshit.. she's done enough for us to trust them.
Jackie says if she wins HOH she's taking out Vanessa and she won't feel bad but she will feel bad for taking out Shelli
James- I'm fine with whatever the group is for
Meg – that was good we had that talk
James – I was going to ask about the sweater..
James- Brass tacks
Meg says the numbers austin has isn't a huge deal because sooner than later they will go up.
The goblins are generally thinking Shelli's pitch was too little too late if she came to them earlier in the week they would have taken her up on the offer.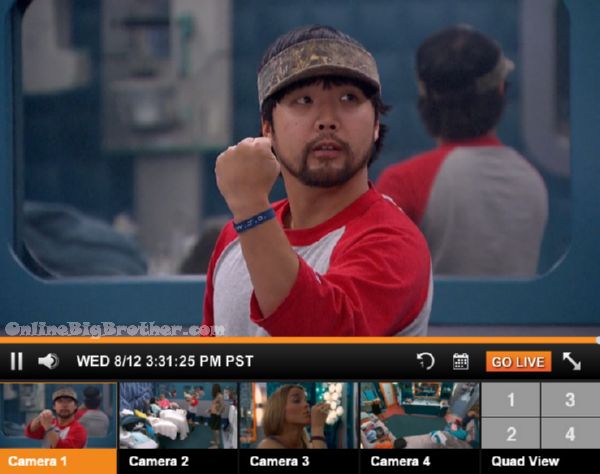 Austin comes in.
Austin asks so is she coming after us now
The goblins tells him Shelli isn't coming after them she never told them she's coming after Austin
Austin – Jmac is really sad he said he wanted a team
James – HE said the same thing to us what's going on
the goblins laugh
Austin – Brass tacks
The goblins laugh
Austin says Jmac was lying down near the bed when they were talking to Shelli. Austin was trying to get him to work out because he said he was soo sad.
Jackie – I feel bad
Jackie – get your personal feelings out of here.. we're ruthless animals
Austin says Vanessa is pushing for them to target Becky but he's trying to tell her to go after jmac.
The goblins agree taking Becky out is "Too MUCH"
Austin – If she wants to take becky out that blood is on her hands..
Austin – We are with you three more than anyone else.
Austin says if they hold power during the double eviction they should keep Vanessa and Becky in the game because if either of those two win the second HOH they will target each other. if one of them is gone they'll start targeting the 'Brass Tacks"
Austin warns if one of them get excited the whole thing will fall apart
James says the brass tacks is like a fist strong. explains that just two fingers are flexible can be bent but as a fist it's strong.
Austin – where's the 6th finger
James – in the middle
Jackie – can I be that person
James called into the Diary room
[envira-gallery id="127931″]
3:33pm Jmac and Becky HOH
Jmac telling her about all the schemes Vanessa is spreading
Becky – I hate Vanessa, I shouldn't have gone after here.
Becky leaves.
3:36pm Have nots Becky, Jackie, Meg and Austin
Becky comes in they tell her the whole night is planned, Bowling.
Austin leaves
Becky starts saying that Jmac told her Vanessa plan is to get her separated with the goblins.
Becky thought it was James she was going to pull but it's Becky.
Becky – she's going to find a way to get my separated from you guys.
Becky – I just want to be in my HOH room and have the group decide who stays and who goes not talk to anyone
Becky – I'm paranoid about her I don't trust her social game I'm literally scared she's staying in the this house, She finds a way to move groups , She finds a way to plant ideas
Meg – her game is busted, I don't listen to what she says
Becky says her hanging out in the sun with Johnnymac and now Vanessa is saying they are a group
Meg – I think Johnnymac is freaking out a bit..
Becky – maybe he is closer to Shelli, We kinda knew that though
Meg and Jackie say they feel they can beat Austin in the end.
Becky says it's personal between her and Vanessa, Vanessa manipulated her. Shelli is more of a threat she gets that. (ZONG)
Meg – Vanessa is easy to get out
Becky – I need a buddy system for game talk..
Meg tells Becky she needs to talk to Jmac because he's going around asking people to be in a team.
jackie – he asked Austin
Becky what the f****
Meg – why is he freaking out
Becky – he's scared
Becky – I slept and sh1t hit the fan
Meg and Jackie say they are keeping Becky safe
Becky – I believe, I'm a believer
Meg warns her if Becky loses the goblins she won't be safe
Becky leaves.
Meg – that is good she feels better about all this
3:37pm Serve and Jmace on the SKYBRDIGE
Steve says Vanessa convince the goblins Shelli is after James and Vanessa is after Becky "It's as simple as that"
Steve – are you taking a nap
Jmac- my head is just circling.. thinking about things
3:59pm Shelli and Jmac
Jmac – my very last move right before eviction I'm going to tell them that story of me and Steve..
Jmac explains the time when Vanessa told everyone a different story about what happened in the HOH. He's going to ask her what story is the truth
Shelli – they're acting really weird the twins and Austin.. I don't even know what to say
4:05pm Austin and Vanessa
Austin says Jmac is lying telling everyone he doesn't have a team. Austin says he had a good talk with Steve, "The only person we have to worry about is Johnnymac, he's the only wildcard"
4:08pm Austin and Liz
Austin says Vanessa still doesn't trust them. They chat about Jmac freaking out.
Austin Liz Kisses in the storage room #BB17 @DawgsBigBrother pic.twitter.com/0w3CHE5epD

— OnlineBigBrother.com (@bigbspoilers) August 12, 2015