POV Holder:
Steve
POV Competition
Aug 8th
POV Used
Yes
POV Ceremony
Aug 10th
HOH
Becky
Next HOH
Aug 13th
Original Nominations:
Shelli and Steve
After POV Nominations:
Shelli and Vanessa
Have Nots
Meg, James and Jackie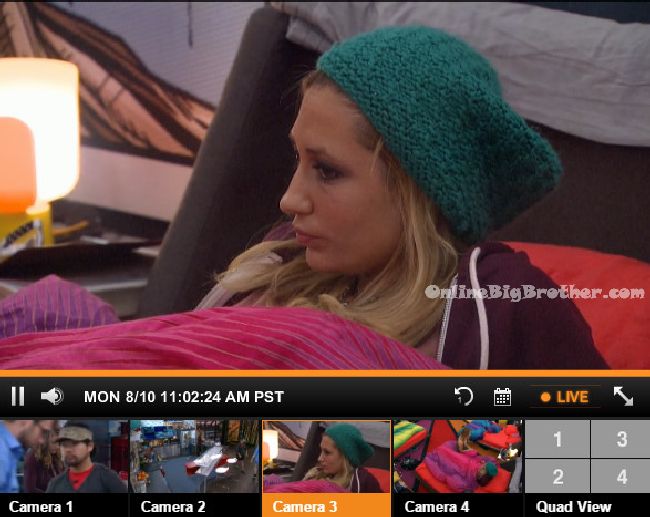 – The live feeds are going to be crazy leading up to Thursday's Eviction –
Watch the next week for FREE with the 7 day Trial!
10:20am – 11:05pm Big Brother blocks the live feeds for the power of veto meeting to take place. When the live feeds return we learn that Steve obviously used the veto to remove himself from the block. As a result Becky nominated Vanessa for eviction. Originally Vanessa suspected she might go up on the block because Becky refused to make a deal with her. Stating she was done with making deals and alliances. Becky messed up by telling Vanessa she was in a four person alliance with James, Meg and Jackie and by making deals with Austin and the twins. After the veto competition Becky reassured Vanessa she wasn't going up telling her she has "her word!" Becky doesn't care about breaking her word because of how she feels Vanessa has played the game. Vanessa calmed down a bit but has still been paranoid. With this blindside Vanessa is going to go into FULL BLOW PANIC MODE. This week should be pretty insane however at this point Becky has the votes to evict Vanessa (James, Meg, Jackie, Johnny Mac + Becky as the tie breaker)
POV Ceremony Results: Steve used the veto / Vanessa is the replacement nominee

Shelli is talking to Vanessa in the bedroom. You knew! Shelli says I had a feeling and I told you last night I was paranoid. Vanessa asks why would she lie then?! Shelli asks she told you, you weren't going up? Vanessa says 100%! Like why lie!? There's no point in lying, if I'm going up just tell me. She doesn't realize how risky that is. I have a lot of information on here. Shelli asks but what good is it going to do? Vanessa says you'll see! It doesn't do me any bad. I don't like hypocrites. Everyone is going to know. She said we are the two people she trusted the most and we're sitting on the block. Shelli asks she said that? Vanessa says "The Generals" alliance, you don't remember that. Shelli says if she said anything about you flipping on people that didn't come from me. Vanessa says my hand to god everything I did was to better our game. I've never said anything bad about you, Austin or the twins. Vanessa asks she didn't tell you she was going up? Shelli says no she said she was confused about where you stand in the game. Vanessa asks why didnt' you tell me!? Shelli says this is not my fault. I am extremely upset that you think I had something to do with it. Steve joins them. Vanessa says it is what it is, its a game. I'm not going to make a big production of it. I knew it was going to be a blindside. The last time it happened production woke up us early so that no one would have time to change their minds.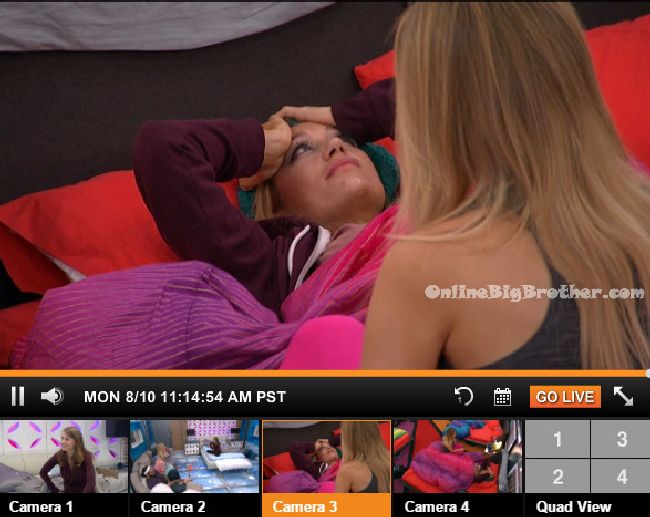 Vanessa asks again so you had no idea I was going up? Shelli says no. Vanessa says she lied to my face. She made one hell of a mistake I am going to be one hell of a jury member. She is not going to win I will make sure of that!! Shelli says she is sitting in a pretty spot. Vanessa says for now .. she has no idea how many people are gunning for her. Why make another enemy. Shelli says its so weird how differently you feel when you're up. Vanessa says I'm just going to tell everything I know. Shelli says we know a lot about each others games. Vanessa says don't worry I have integrity. Vanessa says outside of here I have a good life trust me. Shelli says okay. Vanessa says The thing I don't understand is why she lied to me.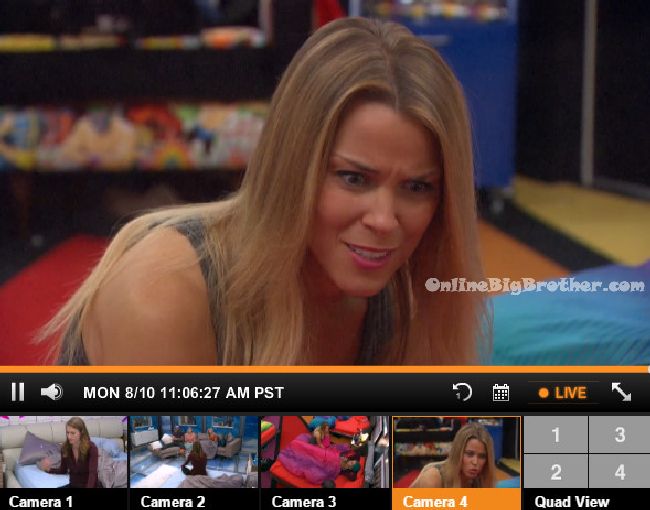 11:10 – 11:25am HOH room –
Becky talks to Austin, Liz and Julia. She explains all her reasons for putting Vanessa up on the block. Austin says I'm just worried she is going to think we turned on her and that we knew the whole time. Becky says she is a strong social player that is paranoid. She's paranoid for a reason because she is playing everyone. Liz says don't worry about us. I understand that this was the best decision for your game. You have our support. You had to do what was best for your game. We appreciate that you didn't put us up. Becky says we just need to shut our mouths and let her explode. I didn't tell you so that your conversations and responses would be genuine. Austin says I just want her to understand that there was nothing we could have said or done.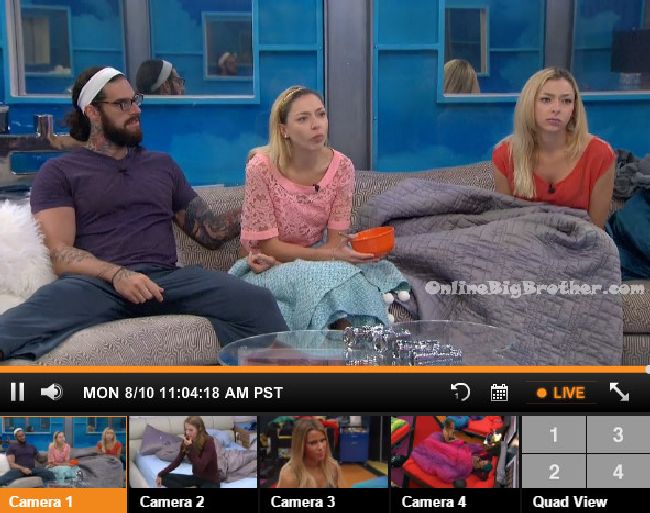 11:30am Havenot room – James says she (Vanessa) was having bible lessons the night before.
#BB17 BOOM!! Vanessa's on the block! Meg – WE DON'T KNOW NOTHIN' @bigbspoilers pic.twitter.com/CbAjcK8R0f

— Dawg (@DawgsBigBrother) August 10, 2015
11:35am Vanessa talks to Shelli, Austin and the twins. Julia says now everything has changed. Vanessa says I will definitely fight! I won't say anything bad about you Shelli. But I will make one hell of an argument to everyone in here. I appreciate that you were the first one to come in here and talk to me. That shows a lot of character. Vanessa says whatever I even got to play in the POV and my dumba$$ couldn't get it together.
Austin talks to Steve in the cabana room. Steve says it didn't make sense to me that she would put up Johnny Mac. Austin says I'm scared going into double eviction now. Austin says the vote is 4 to 4 with Becky as the tie breaker. Steve says Vanessa is gone. Austin says she is gone. Steve says can we win the double eviction HOH .. because its me and Shelli next! Austin leaves. Steve tells the camera I am riding a very thin line right now. The funny thing is Becky's speech was just as applicable to me as it was to Vanessa. They are going to go after Shelli before they go after me.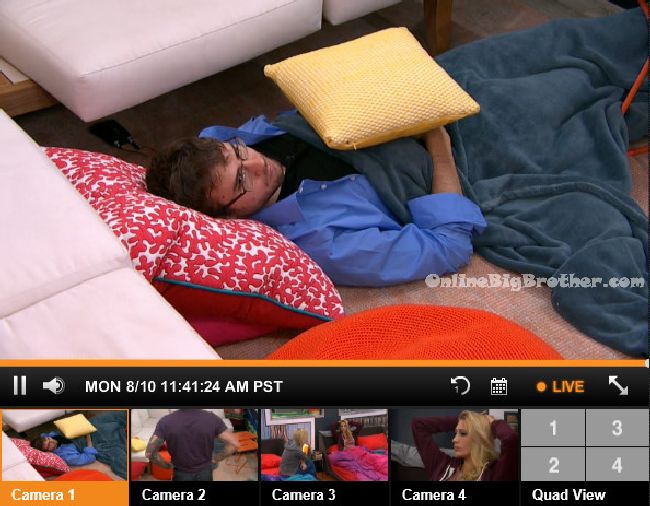 [polldaddy poll=9015303]