POV Holder:
Steve
POV Competition
Aug 8th
POV Used
Yes
POV Ceremony
Aug 10th
HOH
Becky
Next HOH
Aug 13th
Original Nominations:
Shelli and Steve
After POV Nominations:
Shelli and Vanessa
Have Nots
Meg, James and Jackie
5:01pm Vanessa and Julia
Vanessa says she doesn't have the votes to stay unless she can flip a Gremlin. (She calls them gremlins while everyone else is calling them goblins)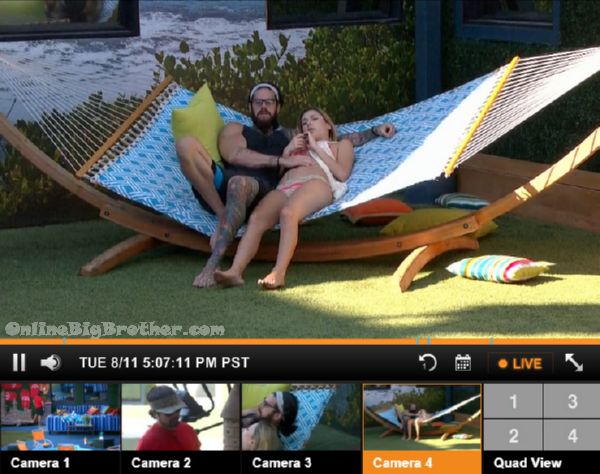 5:05pm Hammock Liz and Austin
Liz about Vanessa – She reminds me of Audrey sometimes
Austin – Sometimes
Liz – she's scarey
Liz says at this point she rather Shelli be here
Austin agrees
Liz brings up the double eviction.
Austin says going out during double is fast might be the preferred way to go because you don't have any time to worry about it.
Austin says it's them, Shelli and Steve that's 5 people if they can't win the HOH one of them will be going home.
Liz – if us 5 can't win it wasn't meant to be
Austin – Exactly you can always come back as well eventually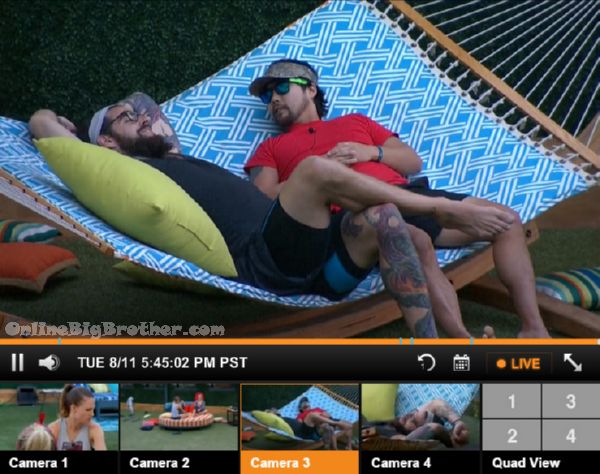 5:22pm James and Austin Hammock
Austin says he's worried about the double eviction he wants them to be on the same page.
Austin – everyone is forgetting to have fun.,. these are the good old day they are the brass tacks days..
Austin – let's get through the Double and meet up then.. Why throw the grenades right now when there's too much unpredictable sh1t.
Austin warns the floaters are going to slip through the cracks and BAM they're in the finals
James- there's too many people
Austin – you're right there's too many people
James – there's two queen on the block.. they're queens
Austin – I don't know where Jonnymac heads at ..
Austin says Shelli is aware of everything because Vanessa told her..
James and Austin agree they should be able to discuss the vote openly.
James says it's a toss up with them (the nominees)
Austin – who's more likely to win it.. who's more likely to band together with the other side
James and Austin agree it's equal
Austin – I have personal issues with both and i've been friends with both.. Vanessa is made at me for some reason like I had any idea Becky was doing this
James reminds him Shelli and Clay sold him out. Austin remembers that he also remembers Vanessa attempting to b@ckdoor him.
Jame s- Maybe Vanessa is the master manipulator
Austin – She's actin Audrey-ish
Austin explains that Vanessa plays the game with percentages that is why she's always trying to make deals.
Austin "Becky is playing a social game, Vanessa is playing a strategic game"
Austin says the game has been eating Vanessa up "That is what I don't want around me.. Making things weird"
James says if Shelli wins HOH she's putting him up.
james points out he's protecting Jackie and Meg and Austin is protecting the twins.
Austin – we're in the same situation
James- dude
Austin – together we're 6 Jury votes
Austin – we need to protect each other so they can protect their women these are barbarian days
James- protect the women.,.
Austin mentions if Vanessa stays will becky be pissed at them.
James – are you and me still bros
Austin – yeah
James – thats all that matters
Austin – Bros before foes
James – Bros before foes
They talk about being the only eligible guys left in the house
James- we're winners by default
Austin laughs says the girls have no other choice they're the only guys left.
James- I feel like that about Meg a lot .. winner by default
Adds him and Meg joke about that all the time.
5:50pm have nots Goblins
James says Liz, Julia, Becky and Shelli are all outside having girls night on the couch
James – shelli stays we're f****D
Meg tells James not to commit to anything when talking with Vanessa.
James wants to find out what deals he can get.
5:55pm James and Vanessa
James says whatever way he's voting JAckie and Meg will vote the same, "Kinda like Austin and the twins"
Vanessa says she has some things to say about Becky that Jackie might not want to hear.
Vanessa will talk to JAmes and Meg together.
Vanessa – I have an offer for you and you know I'm good with my deals
Vanessa – I'm not a phoney, I'm not a rat and i'm not a f****g liar
Vanessa – I'm not fake i'm not going to try to be her friend (BeckY)
Vanessa says Shelli,Clay, Steve, Johnny Mac all wanted Jason up.
Vanessa says Becky pulled her Clay and Shelli aside and she said
"I've been waiting for you guys to pull me in a meeting I feel like i'm the low man on the totem poll me and jackie never talk game she's impossible to talk game with .. I don't have the same level of trust with the other side that I have with you guys, Shelli, Clay and Vanessa.
Vanessa brings up Becky's generals alliance. She told them they're are Generals and armies they tell their general's information a different level of information than the armies.
Becky told them she won't give general information to JAmes, Meg and Jackie.
James says Becky had brought up the generals awhile ago "I told her it was dumb"
Vanessa adds that Becky told them there was 3 steps for
Step 1
Becky was shifting from Night crew to day crew.. "Did you notice?"
Step 2
She use to sleep with goblins she moved to the comic room
Step 3
You're a sexist to the so to the best of her ability she bakes and does all the girlie things for James.
Vanessa – she had me fooled
Vanessa says Becky was telling Shelli and Clay everything the goblins were telling her during James HOH's. Adds that Becky was targeting James because he was sexist.
Vanessa – while she was sitting up in the bedroom she was coming downstairs saying she's loyal to us
Vanessa calls Becky a rat
James – do you think you can get Austin and Liz on your side to vote
Vanessa – 100% .. they would I know they would I had their back
james – if you can talk to Austin ..
[envira-gallery id="127705″]
6:09pm Goblinettes
Jackie – I like Austin.. I feel OK with Austin
Meg – i feel ok around him
Jackie – I would rather get the twins out before him.. he's really chill
Meg – I think he's kinda awkward when he talks about game.
Meg – we got Steve in our back pocket
Jackie – And johnnymac, once we get rid of Shelli he'll be with us
Jackie – Shelli has got to go
jackie wants to personally take Vanessa out says Vanessa is scared of her.
Becky joins them starts talking about Vanessa giving them reasons why Vanessa is her target.
Becky goes on about Firing up Steve to win the HOH to take out Austin saying to him that Austin is a bully.
Jackie says it would be great to get Shelli and Vanessa out on Thursday.
Becky – I'm not going to lie no side deal with austin will be real
Becky – We're so powerful right now.. why would they go after our targets.
Becky – we have steve and John
Meg warns them Steve and Johnnymac are working with Shelli Johnnymac more so
Jackie – we need shelli out
Becky says they'll target her and James and James will go.
Meg – Austin is not targeting you
Jackie – he just wants to stay safe
6:26pm Vanessa, James, Austin
Vanessa telling them that Steve told her Shelli, Steve and John have realized they were not in the 8 alliance.
I'm sorry Vanessa as much as we're close if I keep you over shelli then there's only 2 of us that weren't in that 8 alliance 3 of us have to work together (Shelli, John and Steve)
Vanessa – Becky is at the top of a pyramid of alliances
Explains She now has ties to Austin's three, Ties to Steve and Johnnymac and ties to James' goblins
Vanessa – Becky is on my shit list I'll tell you whatever you want to do.
Vanessa – i've never broken my word in this game.
Austin – she didn't think this one threw very well
James tells them the rest of the goblins will be receptive to getting out Shelli.
They have a laugh that Becky was trying to make general alliances with James' goblins and
James- Becky is a sitting Duck, You got me sold
vanessa – you just sold me 100% you need to tell the twins what you just told me
James – Liz and Julia close to shelli
Vanessa – no no
Vanessa – they're close to me
James – that stuff about steve.. definitely
Austin – that's not what I wanted to hear
[envira-gallery id="127712″]
6:44pm Vanessa and the twins
Vanessa gives her the speech she just gave to Austin and James. Tossing Becky and Steve under the bus spilling everything.
Vanessa says she told Austin Liz didn't like guys that were all over her. Liz says she could tell it's been so much better lately.
[polldaddy poll=9015303]