POV Holder:
Steve
POV Competition
Aug 8th
POV Used
Yes
POV Ceremony
Aug 10th
HOH
Becky
Next HOH
Aug 13th
Original Nominations:
Shelli and Steve
After POV Nominations:
Shelli and Vanessa
Have Nots
Meg, James and Jackie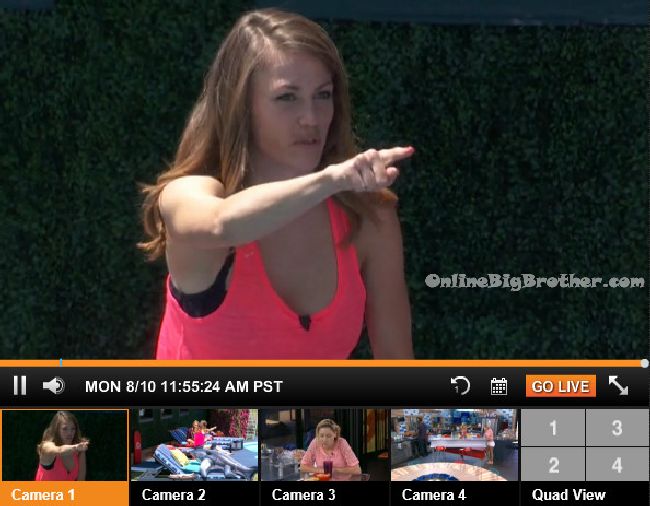 – The live feeds are going to be crazy leading up to Thursday's Eviction –
Watch the next week for FREE with the 7 day Trial!

11:50am Vanessa heads up to the HOH room looking for Becky. She doesn't find her and goes looking for her. Liz tells her Becky is outside. Vanessa finds her on a lounge chair and says so obviously you can't vote (Not true Becky is the tie breaker). Those were some pretty harsh words even for me. I'm hoping you can explain them. Becky asks why were you so paranoid when I won HOH? Vanessa says I told you because you're friends with Johnny Mac and I'm not dumb I can do the math. When one person is close to one of the three and hadn't been betrayed by .. and yes I am close to Shelli but I have my reason to do what I needed to do. I told you if you have loyalty to him do what you need to do but why make a deal if you couldn't do it? Why make a pissed off jury member?! If you want a pissed off jury member you're going to have it. Becky says when you brought that deal to me what was the look on my face? Vanessa says I was the last one in the room. Becky says whatever the order.. when you asked my for my word you force me in front of a group of people and that pissed me off! Becky says I did not like that idea and when you pointed at me and asked do I have your word in front of a group full of people. Becky stands up and walks away. Vanessa says I don't know why you're being so venomous with me, I don't understand! I respect you for that but there is no reason to get upset. You're a cold hearted person I don't understand!! Like what the hell!? I am on the block!! Becky heads inside. Vanessa comes in and tells the kitchen crew never have I ever. She is being super mean for no reason. I am being as sweet as possible! I am on the block. She yells at me and runs inside.. like okay. Vanessa heads to the havenot room.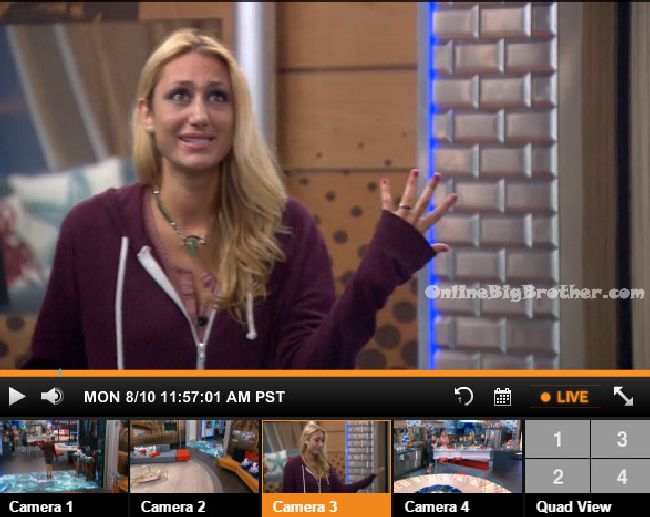 Watch the NEXT WEEK of the Live Feeds for FREE! It's going to be INSANE: 1 Week Trial
12pm – 12:20pm In the havenot room – Vanessa talks to James, Meg and Jackie. Vanessa asks can I talk to you. Becky just yelled at me for no reason! Vanessa starts crying. I am on the block and I am asking for an explanation. She literally yelled at me and didn't give me a chance to say anything. Stood up and pointed her finger at me.. yelled at me and ran inside. I don't understand! Meg says I'm sure Becky will have an explanation. Vanessa says she is pissed off for me asking her to give her word. If that's her only reason .. it was said to me like I had just committed a heinous crime! I know a lot of information about her… James you will be the first person to know .. Jackie you will be the next person to know. That is so ridiculous .. she challenged my integrity publicly. I have no loyalty to her now. I am going to give you all the information I have. She's not my mom to yell at me and run away. I don't understand!! Jackie says a lot things went down that week with Jason weren't good and she was put in a bad situation. If she thinks she was a victim in that situation she was not! She is a master manipulator! She came to me and Shelli and wanted to make an alliance called the generals! She wanted to put you up last week James. She was the one I couldn't tell you her name. She is the one! And I protected her! So ridiculous!! Vanessa leaves. Jackie laughs what was that?! Meg says I almost started laughing. James says the generals whoa!?! Jackie says lets not make any generalizations. They talk about how it sounds like Shelli was involved in that too. That's a good thing. We can just sit back and let all this come out. Jackie says she's a master manipulator .. she said that about everyone. She said that about Audrey too.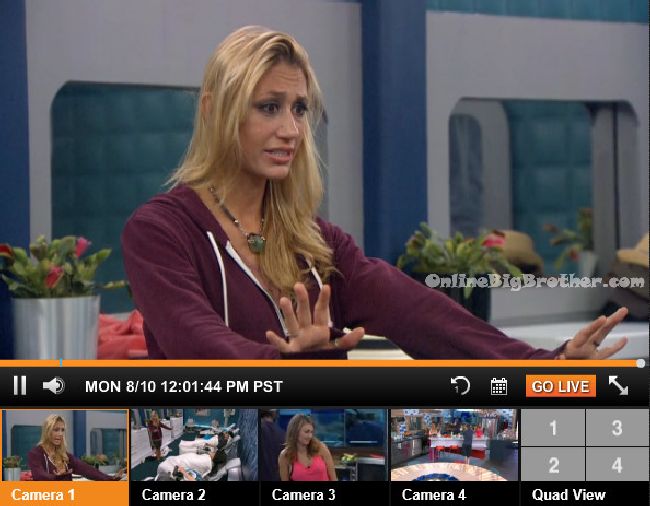 Becky and Liz join them. Becky explains what happened in the backyard. She came in saying I yelled at her .. I didn't. Austin joins them and says this would have been a good week to have the popcorn. (Havenot extra food) LOL Becky says she made a lot of good arguments on why Shelli should stay and we bought it… so Shelli will stay.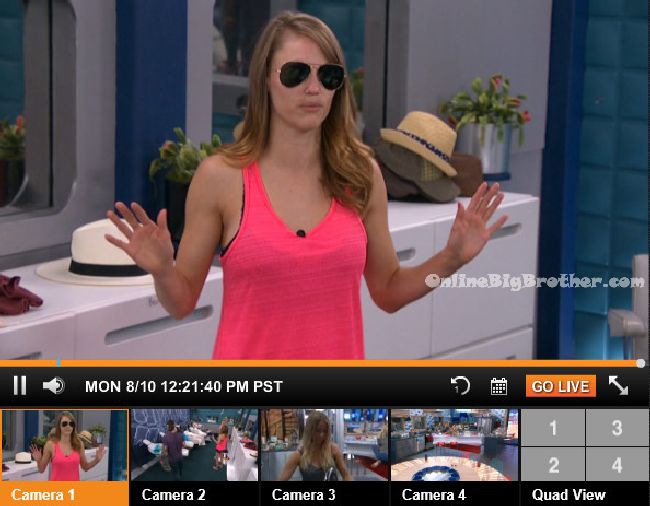 @OddreyM is that you?! @bigbspoilers #bb17 pic.twitter.com/xR7Olg6YHa

— Dawg (@DawgsBigBrother) August 10, 2015
In the storage room – Austin says if we win the power during the double evicion, we might have to do something different. Liz says Becky broke the plan so why cant we. Austin tells Liz, Shelli will be good. Shelli will be on their side. So will Steve. He needs to win the next HOH. They agree that Johnny has now joined the other side. Liz says that he is doing it just because of Becky. Austin says I still wouldn't put up Becky if I won HoH. She could still potentially floats back to our side. Vanessa can make every point in the book right now. She is going home on Thursday. She is going to jury. The house is now 5 versus 5! (Austin, Julia, Liz, Steve, Shelli VERSUS Becky, Meg, James, Jackie and Johnny Mac) Shelli joins them. Austin tells her you know that we are having your back. We're saying whatever we have to f**king say right now. If Johnny Mac is really with them, that's their four votes. They decide what happens this week. It's a done deal that Vanessa is going, unless some power happens. Liz tells Shelli we want to work with you obviously. Shelli says I knew that. No hard feelings. I want us to have each other's backs. Obviously Vanessa is going to try to say a lot of stuff. You just keep your cool. Austin tells Shelli that I told Clay I would have your back and I will. Me and him were tight since day one. Shelli says thank you.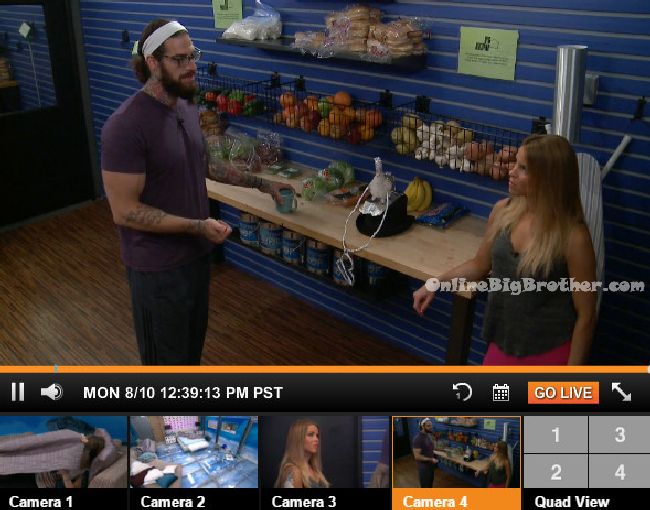 12:40pm – 12:50pm Bedroom – Liz talks to Julia. Liz says basically there is no way we can save her. Its us four against those four with Becky as the tie breaker.Johnny mac is on their side. We are screwed. We have to be nice to Shelli. If we win HOH, this means war! One of their a$$es is going up on the block. Julia says I am just scared Austin is throwing things. Liz says Vanessa has been so good to us. Vanessa is dead in the water. Just lay low. Don't hang out with Vanessa. Julia says I'm scared that Austin is going to target me. Liz says he isn't going to target you. The other side is going to try to get you out. Don't flatter yourself. Johnny joins them and says he's afraid to go out into the backyard alone because Vanessa is out there.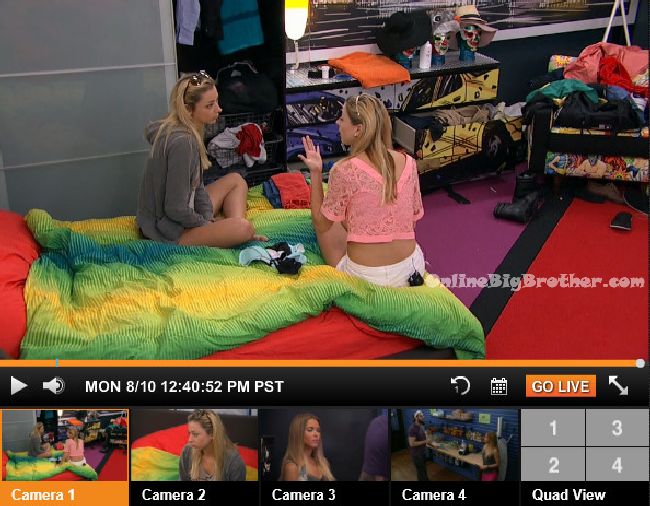 FLASHBACK and watch ALL the DRAMA: Big Brother 17 Live Feed 7 day FREE Trial!
1pm – 1:15pm Havenots – James, Meg and Jackie are talking. Jackie says once we get rid of Shellie we will be so golden! Meg says I know! We will have Johnny Mac and Steve. They can't do anything. Jackie says Vanessa is the big part of the glue. Without Vanessa, Shelli isn't that threatening. Jackie asks why would Becky ask for you to go up on the block .. she would be next to you .. that doesn't make any sense. Jackie says she wants us to trust her .. she put up Jason and got him out. Like no. She's trying to make it seem like Becky was the one that got this whole group together to get out Jason. James says what is crazy is I was sitting at the whole table of them at outback steak house. Jackie says we're in the perfect spot to just bang out the rest of the game. Austin and the twins can't do anything. And they'll be fine to go to jury house. Jackie repeats what Vanessa said you're going to have an angry jury member. James says I'm going to vote for the best game player.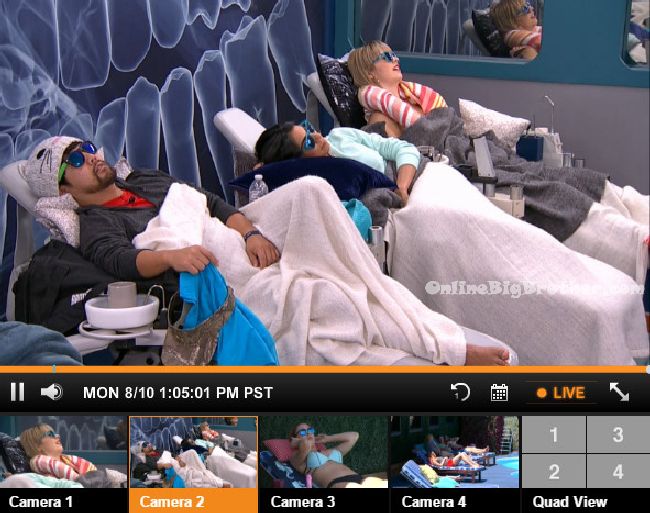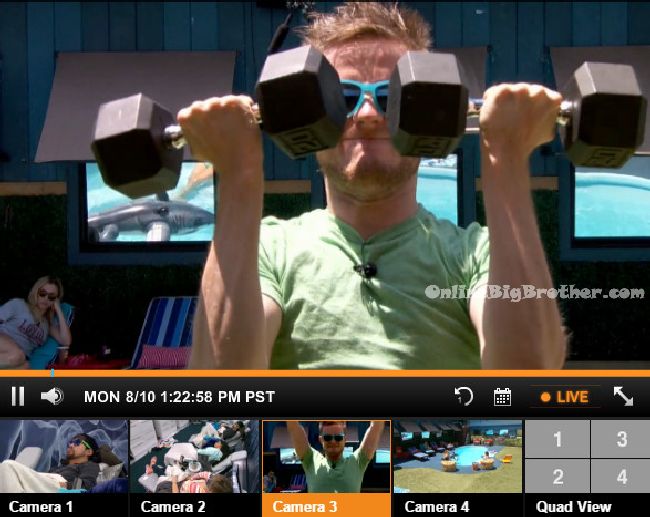 1:30pm – 1:50pm
Vanessa is alone in the comic room reading the bible. Meanwhile the backyard crew are chatting about random things and working out.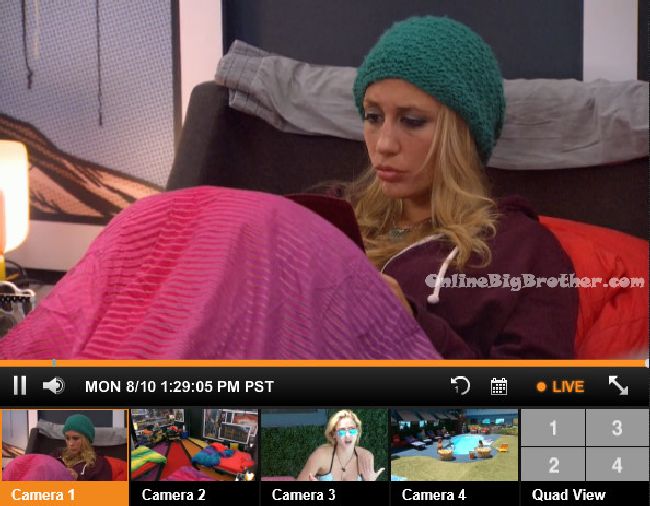 2:10pm – 2:25pm Steve talks to Johnny Mac about his speech being slurred. Steve says the diary room gave him benzocaine. Johnny Mac says that's what we give you right before we stab you. johnny Mac heads outside. All the house guests are lounging around.