POV Holder:
Steve
POV Competition
Aug 8th
POV Used
Yes
POV Ceremony
Aug 10th
HOH
Becky
Next HOH
Aug 13th
Original Nominations:
Shelli and Steve
After POV Nominations:
Shelli and Vanessa
Have Nots
Meg, James and Jackie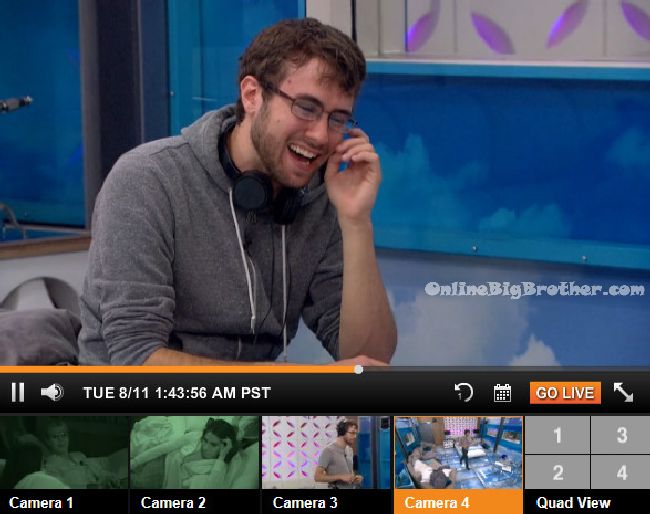 – The live feeds are going to be crazy leading up to Thursday's Eviction –
Watch the next week for FREE with the 7 day Trial!
12:45am
Austin and Liz are laying on the beds chatting.
(FYI – The flashback feature is busto from 12:04am – 1:38am on cameras 1 – 3 and from 12:05am – 12:47am on camera 4)
1:38am HOH room – Steve and Becky are talking. Becky tells him that he is more than fine to talk to her (Vanessa) all week. Steve says after the veto meeting I was in the hammock room and guess who came knocking and was really, really nice to me? Becky guesses Austin. Steve says yup. Becky says Austin and the twins I think will vote to keep her, so we'll come close. Three votes that way and I have my three votes. So it will be another big week for you. They badly need your vote and Johnny Mac's vote to get her to stay. Steve says right because the know you're going to vote the tie against her. She is extremely good at moving votes and influencing HOH's. Steve says she is a very good speaker. Becky says is very good at making it personal. Very good at making you feel she is being honest when she's not. Vanessa has been telling me exactly what I want to hear. The twins like Shelli more but will listen to what Austin wants. Austin wants Vanessa more. Vanessa is playing all sides! She is playing everyone. She made a lot of I'll keep you safe till jury. In reality she has no ones back only her own. Becky tells Steve to win HOH! Becky heads down stairs.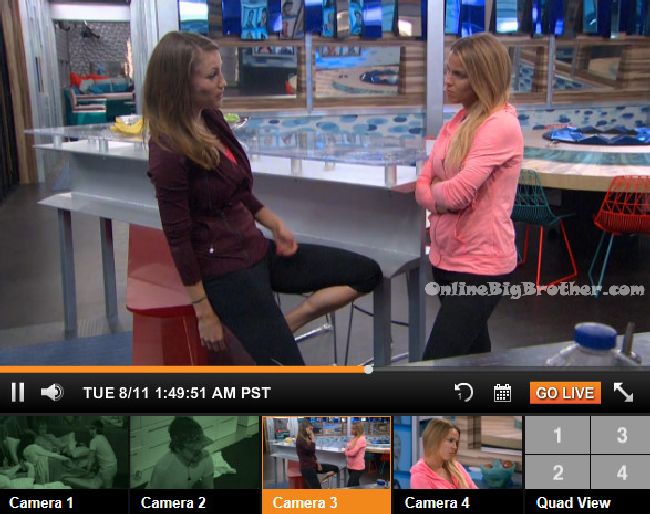 Becky talks to Shelli and says we only need 4 votes to keep you. I've made it clear who my target is. I know Austin will keep Vanessa but the twins have more of a connection with you. Johnny has been like get her out. They will get down and dirty if they think there is hope to change it. The people that have realized how she is playing want her out bad!!! I will says its really hard because it truly is a game move. I don't want to feel like she is being bullied. Its not personal at all. I don't even know if Vanessa would talk to me after all of this. I know she takes the game more personally. She won't forgive or forget. I want the house to be kind and nice to her. I really have no intention of telling her the whys because I don't think she will get if even if I explained it a million times. She even has a second chance to come back in the game.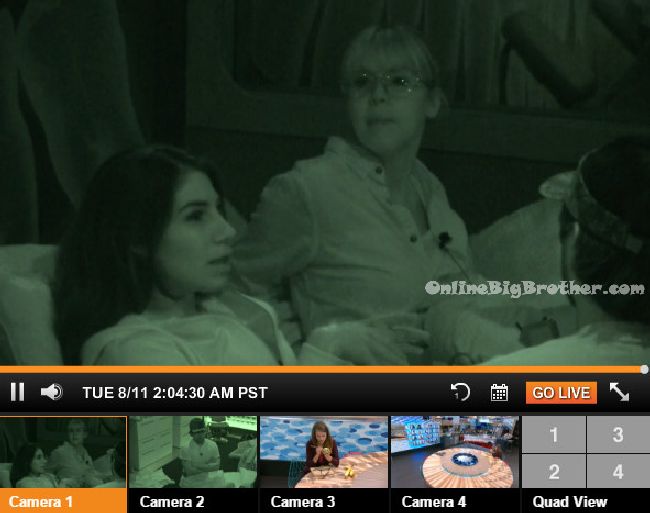 1:38am Meg says Shelli is 100% going after us. Jackie says and will lie to us and do it. James says exactly! Jackie says she will be ruthless about it. She's snappy. James says Vanessa's not competitive she doesn't win the competitive ones. Shelli can win both of them. James asks how many votes do we need? Jackie says 5 and Austin and the twins will 100% do it. James says we would have to tell Becky. Meg says its not fair to Becky. James says but she took 5k! Meg says if you think about it Vanessa would only be going after Becky, not one of us. James says Shelli is going after all four of us. Meg says we have a better shot protecting one of us than all of us. James says Shelli thinks she is golden right now! James says and next week we would have to get more blood on our hands putting Liz up to make sure Shelli goes. Its going to piss them off. Jackie says its going to be easier to get Vanessa out than Shelli for double eviction. Meg says I think this is our chance and that we will really be regretting it later. Jackie says there is nothing we can say, Shelli is going after us. James says right now we control the votes. Jackie says Liz and Austin will do it in two seconds. Meg asks you think they'll keep Vanessa? Jackie says yes. Meg says she keeps going over scenarios there is no way Shelli isn't going to win HOH or Veto during double eviction. We've put her up twice now and if we put her up again. James says he thinks Shelli has more loyalty in the house than Vanessa. Meg says we're Shelli's target which is why we would have to win to put her up.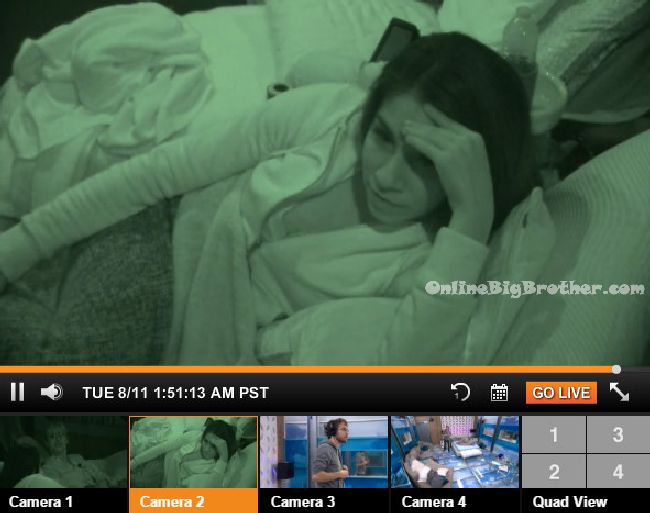 2am – 2:10am James says I don't want to go against Becky but the whole house went against me last week. I gave up 5K. Meg says Becky has to realize that her game is looking really pretty right now. The only blood on her hands would be Vanessa and if she has 5 other people fighting for her 5 plus Johnny Mac to get Vanessa out of the house … double eviction is looking really good. James says Steve said he wants Vanessa out. Meg says that Becky is assuming too much about what people are saying about it all. I think a lot of people are neutral about the situation. They don't really care that much that she is going. Jackie says Austin will keep Vanessa over Shelli. Steve likes Vanessa. Meg says we would just need one of Austin and them to do it. James says I think we should tell Austin if you do this we will get a target out for you next week. Jackie asks if Vanessa will go after us. I think she would put up me and Becky if she won. Meg disagrees. James says if we send Shelli home we could send Vanessa out right after. I am telling you Shelli has almost won every comp. Meg says I have a horrible feeling about it all, she is sitting right there .. why are we not!? James says if Shelli stays and wins one of us is going. James says maybe we have to tell Vanessa if we keep you safe you can't come after us next week. Meg says you have to make it seem like this is a hard thing for us because we also want to support Becky. You don't want to go into it having her think we're that good with Becky. You have to leave a bit of a question mark. James says Shelli is sitting way to pretty. If she wins one of us is f**ked. Shelli is a huge threat. That's why I wanted her out that week. James says nothing can happen for awhile. Meg says we can talk to Steve last minute. Meg comments that Austin and the twins might already vote to keep Vanessa so it would be easy to switch over. James says I think its the right thing to do. Vanessa is only after Becky. Shelli is against all four of us. Meg says next week there are more people playing to get out Vanessa then Shelli. They talk about how the second HOH in the double will be a physical and Becky can play in it. Meg says there is more of a chance getting Vanessa out during the double than Shelli. Jackie says I just don't want to go against Becky. James says I think she will understand in the long run. Its not like we're turning our back on her. Jackie says that Vanessa now knows if she f**ks with one of us she f**ks with all of us. James says it all sounds good its just whether or not we're ready to pull the trigger. Meg says that Becky is thinking personal but needs to think what is good for the whole group. Jackie says we will take tomorrow to hang out and figure it out Wednesday. James says Shelli is sitting pretty like everything is fine. Jackie says Vanessa is desperate now.
Try the Live Feeds FREE for 7 DAYS! Click here for your: Big Brother 17 FREE Trial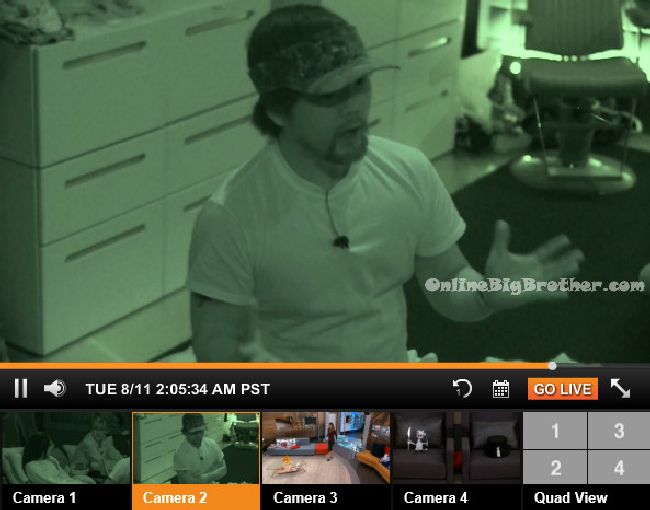 2:30am Havenot room – Jackie and Meg talk. Jackie says we're such schemers. Meg says you have to be! You have to think smart. Meg says we just can't not send her (Shelli) home when she's up there. Jackie says yeah like we're not going to not send her home again.. like what the f**K! I just feel so bad. Meg says yeah. We need to talk to Vanessa .. or do we talk to Becky first. Jackie says if Vanessa won who would she put up .. I think Becky and me. Meg says you and Becky up is better than you and James. Becky could come back into the game but I feel like James has a very different quality than James has. Jackie says James will win HOH again 100%! Meg says I know its awful to think about but. Jackie says do you think more people would vote to keep me? Meg says they would vote to keep you. Jackie says but Becky kept them safe this week. Meg says but Vanessa is gunning for Becky they won't vote you out. Jackie says Vanessa is willing to make deals. Shelli probably promised Clay she would get James out. Jackie says we're going to look crazy now. How are Austin and the twins going to trust us now. Meg says its easier when someone is mad at only 1 person. Meg says that Becky broke the promise.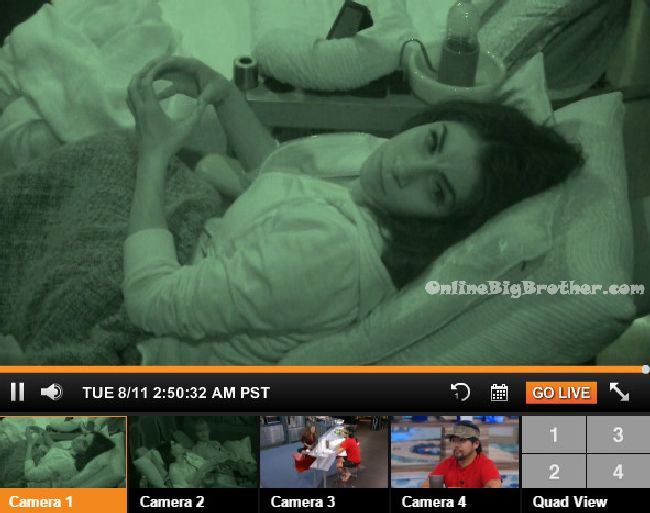 3:20am – 3:45am Jackie says Becky is going to freak out. We have to think about the best way to say it. Meg says we just have to be honest. This makes more sense. Its easier if we all fight to get Vanessa out right after. Jackie says if we don't get rid of Shelli now ..she is not going home during the double eviction, I know it. We need to study our a$$es off. If we wait till the last minute Vanessa wont be studying and will get really flustered. She has really bad ADHD. She will either do really good or sh*t the bed. Shelli is way more consistent. Meg says the only thing that will be hard with this is that Becky sees no threat in Shelli. Jackie says exactly. Meg says but if we do this then we just have to make it up to her. Worst case scenario if she gets really pissed and doesn't trust us who is she going to go to? Jackie says exactly its not like we're ditching her. If she gets really mad then we'll stick to it I guess. Meg says I have gut feeling Steve will win double eviction and he won't put Shelli. He will go after Austin which I am fine with. Its all about breaking apart all these other people. Jackie and Meg talk about past events with Jeff, DaVonne and Jason. Meg says I feel like we haven't done anything dirty. Jackie says we'll talk to Becky and if she gets mad we won't do it. We'll just talk to her and say we have a gut feeling. Meg says we have more of a shot to protect Becky. And she can't play next week. I would honestly take the risk of her being mad at us. Jackie laughs how many people can we blindside this week. Meg says we might actually be in control this week, that never happens. Meg says we didn't really even give her our word. The plan was to get out Shelli this week.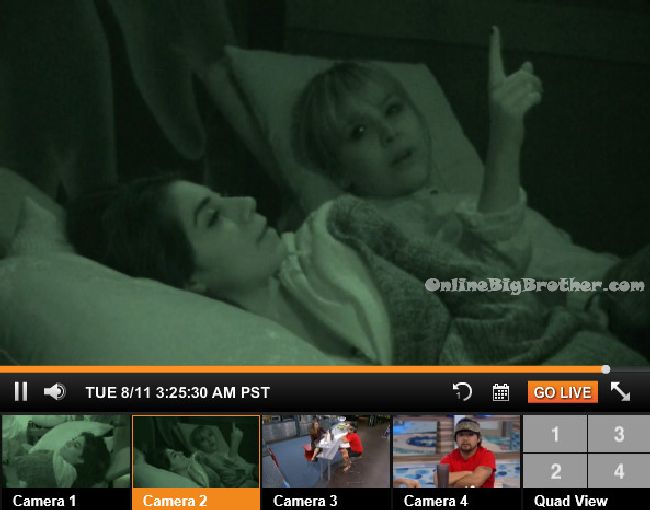 3:45am Becky and James are in the kitchen reminiscing about past house guests / past events. Becky and James head to bed.
10:15am – 11am Big Brother wakes up the house guests. James and Jackie talk about how they have two more nights left of being havenots. In the bathroom – Steve comments to Meg – Big Brother problem number 500 … I want to go outside but Big Brother will make me put down the awnings.
[polldaddy poll=9015303]