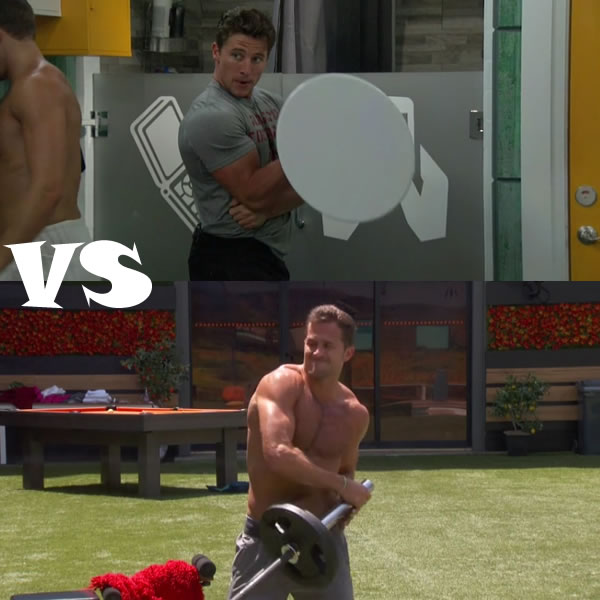 HELLO Big Brother Spoiler fans. Before we start the recap. It will be endurance Head of Household Competition TONIGHT! on the live feeds..  We'll do our best to cover it but this might be a good time to try them out. Use our  link pay the same and help us out!
This last week was a good pace even though the Veto wasn't used and there was still a lot of game played and positioning for the next week. Of course there was Kaitlyn drama, mad speculation about powers and votes.. Don't forget more Big Brother Outrage by JC and Bayleigh. WE also get to see the slow decay of some of the stronger competitors games. Mainly Tyler's.
For anyone curious.. nope this season ain't Kraken… far from it.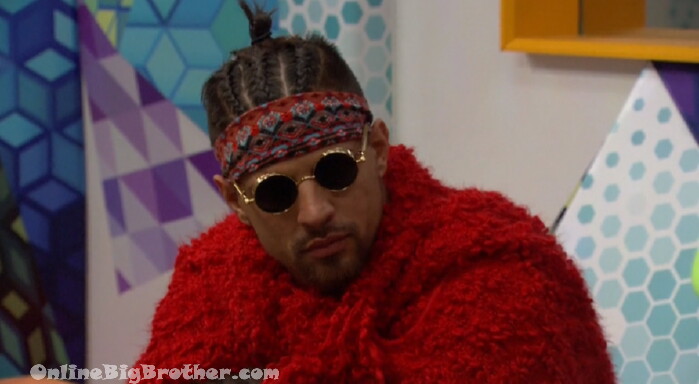 Part 1 Catch Up From the previous Week + any new powers
Swaggy was evicted, Scottie won the HOH. Have nots were Angela, Sam, Tyler, Brett. Haleigh was awarded the crap app (doesn't impact the game). Bayleigh was awarded the power up app. She can swap out the nominations but if Veto is played is still eligible to be nominated as a replacement. App speculation makes up 75% of in house talk this season for good or bad.
Part 2 Nominations
In his conversations with Tyler, Scottie was all about keeping the two sides of the house balanced so that they can ride that juicy middle.  When he's with the remnants of the FOUTTE alliance he's all about getting out Bros. Scottie seems to be taking the place of Swaggy in the FOUTTE alliance. Scottie wants a BRO out of the house his plan from day 1 is to put up Winston and Brett. There was a pretty good attempt made by JC and Tyler to get ROCKSTAR nominated but it didn't come close. After the Bros get nominated Winston freaks out on Scottie. Scottie says he tried to intimidate him.
Part 3 Power of Veto
Veto players were picked :  Scottie, Brett, Winston, Rachel, Tyler, ROCKSTAR – Haleigh is hosting (Brett gets his first vision) . Scottie wins the power of Veto. The Bros offer Scottie a Final 3. Wanting him to take a shot at Kaitlyn. They argue it's the only way to limit the blood on Scottie's hands. Their argument is weak.  Scottie doesn't buy this. At this point Brett is the most talked about as the target but he's got some friends in the house with pull and has infinitely more BB tools to employ. Winston is identified as the weaker player . As the week progresses the number of votes Brett has to stay grows. FOUTTE still thinks Winston has all but Rachel, Angela and KAycee's vote to stay. It's slow but a potential for a blindside grows.

Part 4 Power of Veto Ceremony
Kaitlyn starts telling everyone the epic story of her Head of Household Week that includes the week 1 flip, Sam's power, here backdooring swaggy and all that good stuff.  "I'm being well received by the world" . Scottie tells Sam he's not using the veto only a power can take a BRO off the block this week. Kaitlyn finds out that the BROS have been shopping her name around to Scottie as a possible Backdoor solution. She confronts Brett some drama starts. Common to hear people at this point voice not liking Kailtyn and Rockstar.
During the power of veto Ceremony Scottie chooses not to use it, leaving the nominations the same. Each houseguest delivers their speech but during Brett's speech  Brett has a vision that is a clear shot at Kaitlyn's super powers. The Bros remain on the block. Later in the day Scottie starts to realize that Tyler and Sam are "playing him". This is based on conversations with Bayleigh, Rocksalt, Haleigh. late that evening he comes to the conclusion that he will target Tyler if given the chance again.
Part 5 Pre eviction
Foutte girls reach out to the level6 girls to form a girls alliance. Both sides of girls are not serious about this alliance. If the situation presents itself they'll go along. Bayleigh Told Fes and Kayceee told Tyler already. Winston and Brett do some heavy campaigning but it all comes down to what Tyler/JC/Sam want this week and they want Brett in the game. Brett's speech tonight promises to be one to watch. Tyler has reassured Brett he's all about level6 
Where does this leave us?
As of Thursday morning Winston is going home. Production has been working Sam hard to get her to use the power however. . There hasn't been anything on the feeds to lead me to believe Sam will use her power. Sam's power next week will be automatically applied meaning whoever gets evicted gets a chance to come back. This weeks HOH winner is going to get all the blood on their hands and the evicted person comes back in. It'll be great fun. Pkus there's all the other damn powers int eh game 1/2 of which I forget what they do.. It'sa  clusterf** of powers and I love it. If it's Kaitlyn whose HOH get's screwed I'm expecting a Chima moment.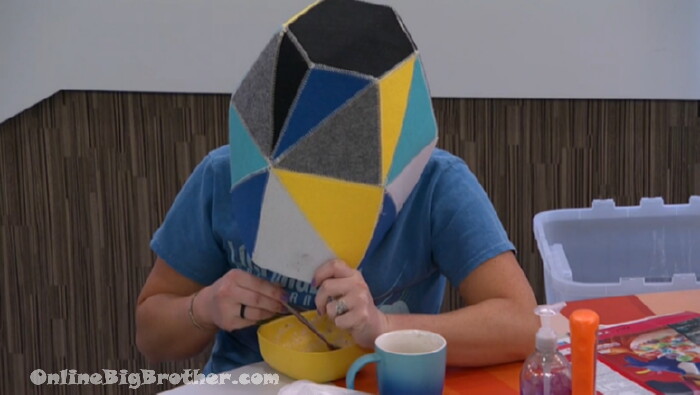 This Weeks Big Brother Outrage
JC and Bayleigh just snuck this one in there. The OBB community had a great discussion on this covering many angles.
12:38:39 July 18th Cam 3-4
Bayleigh – let me ask you this is there a difference between a mi**it and a dwarf?
JC – Mid** is like saying.. g@y for f@got .. or
Bayleigh – so mid**t is just a name..
JC – or n**ger and bl@ck
Bayleigh – you are not allowed to say that don't do that again..
jc – what
Bayleigh – that was out of control
jc – really
Bayleigh – yeah..
JC – I think when I am trying to explain something it doesn't…
Bay – no you can't do that..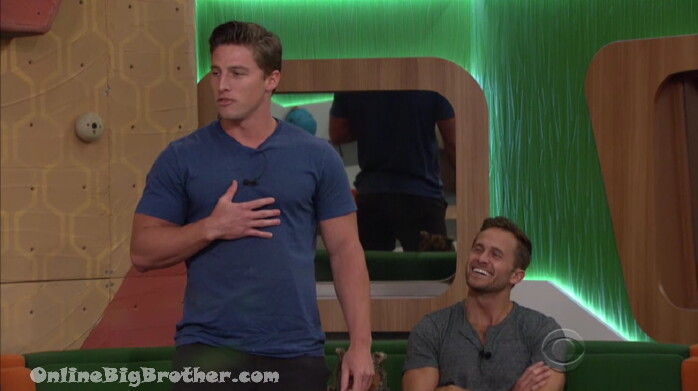 Head of Household and Eviction results
Brett calls the girls pretty.. tells Kaitlyn that Rockstar told him she's flipping the vote and pinning it on her.. (HUH)
Winston – Bro bros bros..
Kaitlyn votes to evict Brett
Rachel Votes to evict Winston
Kaycee Votes to evict Winston
ROCKSTAR Votes to evict Brett
FEs Votes to evict Brett
Bayleigh Votes to evict Brett
Angela Votes to evict Winston
JC Votes to evict Winston
Haleigh Votes to evict Brett
Tyler Votes to evict Winston
Sam Votes to evict Winston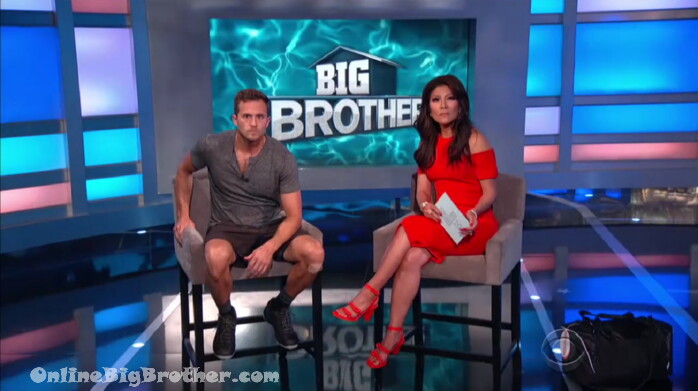 Winston is evicted..
Says he threw the friendship bracelet Sam made on the floor.
Bye Bye Winston #BB20 pic.twitter.com/fV2YOU72uu

— OnlineBigBrother.com (@bigbspoilers) July 20, 2018
Rocksalt losses her sh1t on Brett.. say she swears on her kids birthdays she never said the things he said in the speech.
Brett – Own it.. why can't you own it..
HOh Competition is the wall
For all you folks that need a VPN I use this one
Rank the houseguests!
Easiest way to Rank the house guests use link below